Sports
A Championship Tune-up
3.4.18
Stemberg coach Tommy Amaker captured his sixth conference title in 11 years at Harvard.
Photograph by Gil Talbot/Harvard Athletic Communications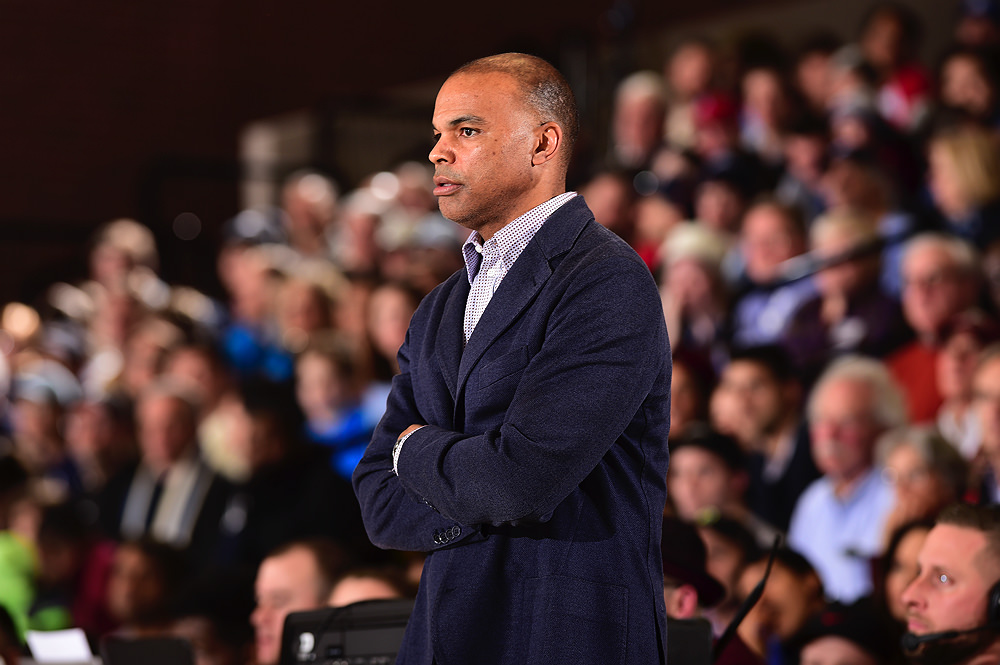 Stemberg coach Tommy Amaker captured his sixth conference title in 11 years at Harvard.
Photograph by Gil Talbot/Harvard Athletic Communications
Co-captain Chris Egi '18 started the scoring for Harvard in Saturday night's blowout of Columbia with a tip dunk.
Photograph by Gil Talbot/Harvard Athletic Communications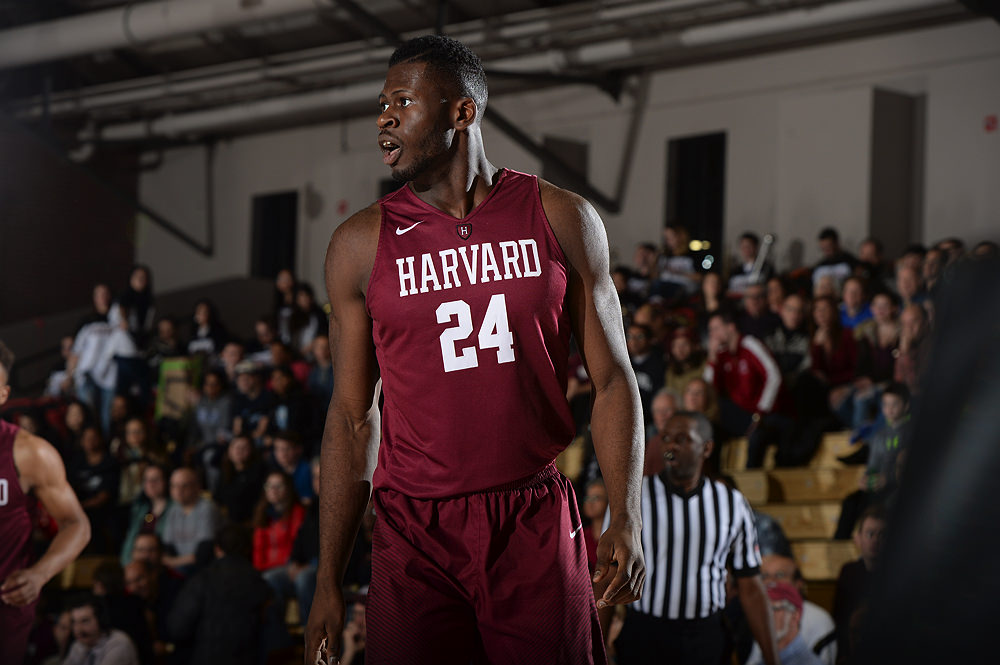 Co-captain Chris Egi '18 started the scoring for Harvard in Saturday night's blowout of Columbia with a tip dunk.
Photograph by Gil Talbot/Harvard Athletic Communications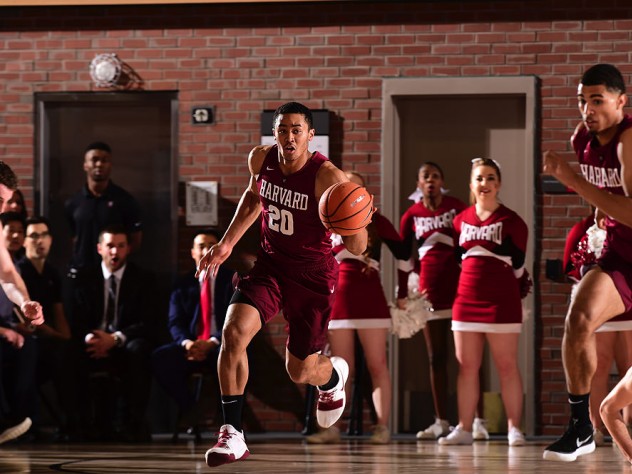 Justin Bassey '20 helped to anchor the Crimson's defense this year, routinely guarding the opposing team's best player and leading Harvard with 1.2 steals per game.
Photograph by Gil Talbot/Harvard Athletic Communications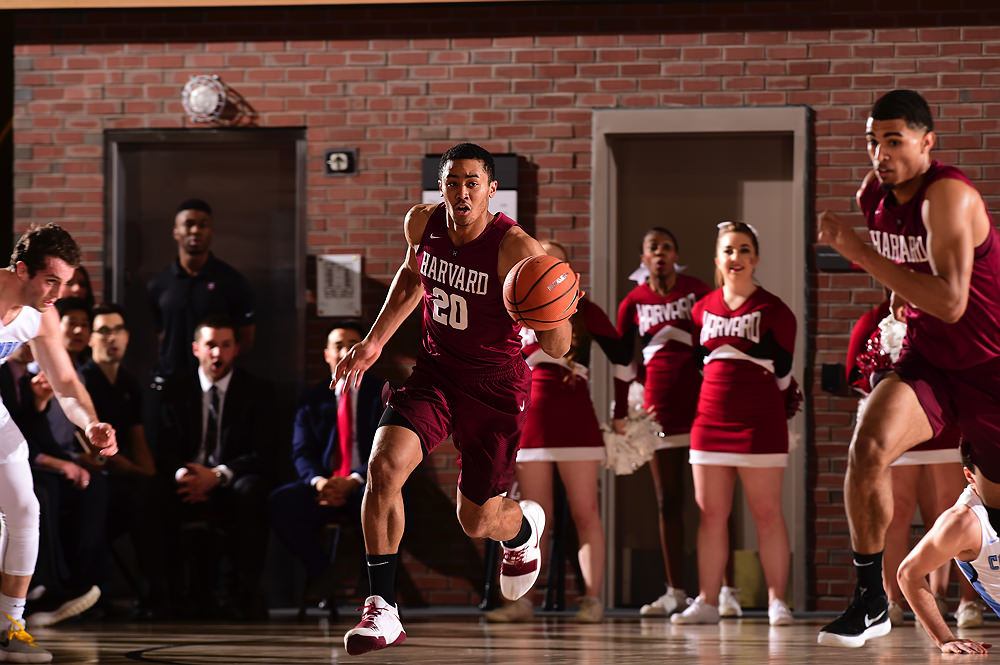 Justin Bassey '20 helped to anchor the Crimson's defense this year, routinely guarding the opposing team's best player and leading Harvard with 1.2 steals per game.
Photograph by Gil Talbot/Harvard Athletic Communications
After going 5-10 in non-conference play, the Harvard men's basketball team appeared a long shot to win the Ivy League championship.
Not anymore.
Harvard defeated Cornell 98-88 in double overtime on Friday and throttled Columbia 93-74 on Saturday, avenging an earlier defeat by the Lions. Paired with Penn's loss to Yale on a buzzer beater on Friday, Harvard's sweep gave the Crimson, which finished the regular season 17-12 overall and 12-2 in the Ivy League, a share of the conference championship and the number-one seed in next weekend's Ivy League tournament.
The weekend also highlighted incremental improvements in the team's defense, the Crimson's ability to break the press, and impressive maturity—all of which has put them in prime position to return to the NCAA tournament for the first time since 2015.
Defense
Back in January, when the Crimson's field-goal percentage was abysmal, the team's stout defense helped it stay competitive. Still, in recent games, some defensive weaknesses showed. For example, with Harvard's guards playing aggressive perimeter defense, opposing teams—including Penn—used backdoor cuts (faking to the perimeter before cutting back hard to the basket) to get easy layups. Opposing teams also deployed mobile post players to draw Harvard center Chris Lewis '20 out onto the perimeter, which kept the team's best shot blocker away from the basket. Finally, several Crimson players have struggled to defend without fouling.
This weekend, the Crimson made progress in addressing those deficiencies. To defend against backdoor cuts, Amaker tells his players to turn both head and hand so that they can see and deflect a pass to the player who is cutting; this technique allowed Justin Bassey '20 to pick off a pass to a Cornell player attempting a backdoor cut, leading to an easy layup in transition. 
Cornell also attempted to lure Lewis to the perimeter, employing pick-and-rolls that caused the Harvard center to switch onto the Big Red's smaller guards, especially leading scorer Matt Morgan. Although Morgan got to the basket on a number of these plays (part of the reason he was able to tally a game-high 34 points), Lewis used his extended hand and positioning to prevent Morgan from pulling up for jump shots. Similarly, Lewis's teammates—including Bassey—communicated about which Big Red players were limited shooters and therefore opponents they could risk drifting away from to pack the lane. With just over a minute remaining in regulation, Lewis, with his teammates' help, effectively defended Morgan off the dribble, eventually forcing a kick out to one of the Big Red's less effective outside shooters, who missed. Bassey then grabbed the rebound and drew a foul.
Finally, the Crimson defenders were mostly more disciplined. Although he picked up several early fouls on Friday, Seth Towns '20 played smart defense thereafter, enabling him to stay on the floor before eventually fouling out in the second overtime. Similarly, Lewis used strong footwork against Columbia on Saturday to keep pace with the Lions' big men and finished the game with just three fouls.
Breaking the Press
One challenge for the Crimson has been running its offense when opposing teams press them. Specifically, many opponents have used a 1-2-2 full-court press where one player stands closest to the opponent's baseline and the other four defenders are lined up behind him in two pairs.
This sometimes results in a turnover. More frequently, teams settle for disrupting Harvard's offense. This is because the safest way to break a 1-2-2 press is to pass the ball back and forth laterally, gradually advancing up the floor but typically taking about seven or eight seconds off the 30-second shot clock; this interferes with Harvard's half-court offense, which is predicated on lots of movement and time-consuming ball reversals to get the defense out of position and generate a good shot. Too often this year, Harvard has been pressed and unable to run its half-court sets, and has had to settle for challenging shots off of pick-and-rolls late in the shot clock.
The best way to avoid this problem is to attack and break the press, so that Harvard catches the defense out of position and gets easy shots. Against Cornell on Friday, Bassey twice dribbled through the press and then found teammates for open looks: a three-pointer by Christian Juzang '20 on one occasion and a lay-in by Lewis on another.
As Bassey acknowledged, it is important not to be too aggressive, lest the team start turning the ball over. Still, his success on those plays suggests that the Crimson has transformed a weakness into a strength. Now, if teams try to press Harvard, they need to entertain the possibility that it will get easy baskets and wear down overly aggressive defenders because, as Bassey added, it is extremely tiring to guard the entire 94-foot length of a basketball floor for a full game.
Maturity
When Amaker addressed the media after Friday night's game, he emphasized the importance of the team's sharpening its focus for Saturday. This was in part because the 24-hour turnaround—always a challenge in the Ivy League's unique format of back-to-back weekend games—would be more difficult than usual after playing two overtimes. And given Penn's loss, a win over Columbia on senior night would guarantee the team at least a share of the Ivy League title. This was a test of a young team's maturity, and, as Amaker added on Saturday, younger players might be inclined to think things would fall into place for the Crimson because that was what was "supposed to happen." 
In the event, the Crimson did not let the pressure of the moment interfere with the task at hand. Chris Egi '18—starting alongside classmates Andre Chatfield and Zach Yoshor on senior night—scored Harvard's first basket on a tip dunk. Then, Seth Towns and Corey Johnson '19 both nailed three first-half threes to help stake the Crimson to a 45-34 lead at intermission.
Coming out of halftime, the Lions used a quick 4-0 run to trim the deficit to seven, but the Crimson used a 24-11 run to open up a 20-point lead. The key to that stretch was again excellent shooting (three Harvard players combined to hit four threes) as well as Lewis's interior presence (he had a dunk and a layup during the run), and the Crimson's unselfishness. The team had six assists during the stretch, contributing to a season-high 24 for the night.
Moments after he and his players celebrated with the Ivy championship trophy at half court, Amaker suggested that the conference title—his sixth in 11 seasons in Cambridge and the program's first in three years—represented "a mark in the history of our program."
The Crimson will have a chance to make more history in the Ivy League tournament, where top-seeded Harvard will face fourth-seeded Cornell in next Saturday's semifinal.
Women's Basketball Update
After sweeping Penn and Princeton at home last weekend, the women's basketball team sustained its momentum, throttling Cornell on Saturday 91-57 and defeating Columbia 78-59 on Sunday. (Both matchups were postponed a day because of inclement weather.) The Crimson (18-9 overall, 10-4 Ivy) now enters the Ivy tournament as the number-three seed; they will face second-seeded Pennsylvania, also next Saturday.