Sports
Football 2019: Dartmouth 9, Harvard 6
11.3.19
Photograph by Tim O'Meara/

The Harvard Crimson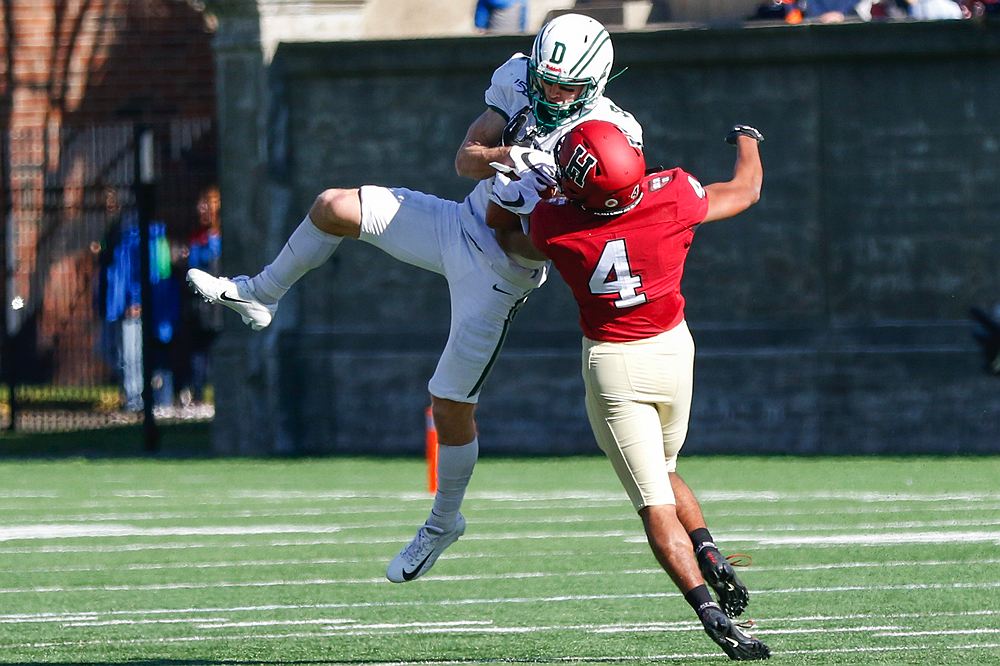 Photograph by Tim O'Meara/
The Harvard Crimson
Photograph by Tim O'Meara/

The Harvard Crimson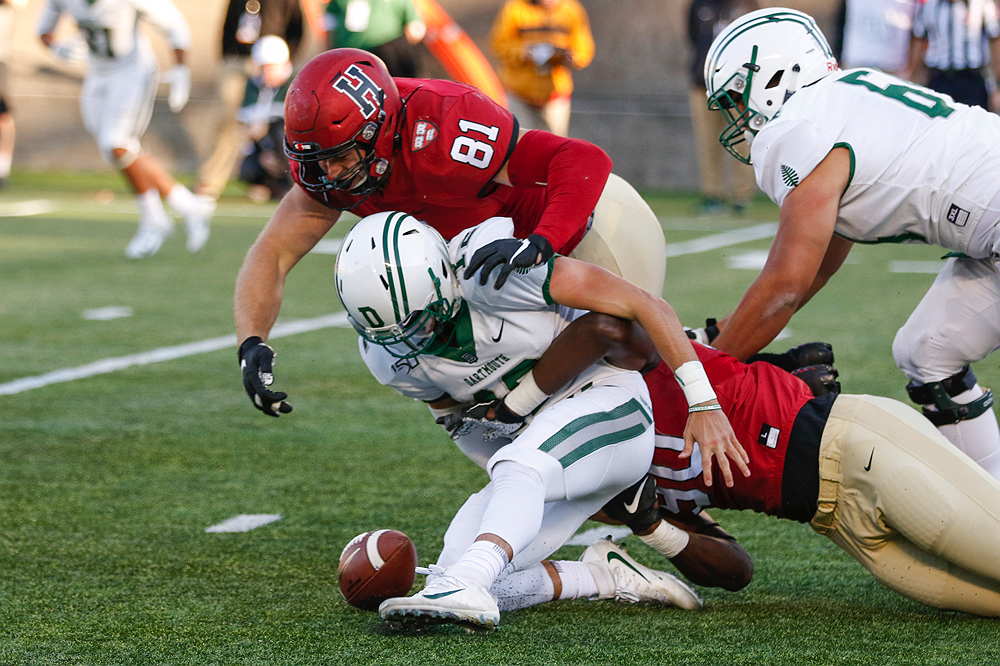 Photograph by Tim O'Meara/
The Harvard Crimson
If you play football for 146 seasons, you are bound to experience bitter losses. But few in the annals of Harvard gridiron lore have been as heart-ripping, soul-sucking, and gut-tearing as the last-play, 9-6 defeat literally snatched from victory suffered at the hands of Dartmouth on Saturday at Harvard Stadium.
It was all the more galling for being so improbable. To overhaul the Crimson, the Big Green, which had trailed all game, in the last minute had to go 96 yards, the final 43 traveled on a Hail Mary pass from quarterback Derek Kyler, deflected by Harvard defenders, and caught by receiver Masaki Aerts. That one play negated a brilliant defensive effort by the Crimson, which had kept the Football Championship Subdivision's leading offense out of the end zone until the final gun.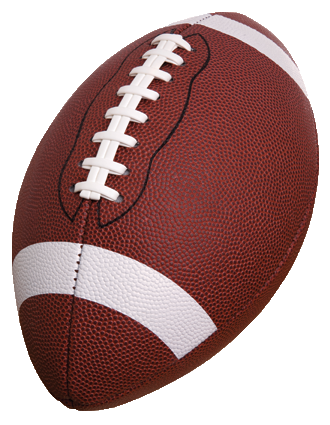 Harvard Football
Sign up for Harvard Magazine's football e-mail [4] and follow the Crimson all season long! Dick Friedman will provide the latest news, game summaries, and insights.
Dartmouth's victory runs its record to 7-0 and 4-0 in the Ivy League—the exact marks attained by Princeton, whom the Big Green plays next week in a de facto championship showdown. (See "Coming Up," below.) Harvard drops to 4-3 overall and 2-2 in league play; the loss effectively eliminates the Crimson from the Ivy title race.
This defeat was a stale madeleine that evoked a remembrance of losses past. There was a last-play field goal by Dartmouth that won the 1971 game for the Green, 16-13. A last-play field goal by Penn (preceded by a questionable roughing-the-kicker penalty) that gave the Quakers a 23-21 win at Franklin Field in 1982. More recently, in 2012, there was Princeton's 29-point, fourth-quarter comeback that provided the Tigers with a 39-34 victory. Switching sports, this loss dredges up sad recollections of the 2011 Ivy League men's basketball playoff, which Princeton pulled out on a buzzer-beater 63-62.
But for sheer devastation, this was as bad as it gets, mainly because the Crimson controlled the game until the last minute. Harvard's Tim Murphy, who has been coaching for 33 seasons (the last 26 in Cambridge), was asked in the postgame media conference if this was the toughest loss of his career. "It definitely is," he answered. (Pouring salt in the wounds, it came against his lifelong friend, Dartmouth coach Buddy Teevens.) "To say that we got our guts ripped out might be the understatement of the century."
The game was an old-school slugfest, one you might have seen in 1919. Both offenses were held at bay by rugged defenses. It may have helped Harvard a bit that Dartmouth's first-string quarterback, Jared Gerbino, a terrific power runner, left the game for good near the end of the first half with a leg injury, to be replaced by Kyler.
Harvard scored first—a rarity this season—on a 41-yard field goal by senior Jake McIntyre early in the first quarter. Harvard 3, Dartmouth 0. In the second quarter, McIntyre missed on a shorter try, after which Dartmouth's Connor Davis pumped through a 44-yarder with 59 seconds left in the first half. At the break, it was 3-3. The Crimson had controlled much of the action, outgaining the Green 195 yards to 107.
The second half started as a rerun. After Harvard reached the Dartmouth 18, its drive stalled and McIntyre drilled a 38-yard field goal. Harvard 6, Dartmouth 3. And there the score sat, for almost 25 more minutes. McIntyre did miss on another field-goal try, the result of a bad snap. (Clearly, those two missed field goals would figure into the outcome.)
Cut to 1:31 left in the game. Harvard has just failed to make a first down on a third-and-one run by junior Devin Darrington, after which Crimson junior Sean McKeogh has placed a punt on the Dartmouth eight. On first down, Kyler is sacked by Harvard sophomore defensive tackle Truman Jones, who strips the ball. Crimson senior defensive lineman Brogan McPartland recovers on the 10. Game over, right?
Dartmouth has two timeouts left. It uses the first after Darrington runs to the six. On the next play, Darrington runs right and attempts to reach the end zone. He gets as far as the two, and here he makes a fatal mistake. Instead of staying in bounds and keeping the clock moving, he goes out of bounds, stopping it. Now the Green does not have to use its final timeout. This may have been the knife edge of the denouement. "Clock management, somehow in the heat of passion, in the heat of a game, can go out the window real fast," Murphy would say later, disconsolately.
On the next play Darrington is thrown for a four-yard loss. Now Dartmouth does use its final timeout.  Fourth and goal for Harvard, with 1:06 left. What to do? Kick a field goal and take the points, thus taking a tying Dartmouth field goal off the table? Murphy opts to go for the touchdown.  "The thought was, you don't want to get a kick blocked," he said later. "At the end of the day, they're gonna need a touchdown to win the game. And they have to kick the extra point. So mathematically you're looking at the clock. They've got 59 seconds to go how many yards?" On the next play, Darrington is stopped for no gain. Dartmouth ball.
To get downfield, Kyler cannily throws medium-length passes to wideouts Hunter Hagdorn and Drew Estrada. A 22-yarder to Estrada moves the ball to the Harvard 43. Eight seconds left. Kyler runs up behind center and spikes the ball, which stops the clock. Six seconds left.
Now it is desperation time. Kyler takes the snap and somehow eludes several Harvard rushers. Finally, he throws it into the end zone. At the goal line, Harvard junior defensive back Isaiah Wingfield has a bead on it. He leaps—and is jolted by teammate Wes Ogsbury, who also is going for the ball. "We had a bunch of guys deep ready to knock the ball down," said Ogsbury, the team captain. "We're all looking down to the line of scrimmage. It looks like [Kyler] got sacked twice. He heaves one up. We're all trying to make a play on it. It takes the wrong couple of bounces. We wanted it to bounce down but it bounced up, for whatever reason." It bounces, for whatever reason, into the hands of Aerts. Touchdown! Game over! Dartmouth 9, Harvard 6.
"Every Thursday it's the last play of the practice," said Murphy of the Hail Mary pass-defense drill. "It always ends with a spike [batting down the ball]. Every Thursday at 6:30 p.m."  He shook his head.
What does Murphy tell his players after such a crusher? "There's not much solace," he said. "But if you've given it everything you possibly can, you'll have no regrets. Plenty of pain. But no regrets."
Tidbits: With 1.5 sacks against Dartmouth, senior defensive lineman Brogan McPartland now has 7.0, leading the Ivy League in the category….Junior Devin Darrington rushed for 102 yards, his third game this season with more than 100….Saturday's attendance, 20,112, was the largest for a non-Yale game at the Stadium since September 19, 2008, when 21,704 saw the Crimson defeat Holy Cross 25-24.
Weekly Roundup
Princeton 21, Cornell 7
Yale 45, Columbia 10
Penn 38, Brown 36
Coming up: On Saturday Harvard travels to New York to play Ivy rival Columbia. Kickoff: 1 p.m. The game will be telecast on SNY, streamed on ESPN+, and broadcast on WRCA 1330 AM, 106.1 FM and 92.9 FM-HD2, and on WHRB FM 95.3. The Lions are 2-5 overall and 1-3 in Ivy League play. Harvard has won the last 15 in the series, including 52-14 last year in Cambridge. In a rivalry that began in 1877, Harvard leads 62-14–1.
Meanwhile, only a few blocks away, at Yankee Stadium, unbeaten Princeton will be playing unbeaten Dartmouth. (A rematch of last year's battle of unbeatens at Princeton, won by the Tigers 14-9.) This is believed to be the first time that two Ivy games will take place at the same time in the same city—either a stroke of genius or poor planning. Actually, the game is part of College Football's 150th anniversary celebration. It will be played 150 years to the week of the first contest. Princeton was a participant in that game, on November 6, 1869, in New Brunswick, New Jersey. (On November 7, 1869, no doubt, came the first calls for the abolition of football.) The Tigers were defeated by Rutgers 6-4. For football's first half-century, the Ivy League schools set the template—huge stadiums, overemphasis, braggin' rights, frenzied recruiting (yes, even at Harvard), eligibility squabbles, academic probation, tinhorn dictator coaches—for what became a national mania, one that has afforded millions of followers equal measures of pleasure and, as we saw this week, pain.
A CENTURY AGO: THE ROAD TO PASADENA, GAME 6
On November 1, 1919, Harvard withstood an aerial barrage from visiting Springfield and achieved two aims: victory and maintaining its shutout streak. In the triumph, back Eddie Casey, A.B. 1919, scored two touchdowns. Knowing that they could not match the Crimson's power, the Chiefs (as they then were called) attempted 31 passes—an astonishing number for the time—and completed 11. One almost resulted in a touchdown, but it was batted down by Harvard captain Billy Murray, A.B. 1918. (Casey and Murray had served in the military during World War I.) Maybe we needed Murray defending against the Hail Mary this past Saturday!
The record so far:
September 24    Harvard 53, Bates 0
October 4           Harvard 17, Boston College 0
October 11          Harvard 35, Colby 0
October  18        Harvard 7, Brown 0
October 25         Harvard 47, Virginia 0
November 1       Harvard 20, Springfield 0
Next up:             November 8, at Princeton
THE SCORE BY QUARTERS
| | | | | | | | | |
| --- | --- | --- | --- | --- | --- | --- | --- | --- |
| Dartmouth | 0 | 3 | 0 | 6 |   | — |   | 9 |
| Harvard | 3 | 0 | 3 | 0 |   | — |   | 6 |
Attendance: 20,112