Brevia
Searching for a scientifically literate Harvard president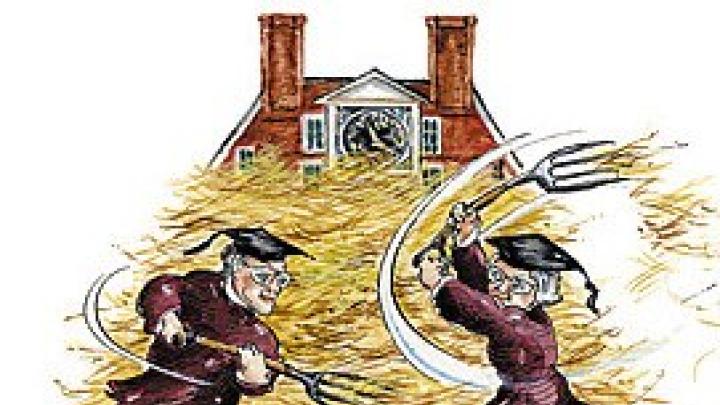 Mum's the Word
The quest for Harvard's next president is now firmly in its quiet phase (except in Doonesbury, which featured the search during Thanksgiving week). At their first and only news briefing during the process, Corporation Fellows and search-committee members Robert G. Stone Jr. and Hanna H. Gray said in mid October that they and other members were completing some 250 interviews with deans, administrators, faculty and staff members, and students on the University's needs and the characteristics for its next leader. At that point, the names of 400-plus people had been submitted for consideration. The candidate, they hinted, must be comfortable with science (but Gray assured that "a humanist can understand those things"). Educational experience is required (but, Gray again, "It would be rare for a president to be chosen from those who have never done any administrative work"). Given the recent capital campaign and blossoming endowment, the new president will not immediately need to embark on fundraising. Stone cited other priorities--physical planning to accommodate campus growth, expanding the Arts and Sciences faculty, and above all a vision for the next 30 years that could "take Harvard to the moon." He hoped a new president would be selected by the spring.
Jacqueline Bhabha
University of Chicago
Human-Rights Head
Harvard's extensive work on human-rights issues--formal centers in the schools of law, public health, and government, and individual initiatives in many other faculties--takes on a higher profile with the staffing of the University Committee on Human Rights. Set up by the provost in 1994, it will now have a full-time professional director, lawyer Jacqueline Bhabha, who will arrive in Cambridge next fall from the University of Chicago, where she directs a similar program. She accompanies her husband Homi K. Bhabha, a literary theorist and author of The Location of Culture, who has accepted a professorship in the English department. The expanded human-rights program, operating like Harvard's other interfaculty initiatives, was made possible by twin $2-million gifts from Rita E. Hauser, L '58, and Gustave M. Hauser, J.D. '53, that created the new directorship and a chair in human rights and humanitarian law at the Law School.
Museum Moratorium
Overriding the recommendation of its planning board, the Cambridge city council voted 8-0 to impose an 18-month moratorium on nonresidential construction in the neighborhood along Memorial Drive where Harvard hopes to build a low-rise museum complex (see "New Riverfront Museums, Housing?" November-December 1999, page 90). The buildings--one for modern art and another to house the collections presently at the Sackler--are being designed by Renzo Piano; they would share underground parking and a connecting tunnel. The Harvard-owned site, at the corner of Western Avenue, across the Charles River from the Business School and the University's landholdings in Allston, is of concern to residents of the Riverside neighborhood, who appreciate their water views but not traffic congestion and Harvard's adjacent Peabody Terrace housing towers. James Cuno, professor of history of art and architecture and Cabot director of the Harvard University Art Museums, noted that construction would have been unlikely during the moratorium: design work is incomplete, and funding has yet to be secured.
Bill and Melinda Gates
Bill and Melinda Gates Foundation
Attacking AIDS in Africa
Continuing its massive support for efforts to control disease, the Bill [Gates '77] and Melinda Gates Foundation granted $25 million to the Harvard School of Public Health (SPH), in collaboration with the Kennedy School's Center for International Development, for a Nigerian AIDS-prevention program. The grant, the largest private commitment in the school's history, targets Africa's most populous nation, where "HIV/AIDS prevalence is still very low," said SPH dean Barry R. Bloom. "This is our opportunity to help a great many people stay healthy." The program involves research, design of model prevention strategies in two Nigerian states, personnel training, and building up local scientific and laboratory capacity. Bloom highlighted Africa's AIDS crisis in "The World's Poor" (see November-December 2000, page 64), as did Myron Essex, Given professor of infectious diseases and chairman of the Harvard AIDS Institute, in "The New AIDS Epidemic" (see September-October 1999, page 35).
Payday
When returns on the endowment are strong (see "Rocketing Returns," November- December 2000, page 78), Harvard Management Company's performance-based system compensates its investment professionals handsomely. As a nonprofit subsidiary of the University, HMC must annually disclose its five most highly paid employees (whose compensation reflects results over several years); private money-management firms are not required to do so. For fiscal year 2000, Jeffrey Larson, international equity manager, led the list at $16.8 million, and David Mittelman, who oversees fixed-income assets, earned $10.8 million. Three domestic equity professionals earned between $8.7 million and $5.9 million. HMC president Jack R. Meyer, M.B.A. '69 (who earned $2.1 million), noted that the five managers' funds added $5.9 billion to Harvard's endowment in the past five years--$2.1 billion more than market returns in their respective areas. A New York Times article published November 19, the day before the HMC release, noted that the endowment's $4.6-billion appreciation last year (after taking into account disbursements for University operations) exceeded all but seven other schools' total endowments.
Nota Bene
Done at Dunster
Karel F. Liem and Hetty Liem, master and co-master of Dunster House, announced in November that they would step down in June, after a dozen years of service. Karel Liem is Bigelow professor of ichthyology and curator of ichthyology at the Museum of Comparative Zoology. The Liems have especially emphasized artistic performances in the House. Dean of the College Harry R. Lewis has launched a search for their successors.
Academic Attorney
Robert W. Iuliano
Jon Chase/Harvard News Office
Robert W. Iuliano '83, a member of the Harvard general counsel's office since 1994, has been appointed deputy general counsel, succeeding Robert B. Donin, who assumed the top legal spot at Dartmouth last summer. Iuliano worked in private practice as well as in the U.S. attorney's office in Boston, in the organized-crime and drug-enforcement task force, before he began his lawyering at the University. In this academic setting, he has taught the "Introduction to Law" course at the Extension School and has instructed Graduate School of Education students on issues of higher-education law.
A Pair of Prizes
William G. Bowen and Derek Bok shared the 2001 University of Louisville Grawemeyer Award in Education for The Shape of the River: Long Term Consequences of Considering Race in College and University Admissions (reviewed in the November-December 1998 issue, page 27). Bowen is president of the Andrew W. Mellon Foundation and president emeritus of Princeton. Bok, Harvard's president from 1971 to 1991, is Three Hundredth Anniversary University Professor. The coauthors received a $200,000 prize; each donated his share to charity. Separately, James L. Kugel, Starr professor of classical and modern Jewish and Hebrew literature, won the Grawemeyer Award in Religion for his 1997 book, The Bible As It Was.
Data Dean
In a new assistant deanship in the College, David B. Fithian, formerly Adams House senior tutor and lecturer on social studies, will handle training programs for tutors and other administrators; writing and editing College publications; and using on-line technology to simplify students' access to information they must use or supply in their undergraduate activities.
Publishing Cabal?
Having outgrown existing warehouse space in Littleton, Massachusetts, Harvard University Press and partner MIT will take over a new, expandable 150,000-square-foot facility in Cumberland, Rhode Island--this time including the shipping operations of Yale University Press, too. Conspiracy theorists take note: the new entity is called Triliteral LLC.
Virtual Capital
The University has spun money on the Web: a series of three bond offerings issued November 2 through November 8 raised $365 million. Information about $168 million of the bonds, sold through a state financing agency, was made available on the website of Lehman Brothers, the underwriter, increasing their appeal to retail buyers--a first for a Massachusetts nonprofit organization, according to Laura Sander, M.P.P. '87, Harvard's assistant treasurer. The proceeds refinance or extend the maturity of existing bonds, including the outstanding debt for the since-sold MATEP energy project, and will save nearly 4 percent of the total borrowing costs over the life of the loans. Last spring, Sander noted, Harvard took advantage of a change in the law that enabled it to issue tax-exempt debt for the first time in 15 years, and raised $237 million in new funds at an average cost of 5.7 percent over 35 years.
You might also like
Genetic analysis reveals a culture enriched from both sides of the Danube.
Harvard researchers illuminate a longstanding epidemiological connection. 
Harvard's Faculty of Arts and Sciences broaches two tough topics.
Most popular
Professors' humble beginnings, concentration choices, and a mini history of Harvard and Radcliffe presidents
Brief life of a feisty mountaineer: 1859-1925
Realizing the full potential of black employees
More to explore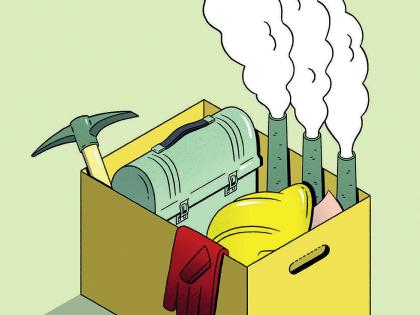 Expect massive job losses in industries associated with fossil fuels. The time to get ready is now.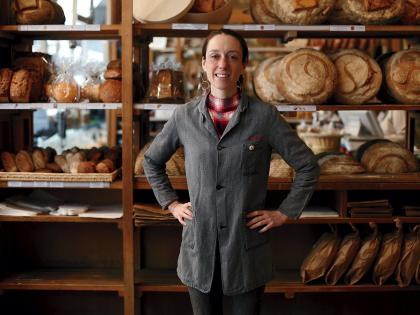 A third-generation French baker on legacy loaves and the "magic" of baking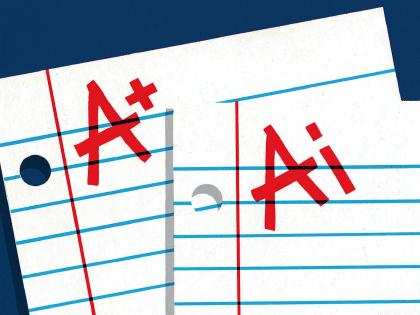 Generative AI can enhance teaching and learning but augurs a shift to oral forms of student assessment.