Outpointed
Football dreams intercepted
Football isn't like politics. You may lose by the slimmest of margins, but you can't ask for a recount. Averaging almost 33 points per game, this fall's squad set new Harvard scoring records, only to have a pair of one-point losses erase its Ivy League title hopes. The hairbreadth winners, Cornell and Pennsylvania, fought it out for the championship on the final Saturday of the campaign; Penn won by a landslide, 45-15. At Harvard Stadium, meanwhile, the visiting team came from behind to win the 117th Harvard-Yale game, 34-24, consigning the ancient rivals to a tie for third place in the Ivy standings
As it did a year ago, Harvard finished with an overall record of 5-5. But let it be added that no Crimson team in recent decades was more entertaining--if not always sheer fun--to watch than this volatile bunch. Behind what may have been Harvard's biggest and best offensive line, junior quarterback Neil Rose and a squadron of fine receivers broke almost every single-season passing record, and a matched pair of small but powerful runners--sophomores Nick Palazzo and Matt Leiszler--spearheaded the league's most effective ground game. For the first time since 1894, when lopsided wins over Exeter, Andover, Amherst, and Williams helped Harvard to an 11-2 season, the Crimson scored more than 30 points in six of its contests.
Bolstered by a steadily improving defensive unit, the team peaked in late October, outscoring its opponents 97-7 over a stretch of almost nine quarters. The hot streak spanned the final period of a 35-21 win at Princeton, a 49-7 rout at Dartmouth, and a 34-0 defeat of Columbia--Harvard's first shutout since 1997. The Dartmouth and Columbia games in particular were showpieces for the defensive unit. Five of the team's six touchdowns against Dartmouth were set up by pass interceptions, and freshman linebacker Dante Balestracci set a Harvard record with two interception returns for touchdowns of 48 and 53 yards. Against Columbia, the league's top rushing defense kept the league's top scorer, Lion tailback Johnathan Reese, out of the end zone.Yale end Eric Johnson caught 13 passes in The Game, two of them for touchdowns. A year earlier, Johnson had bedeviled Harvard with a record 21 catches and a last-minute reception that gave victory to the Bulldogs. The Harvard defender is linebacker Shawn Parker.
Quarterback Rose's rise from obscure reserve to record-shattering passer was nothing short of spectacular. Rose made his first varsity start in the season's second game, facing a strong Brown team that had shared the 1999 Ivy title with Yale. He completed 24 of 38 passes for 412 yards, a Harvard single-game record, as the Crimson upended the Bruins, 42-37. In a 42-19 win at Lafayette, Rose threw for three touchdowns and ran for two more. With 310 yards passing against Cornell and 300 against Lehigh, he became the first Harvard passer to record three 300-yard games.
Rose's 23 pass completions and Palazzo's 142 yards rushing helped the offensive unit generate a grand total of 589 yards, the third-highest output in Harvard annals, in the Cornell game. But that display of potency couldn't offset the harm inflicted by defensive porosity and uncertain kicking. As the Stadium faithful gaped in disbelief, Harvard squandered a 28-0 halftime lead, allowing 29 unanswered points in the final 21 minutes of the game--the last six on a desperation fourth-down pass by Cornell quarterback Ricky Rahne. Though Harvard drew within easy field goal range in the closing seconds, a 27-yard attempt by freshman Robbie Wright, who had missed two earlier tries, was deflected by Joe Splendorio, a wide receiver drafted for spot duty on defense because of his 6-foot, 6-inch height. A year earlier, on Cornell's turf, Splendorio had made an almost identical play to spike a last-second Harvard comeback. The 28-point lead that expired in the second half was the largest any Harvard team ever surrendered.
Rose's 300-yard passing performance was the only bright spot in a 45-13 loss to Lehigh, a balanced team that had beaten its last 10 Ivy foes, most recently Penn, Princeton, and Cornell. The Mountain Hawks went on to enjoy an undefeated season and win the championship of the Patriot League. Yale end Eric Johnson caught 13 passes in The Game, two of them for touchdowns. A year earlier, Johnson had bedeviled Harvard with a record 21 catches and a last-minute reception that gave victory to the Bulldogs. The Harvard defender is linebacker Shawn Parker.
Harvard's play in the Lehigh game was marred by five turnovers, including three first-quarter fumbles. Yet the offense went on to play almost flawlessly at Princeton the next week, ending the day without a fumble or interception. Rose threw for 292 yards and two touchdowns; Leiszler, alternating with Palazzo, ran for three more. But three weeks later, in a grim showdown at Penn's Franklin Field, the turnover goblins had returned.
Outplayed for most of the game, Harvard gave up three fumbles and two interceptions. Even so, sporadic offensive explosions--a 77-yard pass from Rose to sophomore split end Carl Morris on the Crimson's first play of the game; freshman cornerback Benny Butler's interception and 54-yard runback on Penn's very next series; Palazzo's 66-yard touchdown dash; Rose's 27-yard scoring pass to Morris on fourth-and-seven--had Harvard on top, 35-30, with a minute and a half to play. But a pass interception and two critical penalties allowed Penn's able quarterback, Gavin Hoffman, to throw a scoring pass that put the Quakers ahead, 36-35. Rose got his team into field goal range with seconds to play, as he had in the Cornell game, but Wright's 33-yard try went wide. With a single game left to play, Harvard's second one-point loss put the Ivy title beyond reach.
Still reachable was a victory over Yale, a fine team that had been burned at the buzzer by Princeton a week earlier; had lost to Brown by two touchdowns; and had lost by a single point to Cornell. (Giving up an average of 31 points per game, the Big Red relied on the strong arm of its junior quarterback, Rahne, to cadge three late-game, one-point victories.) Harvard could have banked a win, its first over the Eli since 1997, by keeping the goblins at bay in the final quarter. But goblins can be obdurate.
Yale scored first, on a 28-yard breakaway by its record-breaking rusher, senior Rashad Bartholomew. In the second period, Harvard tied the score on Rose's 7-yard screen pass to Morris, but Yale answered with a quick drive climaxed by a short pass from quarterback Peter Lee to end Eric Johnson. In Yale's 24-21 win a year earlier, Johnson had exhibited extraordinary athleticism in snaring 21 passes--the last of them for the game's decisive (and disputed) touchdown.
Harvard struck back on the ensuing kickoff. Miniature flanker Chuck Nwokocha took it at his own 6-yard line, shook off tacklers, and streaked down the sideline for a 94-yard touchdown. The Crimson hadn't scored on a kickoff runback since 1983, and hadn't done so against Yale since T. Ferguson Locke's 90-yard romp at Yale Bowl in 1933.
With two seconds left in the first half, Wright's 34-yard field goal gave Harvard a 17-14 lead. But Yale evened things in the third quarter. A line-of-scrimmage interception by end Stuart Satullo set up a field goal by senior Mike Murawczyk, whose 24-yard boot ensconced him as Yale's all-time leading scorer. When the Blue tried a short kickoff, the Crimson marched downfield and regained the lead, as Rose and Morris hooked up for a 19-yard touchdown, their second of the day.
Harvard led, 24-17, but alas, the roof was about to fall in. Midway through the final period, the acrobatic Eric Johnson made the play of the game, batting down a high pass in the Harvard end zone, juggling the ball, and finally cosseting it for a 7-yard touchdown. With the score tied at 24-24, the goblins made their entrance. Rose put up a wobbly ball that was intercepted at midfield by safety Ryan LoProto, and although the Harvard defense kept Yale out of the end zone, Murawczyk's 34-yard field goal gave the Eli a 27-24 lead. On Harvard's next series, an interception and 45-yard runback by reserve cornerback Ray Littleton paved the way for a clinching 5-yard touchdown by running back Bartholomew. With less than three minutes to play, yet another interception--Yale's fourth--snuffed out any latent hopes of a miracle finish.
Yale's 34-24 win, its sixty-fourth in the 125-year-old series, was its third straight over Harvard. In its last two victories, the Blue came from behind in the final minutes, winning by two points in 1998 and by three points a year ago. For the first time in four years, neither side had a shot at the Ivy title. Some observers still sought to find special significance in the outcome. Before the game, an Associated Press dispatch noted that in every presidential election year since 1980, a Yale win has been followed by the inauguration of a Republican president, and a Harvard victory has coincided with the election of a Democrat. Since 1936, the pattern has held up 13 of 16 times.
Tidbits: Harvard and Yale players broke or tied more than a dozen school records in The Game, prompting the Boston Globe's Bob Ryan to query, "Is there any NCAA record for setting the most records?" Completing a record 28 passes for 310 yards, Neil Rose became the first Harvard quarterback to achieve four 300-yard passing games. He set six individual records against Yale, having notched three seasonal records the week before (see box). The first Hawaiian quarterback to wear crimson since Milt Holt '75, Rose had tied Holt's 1974 mark of 16 passing touchdowns with his third scoring pass against Penn. His two touchdown passes in the Yale game broke the seasonal record of 17 set by Tom Yohe '89....With 13 catches--the most receptions by a Harvard player in The Game--sophomore split end Carl Morris tied a record for single-game catches held by Pat McInally '75 and Jim Curry '78. Morris's seasonal totals of 60 receptions for 920 yards also broke school records; his eighth touchdown catch of the season, against Yale, tied the mark set by McInally in 1974....Freshman Robbie Wright, who made good on only three of seven field goal tries, was perfect on point-after conversions. Nailing 34 in a row, he kicked three against Yale to eclipse the record of 31 set in 1997 by Mike Giampaolo '00....The defense's Dante Balestracci '04 proved a worthy successor to four-year linebacker Isaiah Kacyvenski '00, now of the Seattle Seahawks. Balestracci led the team with 94 tackles, a record for a freshman, and three interceptions. Cornerback Andy Fried, a former receiver, was in on 79 tackles; he too had three interceptions....Three starters--Rose, defensive tackle R.D. Kern '01, and defensive end Phil Scherrer '02--made the Verizon CoSida District One Academic All-America team. All are economics concentrators.
Box-office success: Harvard-Yale attendance hit a peacetime low of 24,470 in 1996, but is on the upswing again. This year's was reported as 30,898, the exact capacity of the Stadium. There was no numerical estimate of the mob of keggers partying outside the 97-year-old arena, unconcerned about the excitement within.
Inflation: After seven seasons as head coach, Tim Murphy is 3-4 against Yale. His overall record of 33-37 resembles what's become a representative Ivy League score.
Consolation prize: The team's 15 seniors ended their playing days with a combined 8-0 record against Dartmouth and Princeton, another Harvard first. Crimson teams have won the last five contests with Princeton, a Harvard streak without parallel in the 124-year rivalry....Eight of the team's veteran operatives are slated to graduate this spring: offensive tackle and captain Mike Clare, center John Kadzielski, flanker Chuck Nwokocha, tight end Chris Stakich, fullback Grady Smalling, defensive tackle R.D. Kern, linebacker Michael Green, and safety Mike Brooks.
Honors: Captain Clare, Kern, and Dante Balestracci were selected for the all-Ivy First Team. Balestracci, the first freshman in league history to be so honored, was also the coaches' unanimous choice as Ivy League "rookie of the year."...Clare was voted the team's most valuable player....Defensive tackle Ryan Fitzgerald, of West Roxbury, Massachusetts, and Currier House, will captain next year's team. The 2001 campaign will kick off on September 15 with a road game at Holy Cross.
You might also like
On antisemitism, "I have sought to confront hate while preserving free expression."
Harvard Kennedy School researchers on how to report pro-Israeli and pro-Palestinian protests accurately 
Harvard Chabad, IDF, and Bill Ackman screen October 7 Hamas footage
Most popular
Brief life of a formidable anthropologist: 1903-1991
First-years Ngozi Musa and Gabby Thomas help set the pace for track and field.
A negative investment return and annual spending reduce the endowment's value 5.1 percent.
More to explore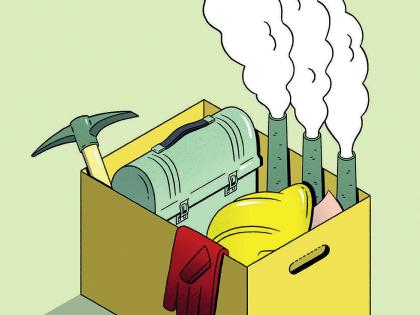 Expect massive job losses in industries associated with fossil fuels. The time to get ready is now.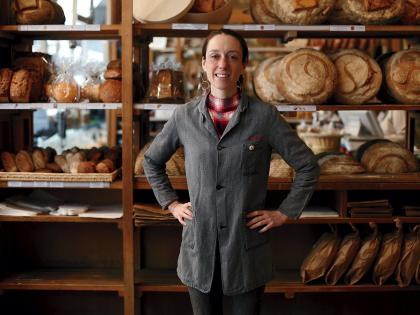 A third-generation French baker on legacy loaves and the "magic" of baking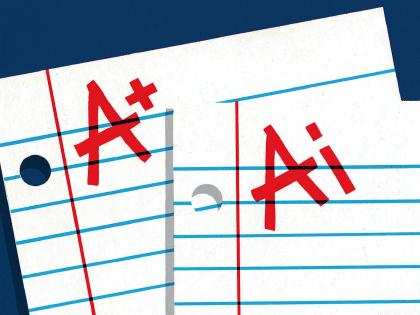 Generative AI can enhance teaching and learning but augurs a shift to oral forms of student assessment.