Fong of Ping-Pong
The orange ball, clicking in its relentless, stuttering rhythm, is bigger now...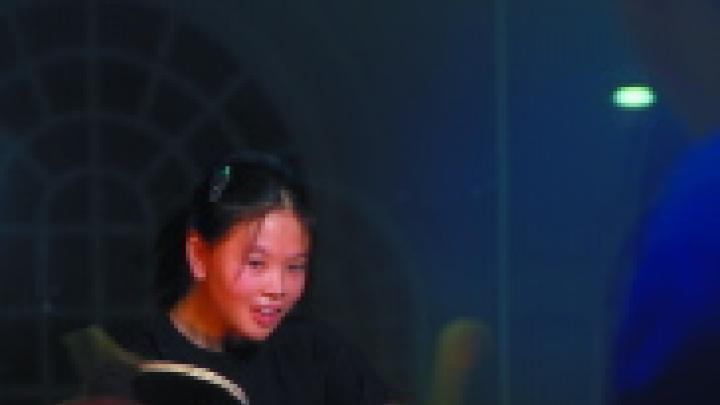 The orange ball, clicking in its relentless, stuttering rhythm, is bigger now. Last fall the game of table tennis adopted a new official ball, 40 millimeters in diameter, to replace the old 38-millimeter balls. Air slows the bigger ball more, meaning longer rallies, since the slower-moving target is more resistant to kill shots. And the new ball--in either white or orange--is more visible on television.
Yes, television. Table tennis, also known by the trademark "Ping-Pong," is an Olympic sport. In Asia, TV viewers could watch every minute of table tennis played at Sydney 2000. But American television aired only a few matches in the wee hours. Spectators are also on the minimal side at Harvard. Nonetheless, the Harvard Table Tennis Club (http://hcs.harvard.edu/~httc/) had the second-best team in the country last year, going 9-1 before losing to Johns Hopkins in the national championship match. The Crimson also have a star player: team captain and club president Kyna (pronounced keen-a) Fong '03, who last year finished second at the national tournament for college women. Fong is a formidable aggressor, a "two-winged looper" who attacks on both forehand and backhand and puts heavy topspin on the ball. "I'm always taking aggressive shots," she says. "I want to be close to the table, right on the ball."
Fong is an omni-sportswoman who swam, skated, danced ballet, and played soccer while growing up in Edmonton, Alberta. She learned Ping-Pong at summer camp at age 9 and was Canada's national under-12 champion. When her family moved to Walnut Creek, California, she played at Bay Area table-tennis clubs and flew to Portland, Oregon, to train with Yiyong Fan, a professional from Hungary who is the top player in the United States. In 1999 Fong won the U.S. open tournament for girls under 18.
As a Harvard freshman, she stayed true to her Californian and Canadian roots, playing both Ultimate Frisbee and JV ice hockey. Now a Leverett House sophomore, she still plays both sports, plus intramural basketball, while tabling her motions at the Malkin Athletic Center. There, a couple dozen fanatics have open play on Tuesday and Thursday nights and team practices on Saturday afternoons.
If this sounds like a regimen worthy of another Harvardian, Teddy Roosevelt, consider that the athletic demands of table tennis can push pulse rates above 170 and, at the top levels, phase out most players' careers around age 30. A three-game match (to 21 points per game) can take 20 minutes, but to the players, that 20 minutes feels like a prizefight, dense with footwork and upper-body jabs. For conditioning, "Jumping rope is very good; it keeps you on your toes and builds strong calves. You need strong legs for powerful shots and you need to be fast on your feet," says Fong. "Running helps for endurance, and sprinting is good, too, since a point is like a sprint. I practice footwork by doing shadow strokes without the ball." Since table tennis involves lots of wrist and forearm motion, it does not naturally complement outdoor tennis. "Recreational players play both," says Fong. "But really good players never touch a tennis racquet."
There are two popular grips. The "shake-hands," used by Fong and about 75 percent of American players, grips the handle like a tennis racquet and permits attacking shots on both sides. The "penhold" grip, traditionally favored by Chinese players (long a dominant force on the tables), places the handle between thumb and index finger, the other fingers resting on the back surface. It enables strong forehands but is generally weaker on the backhand side.
Defensive players may be "choppers" who use lots of underspin, retrieve well, and stand far back from the table, at times returning balls only an inch from the ground. Some can even reach shots that nick the table's edge, dive-bombing for the floor. (The trick: don't "follow" the ball, but move straight to where it is headed.) Offensive styles include both loopers like Fong, who bedevil opponents with fiendish spins, and "hitters" who attack with flat shots, struck hard.
Playing style affects choice of equipment. Loopers favor a smooth rubber surface that imparts more spin. Hitters use rubber stippled with "pips" for a flatter shot. Players buy their rubber separately from the "blade" and may retread as often as weekly. Graphite and carbon-fiber blades can cost $150 or more, and there are offensive and defensive models, with various ergonomic handle designs (flared, conical, straight) and shorter handles for penhold players. The Harvard club uses eight tables, which resemble the average consumer model only in their dimensions: the rock-solid, dead-level Butterfly tables at Malkin list for $900 each.
Five years ago, only a handful of colleges were competing in New England. But the National Collegiate Table Tennis Association (NCTTA) was founded two years ago, and this spring it will again organize the national championships (at Johns Hopkins, on March 30 and April 1), where the Harvardians will likely have another shot at the title. Individually, Fong went 11-2 last year. This year, like her team, she was undefeated at midseason, but claims that her game probably peaked two years back, just before college. "To practice seriously, you need a good practice partner and there aren't many good players in the immediate area. I would have to travel," she says, then adds, laughing, "but I don't have a car!"
You might also like
Harvard researchers seek to empower individuals to steer their own careers.
How the Bezos Earth Fund hopes to seed economic transformation
A Harvard series explores South Korean cinema in the years following the Korean War. 
Most popular
Brant Berkstresser aims to ensure sound bodies for Harvard's student athletes.
Steven Choi, J.D. '04, works—and fights—at the vitriolic epicenter of immigration politics.
John Alexander follows the ups and downs of funk musician Rudy Love.
More to explore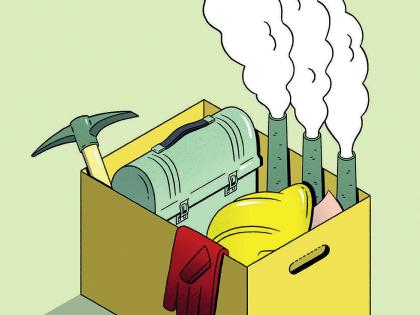 Expect massive job losses in industries associated with fossil fuels. The time to get ready is now.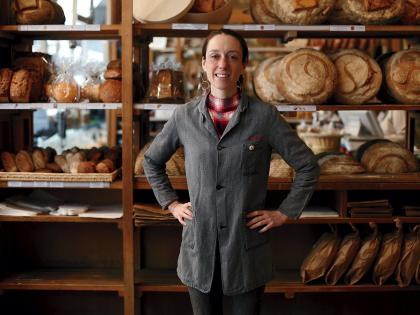 A third-generation French baker on legacy loaves and the "magic" of baking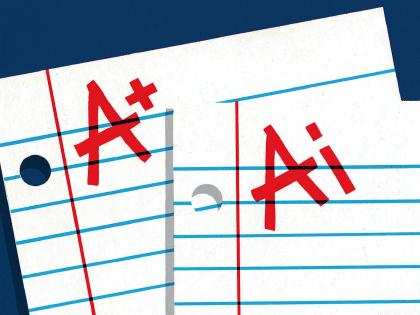 Generative AI can enhance teaching and learning but augurs a shift to oral forms of student assessment.