Art of the Hunt
Royal personages of Persia and India put hunting at the center of their lives. A current exhibition splendidly shows them at it.
A Persian prince of antiquity possessed hunting equipment of often inescapable effectiveness—a trained cheetah. See the manuscript painting below. Because a cheetah is lightning quick over short distances but lacks stamina for a long haul, the prince conveyed his spotted feline to the hunt, where he would set it loose on gazelles, rabbits, and other fleet quarry. By Islamic law, such killing was permissible so long as the prey wound up in a human stomach, not the cheetah's. "Eat what they catch for you," said the Qur'an, "but pronounce the name of Allah over it." Hunting for sport alone was forbidden. In India, cheetahs were transported to the hunt in horse carts, but in Iran they rode behind their trainer in intimate contact with the horse, as depicted on this folio from the Shahnama (Book of Kings). The painting is part of the exhibition The Sport of Kings: Art of the Hunt in Iran and India, at Harvard's Arthur M. Sackler Museum through June 26.
What did a horse with a cheetah on its back think of the arrangement? "The trainer worked out a kind of gentleman's agreement with the cheetah," says Kimberly Masteller, assistant curator of Islamic and later Indian art, "and even when the horse galloped, the cheetah balanced on its back and did no harm with its claws." The presumably fanciful design on a 1,000-year-old Persian earthenware bowl in the exhibition (see left) is a cheetah in transit, but the artist has omitted the trainer, and the cheetah itself appears fully in charge as rider.
Masteller co-organized the exhibition with Mary McWilliams, Calderwood curator of Islamic art, and Calderwood intern Rajeshwari Shah. A recurrent theme is the complementary nature of hunting and warfare. "Hunting was thought to be physically, mentally, and morally beneficial to rulers," says Masteller. It sharpened the warrior skills of princes and courtiers. Thus, the ruler Kay Khusraw is depicted in this Shahnama illustration reviewing his soldiers and his huntsmen together.
Among the 43 objects on display are a fine Mughal watercolor-and-gold portrait of a hawk; a variety of Persian and Indian guns, swords, and other weapons, some decorated with scenes from the royal hunt; a pen box with battle and hunting decorations; armor; and a grand ceremonial Indian shield, of water buffalo hide, adorned with golden images of lions in combat.  
The Shahnama (Book of Kings), completed by Firdawsi in 1010, is an account in verse of Iran's glorious history, a national epic. This painting, Kay Khusraw Reviews His Army—of ink, opaque watercolor, and gold on paper, measuring 14 2/3 by 9 1/2 inches—is from a manuscript copy of the Shahnama made in Shiraz in the Fars province of Iran in 1561-62. The poem is much concerned with themes of heroism, courage, and royal legitimacy, and hunting narratives are frequent. In a composition full of animation, the painter added elements not in Firdawsi's text to illustrate the complementary nature of hunting and warfare because both confirmed the legitimacy of Kay Khusraw, an exemplar of a just leader. Atop his white elephant, he reviews his troops before they depart for battle. The whiteness of the elephant, curator Kimberly Masteller says, is allegorical, "but light-colored elephants were the highest prize in the royal stable."

This detail of the colorfully habited armed forces, and the other details below, give some indication of the meticulous rendering of the folio.

In the foreground of the painting huntsmen parade attributes of the royal hunt. At left, a servant holds aloft a golden battle-axe.

He is followed by swordsmen and archers and other members of a nobleman's hunting cortege—a falcon carried by the falconer (below, left) on his delightfully dappled horse, a hound, and a cheetah wearing a green cape (below, right). Hounds and falcons often hunted in concert, says Masteller. The falcon would select and stoop onto the quarry and the hounds would bring it down.

 
Below: Sujan Singh [reigned 1700-1735] and Ladies Shooting Heron from a Terrace. Rajasthan, India, circa 1710. Opaque watercolor, gold, and metallic pigments on paper. 12 1/5 by 8 2/3 inches.

From his terrace, Sujan Singh has already shot one of the herons circling lyrically above his lovely garden, and an attendant has picked up the bleeding bird.

 

 

A hunting companion beside the prince points at the quarry as he takes aim. An attendant holds a royal standard; another is ready to whisk away flies.

In style the painting resembles works from the Mughal court—refined, naturalistic, gracious.

"It's a connoisseur's painting. Its power is subtle," says Masteller. "It is lacy and delicate, done with a loving hand and light colors. It's so sweet—until you look at what they're doing to those herons."

The painting, she notes, presents a strong contrast to the one reproduced below, which is "bold and in your face. The two pictures show the range and breadth of Indian painting of the period." They do share a conspicuous artistic convention. "Profiles were considered appropriate for portraiture," says Masteller. "People shown frontally tended to be low-ranking, perhaps servants."
Below: Maharana Bhim Singh of Udaipur [reigned 1778-1828] Returns from a Boar Hunt. Rajasthan, India, circa 1810. Opaque watercolor, gold, and silver metallic pigment on paper. 11 by 15 inches.
[Click to view larger version of this painting ]
The haloed Maharana Bhim Singh fortunately has bagged some boars. "In the Hindu tradition," explains Calderwood intern Rajeshwari Shah, "the king's bountiful catch foretold that the kingdom could expect a fruitful year ahead." The king wears a green garment associated with the spring hunt, when boars are the quarry in Rajasthan, she says.

The sun-faced royal standard carried by an attendant is "a symbol of the Mewar family, who are conceived of as descendants of the sun." Note the attendant carrying a gold hookah for the pleasure of the king. Saluki hounds (below, left) and falcons (below, right) were frequent participants in Indian game hunts.

The picture shows the stratification of the group, notes Masteller, with the king on his finely clothed horse and attendants of descending levels of rank on foot: "Together, they make a royal portrait." Faces with an iconic, almost stamplike quality and outlined figures, she says, are conventions of paintings from this time and place. "How do you get all those colors of green to work together?" she marvels. "No art student would dare attempt it."
You might also like
Harvard Kennedy School researchers on how to report pro-Israeli and pro-Palestinian protests accurately 
Harvard Chabad, IDF, and Bill Ackman screen October 7 Hamas footage
Toward another apartment complex on Harvard-owned land
Most popular
Rosabeth Moss Kanter on solving America's infrastructure problems
Original works by "Golden Age" illustrators on view in Newport, Rhode Island
Channeling Valentine's Day—and sustainable oceans—via sexy sea creatures
More to explore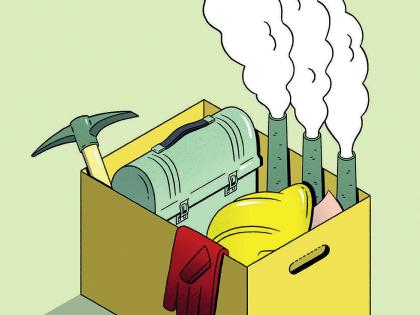 Expect massive job losses in industries associated with fossil fuels. The time to get ready is now.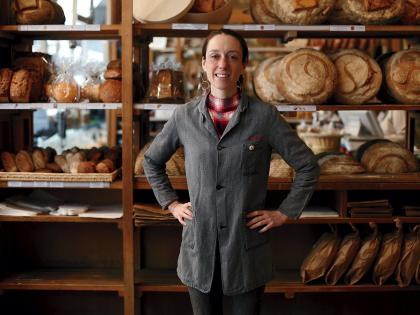 A third-generation French baker on legacy loaves and the "magic" of baking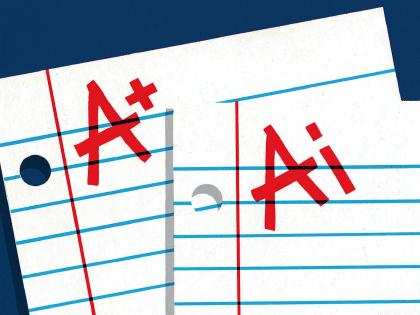 Generative AI can enhance teaching and learning but augurs a shift to oral forms of student assessment.