The Glory of Antiques
Conservators preserve the past to better furnish the future
For years, Robert I. Owens '68 and his wife, Elizabeth, lived with their children in the grand 1837 Greek Revival row house with hardly anything in it. "The kids rode their tricycles across the open floor of the double living room," he says with a smile. "They loved it." A photographer who came to shoot images for a coffee-table book marveled at the historic interior, yet no photographs were published, Owens believes, "because there was no furniture to take a picture of." The sparseness accentuated the home's architectural forms, which pleased the couple. An elegant curling staircase runs up four flights. Door casings boast elaborate carvings. In the reception room, white pilasters emulate an ancient Greek temple. "When we found this place, we'd been looking for two years, and this was one of the few that was intact, preserved very much as it had been built," Robert Owens explains. "Nobody wanted these old places. We thought it was really a find." Outside, a white marble Ionic portico marks the front door, and laurel wreaths grace a brownstone frieze beneath windows that look out over the city of Boston.
Robert Owens, leaning on the c. 1830 "Egyptian-styled" mahogany pier table in his entrance hall, says much of the fun of owning antiques is getting to learn their life stories.
Photograph by Jim Harrison
About 15 years ago, the Owenses realized that what would look best in the house was furniture produced from 1805 to 1840, the latter part of the "American classical period." That meant sturdy, gleaming mahogany pieces with ornate hand carvings inspired by Egyptian, Roman, and Greek motifs. Their first purchase was a settee (circa 1820) upholstered in green- and red-striped silk with mahogany arms and railing and hairy paw feet. "We found it at a little country antique show," he says. "Back then you could find this stuff and it wasn't outrageously expensive." Yet the settee looked lonely in the reception room; it needed companions.
Today, all of the home's formal rooms feature classical furnishings. "It's astonishing that so many of these chairs actually survived," Owens remarks, lifting up a Boston-made klismos-form dining chair. "They're delicate. Look at the way the crest rail is put together with this small carved splat. And the grain of the wood is very short on these curved [saber] legs. It's beautiful, but not practical." (The eight-piece set goes around an oval mahogany table that seats from eight to 22 people; the chairs were originally owned by Mary Lyman Eliot, who gave them to her son, Charles W. Eliot, president of Harvard from 1869 to 1909. He passed the set on as a wedding gift to George Lowell Cabot.) At Thanksgiving, when his entire extended family comes to dinner, Owens puts down place cards and carefully positions the klismos chairs at the spots to be occupied by the lightest guests. Still, they sometimes break. "You can't see the crack now," he points out, "but this chair actually collapsed—the person sitting in it ended up on the floor."
It is one thing to own precious antiques, and another to use them in daily life. How do you care for very old furniture bought with inevitable flaws—or those items that somehow break? Should they be returned to their glory days, or should their historic lives and aged beauty be fully respected? The Owenses send their pieces to museum-level conservators, whose "ultimate goal is to make things last as long as possible," explains Henry Lie, director of the Straus Center for Conservation at the Harvard University Art Museums. By contrast, he says, traditional restorers aim "to make an old object look better." (That's not to say there are not plenty of talented, knowledgeable, and respected restorers, Lie is quick to add.)
New carved Ionic capitals replaced broken ones on the pier table.
Photograph by Joseph Godla
Conservation of fine art began as a field in the early part of the last century. The Straus Center, founded under a different name in 1928, is the country's oldest art treatment, research, and training facility. Furniture conservation, however, did not develop as a serious discipline until a few decades ago, as wood furniture came to be viewed as historically and artistically important.
"The 1980s and 1990s were a period of tremendous developments, as a whole generation of young craftsmen contributed research—investigation into new materials and techniques—and began to codify a distinct philosophy and set of standards," says conservator Robert Mussey, who founded the conservation lab at Historic New England, the nation's oldest and most comprehensive regional preservation organization (www.historicnewengland.org). He and his business partner, John Driggers, now operate Robert Mussey Associates in Boston.
Chemists such as Richard Wolbers at the University of Delaware (who is also a conservator) have developed targeted solvent mixtures that allow layers of varnish to be removed separately and slowly, and methods of microscopy that use ultraviolet light to analyze the finish on an object, Mussey explains. "Other researchers have focused on applying accelerated aging tests to a whole library of artists' and conservators' materials in order to identify materials that are naturally long-lasting, resistant to oxidation and aging, and reversible."
These elegant, curvy klismos chairs once belonged to Harvard president Charles W. Eliot.
Photograph by Jim Harrison
Conservators have three main goals: to preserve, stabilize, and, sometimes, restore an object using the least intrusive methods available. Today, two graduate-level furniture-conservation training programs exist in the United States (there are others in Europe) where woodworkers hone their skills and acquire new knowledge that encompasses science, environmental factors and their affects on objects, cultural and art history, analytical methodology, written and photographic documentation, and other conservation techniques.
As professionals, they also follow a strict code of ethics, published by the American Institute for Conservation of Historic and Artistic Works (www.aic.stanford.org). That includes a "Do no harm" clause, according to Joseph Godla, who headed the conservation lab at Historic New England before moving to the Frick Collection in New York City in August. "We do make a big deal of respecting the integrity of the object," he explains. "We take a more holistic approach than restorers. We don't just fix up old stuff. We try to take an object and unlock the keys to its past."
At Robert Mussey Associates, the industrial space comprises a fully equipped series of conservation "laboratories" and a research library with roughly 1,000 volumes on history, art, and furniture. In one exceptionally clean, white-walled room sits a desk with a high-powered microscope where staffers analyze samples of wood species, paint pigments, finishes, and fabric fibers to trace their origins and makers. "In the old days, a solvent like alcohol or paint stripper was used. Unfortunately, that sort of ham-handed approach removes varnish and original paint and takes off some of the texture," Mussey says, practically shuddering. "You take alcohol and rub it down on an object—and you have no idea what effect that has." As for stripping or sanding surfaces, he gives a little laugh. "No, we don't have a lot of 80-degree sandpaper here. The idea is that an art object is what it is after, say, 200 years. It may have lost elements, or become degraded. But still, the goal is to be conservative and not remove original materials and not to turn it into something that it is not, and never was. We don't fake it."
Robert Mussey displays a restored nineteenth-century hand-carved dining chair, by Thomas Seymour, covered in "Morocco" goatskin.
Photograph by Jim Harrison
The lab recently worked on a set of Duncan Phyfe dining chairs made in 1816. Through analyzing minute samples of "over varnish" and testing paint samples, conservators discovered that nobody had ever removed the lower legs' original blackish-green paint, or the gilding on the claw feet. "A restorer might strip all of what's on there and rebuild it to look like the original and put on a clear finish," Mussey says.
His approach? To painstakingly remove later restorations and keep intact the original work, albeit in its faded (some might say "grubby") state, and repair any losses to the wood. "The aesthetic is to respect the wear and tear, and muted tones, and to be attuned to its history," he says. "The chairs have had a hard life. They should look old and well cared for." Pieces from some historic periods, such as the Pilgrim era, "are almost relic status," he adds. "They stand on their own—losses and warts and dirt and all—as long as they don't collapse with gravity."
What to do with a given object depends on its rarity and value—and the conservation budget. "Some people say, 'This has been in my family and I want to do everything we can to preserve it,'" Mussey reports, "and there are others who are given an estimate and say, 'Oh my God, I can't possibly spend that.'" Typical costs range from $1,000 to $6,000, he says. The work is also linked to philosophies of the specific collector or curator. For the Owenses, an object's stability is essential. "A lot of Americans think that the original condition is the most important thing—they say not to touch any finish. In England and France it's almost the opposite. They want a lot of polish, pieces repaired, and parts replaced," Owens explains. "We may be somewhere in between those two. If we look at a piece and see that some elements are missing or upside down we say we've got to do something about that." They conserve because "You know you are doing the right thing to preserve the furniture and bring out what makes it unique."
A conservator at the Mussey laboratory takes a sample from a red-lacquered Chinese altar table, c. 1700-1750.
Photograph by Jim Harrison
As an extracurricular project earlier this year, Joseph Godla spent about 60 hours on an unusually flamboyant marble-topped pier table with Egyptian ornamentation that now stands in the Owens entrance hall. The cavetto molding and obelisk columns echo the forms of Egyptian architecture. New York City antiques dealer Carswell Berlin, who sold the couple the piece, knows of only five others like it. "This is the very best of this form," he explains. "It was made of the finest materials available, by the best cabinetmakers, for the wealthiest clients. You could not get better furniture than this at the time." He believes that the table was made in Boston or in Salem, Massachusetts, around 1830. (No signatures or labels exist to pinpoint its creator, frustrating those in the field.)
Americans' vigorous interest in classical design was spawned in large part by the widely disseminated images of the mid-eighteenth-century excavations of Pompeii and Herculaneum, Berlin writes in his 2002 essay, "'Solid and Permanent Grandeur': The Design Roots of American Classical Furniture." Cabinetmakers would have had access to lavish scholarly publications and popular pattern books from England and France depicting classical forms, he says. The style permeated American culture, appearing in everything from state capitols and town libraries to needlework and gravestones. From the upper echelons of society to the middle class, "classical taste in the material culture of the United States came to be identified with America itself," notes historian Richard L. Bushman in Wendy A. Cooper's Classical Taste in America, 1800-1840.
In photographs showing his work on the pier table, Godla, a former guitar- and furniture-maker, points out the carved anthemions (Greek honeysuckle) and the acanthus-leaf pattern on the tapered columns below a stretch of shimmery crotch-cut mahogany veneer. "These columns are so beautifully made," he muses, "and these anthemions are really crisp." Godla replaced a piece of egg-shaped molding that someone had previously glued on upside down, recarved missing elements such as column capitals, and compensated for the loss of about 29 veneer shards using 150-year-old mahogany. The table received a thorough cleaning (sometimes the biggest aspect of a project) and a final coat of paste wax. "You can go on forever working on these pieces," he explains, pointing to a slight chip to a carving that he let go because it was not a glaring disfigurement.
Conservators take pains to trace the past lives of the pieces they work on, and to understand their makers. During a recent tour of his workshop, Mussey discussed his plans for a mammoth "Renaissance Revival" (circa 1865-1882) sideboard, the sort of sumptuous piece that would have sat in the dining room of a wealthy New Yorker during the Gilded Age. "This is quite pristine," he noted, directing a flashlight's beam along portions of "ebonized" cherry molding, carved designs inlaid with gilt—and three stunning marquetry panels. Each contains hundreds of pieces of wood veneer from perhaps 15 different species, some dyed, and all cut by hand with a jeweler's saw the width of a pin. The middle, eye-level panel depicts a centaur tussling with an unclothed warrior who holds a bow and arrow. "This work is not typical of American veneer inlay skills at the time," according to Mussey. "It was probably done by a French or German immigrant."
Mussey conservator Sean Fisher blends in a just-completed repair on a "Renaissance Revival " sideboard, c. 1865-1882.
Photograph by Jim Harrison
He will remove the panel for analysis because faint penciled markings that could be a signature appear on the back—though as many as 15 artisans probably worked on the piece. Significant crizzling—varnish that begins to lift and get slightly rough—will be left as is, as will a few seam cracks—to allow the wood to breathe with changing humidity levels. The sideboard is far too large for most homes today, and the mish-mash of styles, by contemporary standards, "is kind of garish and busy," Mussey allowed, "but it's a remarkable dictionary of the most advanced craft skills of the time and the bold expression of that period of luxury and wealth." Its owner is a private collector who will most likely loan the sideboard to a museum.
Across the room stood a set of 10 mahogany dining chairs (circa 1810-1815) attributed to Thomas Seymour, a Boston-based English immigrant and the subject of Mussey's 2003 book, The Furniture Masterworks of John and Thomas Seymour. "This is rare. I only know of one other whole set like it," Mussey said of the three perfectly proportioned, carved colonnades on the back, "and they've only had two upholsterings since they were made. The last one was pretty ugly." He held up a plastic evidence bag containing a yellow and lime-green pattern with American eagles on it. Based on his research, Mussey thinks the chairs were originally covered with bright red "Morocco" leather (goat-skin that has been tanned using natural materials such as sumac bark instead of chemicals, and processed to create a pebbled grain).
A cubbyhole in a New England-made slant-front desk, c. 1770-1790, gets finishing touches to a wood repair at Mussey Associates.
Photograph by Jim Harrison
The owner has agreed to have them returned to that condition using non-invasive upholstery techniques. That entails a "seat cake" set with a plywood deck and non-degrading foam edging that is then stuffed with horsehair (as it was originally), covered with linen, and topped with the leather which is glued down—not nailed. The edging will be finished with glued-on decorative brass tacks whose shanks have been removed by Mussey's staff upholsterer.
"It's a lot of work, but given the rarity of the chairs, this preserves them for many future generations," he explained. "I—we—get to work with some of the most beautiful things ever made, and from many different cultures and traditions. They represent the highest expression of generations and generations of craft skills and design abilities…and as a researcher at heart, each piece is a big puzzle to be teased out—how did this particular cabinetmaker solve this difficult set of construction problems? How can you distinguish his work from others of the period? Or how is it similar? For an artisan and historian, it's a constant search for the holy grail of knowledge, a constant treasure hunt."                       
Nell Porter Brown is the assistant editor of this magazine.
You might also like
Genetic analysis reveals a culture enriched from both sides of the Danube.
Harvard researchers illuminate a longstanding epidemiological connection. 
Harvard's Faculty of Arts and Sciences broaches two tough topics.
Most popular
Professors' humble beginnings, concentration choices, and a mini history of Harvard and Radcliffe presidents
Brief life of a feisty mountaineer: 1859-1925
Realizing the full potential of black employees
More to explore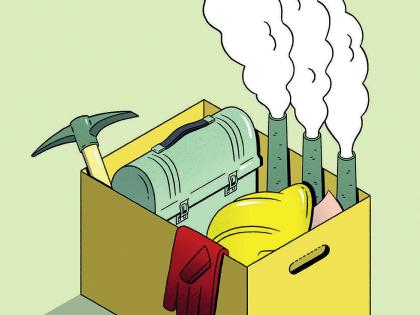 Expect massive job losses in industries associated with fossil fuels. The time to get ready is now.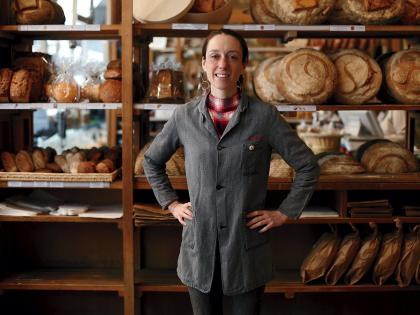 A third-generation French baker on legacy loaves and the "magic" of baking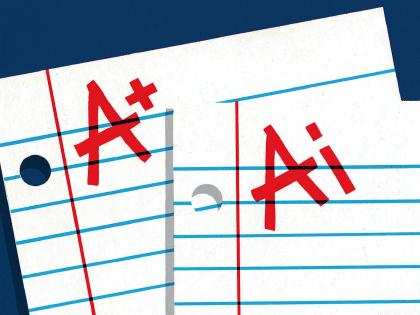 Generative AI can enhance teaching and learning but augurs a shift to oral forms of student assessment.