On the Career Carousel
College students prepare for life after graduation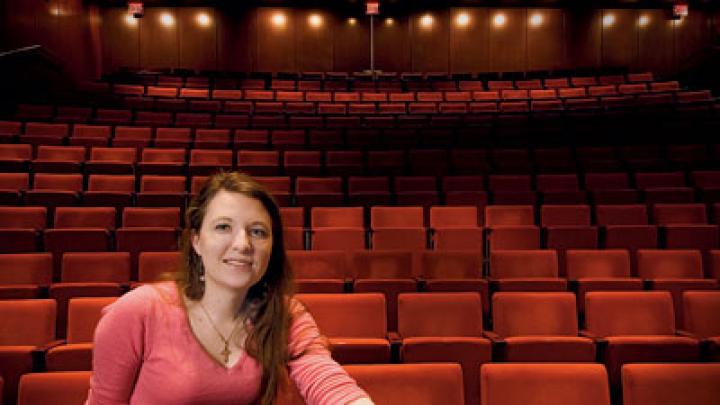 Mary Ellen Stebbins '08 studied classics and linguistics for four years in college, but what she enjoyed most was designing lighting for plays. In her senior year she decided to turn that hobby into a career, and applied for an internship at Harvard's American Repertory Theatre, and to the master's program in lighting design at Boston University (BU). But, she hastens to add, eventually she plans to pursue a doctoral degree in archaeology. And oh, she'd also like to work with kids. "I'm not the kind of person who doesn't know what she wants to do," she protests. "I just happen to want to do too many things."
The good news for Stebbins and other Harvard seniors is that she will have ample opportunities to explore, regardless of her chosen field. According to Philip Gardner, director of the Collegiate Employment Research Institute at Michigan State University, the job market for new college graduates, which dipped alarmingly after the dot-com bust in 2001, has grown steadily since. Even this year, amid fears of a recession, Gardner's annual survey found that companies were planning to hire 7 percent more new graduates this year than last. "The real thing that's keeping the college labor market above water is retirement," he says. Companies are scrambling to hire and train new workers before the baby boomers exit the workforce. Firms with more than 3,900 employees are doing the bulk of the hiring, with plans to take on 9 percent more bachelor's-degree-holders in 2008. Firms with fewer than 100 employees are also eager to land newly minted graduates: their hiring rose by 12 percent.
In general, most Harvard seniors (55 to 65 percent) during the last decade have expected to work at a job soon after leaving the College, although a quarter of the class enrolls in graduate or professional schools instead, according to annual surveys conducted by the Faculty of Arts and Sciences. The balance of young alumni report that they plan to do volunteer work, travel, join the military—or admit they don't quite know what's next.
Last year, the Crimson probed more deeply, asking the class of 2007 where they would work. Fifty-five percent of seniors responded. Of those, 58 percent of the men, and 43 percent of the women, reported plans to enter the financial world, gravitating toward high-paying jobs with investment banks or consulting firms. (The respondents based their answers on plans, not definite work offers.)
Undergraduates seeking those jobs don't have to travel very far; the Office of Career Services (OCS) orchestrates the visits of around 250 companies to Cambridge each year. Although the recruiters represent a total of 25 industries, the majority are from financial giants like Bank of America and consulting firms like McKinsey & Company. The big-name firms line up to woo seniors as early as the first day of classes.
"The whole recruiting process started the moment we stepped on campus this year," says Josh Reilly '08. His interest in finance began at an early age, and at Harvard he joined radio station WHRB's sales and business teams, becoming the head of both departments by the end of his sophomore year. He has spent the last two years selling on-air advertising to Boston musical groups and preparing financial statements for the station's board of trustees. OCS's recruiting program was the next logical step. Employers gave presentations early in September and held meet-and-greets. Reilly then applied for jobs at the firms of his choice through an on-line intermediary, experience.com. (Had he wished, he could have entered the recruitment program during his junior or even sophomore year; banks frequently take on scores of summer interns, many of whom they eventually hire.)
The whole process moved quickly. By the middle of October he was sitting in a small room in Harvard Square waiting, along with a dozen of his classmates, for his interviews. "There were people stuffed in there like a fish tank," he recalls. "It's a little nerve-racking." The next week, three companies bought him plane tickets to New York City, and a fourth flew him to Chicago. Each New York firm put him through four additional interviews. At William Blair & Company, the Chicago investment bank, he endured eight interviews in a single morning. "That was brutal," he says. "That was intense. I remember doing the first four and feeling like I'd got through it, then remembering I had to do it all over again."
The grueling effort paid off, though, when the company offered him a job as a corporate financial analyst in early November. He took the offer because he believed that William Blair, as a smaller firm, would entrust him with more responsibility and offer more chances to work directly with clients than the larger banks in New York. His quick decision made his senior year easier. "It took a lot of the pressure off," he admits. "I got to relax a bit. I've been able to think about what kind of apartment I want to get."
In other popular fields, the Crimson survey found, more women than men (14 percent to 8 percent) planned to work in education, and the proportion was even more skewed between women and men (9 percent to 3 percent) planning to work in government or public service.



Whatever Harvard seniors want to do, OCS aims to help them. Director Bill Wright-Swadel notes that there are 16 staff members who provide some form of career counseling, along with workshops throughout the year on résumé writing and interviewing skills. They schedule around 500 half-hour appointments a month, and the counselors with special expertise in such areas as business, medicine, and public service hold weekly drop-in hours to advise students interested in those fields. OCS also e-mails student subscribers a biweekly newsletter with information on forthcoming events, and reminders about recruiting and fellowship deadlines.
---
The office actively promotes the Harvard Alumni Association's Crimson Compass, a University-wide networking system with a database of around 15,000 alumni profiles; undergraduates looking for a mentor can search by state, city, job title, employer, specialty, or industry. Some of the HAA's "shared interest groups" (SIGs; alumni organizations based on affinities, rather than graduating class, geographic proximity, or Harvard club membership) can also be used as career networks. Harvardwood (harvardwood.com), for example, a group of alumni with jobs in the entertainment industry, offers summer internships and workshops, career counseling, and job and news postings to undergraduates as well as members.
OCS doesn't have to go out in search of suitors from the financial world. "They find us," reports Wright-Swadel. Goldman Sachs, for example, is one of the top recruiters on campus, measured by the number of students it eventually hires.
More interesting, perhaps, is that the nonprofit Teach for America is also among the most successful recruiters on campus. It, too, has a recruiting engine: teachers return to campuses across the country to meet and enlist new members. Unfortunately, most of "the public-service world doesn't work that way at all," says Wright-Swadel. "They hire people at point of need." But because his office hosts so many financial firms, he says he constantly battles the perception that OCS is "too corporate."
To counteract this, he tries to offer students a more diverse array of options through 15 specialized e-mail lists—covering the arts, international opportunities, education, and media, among other fields—that detail everything from job postings to conferences. OCS also partnered with the student-run group STOP (Students Taking on Poverty) to host a conference on Diversity in Career Awareness (DICA) in February. STOP member Dhaval Chadha '08 and others were initially skeptical that OCS would want to help them, but were happily surprised. "In some ways they saved the event during the last weeks," Chadha says: OCS provided funding, staff, advertising, and even helped corral a few last-minute panelists when some of the confirmed participants backed out. The event included discussions on education, media and the arts, science and technology, government, and public health. There was also an informal career fair, where students could hear about how to break into fields without obvious career paths. "DICA is trying to reach out and say, 'Hey! This is what it takes in these sectors. No one's going to come and chase you,'" explains Chadha. Guests included representatives from the Boston Medical Center, the William J. Clinton Foundation's HIV/AIDS Initiative, and Project Hip-Hop, a civil-rights group.



Among those seniors who choose to continue their schooling, the Crimson survey revealed that medical school was the most popular option, claiming 21 percent of respondents. Another 20 percent planned to pursue doctoral programs; master's programs and law school came next, with 18 percent and 17 percent, respectively. Bringing up the rear was business school, which attracted 4 percent of graduate school-bound seniors. (Business schools typically expect candidates to have a few years of real-world experience before applying.)
Uncertainty about life after graduation can continue into the second senior semester. In late February, Lisa Bloomberg '08 still didn't know which medical school she'd be attending in the fall, even though she had begun the application process—sending out her transcripts, test scores, and personal statements to 16 schools—last August.
Bloomberg knew throughout her college career that she would eventually wind up in medicine, but she decided to concentrate in English. "These are the two things I want to be doing," she says. "It's been restrictive, but not in a frustrating way." She even briefly considered shelving medical school and doing academic research instead. "But the more I thought about it, the more I wanted an active career," she explains. "I'm more interested in people, specifically, than in abstract research." She ultimately found ways to marry these potentially distant fields: her thesis focused on sick women, nurses, and doctors in Henry James's mammoth late novel The Wings of the Dove. Its due date (March 14) inconveniently fell during the same week she had interviews with medical schools at the University of Minnesota and the University of Chicago-Illinois.
Of the 2007 graduates who planned to work right after school, half did not have a job at the time of the Crimson's early June survey. That may be fairly typical, but for Mary Ellen Stebbins, waiting to hear from graduate programs, it was hard to keep that fact in mind. "Even though it feels like everyone around me has already decided—it feels like I'm the only one on the non-plan plan—it's not really true," she says.
She'll have plenty of company if she ends up at BU or the American Repertory Theatre: some 21 percent of last year's seniors said they planned to stay in the Boston area, according to the Crimson survey. New York City was the intended destination of more than a quarter of the class; Washington, D.C., was also a big draw—and 8 percent of the respondents said they were heading west to San Francisco.
For Lisa Bloomberg, who was waiting to hear from Harvard Medical School, staying put in Cambridge wouldn't be a bad option, either. "Much like undergrad," she says, "if Harvard decided to say yes to me, it would be hard to say no."
You might also like
Genetic analysis reveals a culture enriched from both sides of the Danube.
Harvard researchers illuminate a longstanding epidemiological connection. 
Harvard's Faculty of Arts and Sciences broaches two tough topics.
Most popular
Brief life of an entrepreneurial archaeologist: 1866-1945
Understanding the impact of partisan gerrymandering: who is doing it, and why, and what might be done to stop it
Brief life of a leader of the Greek Enlightenment: 1748-1833
More to explore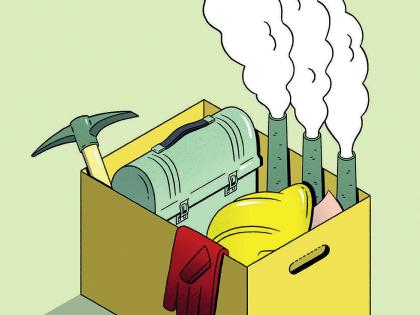 Expect massive job losses in industries associated with fossil fuels. The time to get ready is now.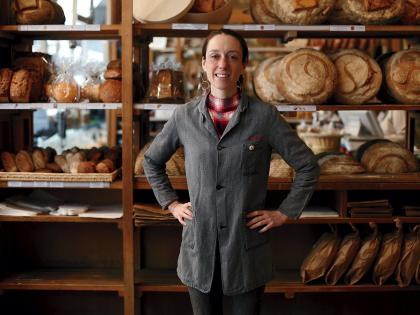 A third-generation French baker on legacy loaves and the "magic" of baking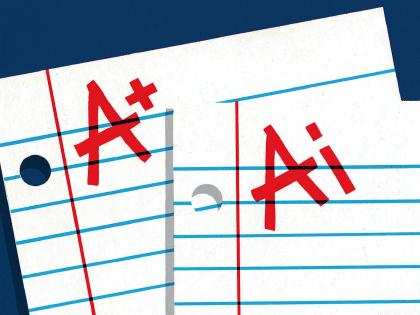 Generative AI can enhance teaching and learning but augurs a shift to oral forms of student assessment.