Play at the Plate
Baseball catcher Tyler Albright explains what goes on behind the mask.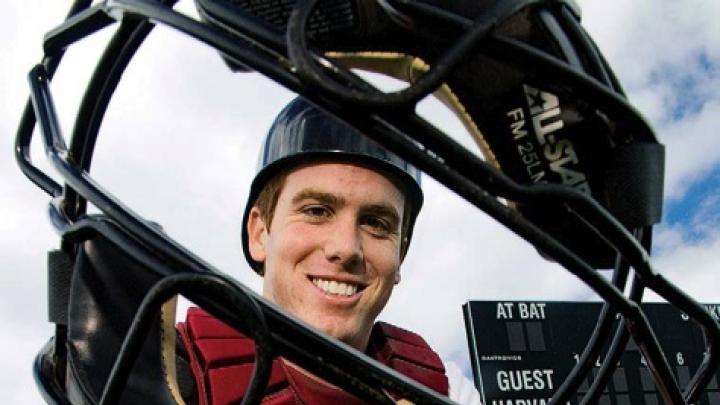 Look at the batter as he steps into the box—where does he stand? Far away from the plate, we might get him on the outside corner; too close, we'll back him off, bust him on the fists. If he edges up toward the front of the box, hard stuff will get to him even sooner—but if he's hanging toward the back, a slider has another couple feet to slide. Check out his hands, too: choking up means a shorter bat, so we might pitch him away. And factor in the game situation. With a man on second, he'll try to hit to the right side of the field to advance the runner, so throwing a fastball outside, you're actually helping him. "I think: what would I be looking for if I were the hitter?" says Harvard catcher Tyler Albright '11. "It's a good idea to cross them up with something different."
Like espionage, so much of baseball is a cat-and-mouse game of feints, disinformation, disguised intentions. It's about creating false expectations, because a surprised hitter, fielder, or runner is frequently a beaten one. Take a pet play of Albright's, one the team in the field can use when there's a runner on first and they would normally expect a bunt. As the pitcher winds up, "the first baseman charges in, as if to field a bunt," Albright explains. "Seeing this, the runner will take a giant lead off first, but our second baseman slips in behind him. The whole play is designed: we call a pitchout, and I backpick the guy [pick off the runner by throwing behind him to the second baseman] from my knees." This spring, Harvard did exactly that against Cornell.
Albright ranks among the premier catchers in the Ivy League, which this year named him to its Honorable Mention team, along with third baseman Harry Douglas '09 and outfielders Tom Stack-Babich '09 and Dillon O'Neill '11. The Crimson squad (stymied by injuries, Harvard finished 13-28, going 10-10 in the Ivies and 8-4 at home) also elected Albright its captain for next season, a rare honor for a rising junior. He is a workhorse who played in all 41 games and started 37 of them as either catcher or designated hitter. Albright hit .267 with nine doubles and one homer, and feasted on lefties, hitting .385 with southpaws on the mound.
But a more important statistic might be his record of throwing out 17 of 47 base stealers for a laudable 36 percent kill rate—in one hot streak, he snuffed nine of 11 attempted larcenies. "When a runner steals, I try to get a four-seam grip on the ball," Albright explains. "I can feel which seams I'm holding. With four seams it goes straighter—two seams, it curves to the right, so I compensate by throwing to the shortstop side."
---
"A catcher's primary job is defense and managing the game," says Albright, who, at a sturdy six feet, two inches, and 200 pounds, has the right frame for the job. "If he gets hits, great, but his main job is to keep the other team from getting hits. Somebody like Manny Ramirez can spend his free time studying the opposing pitcher; the catcher is studying the other team's hitters." Before a game, Albright studies the opponents' stats and identifies fast runners and power hitters. Coaches will brief him with scouting knowledge they have on batters who, say, cannot hit curveballs or "gas" (fastballs), or who are dead-pull hitters. (A right-handed batter who predominately hits to left field is a "pull" hitter, and vice versa.)
Baseball coach Joe Walsh entrusts pitch selection to Albright. All college pitchers can throw fastballs—typically with a velocity in the mid 80s, a few reaching the low 90s—but the ability to throw breaking pitches for strikes is what separates the top hurlers from the rest. (Sinkers or split-fingered fastballs are fairly rare in college ball.)
A key part of a catcher's job is dealing with pitches that go awry. In fact, one reason Albright began catching, in Long Beach, California, at age 10, was that "I was the only kid in the league who could block a ball in the dirt." That's a dangerous assignment, which can easily mean taking an 85 miles-per-hour fastball on the arm. During every pitch, the catcher hides his throwing hand behind his back, as a ball fouled straight back can not only "ring your bell" by hitting the catcher's mask, but can easily fracture hands, fingers, and wrists.
Catchers have an absorbing job. They are active on every pitch, and are at the center of baseball's most exciting moment, a play at the plate. But catching exerts heavy wear and tear on the body. "You wake up and feel a different bruise every day," Albright says. After each game he soaks sore knees and legs in ice baths, often with soccer players and cross-country runners for company. "It really does make a difference," he says.
This summer, Albright is playing for the Wareham Gatemen of the storied Cape Cod League, one of a handful of summer baseball leagues the National Collegiate Athletic Association has certified. It is "the best college summer league in the country, the most exclusive amateur baseball league in the world," wrote former Dartmouth infielder and Yankee magazine editor Jim Collins in his 2004 book The Last Best League, which retails much of the Cape Cod League's folklore. Major-league stars like Nomar Garciaparra, Frank Thomas, Mo Vaughan, Barry Zito, Carlos Peña, and Kevin Youkilis played there in their salad days.
The Gatemen will play 40 to 50 games from early June to early August; the diamonds are in beach towns scattered along the Cape. At night, the whole town comes out to see the ballgames, says Albright. "It's a pitcher-dominated league—a .250 batting average in the Cape Cod League is good," he says. "You face the top pitchers in the country and are able to play with some of the best players anywhere. That has to elevate your game. It's relaxed, fun, and really serious baseball." Defensively, Albright is ready for Cape Cod play, though he acknowledges that facing such high-caliber pitching will be "a big challenge." But when your trade is catching, it's the time behind the plate, not next to it, that counts.
You might also like
Genetic analysis reveals a culture enriched from both sides of the Danube.
Harvard researchers illuminate a longstanding epidemiological connection. 
Harvard's Faculty of Arts and Sciences broaches two tough topics.
Most popular
Headlines from Harvard's history
The Chiara String Quartet are Harvard's current Blodgett Artists-in-Residence.
Marie Rutkoski blends sixteenth-century history with fantasy in The Cabinet of Wonders, a new novel for young adults.
More to explore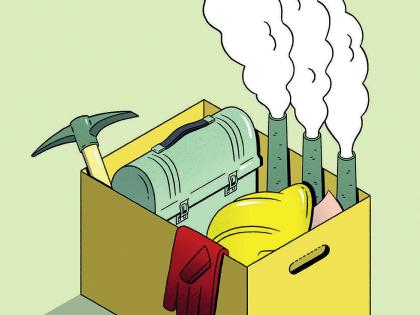 Expect massive job losses in industries associated with fossil fuels. The time to get ready is now.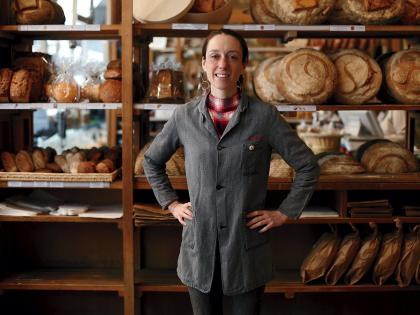 A third-generation French baker on legacy loaves and the "magic" of baking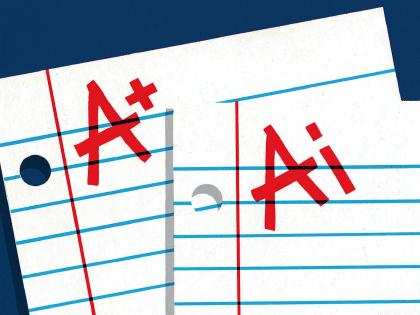 Generative AI can enhance teaching and learning but augurs a shift to oral forms of student assessment.