"Eisenhower 2.0"
Harvardians boost clean, green travel from Canada to Key West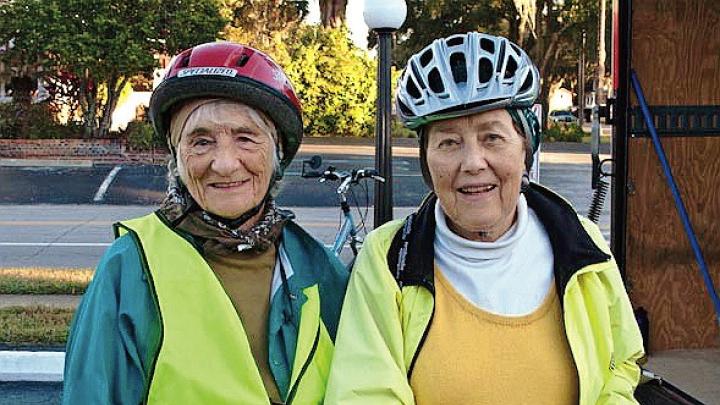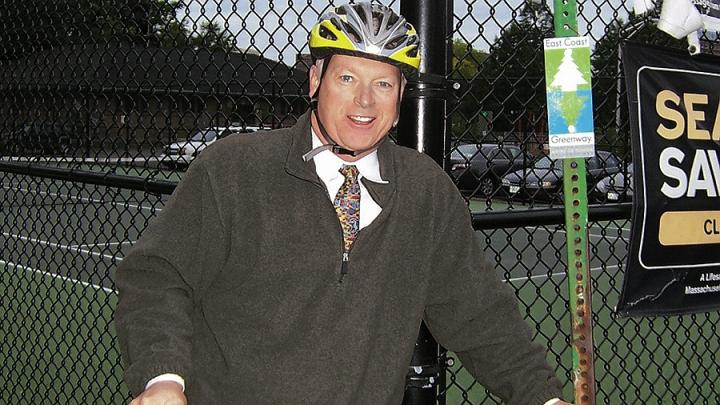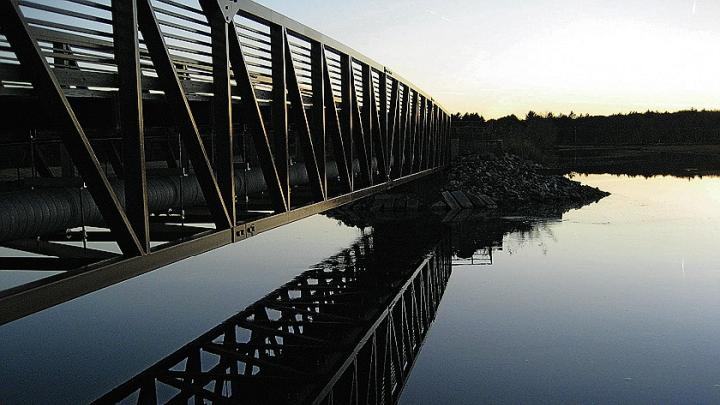 Elizabeth Brody '53 and Linda Cabot Black '51 biked around Cambridge during their Radcliffe years, but they never met until last November, while logging upwards of 20 miles a day on a cycling tour of the scenic East Coast Greenway (ECG) trail in northern Florida. 
Both are longtime supporters of non-motorized transportation and have spent years helping the ambitious ECG project—a 3,000-mile series of linked pathways from Canada to Key West—become a reality. "I believe a horse, a boat, or a bike are the most satisfying ways to get from point A to point B," says Black, a director of the Boston Lyric Opera. "Cars are a very bad habit. Anything we can do to get people out of their cars is better for the environment and, of course, for exercise. It's so ironic that Americans spend all this money on spas and gyms and they don't even walk or bike or take the train to work." 
Brody, a retired attorney living in New York City, sees walking and biking on trails as a way to promote community bonds and truly explore and experience the natural world. "It's a wonderful way to meet people," she says. "People are just happier when they are active." Such sentiments, say proponents of "active transportation," are growing and fueling support for projects like the ECG, which planners envision will ultimately offer commuters, travelers, and recreators safe, car-free, handicapped-accessible routes through 15 states and 25 cities along the Eastern seaboard. 
Advocates and city planners both report seeing a rise in bike use across the country, especially in urban areas. Solid statistics for New England are hard to find, but in New York City, where the transportation department has collected data at entry points to Manhattan since 1980, the number of commuters who cycle in daily has more than doubled in the past seven years, to 28,300 people in 2009. The most popular route is the 13-mile Hudson River Greenway, the local section of the ECG, which is virtually car-free.
"The ECG is a more daily, urban sister to the Appalachian Trail, and one that will be more accessible to and navigable by many more people," says David Read, M.P.H. '94, of Topsfield, Massachusetts, vice chair of the East Coast Greenway Alliance (ECGA; www.greenway.org), which oversees the whole project. Read, Brody, and Black—along with Georgia board member Jim Langford, M.B.A. '84, Stephen A. Davis '59 (a Boxford, Massachusetts, selectman who chairs the group helping to build the 3.5-mile ECG trail through his town), and active members James M. Sharpe, M.B.A. '76, and Deborah Stein Sharpe, M.B.A. '81, of Canton, Massachusetts—are among a large number of Harvard alumni who have contributed or still provide significant volunteer time and money to the project. They believe, as Read says, that "the ECG has deep implications for cultural and economic changes in the United States. Public health, economic development, climate change, energy security—this project touches on all of those and promotes a new way of urban planning, around active transportation."
Nearly 20 years in the making, the ECG is now fully mapped out and its current proposed route has been field-tested by very experienced cyclists—but there is still a long way to go before the whole vision is realized. Only about a quarter of the 3,000-mile trail is already off-road. Of the 818 miles of routes mapped out in New England, 165 miles (20 percent) have been completed, all off-road. Connecticut leads the way with nearly 50 miles, followed by Rhode Island, with 24; New Hampshire is last, with none. The heavily populated corridor between New Haven and Portland will be more than 50 percent off-road within a few years, if funding levels continue. 
---
Each local ECG subsection has its own name—which can be confusing, especially while gaps between trails are still being plugged. Thus, the 30-mile Border to Boston Trail (organized by the Border to Boston Trail Coalition, chaired by Read) joins eight communities in Essex County, Massachusetts, running from Danvers north to Salisbury, on the New Hampshire border, where it will eventually link to the New Hampshire Seacoast Greenway. The stretch offers stunningly diverse views, from woodlands, marshes, rivers, and distant coastal beauty to busy highways, town centers, and a range of residential neighborhoods. Read says the recently completed 1.1-mile Clipper City Trail in Newburyport, which connects the train station with downtown, is already a popular non-car option for commuters and families. Now he and the local and regional planning agencies must figure out how to connect that trail to Salisbury's Old Eastern Marsh Trail, across the Merrimack River. Read is also busy with negotiations to complete the New Hampshire Seacoast Greenway, which would run around the Seabrook nuclear power plant's property.  
In his own town, Read is helping develop a four-mile trail. The mile-long Topsfield stretch already completed—its stone-dust surface also suitable for horseback riding, a popular local activity—now connects schools, churches, the post office, local stores, and the fairgrounds, home to the country's longest-running agricultural fair (dating to 1818), which draws long lines of traffic each fall. Read and other trail volunteers spent weekends last fall putting up safety railings and decking on an old railroad bridge over the Ipswich River that will become yet another section of the trail once environmental approvals are in place to ensure wetlands protection. "It was so good to get out and do something physical on the trail, instead of sitting in all these planning meetings," he says. 
Given his training in epidemiology and his job as chief administrator of medical oncology at the Dana-Farber Cancer Institute, Read emphasizes the public-health benefits of non-motorized travel. In the United States, where one person in 12 now has diabetes, the associated healthcare cost, he reports, is $174 billion a year. Moreover, approximately nine million children (15 percent) in the country are obese—twice as many as in the 1960s. "It just makes so much sense for this country to promote active transportation," he says. He is himself a prime example of how bike trails can directly contribute to improving health. When he lived in Watertown, he commuted daily by bike to the Harvard School of Public Health. But when he moved to the North Shore, he stopped biking, "gained a lot of weight, and felt terrible." Now he takes the commuter rail to Boston's North Station and then cycles along the Charles River Bike Path to work. "I lost 10 pounds and, at 50, I feel much better than I used to," he says. "I love riding along the river and sometimes going faster than the cars inching along during rush hour—and I feel great when I get to work."
While many commuters will use the ECG to get to work, others will spend their vacations on it. The northernmost section of the ECG, in Maine, is a uniquely wild, 87-mile path, entirely off-road, that begins at Ayers Junction and runs to Ellsworth, near the entrance to Acadia National Park. Along this Downeast Sunrise Trail (www.hcpcme.org/transportation/sunrise), cyclists, hikers, walkers, cross-country skiers, and snowmobilers (this is one remote section that allows them) travel through or near remote forests, blueberry barrens, swamps, and ponds, as well as towns like Machias (on the coast) and Cherryfield (inland), where restaurants and lodgings are available. Forty miles of the trail are complete, surfaced with crushed stone (suitable for wider-tired bikes, although this will likely change to accommodate touring bikes); the balance is due to open this fall. 
In Connecticut, the ECG achieved a major breakthrough recently with a proposed 37.5-mile route that will follow the scenic Merritt Parkway, one of the few highways on the National Register of Historic Places. The state department of transportation agreed—after a decade of advocacy for the ECG route—to move forward on a pilot mile of trail in Stamford that has been designed, but not built. With the Merritt route completed, people could pick up the trail at various points throughout Fairfield County and ride all the way to the New York border—and then link to another ECG section taking them into Manhattan. 
---
But to understand the countless factors complicating every mile of ECG construction, says ECGA executive director Dennis Markatos-Soriano, consider that even though the Merritt Parkway has an unusually wide (300-foot) right-of-way, the Merritt Trail has to be far enough from the road to avoid noise, but not too close to homes; must avoid disturbing old trees or environmentally sensitive areas; work around tricky rock outcroppings; and navigate various bridge crossings. Not to mention the negotiations necessary with state and local planners, engineers, elected officials, business owners, and abutters in all the towns involved. 
With its staff of six and an annual $500,000 budget, the ECGA oversees the entire project, supporting and working closely with smaller, local grassroots organizations trying to develop pieces of the trail in their own communities. (A Fairfield County Bike-Ped Alliance, which will take on the Merritt Parkway project locally, was being organized at press time.) "We have hundreds of stakeholders that we need to talk to and get approvals and cooperation from for the ECG to be successful in the long run," Markatos-Soriano asserts. "But that's the way it should be. People always fear change. It's up to us to communicate the positive attributes of greenways": improving local economies by drawing tourists and other visitors, boosting housing values, fostering community-building through outdoor activity on public land, decreasing the nation's dependence on oil, and promoting physical exercise and health. 
Board member Jim Langford sees the ECG as the first of many bike/pedestrian trails that will become an interstate system linking many major cities and attractions, not to mention neighborhoods within towns and suburbs across America. "If, in 1910, you'd said to people, 'In the coming years, you're going to be able to drive from your paved driveway on paved roads all across the country and go anywhere you want in a car,' they would've said you were nuts," says Langford, head of the nonprofit MillionMile Greenway in Georgia (www.millionmilegreenway.org), which helps establish pilot local greenway initiatives. "Well, these greenways are the reverse of that. One day, you will be able to walk from your house or work to a greenway in your neighborhood and bike or walk or go in a wheelchair on trails that are not highways, and get to the store, your friends, the train—wherever you want to go." Markatos-Soriano calls this vision the "Eisenhower Interstate System 2.0," recalling that era of dramatic motorized highway expansion.
In the meantime, however, all involved in the ECG project acknowledge the complex work ahead. Continued monetary and political support is critical. The ECGA, based in New York City, had to lay off its communications coordinator last year, and depends on many volunteers like Read, Brody, and Langford to keep pushing the project forward. 
Economic stimulus funds have been awarded to about 28 miles of new ECG trails; other trail-project applications are pending. Increasingly, Markatos-Soriano tries to shore up state and federal support (he met last fall with U.S. Department of Transportation deputy secretary John Porcari, who seems ready to promote non-motorized traveling options more actively). Yet he says, "Though many of us in the health, environment, and energy-security community see the ECG as one of the top infrastructure projects in our country—and we are making great progress with our federal, state, and local transportation leaders—we have a way to go to get that level of support and priority" for federal transportation funding.
Car-catering infrastructure is exorbitantly expensive, Markatos-Soriano notes: each mile of highway demands millions of dollars. The new Woodrow Wilson Bridge spanning the Potomac River, for example, cost $2.4 billion (about $300 million per mile for the 7.5 miles of roadway over the bridge). Compare that to a mile of greenway, which costs, on average, between $100,000 and $250,000. (Costs can rise to $1 million if bridges are required.) "All weneed is another $2 billion—less than the cost of that one bridge—to complete many of the remaining ECG trailways," he points out. 
For Langford, the time is right for the ECG. He believes Americans have reached a tipping point on two counts: understanding the impact of health problems and the need for daily recreation and fitness; and understanding the need to conserve green space. "Some communities get the concept more than others," he says, "but there is a general premise now that preserving green space for humans is critical." Many developers, he adds, now see that trails and greenways are useful amenities, while business leaders have seen that greenways are good for local economies. "This has led to a more symbiotic relationship between citizens and local governing boards," Langford maintains. "It's no longer two groups fighting each other, it's two groups finding that these greenways are really good things for communities, and working together to figure out how to find the money and make greenways happen." 
You might also like
Harvard researchers seek to empower individuals to steer their own careers.
How the Bezos Earth Fund hopes to seed economic transformation
A Harvard series explores South Korean cinema in the years following the Korean War. 
Most popular
Brant Berkstresser aims to ensure sound bodies for Harvard's student athletes.
Steven Choi, J.D. '04, works—and fights—at the vitriolic epicenter of immigration politics.
John Alexander follows the ups and downs of funk musician Rudy Love.
More to explore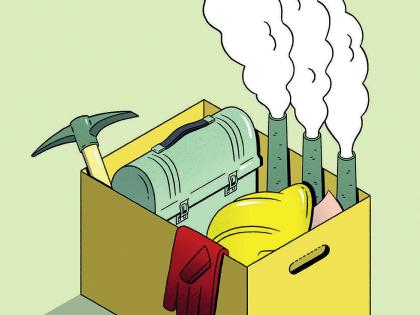 Expect massive job losses in industries associated with fossil fuels. The time to get ready is now.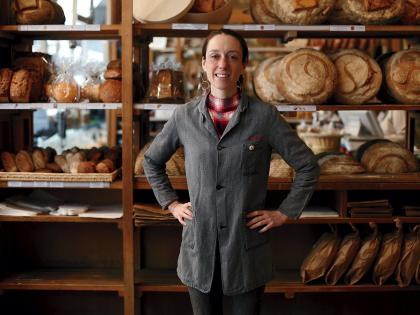 A third-generation French baker on legacy loaves and the "magic" of baking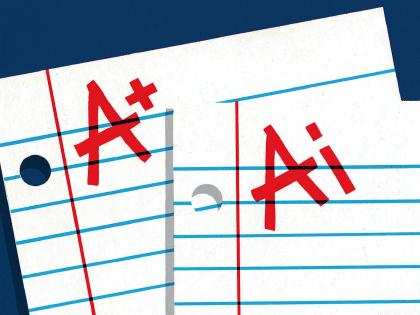 Generative AI can enhance teaching and learning but augurs a shift to oral forms of student assessment.