"Feminism, Now and Then"
Panelists at Radcliffe Day say feminism's work is not finished, and try to illuminate the way forward.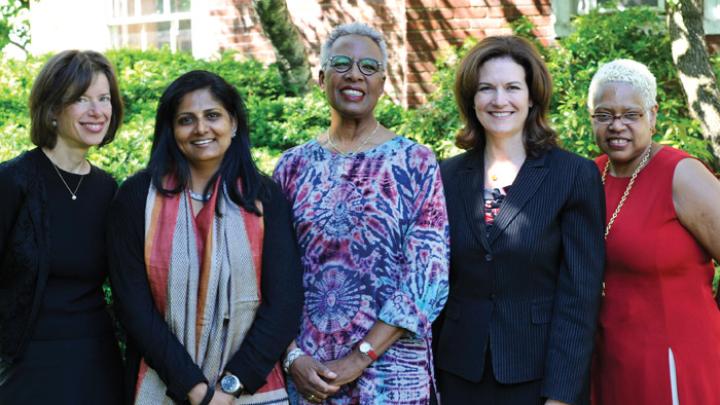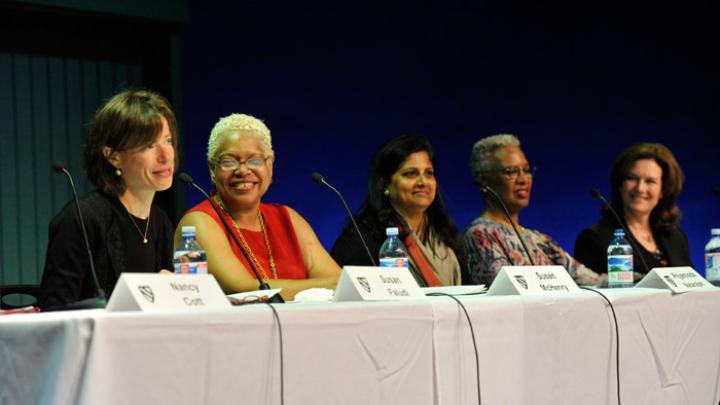 Asked to comment on the current state of feminism for a Radcliffe Day panel titled "Feminism: Then and Now," journalist and author Susan Faludi '81, RI '09, said the attitude of young women today might be aptly described as "feminism now and then."
"Feminism's progress is too often a spasmodic stop-and-start affair, with great bursts of mobilization followed by long periods of quiescence and partial amnesia," Faludi told an audience of alumnae gathered in the packed Loeb Drama Center for Radcliffe Day.
Though she doesn't oppose celebrating the gains women have made, Faludi said, "all of this celebration should not obscure how far women still have to go."
Assigned to write a commemorative article about the Newsweek staffers who filed a gender-discrimination lawsuit against their employer in 1970, three present-day female staffers at Newsweek felt as they researched the article that "the victory dance feels premature," Faludi said, highlighting their article as evidence for her argument. The writers noted that of 49 Newsweek cover stories in the previous year, only six had been penned by women, and that male bylines outnumber female at "major magazines" by 7 to 1.
Faludi's fellow panelist Nell Irvin Painter, Ph.D. '74, BI '77, also commented on the reluctance of today's young women to make waves. She spoke from a unique perspective: after a three-decade career in academia, with the last stop at Princeton as a professor of American history, she retired and is now pursuing a second career in painting. She obtained a bachelor's degree in fine arts from Rutgers last year and is now pursuing a master's degree, in the same field, at the Rhode Island School of Design. Sitting in classrooms side by side with much younger students, she said, "I'm the one who will ask the hard questions about sex and race." And she said she was particularly disturbed by the way some of these young women nonchalantly embrace degrading behaviors such as binge drinking to the point of blackout, and appreciating pornography (and even participating in the making of pornography, in the case of one show that celebrated it as an art form).
Trying to start a career as an artist in her sixties has given her a new perspective on breaking through barriers, she said: in the public imagination, the archetype of the emerging artist is "a cute young white person in very tight clothes." That is not who she is, said Painter (who also happens to be African American).
Later, during the question-and-answer period, the panelists were asked how to best combat the "feminism now and then" attitude.
Give it time, said panelist Priyamvada Natarajan, RI '09, a professor of astronomy and physics at Yale: "I notice the undergraduate women that I teach don't want to identify as feminists. But once they enter the workplace, when they find out that Tom who lived in their suite and had the same GPA as them and is working for the same company as them, is suddenly making $10,000 more than they are, they all suddenly become feminists."
Faludi recommended conveying to young women that "a successful life means rocking the boat in all kinds of ways."
To move toward equality in the corporate world, panelist Diana Scott '81, senior vice president of human resources at John Hancock Financial Services, advocated creating a culture that welcomes dissent—about women's issues, hiring practices, compensation, and definitions of professional success, but more broadly, too. She said she envisions a world "where debate and disagreement is valued and seen as absolutely essential to the success of the business."
And, said Painter, "We can continue to speak up. Certainly I felt, as the older woman, the black woman, the older black woman, in my undergraduate and my graduate classroom, a little voice inside of me kept telling me, oh, not again. But I kept talking, and I think you all need to keep talking, too." Panelist Susan McHenry '72 chimed in: Don't be afraid to "be the eccentric aunt" who's always talking about feminism.
Though she brought a perspective from the business world, Scott first explained the personal path that led her to Harvard and, eventually, to her current professional position. Her mother had grown up in a household where the sons' college education was paid for, but daughters' wasn't. So Scott's mother got married, then divorced, then quickly married again; she never wanted her own daughter to feel the same lack of choices she experienced, Scott said, so she stressed the importance of education. During Scott's sophomore year at Radcliffe, she watched her mother get her college diploma at the University of California-Davis.
As an executive at John Hancock, Scott says she is proud to see that women make up 55 percent of all employees, and are roughly equal in numbers to men among managers. But there is still work to do in the ranks of upper management, she said. Toward this end, she advocates making diversity in management ranks an explicit measure of success for companies and for the people making hiring decisions.
One factor in favor of the movement toward equality: attitudes unique to the Millennial Generation. Today's twentysomethings "don't see careers as linear," she said; they are concerned about work-life balance, job flexibility, and the values of the companies for which they work—and she believes companies are responding. "The best companies are figuring out how to keep the best workers, and the world is changing."
Assessing the situation in academia, Natarajan said she is "optimistic" yet "very impatient." A woman scientist in the male-dominated field of cosmology, she said, "We are making inroads just by being there." Though she has reached remarkable achievements—such as publishing two articles in the prestigious journal Science within two months of each other—Natarajan said she has also come to see how "a very narrow view of success" has impeded women's progress in academia. She called instead for adapting the system to recognize and reward "a lot of different kinds of talents and gifts."
McHenry told a story of intertwined women's rights and rights for African Americans, woven together through the media. During her undergraduate days at Radcliffe, both Essence magazine and Ms. magazine published their debut issues; McHenry recalled spending Sunday afternoons in front of the newsstand at the Shepard Drugstore, finding the magazines and feeling them "speaking to me in a way no magazine had ever spoken before." She would go on to work for both, as well as for Working Woman and the African-American news magazine Emerge, and to be the founding editor of the Black Issues Book Review.
The second story that Faludi told also involved some Harvard history. She recounted the speech given in 1971 by Gloria Steinem, whom the panelists and audience members would see receive the Radcliffe Medal later that day. Not being a lawyer herself, Steinem was initially reluctant to speak at the annual black-tie dinner of the Harvard Law Review, but she agreed to come "after she received many pleas…from beleaguered female Harvard law students."
At the time, the Law School administration's antagonism toward women was "legendary"; Faludi recalled a remark by Erwin Griswold, dean of Harvard Law School (HLS) from 1946 until 1967, to the effect that female law students "were taking away slots that should rightfully go to male breadwinners," as Faludi put it. The other people considered to speak at the dinner that year, she said, were William F. Buckley Jr., J. Edgar Hoover, and Spiro Agnew.
On that night in 1971, Steinem's frank recounting of misogynistic comments by HLS professors, her pointed criticism of the way the Law School curriculum ignored women's issues, and her suggestion that HLS act immediately to make its student body 50 percent female caused one senior professor to leap to his feet, "stuttering with fury," but at the same moment, female students rose to their feet for a standing ovation, drowning him out, Faludi said.
"There has been nothing 'now and then' about Gloria Steinem," Faludi said. "She was here at the beginning…and she's here today, still fighting, and for that and many other reasons, she's a model for us all."
You might also like
Genetic analysis reveals a culture enriched from both sides of the Danube.
Harvard researchers illuminate a longstanding epidemiological connection. 
Harvard's Faculty of Arts and Sciences broaches two tough topics.
Most popular
Professors' humble beginnings, concentration choices, and a mini history of Harvard and Radcliffe presidents
Brief life of a feisty mountaineer: 1859-1925
Realizing the full potential of black employees
More to explore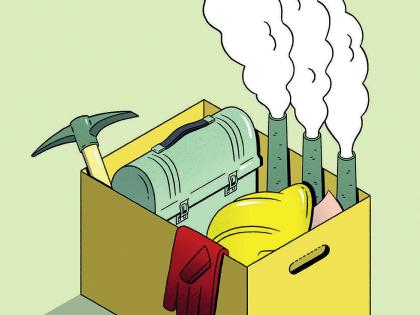 Expect massive job losses in industries associated with fossil fuels. The time to get ready is now.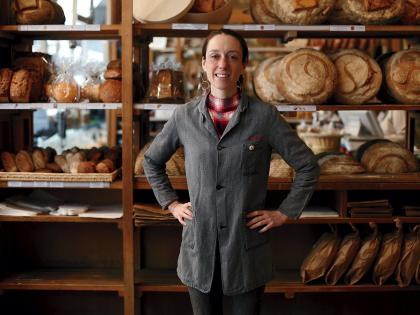 A third-generation French baker on legacy loaves and the "magic" of baking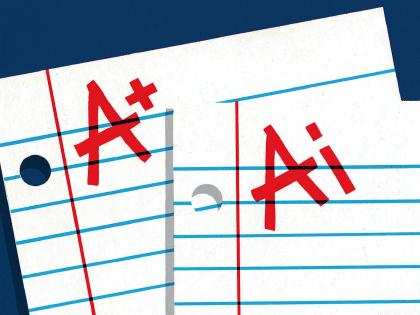 Generative AI can enhance teaching and learning but augurs a shift to oral forms of student assessment.