No Surprises: Harvard's 2010 Financial Report
A year of planned decreases in revenue, expense savings, and movement toward greater liquidity
The Harvard University Financial Report for fiscal year 2010 (ended last June 30), released today, appears to fulfill administrators' fondest hopes in that it conveys essentially no surprises. In this respect, the report contrasts sharply with the fiscal 2009 version, which disclosed nearly $3 billion of previously unreported losses sustained from investing Harvard's cash reserves alongside the endowment and from unwinding interest-rate swaps intended to buttress financing for future campus construction in Allston (the swaps backfired badly in the environment of a recession and record-low interest rates). Those losses were atop the $11-billion decline in the endowment during that year.
Nonetheless, the 2010 report outlines a new state of University financial affairs. Operating revenue declined to $3.72 billion, down from $3.81 billion in 2009, and operating expenses were modestly lower, too—$3.73 billion, down from $3.76 billion—yielding a $4.7 million deficit. In sharp contrast, during the previous five fiscal years, from 2005 to 2009, revenues had risen by more than a billion dollars (from $2.80 billion to $3.81 billion, an aggregate increase of nearly 36 percent), and spending slightly faster (climbing from $2.76 billion to $3.76 billion, a total increase of more than 36 percent). The days of an 8 percent compound annual growth rate in spending—$200-million increases in annual outlays—are over.
Fiscal 2010's  2.2 percent decrease in revenue is a surprisingly good result. The Corporation had directed an 8 percent reduction in the endowment funds distributed for operations during the year—the source of 38 percent of operating revenues in fiscal 2009. The fiscal 2010 report indicates that the actual reduction came in at 7 percent ($1.32 billion, down from $1.42 billion); the slight difference reflects the buffering effect of distributions on new gifts to the endowment. "Decapitalizations" of endowment principal remained nearly level, at $237.4 million in fiscal 2010 (down only $2 million from the prior year); the "administrative assessment"—formerly called the "strategic infrastructure fund," a half-percent annual levy on endowments for University expenses associated with Allston campus development—apparently declined to about $130 million from $176 million in fiscal 2009, in line with the decline in asset values. Current-use giving declined about 15 percent ($43 million), to $248 million. But there were offsetting pockets of strength: during the year, tuition income from graduate- and professional-degree programs rose a robust $23 million, and from continuing-education and executive programs nearly $15 million; and federal support for sponsored research—augmented by national stimulus appropriations—soared 11 percent, increasing almost $62 million.
The report breaks out expenses in a new way. The 1 percent decline in total spending reflects the 8 percent increase in direct sponsored spending and a 2 percent decline in "non-sponsored outlays." In their section of the report, Daniel S. Shore, vice president for finance (Harvard's chief financial officer), and University treasurer James F. Rothenberg characterize the latter as "more squarely within the University's control, and…demonstrat[ing] progress made in planned cost reductions." (Read a news office interview with Shore on the report here.) Excluding "certain costs that tend to be fixed in the near term (i.e., tenured faculty compensation, financial aid, depreciation, and interest)" and adjusting for one-time items in both fiscal years ($59 million of fiscal 2009 expenses for retirement incentives and severance and benefits costs associated with layoffs; and a $52-million item in fiscal 2010, discussed below), Harvard's "controllable non-sponsored operating expenses decreased by 6 percent," from $2.30 billion to $2.17 billion. In other words, expense reductions valued at $130 million were realized during the year—not an easy feat after sustained, expected increases in spending.  Among the salient details:
Given workforce reductions and a fiscal 2010 salary freeze for faculty and nonunion staff members, non-sponsored salaries and wages declined 3 percent, or $31 million.
Sharp savings were effected in discretionary expenses, with non-sponsored costs for supplies and equipment, utilities and building maintenance, travel, and purchased services reduced by $88 million. It appears that the University did most of its fiscal 2010 budget dieting here, rather than in permanent changes in the workforce. The report cites efforts to reduce utility consumption, to "challeng[e] the need and frequency of routine maintenance and janitorial services," and to restrict travel.
Some of those savings are clearly sustainable (permanently installed building energy controls, for instance); others will have to be monitored. Throughout the University, it is notably more challenging to add employees or to fill vacancies than in the past—the term of art is "position control"—suggesting the spread of a more disciplined approach to budgets and operations.
Of course, other expenses rose. Of particular note, total interest expense increased to $265 million—26 percent higher than in fiscal 2009. Total indebtedness, $2.85 billion in fiscal 2005, climbed steadily in subsequent years before ballooning to $5.98 billion in fiscal 2009, when Harvard placed $2.5 billion of new debt issues to restore its impaired liquidity, refinance variable-rate debt,  and unwind some of the interest-rate swaps on which it had incurred huge losses. Bonds and notes payable at the end of fiscal 2010 increased modestly, to a total of $6.28 billion, reflecting new issues, principally to pay for construction projects such as the Law School's Northwest Building. Interest expense is reported in two separate lines, for building-related costs and for "other" expenses; within the latter line item, interest expenses rose to $89.4 million in fiscal 2010, up from $56.6 million in the prior year (and just $13.3 million in fiscal 2008), reflecting the burden of servicing these new University-level, liquidity-related obligations.
During the year, capital spending was essentially cut in half, to $324 million, with more than half that sum spent on existing buildings. Although work continues on three major projects—at the Law School, the Fogg Art Museum, and the gut renovation of the Fairchild Biochemistry Building to outfit it for stem-cell researchers—the largest new project, the $1.4-billion Allston science complex, has been suspended, bringing down the rate of spending overall. For the foreseeable future, the three listed projects and renovation of the physical plant seem likely to be the major capital initiatives. Debt-funded large new ventures are, for now, not on the drawing boards. A new capital-planning process, meant to provide a University-wide, five-year building program, will presumably shape what kinds of commitments Harvard will make; surely it will be tempting to borrow at current low interest rates, but, as surely, there will be pressure to contain new debt financing very severely.
Other items of interest include:
Interest-rate swaps. During fiscal 2010, according to the report, the University entered into $695.5 million of additional swap agreements, all designed to offset existing swaps and so to reduce further long-term risk of loss, depending on interest-rate movements. According to the letter from Shore and Rothenberg, Harvard "did not incur any cash expense to execute these offsetting agreements; however, the agreements diminish the University's ability to recover past market value losses if interest rates were to increase in the future." That is to say, the swaps, which were originally intended to guard against rising interest rates, and which produced losses when rates fell (and have remained at very low levels), have been partially offset with swaps making exactly the opposite assumptions; and by having entered into these new contracts, Harvard is giving up most of the opportunity to recover past losses should rates in fact increase over the life of the original swap contracts. The University is getting itself out of the business of bearing interest-rate risk for those past contracts, to the extent possible.
Liquidity. The General Operating Account (GOA)—Harvard's cash and operating funds—which came to grief in fiscal 2009 when the endowed portions depreciated—is now more liquid. Of its current net asset value of $3.75 billion, liquid assets held outside the University's General Investment Account have risen to approximately $1 billion; two years ago, when the GOA totaled $6.57 billion, the cash portion held outside the investment account was $300 million. The "de-risking" continues—imposing a cost, in return for the greater liquidity, of lower investment returns, and lower distributions from GOA investments for University operations. That distribution declined about $8 million in fiscal 2010, and should decrease further.
Investments. A review of the "fair value" accounting for investment assets in the footnotes suggests that the portfolio as a whole (for endowment and other holdings) is more oriented to liquid holdings. At the same time, as Harvard Management Company president Jane Mendillo disclosed in reporting endowment results, the portfolio managers are redeploying funds into certain areas that they deem attractive—notably certain kinds of new real estate, commodities, and natural-resources holdings.
In all, said Shore in a separate conversation, fiscal 2010 was "a good year." Harvard set out to make progress in addressing controllable expenses, and did so, relatively quickly for a large, decentralized research university. He also pointed to the improved risk profile of financial resources, especially in light of the University's debt load. And the growth in certain revenues—the tuition and sponsored-funding items described above—demonstrated, he said,  that in its core operations of teaching and research, Harvard is "quite resilient."
The current year poses its own challenges. Although the fiscal 2010 accounts suggest that employee benefit costs decreased, that merely reflects the incidence of $48 million of one-time costs incurred in fiscal 2009; benefit costs are still rising, and the salary and wage freeze has ended. During this year, the further reduction in endowment distributions for operations will subtract $130 million or more from revenues.
Two factors will partly alleviate that apparent gap. First, fiscal 2010 expenses are inflated by a one-time $52-million charge associated with the restructuring of the Broad Institute, a genomics-research center, into an independent entity. Second, the sponsored-funding awards under the federal stimulus program were not all expended in fiscal 2010, and in fact should provide something like $20 million more in revenues this year. Together, those two factors offset about half the reduction in endowment distributions.
To deal with the rest, Shore suggested, it will be imperative to continue pursuing "administrative aggregations" of functions—from human resources and communications to information technology—to effect further, long-term expense savings. Savings in fiscal 2009 and 2010 were effected principally within each of the University's decentralized schools and units; the current opportunities, he suggested, lie in identifying better ways to work between and among those autonomous units and the central administration itself. Realizing the savings will take longer-term efforts; the Faculty of Arts and Sciences (FAS), he noted, is on a two-year path to eliminate its remaining budget deficit, using reserves to fund the work in the interim. (And apart from the factors Shore and the financial administrators are overseeing, five of the faculties—most prominently FAS—may begin to realize savings after the current year from the retirement incentives they offered to senior faculty members ; the professors' decisions have not yet taken effect.)
For the foreseeable future, Shore said, there is too much uncertainty about all sources of revenue—tuition net of financial aid, endowment investment income, and federal research funding—to relax any efforts to identify and realize efficiencies and savings. That is the University's financial outlook, and priority, for the next few years.
You might also like
Genetic analysis reveals a culture enriched from both sides of the Danube.
Harvard researchers illuminate a longstanding epidemiological connection. 
Harvard's Faculty of Arts and Sciences broaches two tough topics.
Most popular
Professors' humble beginnings, concentration choices, and a mini history of Harvard and Radcliffe presidents
Brief life of a feisty mountaineer: 1859-1925
Realizing the full potential of black employees
More to explore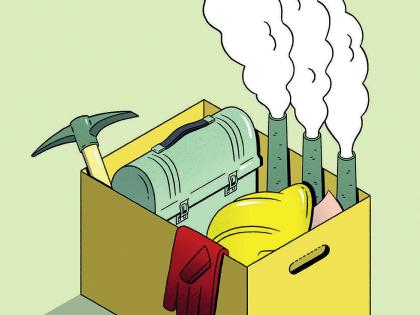 Expect massive job losses in industries associated with fossil fuels. The time to get ready is now.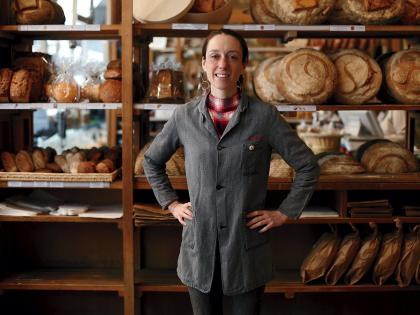 A third-generation French baker on legacy loaves and the "magic" of baking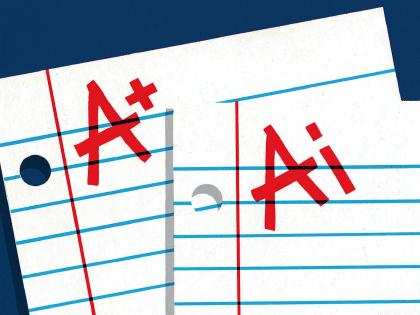 Generative AI can enhance teaching and learning but augurs a shift to oral forms of student assessment.