Local Bounty
Alumni celebrate New England-grown food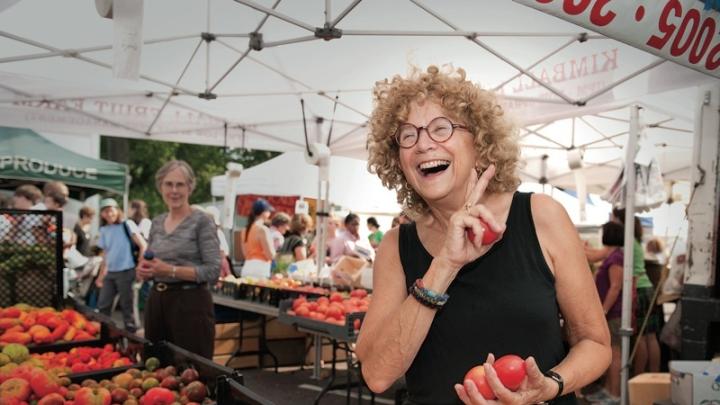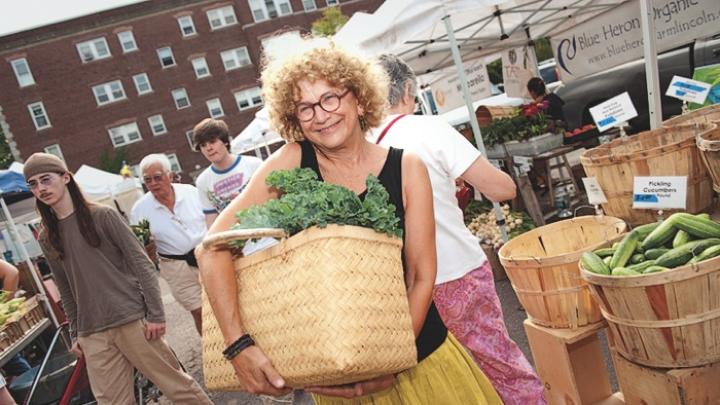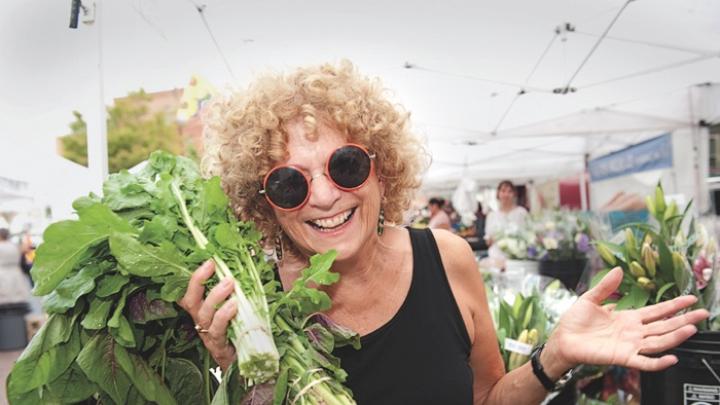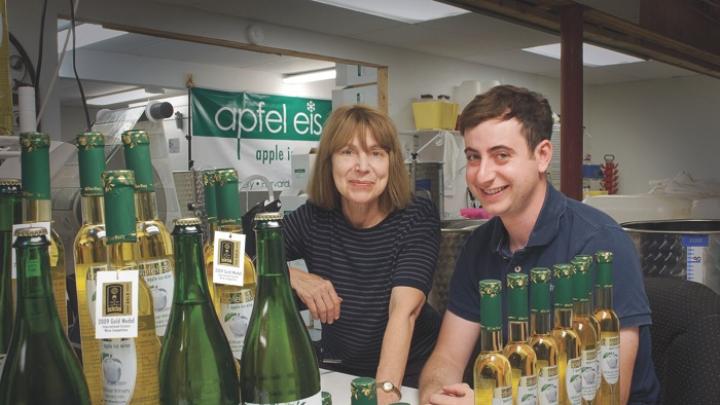 For many reasons, many people are joining the ranks of the local-food movement--those bent on consuming primarily what's grown and produced regionally. The number and breadth of goods sold at farmers' markets around New England have grown wildly in recent years, as have Community Supported Agriculture (CSA) farms that supply fresh produce to members. The old-fashioned arts of pickling and fermentation, and other modes of non-refrigerated preservation, are also making a comeback as people seek more control over what they consume year-round. These profiles introduce a few of the many alumni cooking, eating, and promoting the foods growing closest to us. 
Merry "Corky" White
Cook, food writer, anthropologist
When she was "young, green, and crazily foolhardy," Merry "Corky" White '63, Ph.D. '80, had a job cooking for the fellows of what was then the Center for West European Studies. "I was in way over my head," admits White, now a Boston University anthropology professor. "But I was lucky to be cooking when we didn't know much about ethnic foods. We didn't even really know the word pasta." Her strategy was to produce dishes even the well-traveled fellows might never have tasted--food from Afghanistan, Turkey, and all parts of Asia. 
Around that time White had also come to know Julia Child, whose Mastering the Art of French Cooking she had devoured. They became friends, with White something of a mentee. One day White cooked up a large pot of Ukrainian borscht for a faculty lunch, but left it to warm on the stove too long. It burned, badly, just before it was to be served. "If you've ever burned cabbage, you know what it smells like!" she says. In tears and nearly hysterical, she called Child. "What is it, dearie, what's wrong?" Child asked her. "And then she immediately went into action," White continues. "She told me, 'Go to Savenor's and buy a lot of lemons and sour cream and parsley. Grate the rind into the soup and add parsley. Put out sour cream to put on the soup, then walk in with your tureen and say, "Lunch today is smoked borscht."' And it worked! She was just wonderful."
White moved on to run her own catering business, which helped pay for graduate school in Japanese studies (she is still an associate of Harvard's Reischauer Institute for Japanese studies), and write two cookbooks, Cooking for Crowds and Noodles Galore. But she lopped anything to do with food off her curriculum vitae, as she was advised to, when pursuing an academic career. Only after earning tenure in 1989 did she reinstate that material ("What can they do to me now?!") in her professional biography--and began merging her interests as a scholar. 
"By the mid 1990s, food became more legit as an academic topic," she says, and in 1997, she began adding anthropological food and culture courses to her offerings on Japan. She has developed a popular survey course during which she takes students into Boston's ethnic communities to research local food customs, ethnic and immigrant identities, American influences, and how "urban geography can be mapped by food." 
In recent years, coffee and Japanese café society intrigued her enough to prompt a book on the topic due out in a year. "People think of Japan and tea," she says, "but Japan is the third-largest importer of coffee in the world; they've been drinking it since the 1880s. They would refer to coffee as the 'fuel of modernization.'" In fact, she adds, it was Japanese workers who went to Brazil in the late nineteenth century who helped establish that country's coffee industry. 
This year, White is teaching a fall course on the anthropological aspects of travel and tourism and writing two books: one on work and food (from farmers in the fields to restaurant-kitchen culture); the other, with her son, a historian, a "world history of food" for Oxford University Press. "We have 160 pages to sort out the human experience of eating through time and space," she says. "It's a tough exercise, and the choices will be interesting."
Leif, Margot, and Wade Holtzman
Entrepreneurs, apple ice wine makers
"Want to try the sparkling version?" It is 10:30 in the morning as Wade Holtzman flips the lid on a bottle of carbonated apple ice wine he has carefully tended and fermented for three months in his family's basement, now home to Still River Winery, in Harvard, Massachusetts. "Oh yes," say his son, Leif '05, and wife, Margot, Ed.M. '72, happily holding up their empty glasses. 
The Holtzmans have been making apple ice wine since 2008, when they first tasted a bottle of cidre de glace brought home from a trip to Quebec. "We all fell in love with it," says Margot. "And we thought, 'Why not make this ourselves?'" 
The beverage was invented in Quebec around 1989, using the same techniques that yield the grape ice wine typically produced in Germany and Canada. Made right, the wine is not overly sweet and has a satisfyingly earthy flavor; it carries the same alcohol level as a glass of white wine--12 percent--and is typically drunk chilled before or after a meal. (It pairs especially well with pork, poultry, lobster, and sharp cheeses.) Leif says the carbonated version, which the family produced just for his then-pending wedding, "is a little like apple soda. Because you can't taste the alcohol, it can sneak up on you." 
---
Traditional ice wine uses grapes that have frozen on the vine, but the Holtzmans begin with unpasteurized apple juice fresh-pressed from the nearby Carlson Orchards, a 120-acre farm that grows 14 varieties of apples and has been in business since 1936. The liquid is frozen in containers, then allowed to drip-thaw for 24 hours. This process, repeated three times, separates out the watery residue and concentrates the apple juice to its richest state of sugar, acid, and flavor. A five-gallon jug of juice yields about one-and-a-half gallons of concentrated appleness, and the sugar content shifts from 9 percent to 32 percent before fermentation. Once yeast has been added, the concentrate is left to ferment for three months at 50 degrees until the wine is ready for bottling. 
Wade, who runs his own business as an antique furniture restorer from another part of the house, is the primary winemaker. Margot, a learning specialist at Cambridge Friends School, takes care of the administrative work; Leif, who studied psychology and economics at Harvard and has worked in online advertising, has overseen business strategy and marketing. Although he enrolled at Stanford Graduate School of Business this fall, he plans to remain an integral part of expanding the winery.
Still River's annual capacity as a farmer winery (its official classification) is 1,600 cases per year, or 19,200 bottles; the Holtzmans have made a small profit so far selling in four New England states (check stillriverwinery.com for retail locations). In 2011, they plan to take advantage of a new Massachusetts law that allows farmer wineries to sell at farmers' markets. That personal touch, Leif agrees, is crucial: "Locally grown, natural products are associated with better health and a smaller environmental impact, which is what people are looking for." 
The Holtzmans, for example, still fill and seal one bottle of ice wine at a time, using labels Leif designed. His parents fully expect him to fly home from Palo Alto for the annual marathon bottling session and hope he will cultivate relationships with California wineries for possible future partnerships. Leif laughs at this, but says he will do what he can. "It is a unique, gratifying experience to be able to hold something in your hand that you made and that people enjoy," he says, looking around the basement, then at his parents. "And that we all enjoy ourselves." Salud.
Alex Lewin 
Health coach, cooking teacher, food activist
For Alex Lewin '90, the source of healthy eating--and living--is all about understanding that cabbage: where it came from, who grew it, and how. "We've all become too alienated from the foods we eat," asserts Lewin, who is a particular fan of sauerkraut, kimchi, and most things fermented. "People need to take back control over the sources of their food." 
After years of working in information technology, Lewin earned enough at Yahoo! to pursue his interests in culinary arts. (He recently took on a job as a software developer and food adviser at the California start-up Foodily, a resource for food, health advice, and recipes.)
Lewin is part of the collective "real food" movement, which incorporates locavores and proponents of slow food and organic/natural products. He buys primarily what's in season locally at farms, dairies, or farmers' markets, then cooks it or, even better, ferments, dries, salts, soaks, smokes, or pickles it. These "all add flavor, texture, and life, literally, to foods we otherwise take home in a can or a box," he explains. What would be lost in giving up the variety and global exoticism we expect at the supermarket, he asserts, is found in improved ecological and ethical practices, personal health, and, for many, the surprising joy of creating something deliciously customized. 
Clients come to Lewin, in his capacity as a health coach, with varying concerns: weight loss, medical conditions, or lifestyle changes. One man ate takeout mostly, and had hardly been to a grocery store in years, so he and Lewin went shopping. They explored ingredients, nutritional value, and relative cost of foods, then figured out simple ways the client could organize his time and cook more. "I want to help people achieve goals in life," says Lewin, "and if you look at why and how and what people eat, it has a lot to do with the rest of their lives and the decisions they are making. I'm not a dietician or a therapist. I'm not about saying to the client, 'You can never eat ice cream again,' but, rather, 'Let's examine that craving, where it's coming from, and what else can satisfy it.'"
Lewin began connecting his love of food and cooking to personal health and ecology only in 2003, when his father, David Lewin '54, Baumburg professor of music, died of heart disease. "He never had a handle on his own health. I was frustrated for him," Lewin says, "and perhaps terrified for myself." 
Deeply impressed by fellow alumnus Andrew Weil's Natural Health, Natural Medicine, Lewin graduated in 2006 from the Cambridge School of Culinary Arts, where he periodically teaches food-preservation classes. He is on the board of directors of the Boston Public Market Association and shares his nearly encyclopedic knowledge of food, with a focus on its science and politics, at http://feedmelikeyoumeanit.com.
His own dietary regimen is fairly strict: raw milk, no caffeine, and only "meats of known origin." Most shellfish is OK, and he sometimes consumes farmed freshwater fish from the United States, but avoids all farmed saltwater fish. (Bottom Feeder, by Taras Grescoe, he says, "lays out the scenario in all its bewildering complexity.")
Lewin promotes fermentation of vegetables, which he carries out in his tiny Cambridge kitchen. (Fermentation, which involves a chemical change with effervescence, is different from pickling, which preserves food in vinegar.) People pay a lot of money for the same bacteria, "probiotics," in capsule form, he points out, when they could ferment foods at home to help preserve vitamins and enzymes for better digestion, especially of proteins. "It's not a coincidence that fermented foods are generally served with meats, which can benefit from the additional acid," he adds: paté and cornichons, sausages and sauerkraut. With climate change, he believes, many agricultural skills that urban dwellers have lost--growing and preserving their own food, for example--are going to become essential to survival in the future. 
Moreover, he says, holding up a jar of turnips and beets sitting in rose-colored liquid, "I enjoy the artistry and aesthetic appeal of doing it well." 
---
Lewin used to own a share of a cow that supplied him with unpasteurized milk; now he gets his milk from farms in Foxboro and Framingham. Raw milk, typically, can only be produced safely on a small scale and then must be sold quickly. Yet, he notes, it is healthier in terms of vitamins and natural enzymes and easier to digest than pasteurized milk, made from "hundreds of thousands of cows, that has been centrifuged, cooked, and reblended to specific constituent percentages, 3.2 percent or 'whole' milk." 
Buying raw milk also sends more of the sales proceeds directly to the local farmer, rather than to the distributor, he says. "There is no good reason for homogenization except that it makes things easier for the processor and everyone is used to it," he says. "The war against raw milk is being waged in part by the distributors and large dairy farms." Moreover, government efforts to assure safer food supplies "by sterilizing milk...are short-sighted," he adds. "The mainstream is now questioning overuse of antibiotics in human and animal populations, and antibacterial soap. I hope that raw milk enjoys the same attention soon."
Does he occasionally indulge? Yes. Lewin loves grapefruit and avocados, year-round, for instance. Sometimes he also eats commercial ice cream. "Although," he adds, "there's nothing very good about it; it's pasteurized milk and sugar and, of course, even worse, corn syrup."
You might also like
Genetic analysis reveals a culture enriched from both sides of the Danube.
Harvard researchers illuminate a longstanding epidemiological connection. 
Harvard's Faculty of Arts and Sciences broaches two tough topics.
Most popular
Professors' humble beginnings, concentration choices, and a mini history of Harvard and Radcliffe presidents
Brief life of a feisty mountaineer: 1859-1925
Realizing the full potential of black employees
More to explore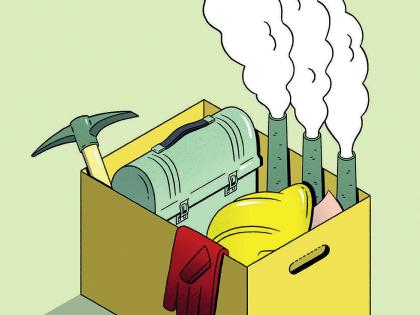 Expect massive job losses in industries associated with fossil fuels. The time to get ready is now.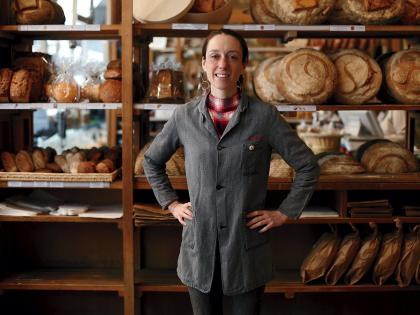 A third-generation French baker on legacy loaves and the "magic" of baking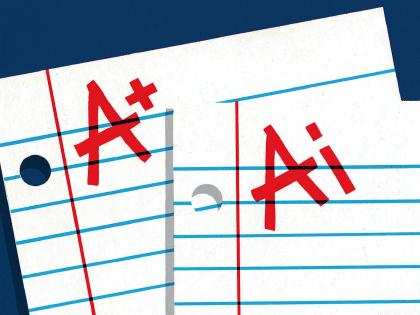 Generative AI can enhance teaching and learning but augurs a shift to oral forms of student assessment.