And Then There Were 10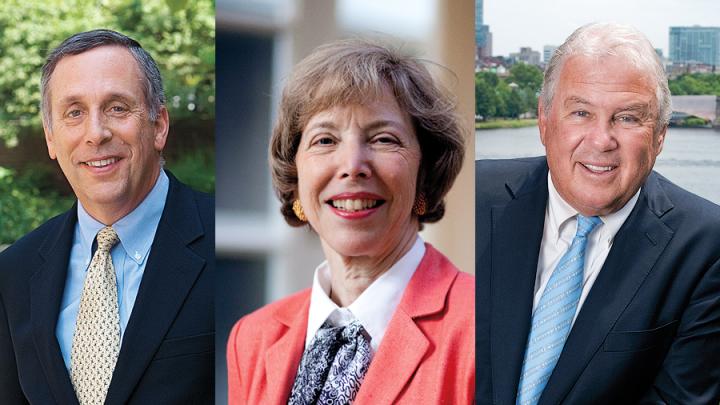 On July 5, the Corporation's Web page—itself a relative novelty for Harvard's venerable senior governing board—displayed a startling transformation: after 361 years, with the listing of three new members, the ranks of the Fellows expanded from seven to 10. That shift marked the most tangible evidence of the changes in governance announced late last year ("The Corporation's 360-Year Tune-Up," January-February, page 43), and of progress toward an ultimate enlargement to 13 Fellows, including the president and treasurer.
One rationale for that growth was to bring to the board diverse kinds of expertise, so the first appointees, named just before Commencement ("Fellows Three," July-August, page 55), have been scrutinized accordingly: Lawrence S. Bacow, M.P.P.-J.D. '76, Ph.D. '78, past president of Tufts and former chancellor of MIT; Susan L. Graham '64, Chen Distinguished Professor emerita of electrical engineering and computer science at Berkeley; and Joseph J. O'Donnell '67, M.B.A. '71, a Boston business executive. Bacow and O'Donnell live locally, as does William F. Lee, who joined the board last year ("The Corporation's Crimson Newcomer," July-August 2010, page 58)—making for ready engagement with the campus and the Boston and Massachusetts communities. Graham and O'Donnell have extensive experience with both the Board of Overseers, the junior governing board, and the Harvard Alumni Association (HAA), at a time when the Corporation seeks to become more involved in alumni affairs and development. Graham, as a faculty member and engineering scientist, and Bacow, as a high-ranking educational leader, complement and strengthen those perspectives on the Corporation.
The trio, who assumed their new roles on July 1, made time for separate summer conversations about how their experiences might bear on their new service, and their outlook on Harvard.
Photograph by Stu Rosner
In a meeting at the Graduate School of Education, where he taught in summer executive programs for new senior college and university administrators, Bacow emphasized that he hopes to "contribute to a great institution" of first importance for "all of higher education and the nation." His direct ties to the University, he noted, dated back to his graduate work; since then, he said, he had been "two stops away from Harvard on the Red Line for 34 years—two stops north [Tufts] and two stops south [MIT]."
Apart from the caveat that he has much to do to get up to speed on the University now, Bacow joins the Corporation as a seasoned academic leader, like fellow Nannerl O. Keohane, president emerita of Duke and Wellesley. Reflecting on his work with the much larger trustee groups at Tufts and MIT ("There's no one right way of doing things"), he said that at both institutions, at least one current or past university president was always a member, and that he had found that "enormously useful." Any such governing group that is working well, he said, "should be helping the president to advance the institution."
In that context, he outlined the concerns facing research-university leaders today. All, he said, are "worried about how federal support for research will fare, given the kinds of pressures the federal budget is under. We are all concerned about access to higher education," because of limits on institutional aid funds as well as public-financing programs. In the wider view, "We are all looking at a world in which there is far greater competition in the higher-education marketplace," as developing nations invest to create institutions equal in quality to American ones. There is a continuous need to determine how to use technology in teaching and research "in ways that both enhance the educational experience of our students and, ideally, reduce costs and don't add to them" (a subject he is exploring with William G. Bowen, president emeritus of the Mellon Foundation and of Princeton, and others). Finally, Bacow said, university leaders are striving to assure that their institutions reflect the heterogeneity of the modern world, both in their domestic populations and globally. Articulating those priorities may, in itself, be a useful part of what he brings to interactions with the other Fellows and President Drew Faust.
Bacow welcomed the expansion of the Corporation and its efforts to work more closely with the Overseers. Without knowing yet what committees (in formation) he might want to join—"All of what the Corporation does interests me"—he did signal certain immediately relevant tasks. "I suspect I will be involved in issues of facilities and capital planning," he said, noting his academic interest and experience in the field, including major projects for Tufts' Boston-based medical and dental centers. And having planned and completed a $1.2-billion capital campaign for Tufts, he emphasized the importance for any university of having people "thinking seriously about how to move, how to advance the institution"—through fundraising, of course, but more broadly through "engagements with multiple constituencies.…This is a job for the Corporation," he continued, "and I'm pleased to see the Corporation taking it on" at the launch of Harvard's planned campaign.
When he moved from MIT to Tufts, Bacow said, "I thought I had landed on another planet. Now I look forward to exploring another body in the same solar system." Citing Harvard's "global reputation," he said, "I'm looking forward to helping an institution that made an enormous difference in my life."
Photograph by Rose Lincoln/Harvard News Office
Susan Graham, reached by phone in California (where she pursued advanced studies at Stanford prior to her academic career at Berkeley), readily admitted she had had little involvement with her alma mater after graduating from Radcliffe—until her twenty-fifth reunion. That rekindled her engagement and led to her surprise election as a director of the HAA, and subsequently to her election as an Overseer.
At least three experiences directly pertinent to her new role followed from Graham's Overseer service. First, as chair of the visiting committee to the Radcliffe Institute, she became acquainted with its founding dean, Drew Faust. Second, drawing on her academic expertise, Graham chaired the visiting committee for engineering and applied sciences—and so was involved both in the elevation of that Faculty of Arts and Sciences division into a full-fledged school, in the fall of 2007, and in the joint Overseer-Corporation deliberations that preceded that change. At the celebration of the school's birth, she stressed the importance of "intellectual linkages" between the engineering faculty and "virtually every other part of the campus."
Third, as president of the Overseers, Graham became fully involved in the search that led to Faust's selection as the University's twenty-eighth leader. On that occasion, she said that Faust, as a historian, looks to the past, but "as a leader, she looks to the future." At Radcliffe, she said, Faust had brought people together intellectually to pursue interdisciplinary work; she had been especially impressed by Faust's role in building up science there.
Graham thus joined the Corporation already acquainted with most of her colleagues, familiar with the Overseers' operation and the evolving closer collaboration between the two boards, and committed to the interdisciplinary collaborations she believes can and ought to take root at Harvard. Although she professed to having to "catch up" this summer, around a trip to Vietnam, she does so from a broad base of knowledge.
The expanded Corporation can appoint members more expert in particular fields than the generalists who have typically served, but Graham said of herself, Bacow, and O'Donnell, "I don't feel that any of the three of us are any more specialized than the rest of them." She acknowledged that "having someone who has worked in science and engineering is important, particularly at this stage of Harvard's growth, and I think I can contribute there." But she also noted that her board-level involvement with Berkeley's acclaimed Cal Performances (a "spectacular" program through which she has met and been inspired by many artists) and her recent invitation to join the board of overseers of the Curtis Institute of Music suggest her interests across the spectrum of creative arts, a rising priority for the University. Said Graham, "I hope I can use those interests on behalf of Harvard," too. As to committee assignments, Graham, like Bacow, found that "everything is interesting."
Harvard, she said, "is a fascinating and wonderful institution, in an interesting period of change." Beyond the personal appeal of being involved, joining the Corporation provides the opportunity to "pay back for the education that was the seed for the skills that enable me to play this role now."
Photograph by Stu Rosner
Joseph O'Donnell's offices at the eastern edge of Cambridge afford a sweeping view across the Charles River, from the Museum of Science to Massachusetts General Hospital and the financial offices in Back Bay. The panorama neatly represents his career in business, as a significant supporter of biomedical science and research, and as a leading figure in Boston—who remains deeply grounded in his roots across the Mystic River and the Charles.
O'Donnell grew up in Everett—his mother still lives there—but "Harvard has been my new neighborhood since I was 19 years old." When he was admitted to the College on scholarship, his father, "a cop," told him, "Remember what kind of an opportunity going to a place like Harvard is—remember that daily." Evidently he has. As a student, he said, he benefited from earlier supporters who endowed buildings and scholarships; as an athlete, he "met a lot of really good people, and even then thought that if I ever had the opportunity, I wanted to pay back."
A consummate people person, O'Donnell describes Harvard—where he coached and worked at the Business School before pursuing his own business career—in those terms: "The great thing that differentiates great institutions is their people and the continuity of those people, who get it"—people like Jack Reardon (who directed financial aid when O'Donnell was an undergraduate, and now is executive director of the HAA), and his own classmate Bill Fitzsimmons (the College's long-time dean of admissions and financial aid). "The institution," he said, "has been almost paternal to me."
"I worry about the future of the place," O'Donnell said. "It would be pretty easy for it to become like any other place." To help forestall that, he has—as an Overseer, HAA director, fundraising volunteer and donor, and business school adviser—paid particular attention to alumni affairs and development, a realm in which the Corporation will now establish a joint committee with the Overseers. During Neil L. Rudenstine's presidency, O'Donnell reported, he helped Harvard build bridges to local and state government leaders "across the board." Under President Lawrence H. Summers, he was engaged in Allston planning.
That effort—derailed by the financial crisis in 2008—proceeded perhaps better on the permitting and regulatory front, he said, than in terms of Harvard's internal decisionmaking. As one of three alumni involved in the Allston Work Team and its new approach (see "Rethinking Allston" ), he described it as "the best committee I ever served on," as deans jointly aired issues and resolved them together in a school and University context. As a side benefit, of course, he got to know most of the current deans.
In his new capacity, O'Donnell expects to be involved in financial matters, drawing on his business experience, and alumni and community affairs ("I've been doing that ex officio anyway"). "And for certain I'll be involved" in capital-campaign planning—all with the "goal of making Harvard one university" that is more capable than ever. Locally and in many realms of human progress, he said, "Harvard is the linchpin, in the middle of it. Maybe we should be less shy about the contributions we make to this community and to the world."
You might also like
Genetic analysis reveals a culture enriched from both sides of the Danube.
Harvard researchers illuminate a longstanding epidemiological connection. 
Harvard's Faculty of Arts and Sciences broaches two tough topics.
Most popular
Professors' humble beginnings, concentration choices, and a mini history of Harvard and Radcliffe presidents
Brief life of a feisty mountaineer: 1859-1925
Realizing the full potential of black employees
More to explore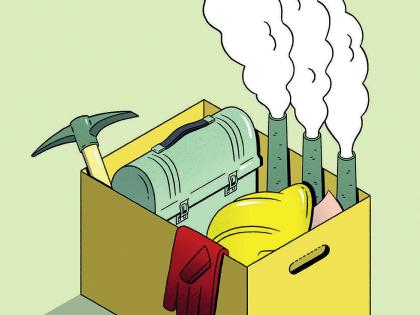 Expect massive job losses in industries associated with fossil fuels. The time to get ready is now.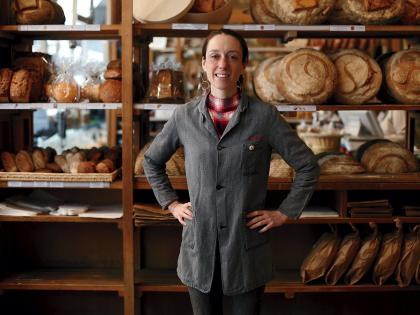 A third-generation French baker on legacy loaves and the "magic" of baking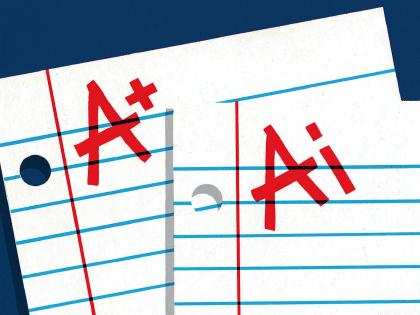 Generative AI can enhance teaching and learning but augurs a shift to oral forms of student assessment.