Dancing "Makes Us More Alive"
New England offers numerous forms of dance for body, mind, and soul.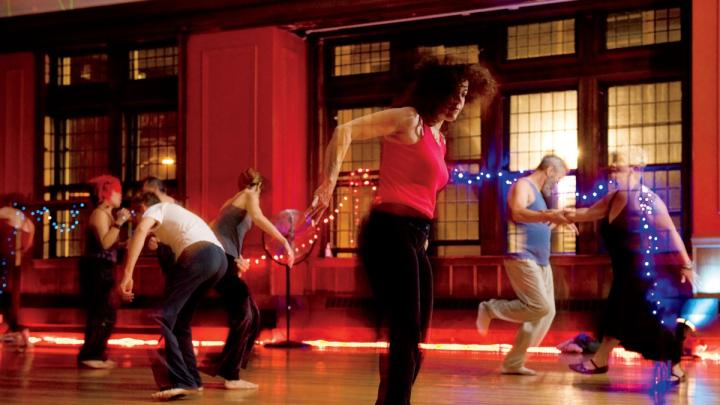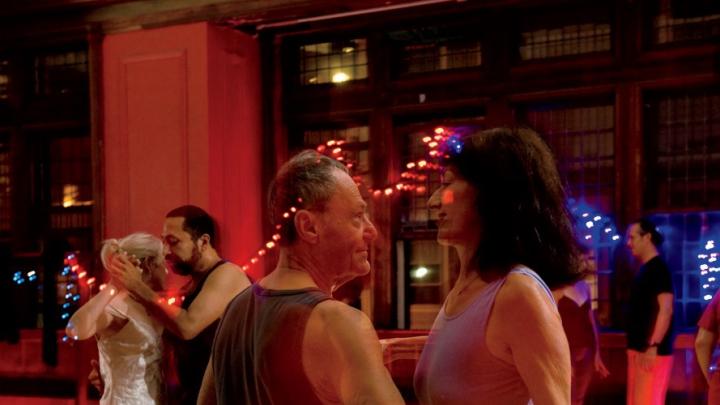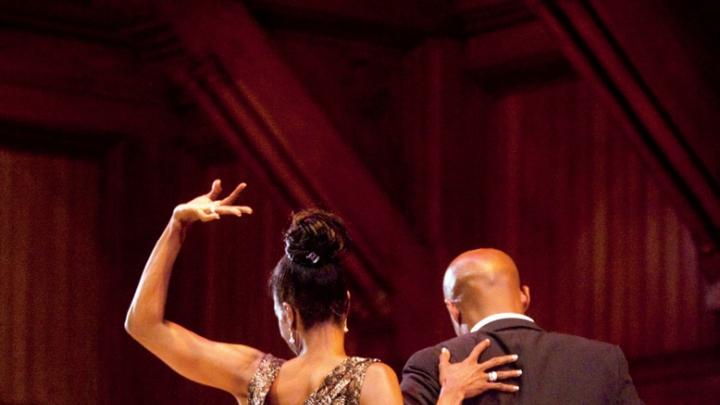 In primitive cultures throughout the world, dance brought communities together in a common purpose, jazz master Wynton Marsalis, Ar.D. '09, told an audience packed into Sanders Theatre in September. Dances requested rain or a successful hunt or battle, opened paths to gods and other spirits, promoted fertility and gender identity. They taught "our young the meaning of sexuality as they entered adulthood," he said. "Dancing sanctified our space. It could heighten our sense of being alive by making us one with the very ground we danced on, the air we breathed, and the seen and the unseen."
Dance was, and is, a unique and essential human activity that connects us to the musical rhythms of life. "Unlike rowing a boat or chopping wood," Marsalis noted, in "dancing you became more of yourself as you became one with others. You almost never got tired because your spirit soared the more you danced—because this was play." Proving that point, his four-and-a-half hour presentation on the history of social dance and music in America (part of his two-year lecture and performance series sponsored by President Drew Faust's office) was punctuated by dazzling performances, from the cakewalk, minuet, waltz, and fox trot to tap, tango, the Charleston, the lindy hop, the mashed potato, merengue, cha cha cha, and the twist.
This winter, as the cold isolates many New Englanders by chasing them indoors, dance might be just the form of exercise—for the mind and spirit as well as the body—needed to gain a fuller sense of well-being and connection to others. 
The region offers a wealth of dance studios, classes, community groups, ethnic dance movements, and amateur performing troupes to join. Fitness gyms increasingly offer dance classes such as Zumba, ballet, Nia (which combines dance, yoga, and martial arts), and even belly dancing, along with the more traditional workouts. "Hey—whatever gets people moving!" says Jill Johnson, the new director of the dance program within Harvard's Office for the Arts. 
Johnson knows that many people are intimidated by dancing, which makes it hard to be comfortable as a beginner. She encourages nonprofessional dancers not to worry so much about how they look, but to concentrate on how they feel: dance is a way to explore what of ourselves gets expressed, and our relationship to others on the dance floor. "We worry about how we are perceived by others," she adds. "People say, 'I'm not a dancer' and that shuts off curiosity about it. We were born with the capacity to dance! Children who see someone playing music on the street will move to connect with the beat. That instinct gets lost because of who we think we are supposed to be as adults." She advises starting slowly. "Hip hop is very popular," she says. "Some of it involves complex coordination. Breaking down a phrase into smaller steps can sometimes help. Try not to look in the mirror too much."
Johnson trained classically through her teens, then was "opened creatively" by the variations of modern dance. Her work has blended the two—and other dance forms—through intricate compositions with her longtime collaborator, choreographer William Forsythe. She is interested in "waking up the neural pathways" through dance and wants to engage in interdisciplinary partnerships with Harvard researchers to better understand how dance affects brain activity and plasticity. Specifically, she would like to make clearer the connections related to the effect of movement on and in the pre-frontal cortex of the brain and how the cognitive processes develop. "So much of the body is patterning, which has helped me learn new things in the studio," she explains. "Approaching a certain step in a dance and trying to change it is like the process of recovering from an injury. The pathways are re-patterning in healing and recovery the same way they are when we are learning new ways to move our bodies in dance." 
In the classes she teaches, Johnson has her students warm up through "cross-hemisphere coordinative exercises": swinging their bodies across their midlines by moving the right and left hands to opposite, specific points on the body (e.g., ankles, knees, elbows, ears). "The legs also move across the body in subtle opposition to the directions of the hands. The whole body is moving, utilizing the configurations of épaulement found in ballet," she explains. "To my knowledge, there isn't any empirical research that suggests that this series of exercises helps coordination, but I have found—after extensive use of this modality in my own dancing, and teaching students these patterning exercises over a length of time—that there is an increased coordinative ability as a result of practicing them."
There is no doubt of the positive effect, in general, of physical activity on the brain, on cognitive functioning, and on age-related problems, notes David Kahn, an instructor in psychiatry at Harvard Medical School whose research supports the development of a neuropsychology of dreaming. "But dancing adds another aspect to exercise and its effect on our bodies and brains," he says, "because it is a joyous activity."
Kahn is among the leaders of Dance New England (DNE), "a creative collective of individuals who love to dance." The nonprofit, all-volunteer group promotes dance's ability to foster authentic self-expression, tolerance, and community; it is the umbrella organization for numerous freestyle dances throughout the region (and in New York City), as well as for an annual summer family camp in Freedom, New Hampshire. 
Since 1976, Kahn has attended the Wednesday night gatherings in Harvard Square called Dance Freedom, which has its origins in Dance Free, created by Allison Binder and the dance and drumming circles first established on the Cambridge Common in the late 1960s. All DNE's events are smoke-, alcohol-, and drug-free. "If that stuff is available and almost expected, because that is the way nightclubs make their money, then why not have another paradigm where there is no alcohol and see what happens?" Kahn asks. DNE encourages the meeting of "authentic selves" in the dance. "People have said they need alcohol to loosen up, but in my experience, all people need is to hear the music and move their bodies. And this has been successful." 
Dancing regularly and participating in the DNE community has not only been good for Kahn's physical health, it has also complemented his work as a researcher. "At work," he says, "I think by articulating ideas that are part of trying to understand how and why we behave the way we do, while dancing uses a different part of my brain. I don't have to understand why I am dancing or how. There is no abstract thinking. The mind takes a coffee break and the body has full rein." 
On a recent cool, rainy evening, the Cambridge dance, held in a church facing the Common, drew about 30 people. Individuals, couples, or larger groups danced without prescribed steps, or simply stretched their bodies, to a wide range of predominantly instrumental music, including trance and electronic-style lounge sounds. Pretty much anything goes at Dance Freedom. "Every dance I find some joy in," Kahn says, "but every once in a while, like the other night, there is a meshing with another dancer and there is a chemistry that is like chocolate melting in your mouth." 
Helen Snively '71, of Cambridge, can find a similar experience in Balkan dancing, which she has done for 15 years. Done in a group, with the dancers holding hands, Balkan dancing "is easy to relax into once you know the steps," she says. "Sometimes I close my eyes and just feel it. You have to be aware enough to not pull too hard on the others, or tangle up somehow, but generally it's possible to just melt into the sense of the group." It was originally the music (and her musician husband) that drew her to this communal dance form because the rhythms are not four-four as they are in American contra dancing (which she finds much less interesting); instead, they are variable, syncopated, "and intriguing," she says. "Tango dancing is intriguing in the same way. You are moving to different rhythms and there is an ongoing curiosity about how you fit into the music." 
There are opportunities to learn and perform Balkan dances, such as through The East European Folklife Center, which runs a week-long summer camp in upstate New York that Snively attends. Many other groups in New England organize a similar range of folk and ethnic dances, such as Greek, Scandinavian, and Scottish, along with events and performances. "There are a lot of places you can learn to dance, like old church halls with fluorescent lighting," Snively says. "But it doesn't matter where you are, because there is a lot of energy in dance groups and you have a good time. Dancing is definitely a way to find a community. People want to share their culture and art forms, especially with young people, and are very welcoming."
Great dancing is not about satisfying the ego—it is "an offering" of your gifts, Johnson says. "If you are really dialed into the dance then you cannot think about yourself; the energy and focus [present in that creative moment] are too big. We think of that kind of thing as 'New Agey,' but if you are open and accessible" to merging the movement with the music and other dancers, then a new state of being surfaces. "I think it is being in touch with the soul," Johnson explains. "These days we are so empirical; we want to know the how and why instead of having some mystery that defies words. In dance, you know the feeling when you feel it, and therein lies the connection" among body, mind, and spirit. 
In his lecture, Marsalis said social partner dancing allowed "a glimpse into another soul, if only for a moment, through the exuberance of motion." He took a year to research the origins of popular dance in preparation for the Sanders Theatre event. That work clarified, for him, what social dancing has contributed to culture. "It was competition, cooperation, and consciousness," he noted. Dance "is and was and will always be community in action. Although life is no cakewalk, people are going to dance no matter what, because it makes us more alive."            
You might also like
Genetic analysis reveals a culture enriched from both sides of the Danube.
Harvard researchers illuminate a longstanding epidemiological connection. 
Harvard's Faculty of Arts and Sciences broaches two tough topics.
Most popular
Professors' humble beginnings, concentration choices, and a mini history of Harvard and Radcliffe presidents
Brief life of a feisty mountaineer: 1859-1925
Realizing the full potential of black employees
More to explore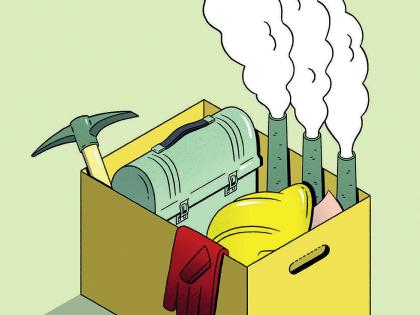 Expect massive job losses in industries associated with fossil fuels. The time to get ready is now.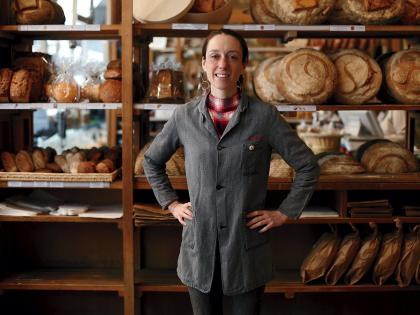 A third-generation French baker on legacy loaves and the "magic" of baking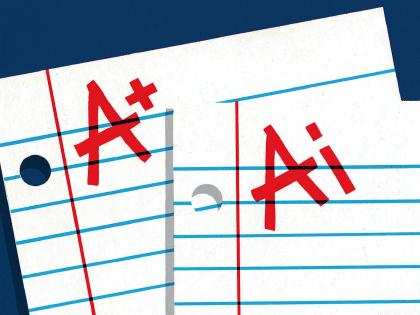 Generative AI can enhance teaching and learning but augurs a shift to oral forms of student assessment.