The Housing Revolution
Remembering co-residency's trial run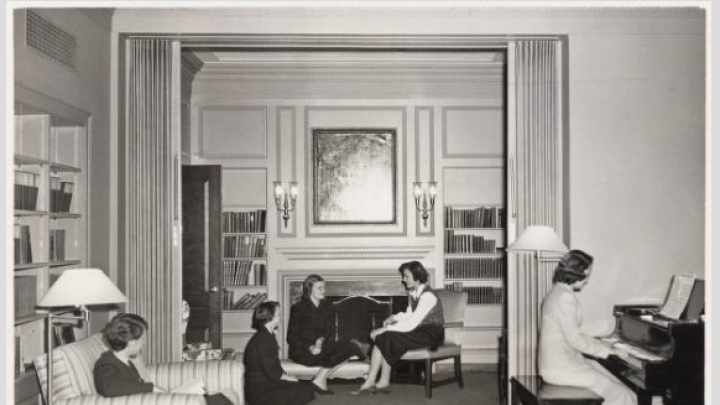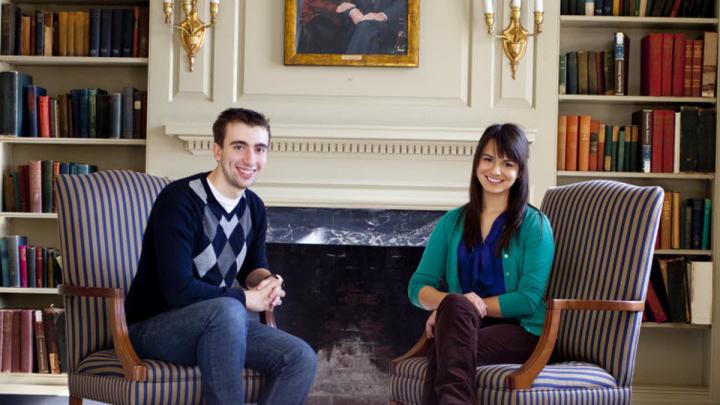 Down we went, into the basement of Pforzheimer House, ducking under low-hanging pipes in the narrow passages through white, cinder-block walls, past the occasional painted poem or mural of a Pfolar bear, the House's arctic mascot.
The four current students in the group were supposedly giving the three alumnae a tour. The murals on the walls and the Pfolar Bear mascot were new, but the alumnae had things to point out, too: the place on a wall where a portrait had been; a common room that looked exactly as it had 40 years ago, when these alumnae called the House home.
Pforzheimer is not a House that gives up its history easily. It is shyer than other Houses about displaying portraits of past presidents, less lavish with dark wood paneling. And as its residents are quick to remind River dwellers every year when first-years learn their House placements, Pfoho lacks the cockroaches and assorted other visitors that are wont to come with age.
"With all the 375th activities going on at the beginning of the fall semester, we were really wondering, 'What kind of history does Pfoho have?' " said Suzanna Bobadilla '13, a Pfoho resident and intern at the Harvard College Women's Center (HCWC). "The River Houses have more history than Pfoho, but that doesn't mean that history didn't happen, it just means that no one's looked at it."
During fall semester and the recent Wintersession, Bobadilla and fellow Pfoho resident Matt Chuchul '13, current co-chair of the House Committee, went on a search for this hidden history. Inspired by their House's fiftieth anniversary as well as Harvard's 375th, they delved into archives at Schlesinger Library and looked through old House files, gradually piecing together a portrait of the past. And they teamed up with HCWC and Pforzheimer House to arrange a February 15 exhibition and panel titled "The Residential Revolution: The History of Gender and Pfoho Student Life." The event focused on the pivotal role the House played in the controversial shift to co-residential housing. (Read coverage in the Harvard Gazette.)
A panel of four women and one man shared stories of their time at Harvard and their experiences during the initial shift to co-residency. Students and alumni alike perused exhibits on important moments in Pfoho history—the construction of Moors and Holmes Halls in the 1950s; the opening of North House in 1961; the House's renaming as Pforzheimer in 1995 in honor of philanthropists Carl H. Pforzheimer Jr. '28, M.B.A. '30, and his wife, Carol (Koehler) Pforzheimer '31, and their family.
The exhibition featured records and archival material—old yearbooks and photographs; The Red Book, the handbook given to Radcliffe students; Housing Day T-shirts from Pfoho's days as North House. (Number one on the top 10 reasons for choosing North House: "We have all your lost socks.")
Look hard at Pfoho, and you'll see some quirks. Latches on the doors, so they could be propped open a few inches during visiting hours. Three-way mirrors at the ends of hallways. Classroom doors made largely of glass, with gauzy curtains.
Form fits function. What are now the Quad Houses were designed and built to house the women of Radcliffe College during a time when parietal rules strictly governed interactions between the genders. (The classrooms were once parlors where female undergraduates received male guests.)
When Jim Beck '56 was in college, the student population in the Houses was entirely male, and almost entirely white. "We could only have women in our rooms between four and seven in the afternoons," he said, "and I think on the weekends it was one to seven." In addition, rent varied in student housing, and the rooms were a proxy for family income. "If you lived on the fifth floor," he recalled, "everyone knew you didn't have a whole lot of money."
It's a time unimaginable for most undergraduates today. Though Harvard men and Radcliffe women began sharing classes in the 1940s, a marked divide remained between the two sexes for decades to come, perpetuated both institutionally and socially. "There are guys in my class who never dated a Radcliffe student," said Meryl Stowbridge '71. "They would go all the way out to Wellesley; they'd drive to Smith, or various other institutions, but never dated a Radcliffe student."
The gap existed in classes and jobs as well. Women were far outnumbered by men, and many fellowships and on-campus opportunities were directed towards their male counterparts. "My class was at Harvard during a transition period when we could, on the one hand, be treated as secretaries and decorative females, or on the other, as true intellectual collaborators," said Nancy Stieber '71. In college, she interviewed for a job in the laboratory of James Watson, who won a Nobel Prize in 1962 for his role in discovering the structure of DNA. "Turned out he wanted a 'refined young lady' to serve tea once a week and stimulate genteel discussion," she said. She declined the opportunity.
It was in this context that the co-residential experiment began in the spring of 1970.
The exchange of men from Adams, Lowell, and Winthrop Houses with women from North, East, and South Houses opened the door to new social opportunities.
When Stieber moved to Adams House, she and her roommates shared a suite with a common room, with another suite across the landing, and more suites connected by the entryway stairs, the fire door, and a balcony outside her bathroom window—a more social layout than Pfoho's long hallways. Some nights, Stieber would hang her bedsheet on the wall as a screen, and people would pour into their common room to watch a movie. "There was this sense of connectivity and networking, and a certain energy that comes from people sharing, that we hadn't had when we were here" in Moors, she said.
The shift wasn't always easy, though. Panelist Helen Snively '71 was never especially comfortable in Winthrop House. "It was known at that time as the jock house," she recalled, "and I never have been good at discussing baseball stats over breakfast." It was later, when she moved to Quincy House, that she found a truly coed collection of friends.
It was a time of turmoil, protest, and revolution in general, panelists noted. "All adolescents go through a lot of questioning," said Marion Burke Lennihan '73 (now known by her spiritual name, Begábati), "but after Kennedy's assassination we were hurled into a turmoil of questioning about our world, and the meaning of our world, and what we would do when we grew up to make the world a better place."
Snively recalled studying the Book of Revelation for class one night—and as she read about the seven seals and the end of days, she heard students marching down the street chanting, "We want our rights, and we don't care how. We want a revolution now."
It was amid this fervor—the anti-war movement and concerns about civil rights, women's liberation, and environmentalism—that students began to engage more deeply with feminist issues. Lennihan was a founding member of Radcliffe Women to Keep Mind and Body Together, which established the first women's center at Harvard. The group met to discuss women's issues, both personal and political, and some members were active in organizing protests of behalf of issues like gender equality in admissions, free self-defense classes, and the establishment of a daycare center. Their work, and the larger turmoil of that time, has had a strong role in shaping the way we live now.
Today, Harvard has its first woman president, and all freshman dorms and upper-class Houses, as well as some suites, are mixed-gender. But the fight for gender equality isn't over. HCWC is still concerned with social spaces, as well as underrepresentation of women in the Undergraduate Council and in the ranks of professors. And there are deeper questions of what exactly gender equality means, said Lennihan: "Now we have women heads of state and secretaries of state, but we have not yet brought into the political arena women's ability to work as collectives, to work together, to work in collaboration, and create institutional structures around those values."
Still, the progress of the last few decades is heartening. "With every incoming class and generation of Harvard students, things change," said Nyamagaga Gondwe '13, an HCWC intern who helped organize the event. "That's a comfort for those of us who see all these inequalities and issues at hand."
One alumna put it a different way. "We're archival material now," she said with a laugh.
Katherine Xue '13 is a Berta Greenwald Ledecky Undergraduate Fellow. Though
she's a Quincy penguin, she holds a special place in her heart for Pfolar bears.
You might also like
Genetic analysis reveals a culture enriched from both sides of the Danube.
Harvard researchers illuminate a longstanding epidemiological connection. 
Harvard's Faculty of Arts and Sciences broaches two tough topics.
Most popular
Professors' humble beginnings, concentration choices, and a mini history of Harvard and Radcliffe presidents
Brief life of a feisty mountaineer: 1859-1925
Realizing the full potential of black employees
More to explore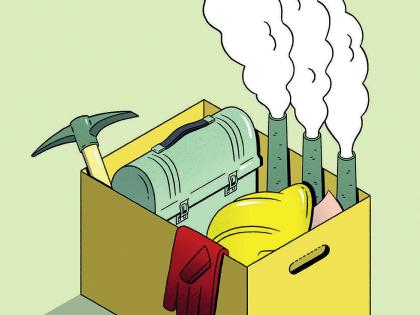 Expect massive job losses in industries associated with fossil fuels. The time to get ready is now.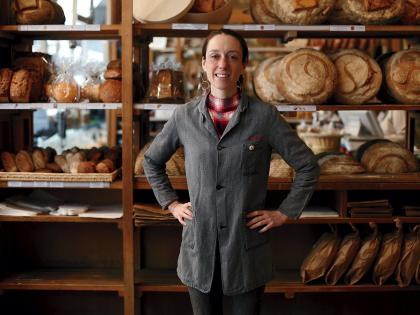 A third-generation French baker on legacy loaves and the "magic" of baking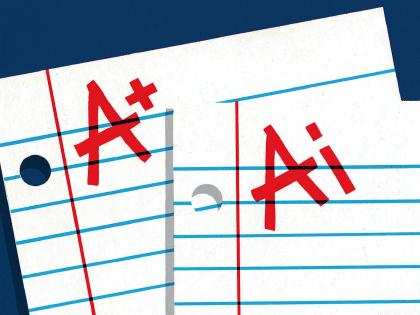 Generative AI can enhance teaching and learning but augurs a shift to oral forms of student assessment.