Poet-novelist and Neuroscientist-explorer Launch Commencement Week
Phi Beta Kappa Literary Exercises feature poet Laura Kasischke and orator S. Allen Counter.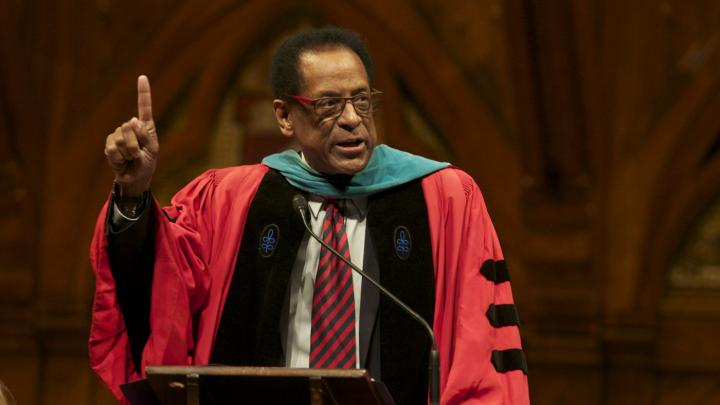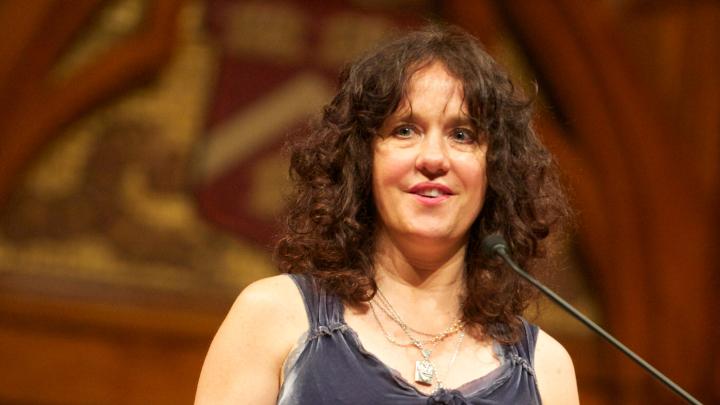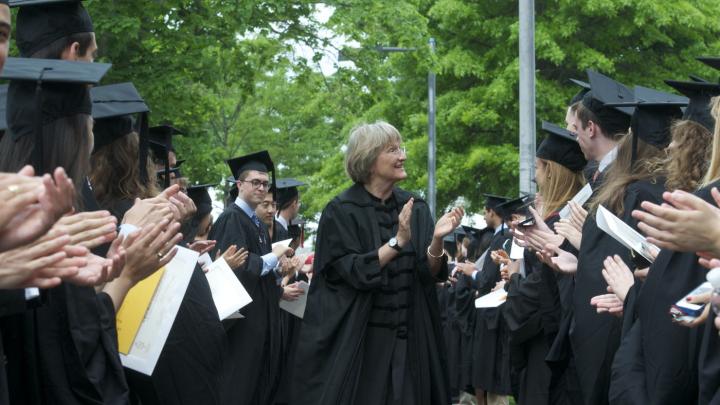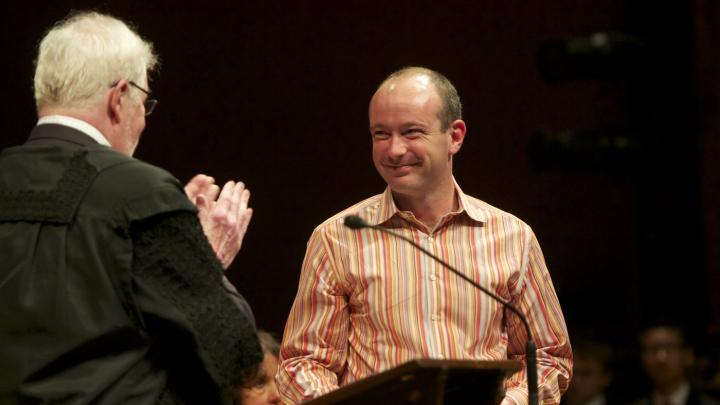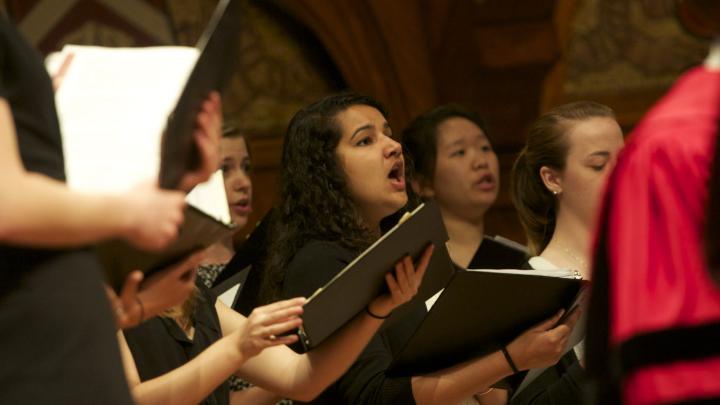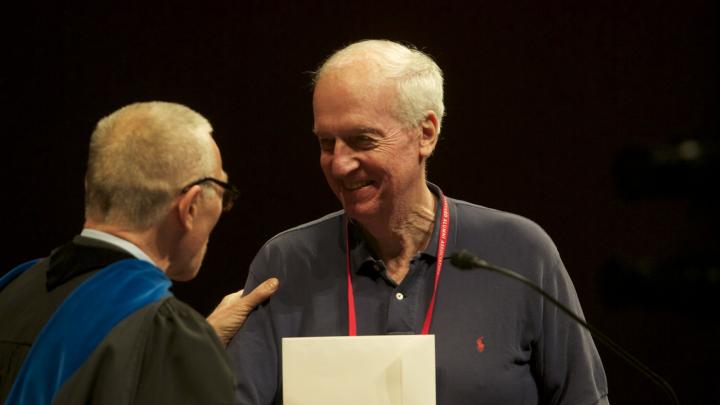 Formally opening Commencement celebrations, poet Laura Kasischke and orator S. Allen Counter addressed an audience at the Sanders Theatre at the 225th Phi Beta Kappa (PBK) exercises on Tuesday morning.
Kasischke, a poet and novelist who teaches English at the University of Michigan, read five poems, most of them drawn from her 2011 collection Space, In Chains, winner of the National Book Critics Circle Award for poetry. S. Allen Counter, professor of neurology and director of the Harvard Foundation for Intercultural and Race Relations, gave an address entitled "A Thirst for Exploration." (More detailed background on both speakers can be found here.)
Overseeing the ceremonies, and conducting the formal Alpha Iota Chapter business at their beginning, chapter president Ann Pearson, Ross professor of environmental sciences, gave a brief speech in which she encouraged the graduating seniors to view membership in the society as not just "a feather in your cap," but a "roadmap for your future." Pearson also announced that the chapter's current vice president, Burden professor of photography Robin Kelsey, would succeed her as president later in the day; the new vice president-elect is Hopi Hoekstra, Agassiz professor of zoology. (Read the Literary Exercises program.)
The Reverend Doctor Lucy Forster-Smith, Sedgewick chaplin to the University and senior minister in the Memorial Church, offered the invocation. During the exercises, the Harvard-Radcliffe Collegium Musicum, conducted by director of choral activities Andrew Clark, performed an Oliver Wendell Holmes poem set to music by Evan O'Dorney '15. They later sang Daniel Elder's arrangement of the lullaby "Twinkle, Twinkle, Little Star," followed by Heitor Villa-Lobos's chant, "Estrela é Lua Nova."
Teaching Prizes
From a pool nominated by undergraduate members, three honorees were chosen to receive the Phi Beta Kappa Teaching Prizes, presented by Pope professor of the Latin language and literature Richard Tarrant. They were:
Selim Berker, Loeb associate professor of the humanities in the philosophy department, who specializes in meta-ethics and epistemology. The citation noted Berker's careful attention to undergraduate writing.
Microsoft professor of computer science Eddie Kohler, for his teaching in the course Computer Science 61, on systems programming and machine organization; Kohler was praised for personally guiding students through problem sets and individual projects.
Jane Unrue, an experimental novelist and preceptor in the expository writing program; her most recent novel, Love Hotel, was published in 2015. Unrue, who is involved in the Scholars at Risk Program—offering sanctuary, through 10-month academic positions, to researchers facing persecution in their home countries—was also recognized for her commitment to human rights.
Honorary Members
The chapter also conferred honorary membership on College alumni from the fiftieth-reunion class, and on retiring faculty members. Presented by Lowell professor of visual and environmental studies Tom Conley, they included:
Richard Ferber '65, M.D. '70, an associate professor of neurology at Harvard Medical School. Best known for the "Ferber method" that helps parents train their infants to sleep through the night, he founded the country's first pediatric sleep center, at Harvard Medical School.
James Hoyte '65, J.D. '68, a retired administrator and lecturer in environmental policy, and a fellow at the Du Bois Institute. While associate vice president and assistant to the president, from 2002 to 2009, Hoyte oversaw and implemented a number of the University's affirmative-action and diversity programs.
Elizabeth Helsinger '65, professor emerita of English and art history at the University of Chicago. Helsinger's scholarly work has focused on the interplay between literature and the visual arts in the nineteenth century; she has published widely on Victorian and Pre-Raphaelite poets, prose writers, and painters.
Craig Whitney '65, a now retired managing editor and foreign correspondent at The New York Times. Whitney has had more than 3,200 bylines at the paper, and during his career also served as a bureau chief in Saigon and Moscow.
Laura Kasischke, the poet
S. Allen Counter, the orator
The Poet
After an introduction by Robin Kelsey describing her as a writer gifted with "trenchancy and compassion" and "revelatory appreciation of the stakes of everyday life," Kasischke read a selection of her poetry that she said she had chosen to honor both the centuries-old ceremony, and the youth of those taking part in it. "Longfellow couldn't be here today," she joked, "so you got me."
Beginning with "View From Glass Door," and ending with "My Son Makes a Gesture My Mother Used to Make," several of the poems turned on a domestic incident—a dishwasher mishap; her son's torn clothes—to meditate on the connections between ancestors and descendants, wisdom and new discovery. The third poem Kasischke read, "To Try," has opening lines that seemed to offer the audience a wish, a prayer, or a set of instructions on how to encounter the world: "Like a bird in no hurry, flying/to fly/not to fly somewhere:  May I./And the brain, a gate, not/open or closed." (Download a PDF of the poems.)
The Orator
S. Allen Counter gave an address, dedicated to his grandmother, that he hoped would impart the soon-to-be graduates with a lesson in the values she instilled in him: "integrity, compassion, courage, tenacity, the bond of your word, and a thirst for exploration." In his talk, he related the tale of a trip to northwest Greenland, during which he met and befriended the Inuit sons of North Pole discoverers Admiral Robert E. Peary and Matthew A. Henson. Counter brought the sons to the United States to meet their American relatives for the first time, and made it his mission to arrange for Henson, an African American, to be re-interred beside Peary, who was white, in Arlington National Cemetery, and for Henson to be recognized on his gravestone as a co-discoverer of the North Pole. Counter also promised the men that he would organize a centennial remembrance of their fathers' expedition, at the North Pole. After many obstacles—he was told that the ice was too thin for the Air Force's large C-130 aircraft to land, that his small prop plane did not have enough fuel capacity, and that a dog sled could not make the round trip safely—the commemorative capsule traveled underwater, by Navy submarine, on the polar ice pack at the North Pole: "A dream and a promise fulfilled," said Counter. (Download a PDF of the prepared remarks.)
After the choir led the audience in singing the "College Hymn," Reverend Forster-Smith gave the benediction, concluding the exercises.
You might also like
The Crimson springs a major upset.
Harvard officially installs Claudine Gay, its thirtieth leader.
A half-dozen symposiums feature Harvard research on AI, climate change, inequality, and more
Most popular
A community letter as the new administration begins
Solving legal challenges at MoMA
More to explore
A test can identify these productivity-boosting personnel.
Ancient history professor studies coins, ceramics, and Zelda.
Anwar Floyd-Pruitt's wildly profuse art