Sports
Men's Basketball Falls to Cornell and Columbia
2.1.16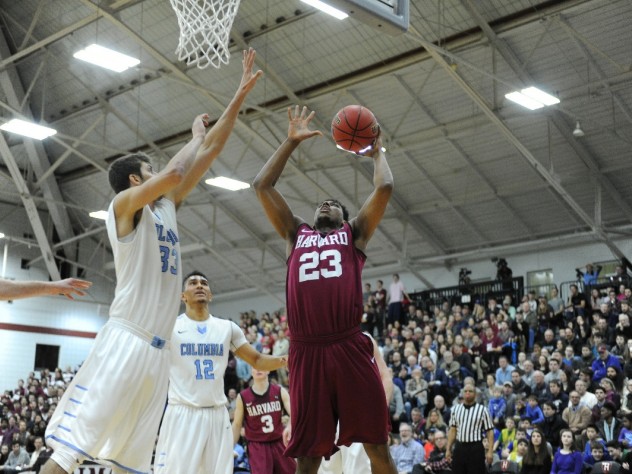 Weisner Perez '19 hit a pair of second-half threes and scored a total of 10 points to keep Harvard in the game against Columbia.
Photographs by Gil Talbot/Harvard Athletic Communications
Weisner Perez '19 hit a pair of second-half threes and scored a total of 10 points to keep Harvard in the game against Columbia.
Photographs by Gil Talbot/Harvard Athletic Communications
Tommy McCarthy '19 (shown here against Columbia) scored 16 points and dished out eight assists against Cornell on Friday in one of his strongest performances of the season.
Photographs by Gil Talbot/Harvard Athletic Communications
Tommy McCarthy '19 (shown here against Columbia) scored 16 points and dished out eight assists against Cornell on Friday in one of his strongest performances of the season.
Photographs by Gil Talbot/Harvard Athletic Communications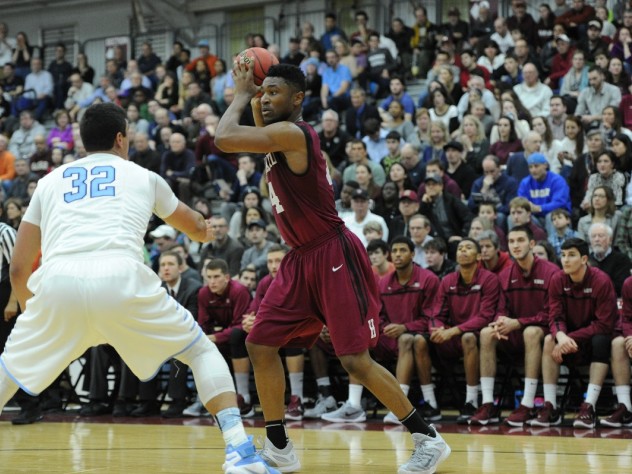 With 33 points and 16 rebounds last weekend, Zena Edosomwan '17 anchored Harvard's front line, as he has done all season.
Photographs by Gil Talbot/Harvard Athletic Communications
With 33 points and 16 rebounds last weekend, Zena Edosomwan '17 anchored Harvard's front line, as he has done all season.
Photographs by Gil Talbot/Harvard Athletic Communications
Last weekend, former Harvard men's basketball players descended on Cambridge for the team's annual alumni reunion, and the memories—aided by a few beers at John Harvard's—were flowing.
There was talk of the '47-'48 squad that nearly knocked off perennial powerhouse Michigan State. Alumni from the late eighties recalled competing against Stemberg head coach Tommy Amaker when he played for Duke. And then there were the banners—five of them—commemorating a half-decade of Ivy League championships.
The current team will likely not continue that streak. The Crimson lost to Cornell 77-65 on Friday and then fell to Columbia 55-54 on a buzzer-beater on Saturday. That dropped the squad to 9-11 overall, 1-3 Ivy—three games out of first place with just 10 regular season contests to go.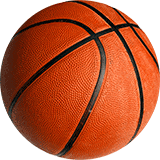 Harvard Hardwood
Sign up for Harvard Magazine's basketball e-mail and follow the Crimson all season long! David L. Tannenwald '08 will provide the latest news, game summaries, and insights as the Crimson chase another Ivy title and NCAA berth!
Desperate Balance
Heading into January's final weekend, senior Evan Cummins said that the team, coming off a loss to Dartmouth a week earlier, had to play with a sense of desperation. Amaker stopped short of using that word, but did emphasize that, over a long season, it is important to combine urgency with execution, attention to detail, and, above all, a commitment to competing for 40 minutes a game.
But the Crimson struggled to strike that balance. Against Cornell, Harvard trailed by 15 points at halftime, and its 18-2 run to start the second half merely got the team back in the game. The first-half offensive struggles, when Harvard missed a number of easy shots, seemed to affect its signature strength, its defense.
Saturday's game against the Lions was a similar tale of two halves. This time, Harvard jumped out to a 33-17 lead at halftime, but the Lions outscored the Crimson by 17 points in the second half when star center Zena Edosomwan '17 was hobbled by a knee injury. Following the game, Amaker noted that the Crimson's forceful start on Saturday reflected its character. But the players failed to hold their 16-point halftime lead—continuing a season-long struggle to compete consistently for a full game.
A Resurgent League
When the Lions retreated to the visitor's locker room at halftime on Saturday, Columbia coach Kyle Smith lit into his players, telling them that he had never won at Harvard and that, as senior Alex Rosenberg recalled shortly after hitting the game-winning shot, it was "do or die time." This was a coach trying to fire up his players. But it also displays a broader sentiment across the league: after seeing Harvard win five consecutive conference titles, other Ivy teams want to beat them.
Moreover, in 2016, the league is extremely talented. On Friday evening, Cornell was missing its top scorer, Robert Hatter, but could rely on freshman Matt Morgan, who scored 33 points to lead all scorers. Columbia is led by Maodo Lo, a senior who spent this summer playing on the German national team alongside NBA star Dirk Nowitzki. He sank two threes late in the first half to keep Columbia within striking distance.
Harvard's 1-3 conference record thus reflects the inconsistent play of a team, beset by injuries and losses to graduation, competing in a league that is extremely motivated and talented—and naturally capitalizing on the Crimson's lapses and vulnerabilities.
Freshmen—and the Future
One positive from the weekend: the performance of Harvard's freshman class. Corey Johnson '17 said Amaker has been speaking to his first-year players—who had an excellent first semester—about not hitting a "freshman wall" as second semester begins.
Early in the season, Johnson had torched opponents with three-pointers, including six against Boston University—but in the contests against Dartmouth, he scored just seven points total. Harvard coaches, recognizing that rival teams had become more familiar with his long-range marksmanship and were now guarding him more closely, told him to read the defense, be aggressive, and drive toward the basket to create opportunities off the dribble. This past weekend, Johnson did that repeatedly and tallied 22 points combined in the two games.
Starting point guard Tommy McCarthy '19 tallied eight assists on Friday and scored 16 points, buoyed in part by three threes. Turnovers (six on Friday) remain an issue, but he made his presence felt.
Finally, freshman Weisner Perez (who had played sparingly since leading the team with 15 points against Kansas in December), reaped the reward for hard work on his long-range shooting. On Saturday, he hit two second-half three-pointers and scored 10 points on the night, helping keep Harvard in the game.
Can the improved play of the freshmen be enough to reinsert Harvard into the Ivy title race? Its performance in the Diamond Head Classic and against Kansas in December suggested that the Crimson is capable of competing with top-tier teams. Most of the Ivy schedule remains to be seen. But Harvard faces stern tests on the road next weekend against traditional league powers Penn and Princeton—and both Yale and Columbia have started conference play with 4-0 records.
Whatever this year's results, the underclassmen's strong performance bodes well for the future of Harvard basketball—a topic that was also on the minds of alumni players this weekend. ESPN, they noted, recently rated next year's recruits as the tenth best recruiting class in the nation.
Harvard Women's Basketball Update
The Harvard women's basketball team swept its road trip, defeating Cornell 65-56 in overtime on Friday and squeaking by Columbia 69-66 on Saturday. The Crimson was led by senior co-captains Kit Metoyer and AnnMarie Healy. Metoyer had a career high 26 points against the Big Red, and Healy scored 27 points while shooting 13-14 from the field against Columbia. Head coach Kathy Delaney-Smith's squad returns home next weekend to face Penn and Princeton, the two teams picked ahead of the Crimson in the pre-season Ivy League poll.