Right Now | Pedagogy meets practice
Fighting for Veterans, Learning the Law
Daniel Nagin, faculty director of the clinic (right), and Andrew Roach, J.D. '13, meet with a veteran in Jamaica Plain.
Photograph courtesy of the Harvard Law School Veterans Law and Disability Benefits Clinic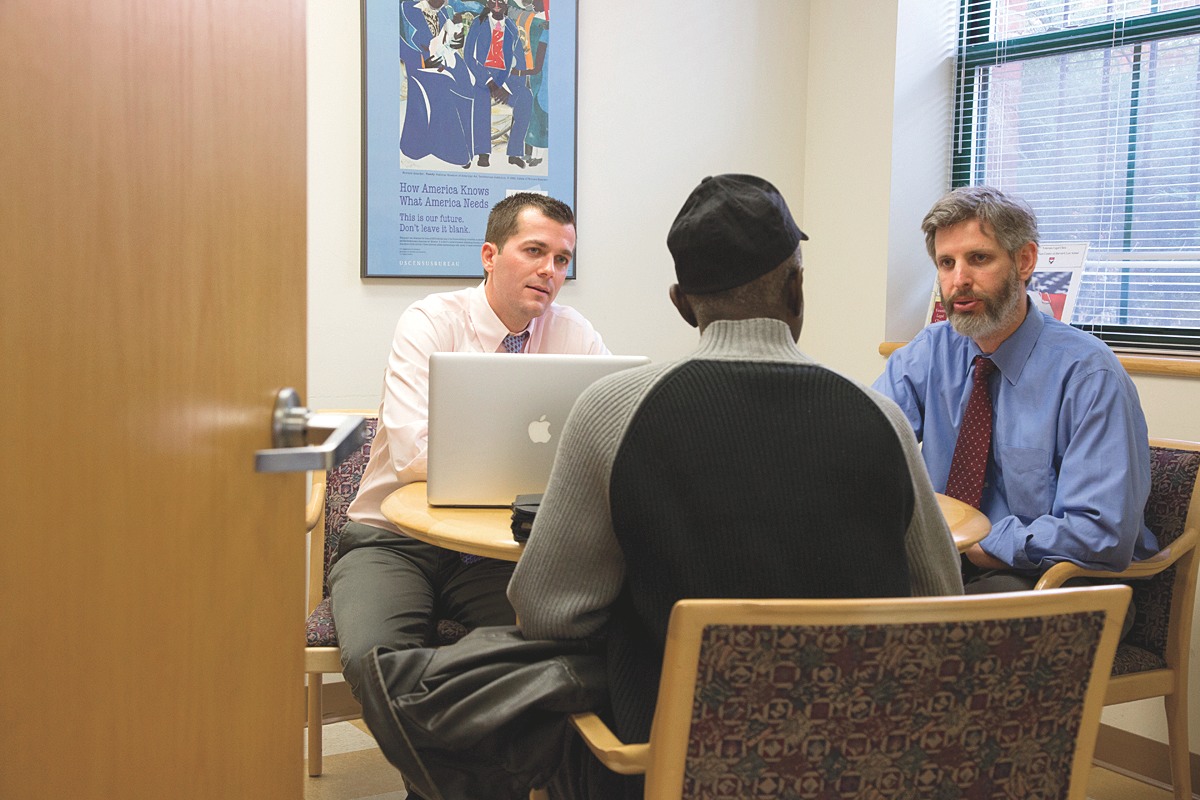 Daniel Nagin, faculty director of the clinic (right), and Andrew Roach, J.D. '13, meet with a veteran in Jamaica Plain.
Photograph courtesy of the Harvard Law School Veterans Law and Disability Benefits Clinic
The letter arrived right on time—and for Wilson Ausmer Jr., that turned out to be a very bad thing. It was 2011, and Ausmer, a lieutenant colonel in the U.S. Army Reserves, was in Afghanistan, serving his third tour of duty overseas. The decorated soldier had already paid a personal price to serve his country: he suffered from post-traumatic stress disorder (PTSD) related to his time on the battlefield, and had incurred a significant foot injury as well.
The letter, mailed to his home in Missouri, contained invaluable information on how he could file an appeal for disability compensation. It also stated that he had to respond within 120 days of receipt.
Ausmer wouldn't return home for another five months. By the time he read the letter, he'd lost his one chance to appeal his benefits case. The Veterans Benefits Administration wasn't going to help him—but a trio of Harvard Law School (HLS) students did. Bradley Hinshelwood, J.D. '14, Juan Arguello, J.D. '15, and Christopher Melendez, J.D '15, took up Ausmer's case, arguing, among other things, that the clock on an appeals claim should start only after a veteran has returned home, rather than when a letter arrives in his or her hometown mailbox.
The student lawyers became involved in Ausmer's case in 2013, while interning at the HLS Veterans Law and Disability Benefits Clinic, within the school's WilmerHale Legal Services Center (LSC). Each year since 2012, when the clinic was established in Boston's Jamaica Plain neighborhood, dozens of students have assisted veterans with legal cases, winning verdicts of local and national importance.
Ausmer's student defenders presented their case to a panel of three judges from the U.S. Court of Appeals for Veterans Claims who were visiting Harvard as part of its annual educational outreach. The panel's December 2013 ruling in the veterans' favor marked a landmark victory. It allowed recently discharged veterans like Ausmer, whose ability to file an appeal is "materially affected" by their service, to have additional time from their discharge date to appeal, potentially helping thousands of former soldiers.
"Arguing Ausmer v. Shinseki was the highlight of my experience at HLS," says Melendez, himself a veteran who served in both Iraq and Afghanistan. "I met esteemed judges, set precedent, and was able to see the case through to a successful remand to the [Veterans Administration]. Because of this experience, I can head into professional life fully prepared to conduct veterans advocacy throughout the VA appeals process."
Other students have successfully represented a female marine's challenge to a Board of Veterans' Appeals decision to deny her disability benefits for military sexual trauma; ensured that a homeless Navy veteran received Massachusetts veterans' services benefits despite a prior criminal conviction; and obtained service-connected-disability benefits for an Afghanistan war veteran diagnosed with cancer. "As we train students, we want to give them the opportunity to understand and appreciate the needs and sacrifices of disabled veterans," says Daniel Nagin, clinical professor of law, faculty director of the Legal Services Center, and founder of the veterans clinic. "The work is complicated and demanding—it's an uphill battle, and there are too few resources for people who need help….We are asking students to consider, 'What is the role of lawyers in responding to this problem?'"
The students can choose to represent veterans in administrative and federal court appeals that challenge denials of federal and state veterans benefits; represent clients and their families in estate- and financial-planning matters; or represent clients in administrative and court appeals that challenge denials of Social Security disability benefits. (The clinic is supported in part by grant funding from Disabled American Veterans Charitable Service Trust). 
The twin goals of the clinic—which also covers issues of administrative, disability, mental health, probate, and constitutional law—are service and pedagogy. "You're doing two things at once," Nagin says. "You're providing a compelling and unique learning opportunity for students, and also doing good in the world, trying to close the justice gap in any way you can." From the Revolutionary War until the establishment of the Court of Appeals for Veterans Claims in 1988, he points out, military veterans who were denied benefits had no judicial recourse.
Second-year law student Travis Leverett, whose grandfather was a veteran, has spent his time at the clinic working on estate planning and wills. Veterans, he says, are often "behind on their mortgage payments, they have health issues, their benefits have been cut—getting your will together is not going to take priority." His clinic work "really hammered home to me that law is a service industry, and you really have to be available whenever your clients are."