News
A $35-Million Gift to HGSE Launches an Early Childhood Initiative
5.18.16
Graduate School of Education dean James Ryan Photograph by Rose Lincoln/Harvard Public Affairs and Communications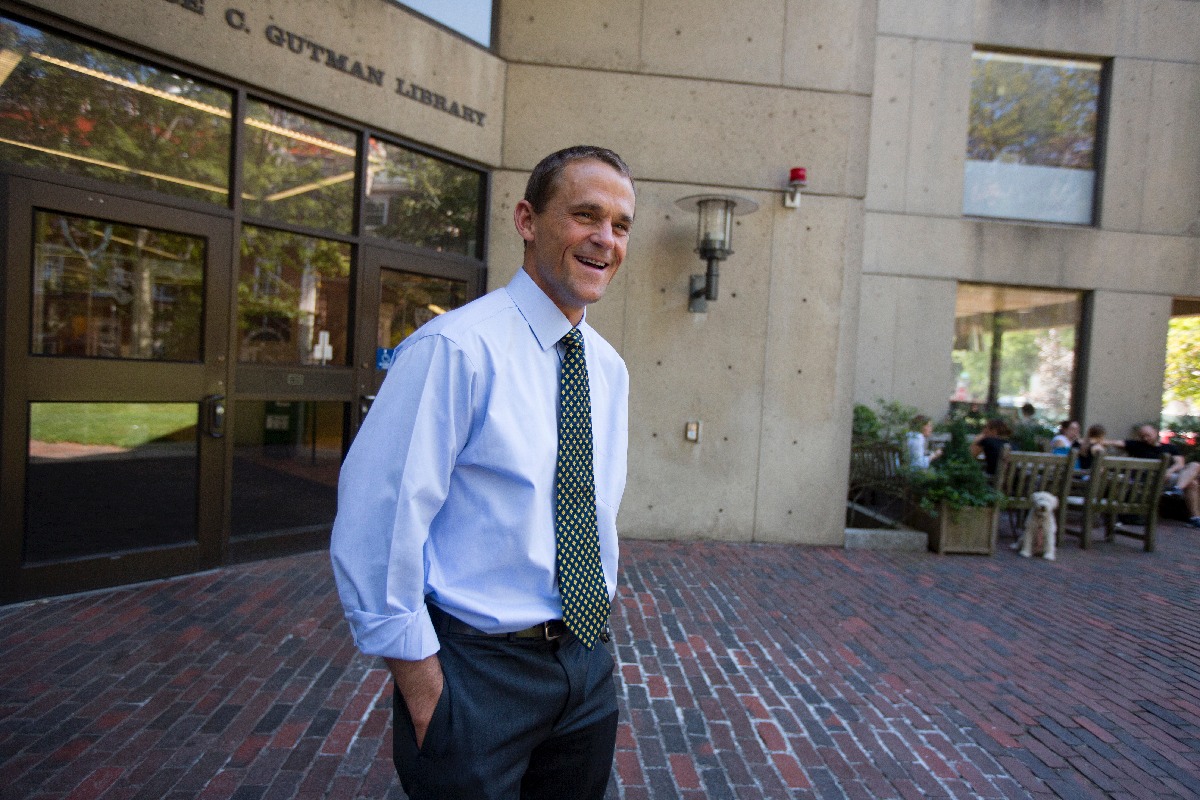 Graduate School of Education dean James Ryan Photograph by Rose Lincoln/Harvard Public Affairs and Communications
With the largest donation in its history, the Harvard Graduate School of Education (HGSE) will launch a new, $35.5-million early childhood education initiative, HGSE dean James Ryan announced today. The gift means HGSE has raised more than $230 million of its capital campaign goal of $250 million, part of the University's $6.5-billion fundraising drive—and is especially meaningful for a school that must look beyond its relatively less affluent alumni base to meet its fundraising goals. 
Funded by the Saul Zaentz Charitable Foundation, the Saul Zaentz Early Childhood Initiative will expand HGSE's research and teaching in the field, and aims to establish Harvard as a leader in early childhood education. The initiative will build on the foundational work of the Center on the Developing Child, an interdisciplinary effort that funds research into child development and promotes science-based policy initiatives for disadvantaged children. "I couldn't be more excited about this," Ryan said.
The donation also marks one of the largest-ever gifts to a university in support of early childhood education. (Update, May 19, 2016: An earlier version of this story incorrectly indicated that the donation was the largest-ever gift to a university in support of early childhood education. In fact, that distinction belongs to the Buffett Early Childhood Institute at the University of Nebraska.) Alan Hammerman '55, president of the foundation named for award-winning film producer and record-company executive Saul Zaentz, said the initiative would carry on Zaentz's values: "Saul Zaentz used his foresight and collaborative abilities to bring together diverse talents in making his films," Hammerman said in a statement. "We believe that HGSE will use those same attributes in creating, establishing, and building the Saul Zaentz Early Childhood Initiative." 
The Zaentz Foundation gives to many education initiatives, which was a major social justice interest of Saul Zaentz, said Elliot Steinberg, a director of the foundation. With the donation, the foundation hopes to make Harvard "the center of early childhood education in America, and to make pre-K as universal as K-12 education," he said, stressing research on the importance of preschool to children's life outcomes.
Harvard president Drew Faust said the Zaentz Initiative "represents powerful, visible leadership to the field of early education," and will "support faculty and students who care deeply about improving outcomes for very young children, and will become an essential source at the University and across the country for scholarship, partnership, and professional learning." 
"It's really about research and building capacity," Ryan said, describing the twin goals of the initiative. "There's a great deal of really promising evidence about the benefits of high-quality pre-K. But there aren't enough high-quality pre-K programs, and there's not enough clarity on the essential components of a high-quality pre-K program. The initiative will take the evidence about the benefits of pre-K and build capacity in the field to make sure high-quality pre-K is available to all kids." 
The centerpiece of the initiative—the research component—will build on the work of Foss Thompson professor of education and society Nonie Lesaux and Kargman associate professor in human development and urban education advancement Stephanie M. Jones to launch the Harvard Early Learning Study: a broad, five-year study that will follow a cohort of young children who represent the nation's diversity, and track their development relative to the quality of their preschool education. "It promises to be one of the most important studies in the early childhood education field, at a time when there's some confusion about the benefits of pre-K," Ryan said. Lesaux, in a statement, said, "The scope of the study—following children over time and across their many contexts—is unprecedented and will address many of today's most pressing questions, therefore informing targeted and innovative policy solutions for impact."
Ryan explained that the capacity-building component of the initiative aims to train more leaders in early childhood education: "to get to a point where we have high-quality pre-K for all students." To that end, HGSE will create the Saul Zaentz Academy for Professional Learning in Early Childhood to provide educational programs for early childhood educators. From the donation, $5 million will be set aside for financial aid. The academy "will function as a go-to place for policymakers, administrators, and educators to access opportunities for professional growth, grounded in the cutting-edge science of early learning and development, and systems-level improvement," Jones said in a statement. HGSE will also create new fellowship programs for early childhood educators, and two new endowed chairs, one tenure-track and one practice-based, for faculty members whose work contributes to the Early Childhood Initiative's goals.