Arts
Babar Comes to Houghton Library
7.7.16
For the exhibit, the library commissioned an original watercolor from Laurent de Brunhoff, showing Babar on the steps of Houghton with ABC de Babar under his arm.
Image courtesy of Houghton Library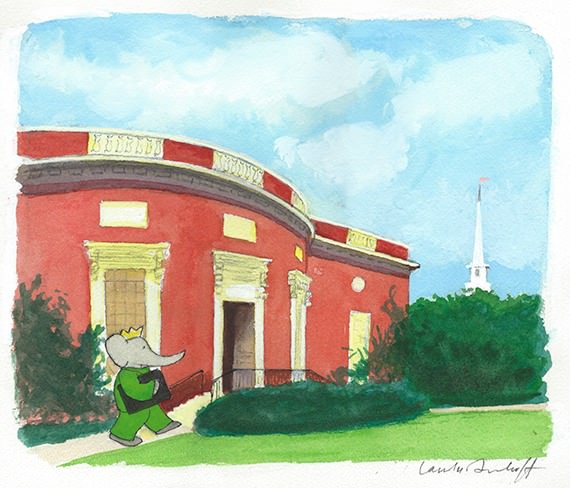 For the exhibit, the library commissioned an original watercolor from Laurent de Brunhoff, showing Babar on the steps of Houghton with ABC de Babar under his arm.
Image courtesy of Houghton Library
Published in 1935, ABC de Babar—the focus of a current exhibit at Harvard—was the fourth book in French illustrator Jean de Brunhoff's series about a little elephant in a green three-piece suit. The children's books (the first appeared in 1931) had grown out of a bedtime story that de Brunhoff's wife invented for their two oldest sons when they four and five, about an orphaned elephant on a shopping spree in Paris. Years later, one of those children, Laurent de Brunhoff, kept Babar's story going long after his father died in 1937, adding dozens of titles to the Babar bibliography.
Now 90 and living in Key West, Florida, Laurent and his wife, Phyllis Rose '64, Ph.D. '70, a professor emerita at Wesleyan University, recently donated archival work of his father's to Harvard, and an exhibition displaying some of those materials is on display at Houghton Library through August 31. It is not the first time Babar has come to Harvard: in the 1965 book Babar Comes to America, the elephant pays a visit to Cambridge, where he chats with students, receives an honorary doctorate, and hangs out in the Harvard Lampoon building.
The sketches, ink drawings, hand-colored proofs, and cover designs document the entire production process for ABC de Babar. Viewers can see the illustrator experimenting with typefaces and titles (an early sketch for the cover called the book Apprenez vos lettres comme Babar), exploring different compositions and ways to combine letters and pictures. Unlike the first three books in the series, which tell the story of how Babar was orphaned by a hunter and brought to a city before returning to the jungle, ABC de Babar doesn't have a narrative—it's a guide to the alphabet on which each spread is a scavenger hunt for items whose names begin with a particular letter: for instance, tables, tea, terraces, trains, trolley, tulips, tunnels, the Eiffel Tower. 
The exhibit largely skirts the politics of the Babar series, which in recent years has drawn criticism for what some see as a tacitly pro-colonialist stance. In the original story, Babar absorbs the virtues of Western civilization during his time in the city, which allows him to preside over a newly enlightened elephant society after he returns home and is crowned king of the elephants.
Besides Jean de Brunhoff's production materials, the exhibit also includes, off to the side, a watercolor, painted this year by Laurent de Brunhoff, of the green-suited elephant on the Houghton's steps, with a crown on his head and a black portfolio under his arm. It shows, the caption says, Babar himself delivering his ABC to the library.