Alumni
World Music 2.0
Jace Clayton reflects on musical technological trends across the globe
Photograph by Robert Adam Mayer; styling by Prellezo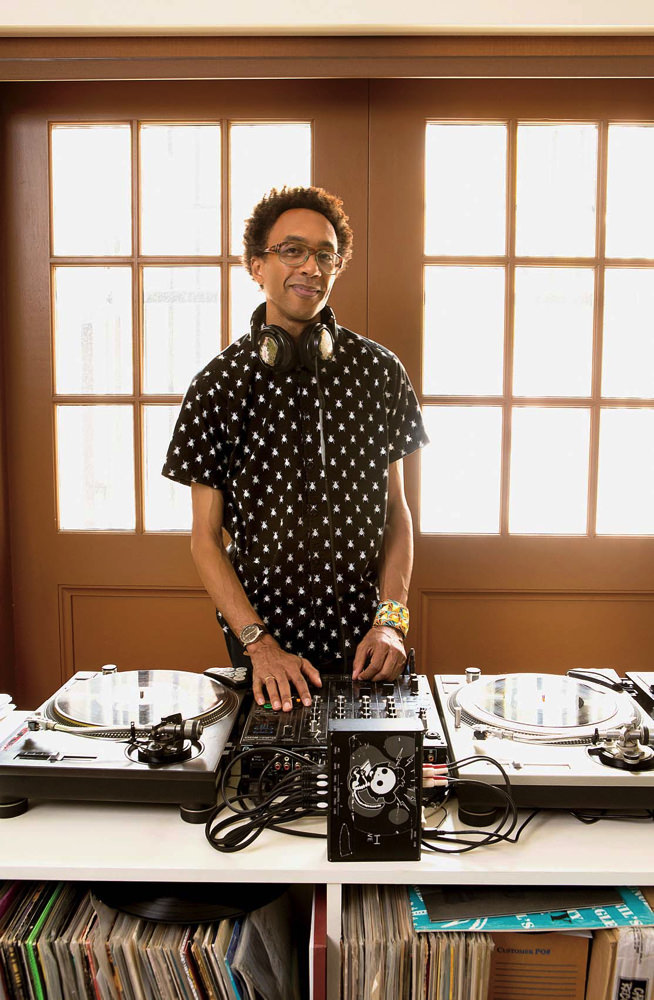 Photograph by Robert Adam Mayer; styling by Prellezo
While hunting through CDs at music shops in his former Sunset Park, Brooklyn neighborhood, Jace Clayton '97 (a.k.a. DJ /rupture) came upon live recordings of cumbia sonidera, a Mexican offshoot of a Colombian dance genre. The style is the mainspring for parties at Latin nightclubs and quinceañeras (coming-of-age celebrations for girls) across New York City's outer boroughs. The ballads feature square, steady rhythms and melodies voiced by accordion, trumpets, and their synthesized counterparts, but the D.J.s for these events are always the most ear-catching element: they constantly talk over the music.
"I thought it was nuts," says Clayton, who also speaks Spanish fluently. "They're relaying shout-outs from the audience that they receive via text message, Facebook, and scrawled notes. Sometimes those messages are to people in the room, but often they're to friends and family back home across the border in Mexico or in Los Angeles"—loved ones who will generally be gifted with a CD of the event. "It's a highly mediated way of telling someone, 'Hey, I'm thinking of you. You're not here, but you're present in the music,'" he explains. And, as he also points out, it's a medium that allows Mexican immigrants in the United States to get visibility on their own terms, whether they're documented or not.
Cumbia sonidera is just the sort of underground musical phenomenon—organically influenced by social networks and their access to technology—that attracts Clayton, a D.J., poet, journalist, and experimental composer, and that features prominently in his debut book, Uproot: Travels in 21st-Century Music and Digital Culture (FSG Originals, 2016); a selection of audio and video clips discussed are listed at http://uprootbook.com/listening-guide. Equal parts reportage, travelogue, and ethnography, Uproot was fed by Clayton's global travels as a D.J., and his vast knowledge of styles and repertoire. Dubbed "the jet-lag king" by his wife, the East Harlem-based Clayton has plied his trade in settings as disparate as an abandoned hotel in North Cyprus, a Barcelona squat, an art gallery in Osaka, and the occasional corporate party. His art accommodates a cross-section of humanity, and allows his perspectives, and therefore his book, to leapfrog among the music of varying social strata, whether created by the Congolese street musicians Orchestre Tout Puissant Likembe Konono Nº1 or international dance superstar Moby.
Uproot explores some of the massive musical shifts prompted by new technology of the last 15 years. Underpinning his discussions is the transition from music contained within tangible media (such as vinyl records, cassettes, and compact discs) to dematerialized MP3s. That format, widely popularized in the late 1990s, is rendered slippery and fast by lossy file compression (a technology that eliminates some data in order to shrink files) and is delivered via online stores, streaming services, and YouTube, along with illegal file-sharing platforms.
Musical pundits who debate this transition are typically preoccupied with the death of the music industry (and the income of its stakeholders), but there's no love lost there for Clayton. "I don't want to haggle over how many micro-cents I get paid per stream, or other token gestures toward compensation," he writes. "I want the giants to fall even faster so we can see what weird flowers start blooming in the spaces left vacant."In order to identify the most intriguing seedlings on that newly tilled digital soil, Clayton trains his eye on what is invisible to most Americans: that which is close to the ground, informal, and outside the standard channels of distribution.
For example, around 2000, when Clayton began encountering recordings of Amazigh (Berber) wedding and pop singers that were played at Muslim bars in France and Belgium, he noticed an interesting twist on the musical tradition he already knew: the women's florid vocal lines had been altered in the studio with Auto-Tune. Singled out by Clayton as the "most important piece of musical equipment in the last 20 years," the digital audio processor was invented in 1997 to correct pitch inaccuracies. It suddenly became widespread as an expressive device following Cher's hit "Believe" in 1998, where it was applied liberally to highlight certain phrases of the verse. As Clayton describes it, creative misuses of Auto-Tune sound "as if a dial-up modem and a river have fallen in love and have begun writing violin concerti for each other."
Clearly, the properties of digital software have enabled anyone across the globe to experiment with Auto-Tune, but why would culturally conservative Amazigh musicians in rural Morocco find this effect desirable? Clayton tracked down and interviewed a handful of singers and ultimately concluded that Auto-Tune intensifies the gloriously strident voices of the Amazigh women, amplifying feminine ideals. At the same time, it preserves the modesty of these professional female performers with a sonic veil, eliminating any question of vocal propriety.
Clayton is uniquely positioned to make such observations. Even though he has increasingly become a recipient of commissions as a composer, including awards from The Pew Center for Arts & Heritage and Creative Capital, deejaying remains at his intellectual and aesthetic core, and has honed his ears to readily synthesize diverse sounds. Though the job primarily entails getting people out on the dance floor, Clayton describes the role as one of creator rather than jukebox; he "performs" recordings from a collection of 2,000 tracks on his laptop using techniques pioneered by hip-hop artists: sampling recordings, scratching, and matching beats, skills that allow multiple tracks to be improvised, or "mixed," into a single live one.
"A fan who's been watching comes over and says, 'I really like that song. What is it?'" Clayton explains in Uproot. "I can only ask, 'Which one?' The D.J.'s job is to make disparate records sound like a whole, and the more successful you are at it, the less likely the novice onlooker is to know it….One of the paradoxes central to the D.J.'s art is that some of the most demanding, virtuoso work is the hardest to recognize. And some of the highest-paid, most in-your-face D.J.s do the least amount of actual onstage work."
Clayton made his mark in 2001 with Gold Teeth Thief, a masterly, three-turntable mix that draws on 44 individual tracks, ranging from hip-hop artist Missy Eliot to Italian composer Luciano Berio to electronica artist Muslimgauze. He put it online for friends, but, unbeknownst to him, Thief began receiving glowing reviews and eventually went viral with hundreds of thousands of downloads, cementing his reputation as an artist who could blend global styles.
Clayton has always been attracted to the sounds at the margins. A self-described "book kid," he admits he was never interested in music until he heard "the weird stuff." The most intriguing sounds of his teen years in North Andover, Massachusetts, came from college radio stations, like Boston College's WZBC. He stayed up late to hear his favorite show No Commercial Potential, or taped it on his dual cassette deck in case he fell asleep. His epiphany came with a compilation of Japanese noise titled Eat Shit Noise Music. "Simultaneously atrocious and amazing, the sounds defied me not to like them," he writes in Uproot, "yet somehow I did, turned on by flashes of anarchic joy amid the audio fallout. I think I may have blushed." The cassette energized Clayton to seek out the underground and its fringe, hunting in the backs of 'zines and record-store crates in and around Boston for music well off the beaten path.
At Harvard, he studied English while his burgeoning musical interests were strictly extracurricular. He made weekly trips to seek out new records throughout Greater Boston, taking three buses to stores along Dorchester's Blue Hill Avenue to shop for reggae and dancehall music. On Friday nights, he could often be found dancing at the Boston Loft, the city's only after-hours club, where the complexities of the jungle music "exploded my brain"; he bought his first set of turntables from the venue's own DJ Bruno. Frustrated by the limited format options at WHRB, he was granted his own show on MIT's WMBR. His social circles around radio eventually coalesced into a crew called Toneburst. They threw parties in alternative spaces to combat what they saw as the "segregationist logic" of Boston's dance scene, with its strict separation of different types of music and their audiences.
Clayton spent his postgraduate years in New York City before moving in 2000 to Madrid, the hometown of his wife, fashion designer Rocio Salceda; they subsequently lived in Barcelona before returning to New York City in 2006. That European base proved advantageous following Gold Teeth Thief: Clayton benefited from more opportunities to D.J. and says his skills had greater cultural value than they would have had back home. He also freelanced for The Washington Post and Africana.com (including reviewing poetry collections), and eventually saw writing as a way to create the kind of space for dialogue that he observed within his favorite musical traditions—and on the Internet, through media outlets like his blog Mudd Up!
The ideas behind Uproot began with his posts and the lively exchanges with online peers that followed. The book also draws on his past decade of reporting and essays for various outlets, including The Fader, n + 1, and Frieze. "I was trying to write a book that wouldn't concretize this history, but instead open it up and ask really wonderful, broad questions," he explains. "This is cultural heritage: Who's formatting access to it? How is it searchable? Who can annotate it? Who can take it down? Who should control it?"
In Uproot, Clayton marvels at the rapid-fire transformations of musical content that now begin rather than end with a D.J.'s collage—and then morph and gain momentum in the hands of others with full remixes and the smaller tweaks of refixes, peaking with waves of homemade, cellphone-captured dance videos. He considers how the software for do-it-yourself music-making, developed by a handful companies in Europe and the United States, reshapes—and in many cases thwarts—wildly different creative impulses across the planet. He ponders the future of music repositories found on spent cell-phone memory cards that one might nostalgically think of as music libraries, and questions the patronage of the arts by corporate sponsors such as Red Bull, Converse, and Sour Patch Kids, which co-opt hipness via their spending in service of lifestyle branding.
By placing stars like Paul Simon, MIA, or Whitney Houston side-by-side, in his own work, with comparatively obscure Egyptian mahraganat musicians, Mexican teens at a tribal guarachero rave, or Syrian dabke singer Omar Souleyman, Clayton ensures a far more thought-provoking and egalitarian version of world music than, for example, the one prompted by Paul Simon's Graceland in the late 1980s and 1990s: a process by which relevant regional talents were repackaged and sold to a Western audience.
"It's made by people all over the globe," says Clayton of this new world music—people "who now have access to inexpensive computers, cheap or cracked versions of software, and YouTube on the one hand, and what their parents listened to or what is common to where they live on the other. When they're making it in response to all of those situations, integrating the Internet's incredible sprawl, that's World Music 2.0."