The Happy Misanthrope
Dramas of power and cruelty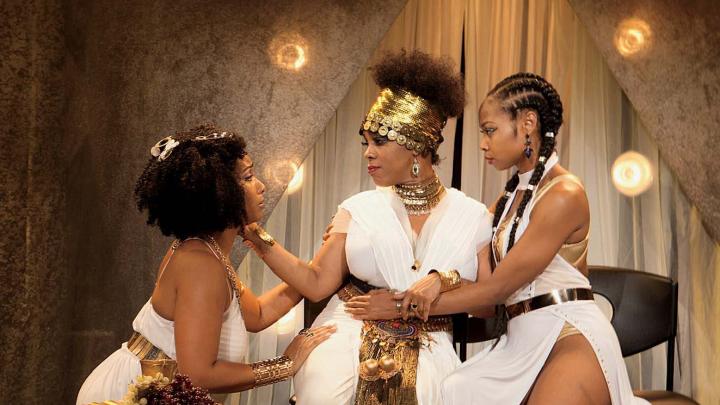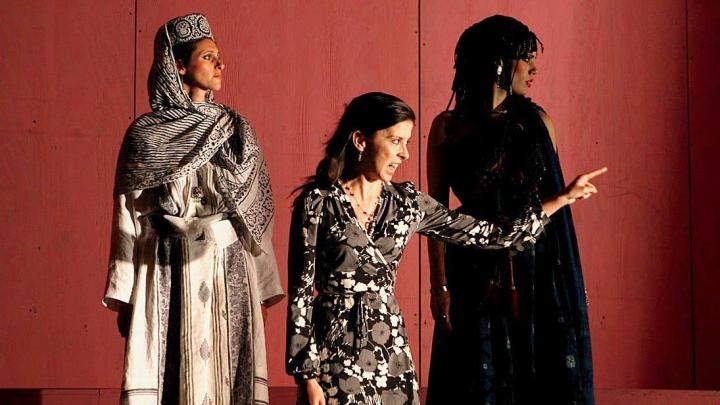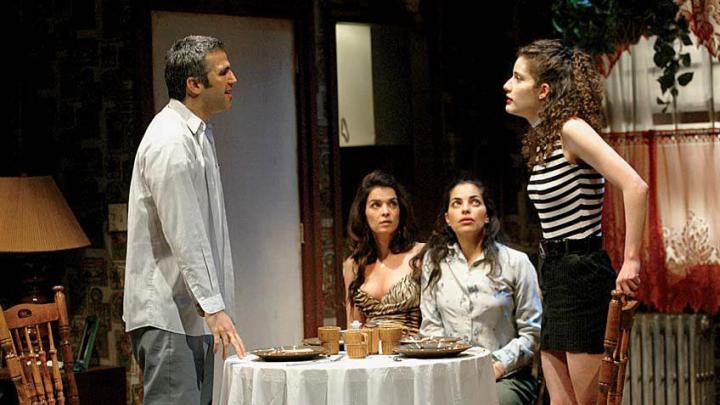 Betty Shamieh '96, RI '06, isn't in the house tonight, but she is on stage.
The small Off Broadway theater staging Fit for a Queen, her latest play, is sparely lit. The glitz of the set's palace—flashing lights, booming music, scantily draped slaves bearing platters of fruit and flowers—has receded. Queen Hatshepsut, till now languid on her throne, jumps up, her cool cracking: "You know I hate it when you make it sound like you don't love me."
The figure at whom Hatshepsut lashes out is Senenmut, her favorite slave, who is prostrate on the floor. In the language of the play, "favorite" is code for consort-by-coercion, but with that role comes an expectation that the coercion remain unspoken. Senenmut becomes "sweet Senenmut"; Hatshepsut is "Happy," and open to affectionate ribbing. But now, Senenmut invokes her servility, cutting Happy to the bone. If she can goad the queen into offing her dying husband, the pharaoh, and claiming the throne, then Senenmut—through the woman who loves her (and whom she can therefore manipulate)—will have control. 
Shamieh thinks Fit for a Queen, which ran through last October, may have attracted attention due to its election-season parallels: it follows a woman gunning for a place at the top of the political food chain (previously occupied by her husband, no less). But it's Senenmut who's her favorite kind of antihero: the oppressed subject who refuses to play angel, the recipient of horrors who manages to deliver some horrors of her own. She's bundled contradictions, as the best-written characters always are: power-hungry but empathetic; hardened through experience but naive enough to be betrayed; often the smartest person in the room, so always surprised when she's outwitted. Senenmut's cruelty, though, reflects what Shamieh believes to be basic, if difficult, human truths: power makes people capable of extreme cruelty, and people are terrifying when acting in their own interests.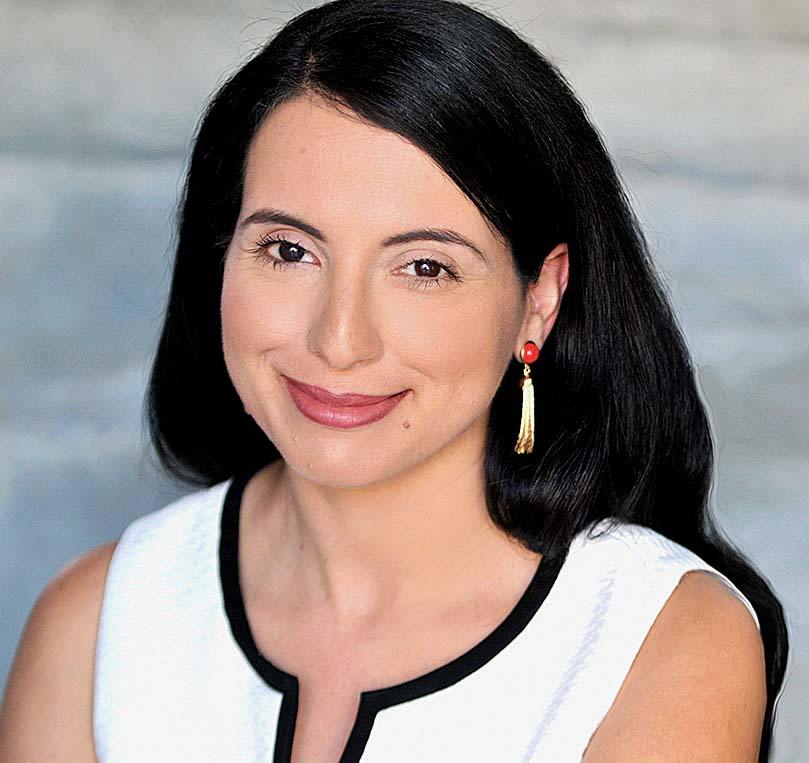 Photograph by Lisa Keating
Shamieh sees her tough truths as fortifying. "I'm a happy misanthrope," she says. "I believe that self-awareness is how we manage to not be horrible people. The horrible people in our lives are the people who are oblivious to their own flaws. People who say, 'Everyone's kind of a jerk,' and include themselves in that, are less dangerous than the ones who say, 'There are good people, and I'm one of them.' We're used to stories with heroes and angels, but there are angelic demons in my plays. Everyone's an asshole."
Fit for a Queen is also funny, both witty—Shamieh's sharp-tongued women lacerate one another and their shared opponents—and farcical. (When Senenmut's house-of-cards manipulation comes crashing down and the pharaoh's men come to execute her, a slapstick chase scene ensues.) Humor is how Shamieh makes difficult insights digestible: rather than browbeat, she opts for the laugh of recognition. And she believes that audiences also recognize her empathy for her creations: "I've been all of those characters on stage, and I'm clearly imbuing them with my experience." 
Earlier plays seemed to draw more directly on that experience: Chocolate in Heat, interconnected monologues about Arab-American young womanhood,made a splash at the New York Fringe Festival in 2001, and sold out subsequent small runs in New York. Then came her 2004 Off Broadway debut, Roar, a "small family drama" recalling August Wilson, Tennessee Williams, and Eugene O'Neill that traced the wilting dreams and stinging disappointments of a family of Palestinian refugees in Detroit during the Gulf War. Though critics took exception to the play's derivative flavor—and in the long shadow of the September 11 attacks, some deemed it insufficiently "political"— Shamiehwas hailed as a notable emerging voice for Arab Americans in theater. 
But Shamieh doesn't see herself as speaking to the Arab-American experience in particular. She insists that all playwrights—even Arthur Miller and O'Neill—write about their ethnic identities in order to access broader human truths. Her more recent work has moved away from those contemporary, realist stories and toward what Shamieh calls "big historical moments and larger-than-life characters." The Black Eyed, her 2007 set of monologues telling Arab women's stories, traversed history and began in Biblical times. And Territories (first developed with an Palestinian* company, and later adapted into an opera at Princeton) centered on an Islamic prisoner and the Christian crusader who tortures her, the two locked in a battle of wills, seduction, and manipulation. Yet her work still focuses on power at the personal level: critics praised the latter play for how it took an outsize historical episode and distilled it into an intimate portrait of wartime.
Shamieh mines historical moments that have a mythical, other-worldly quality—true stories with the potential to become legend—looking for the lesser-known players who help us better understand who we are today. One future project, Veritas, will tell the story of the first Native American students to enroll at Harvard under "Apostle to the Indians" John Eliot's stewardship in the mid-seventeenth century, a topic with considerable potential to plug into current conversations about universities as sites for forging an inclusive, diverse civic body. 
Shamieh got the idea for the play during her Radcliffe Institute fellowship, when she learned that Native Americans had been enrolled at the school within the first decades of its founding. Incredulous that she had never heard the story, she set out to mine its human essence; even in a world populated by Puritans, there are no pure moral actors. In seventeenth-century Massachusetts, colonized Natives themselves owned slaves; she points out that even though contemporary audiences may find Eliot's attempts to "civilize" indigenous people distasteful, he was in many ways doing the best he knew. She will return to Harvard on a Guggenheim fellowship this spring to continue her research and begin to write the characters to life. With a determined set to her jaw, she says, "I want to make them lore."
* This text has been updated on December 19, 2016 to reflect that Territories was developed with a Palestinian theatre company, not an Israeli one.
You might also like
Harvard researchers illuminate a longstanding epidemiological connection. 
Harvard's Faculty of Arts and Sciences broaches two tough topics.
On antisemitism, "I have sought to confront hate while preserving free expression."
Most popular
The University unveils plans for a non-academic "innovation" district. 
Focusing on the Harvard Art Museums' new photography curator
Incoming president Lawrence S. Bacow will name his successor. 
More to explore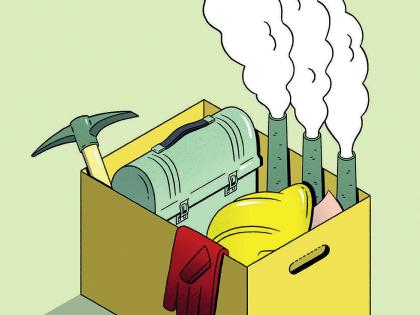 Expect massive job losses in industries associated with fossil fuels. The time to get ready is now.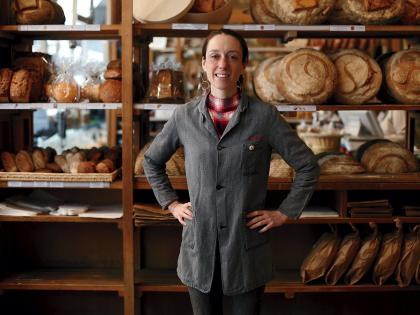 A third-generation French baker on legacy loaves and the "magic" of baking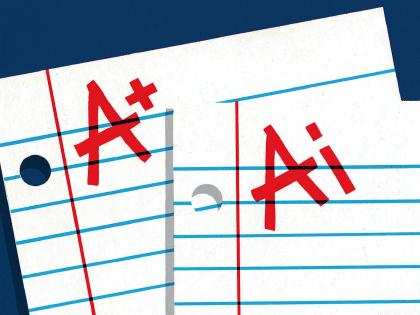 Generative AI can enhance teaching and learning but augurs a shift to oral forms of student assessment.