Sports
A Satisfactory Split
1.30.17
In Harvard's 77-71 win at Cornell on Friday, Justin Bassey '20 (shown here in earlier action against Dartmouth) scored 16 points, including the go-ahead three with less than a minute remaining.
Photograph courtesy of Harvard Athletic Communications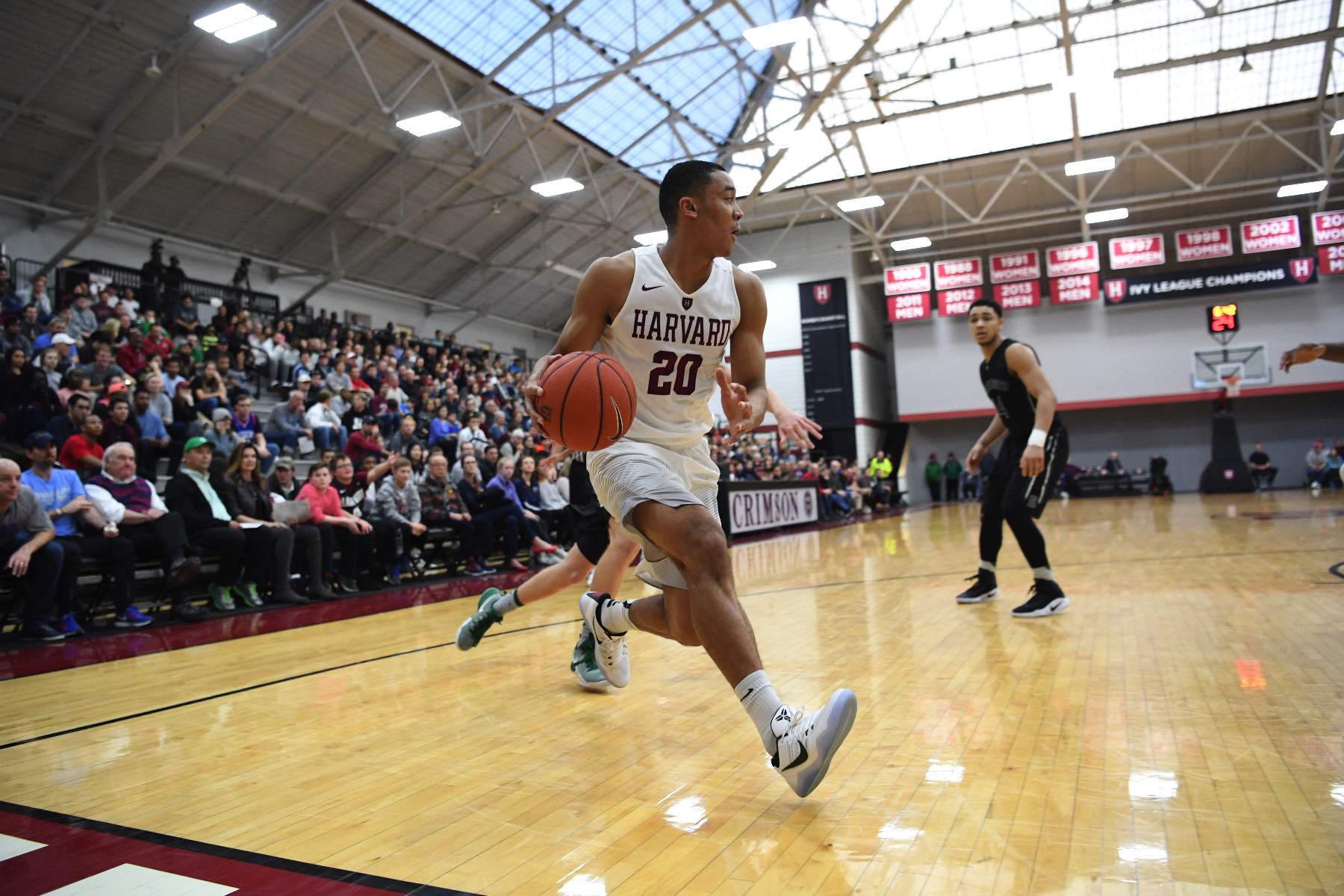 In Harvard's 77-71 win at Cornell on Friday, Justin Bassey '20 (shown here in earlier action against Dartmouth) scored 16 points, including the go-ahead three with less than a minute remaining.
Photograph courtesy of Harvard Athletic Communications
Seth Towns '20 (shown against Dartmouth) recorded his first career double-double with 12 points and 12 rebounds in Harvard's 65-62 loss at Columbia on Saturday.
Photograph courtesy of Harvard Athletic Communications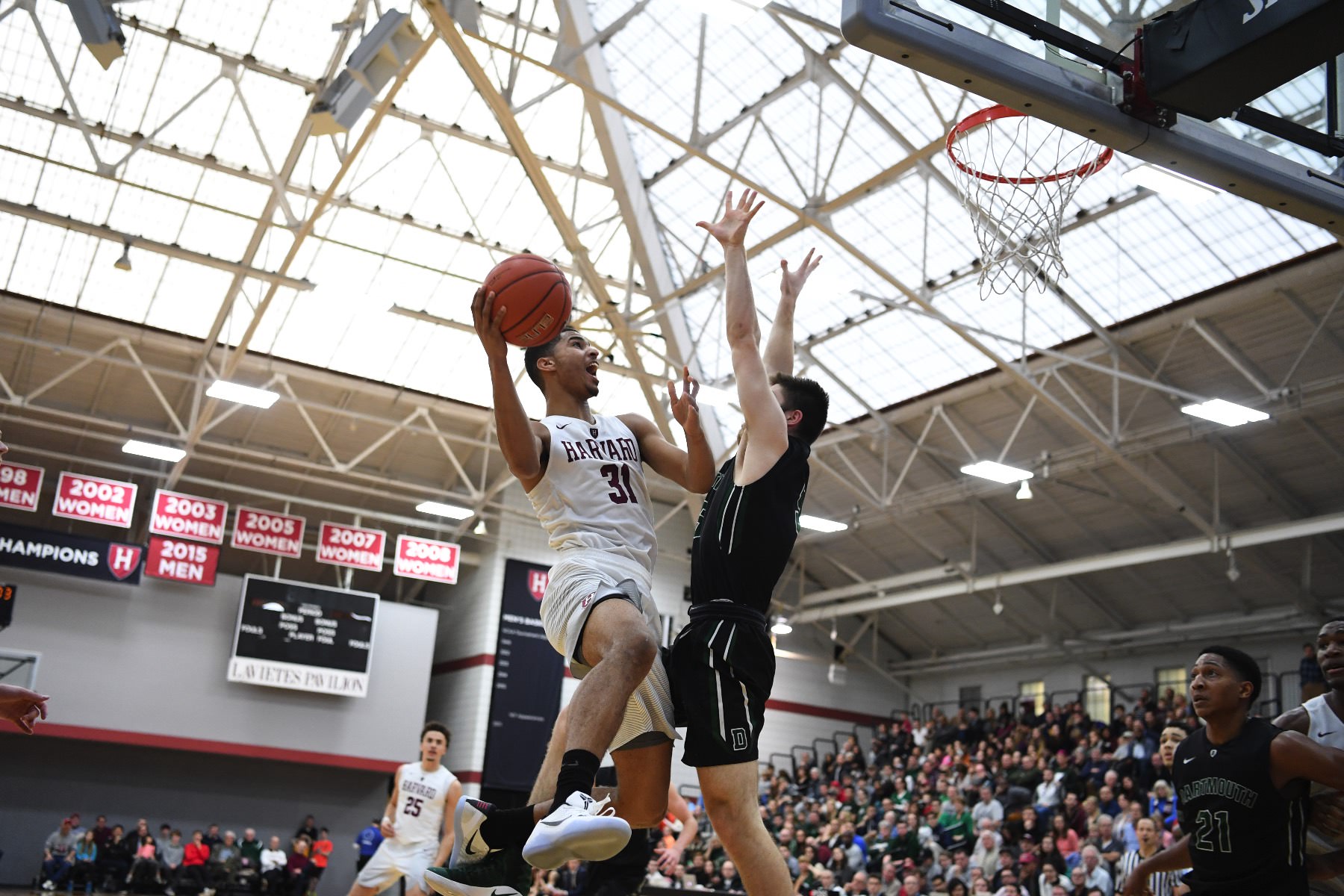 Seth Towns '20 (shown against Dartmouth) recorded his first career double-double with 12 points and 12 rebounds in Harvard's 65-62 loss at Columbia on Saturday.
Photograph courtesy of Harvard Athletic Communications
With a little over 53 seconds left in Harvard's game at Cornell on Friday night and the Crimson trailing 71-70, freshman guard Bryce Aiken had the ball at the top of key, and the Big Red's Jack Gordon was staring intently at him.
Understandably so.
Aiken—Harvard's leading scorer—had shredded the Cornell defense for a running layup on the previous possession. Meanwhile, Justin Bassey '20, the Harvard player Gordon was guarding, was standing just beyond the three-point line in the left corner, where he didn't seem like much of a threat. Sure, Bassey had drained one three-pointer earlier in the evening, but unlike Aiken, who is lightning fast and has a smooth release, Bassey has a hitch in his shot: he tilts his shoulders, rather than squaring his body with the basket, as pure shooters do.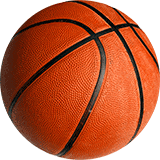 Harvard Hardwood
Sign up for Harvard Magazine's basketball e-mail and follow the Crimson all season long! David L. Tannenwald '08 will provide the latest news, game summaries, and insights as the Crimson chase another Ivy title and NCAA berth!
In that moment, Gordon and his teammates made two significant errors. First, as Steven Hyatt, Bassey's high-school coach, explained by phone on Saturday: Bassey has had that hitch in his shot for years, and it did not stop him from scoring 2,159 points at Colorado Academy. The second, Hyatt added, is that Bassey's jumper becomes more accurate when he steps beyond the three-point line—a peculiarity Hyatt attributes to Bassey's strength and follow-through.
So as Aiken drove to his left and saw Gordon coming toward him, he shoveled the ball to Bassey, who calmly tilted his shoulders, rose, and sank the go-ahead three in Harvard's 77-71 come-from-behind victory.
Although Harvard fell at Columbia 65-62 the following evening, Friday night's win ensured that the Crimson (11-6 overall, 3-1 Ivy) would at least split one of the hardest road trips of the year.
But still: the Crimson needed the freshmen's heroics to come away with the win, which shows that the team is still figuring out how to use its depth and adjusting to the rigors of back-to-back games in conference play
Debating Depth
"Not everyone can be first team," Stemberg head coach Tommy Amaker has told his team throughout the year, "but everyone can put the team first."
This aphorism points to the dilemma surrounding this year's roster. Harvard has 20 players, many of whom were highly regarded recruits; but on such a large and talented team, not everyone can play significant minutes. Amaker has made the case to his players that if they accept diminished roles individually, they can leverage their deep "bench and balance" to wear down their opponents collectively.
This approach can work well when the teams play games on back-to-back weekend nights and tend to wilt on the second one. This past weekend—the first set of back-to-back conference games—offered a chance to evaluate Amaker's strategy.
The outcome was mixed. On both nights, Harvard was the fresher and better team in the second half. The Crimson outscored the Big Red 44-31 in the second stanza on Friday, and they bested the Lions 36-24 in the final 20 minutes on Saturday.
But the Crimson needed strong second halves because it dug double-digit deficits in the first halves. That's the downside of Amaker's approach: using lots of players in different combinations can lead to discontinuity, particularly on defense, where Amaker expects his players to communicate extensively and rotate away from the ball
In the first half of both games, the Crimson got lost on defensive rotations and gave up open looks at the basket. Some of that can be chalked up to Columbia and Cornell's execution. But it also stems from the fact that Amaker, with an eye toward developing depth, has been experimenting with an array of lineups this season, and lineup shuffling can undermine the synergy and understanding on which team defense depends.
Statistical analysis supports this. Michael James '06, a former men's basketball writer for The Harvard Crimson and now the curator of the popular @Ivybball Twitter account, explains that the key metric is "defensive rating" (the average number of points a lineup allows per 100 possessions). For Harvard's five-player lineups that have played more than 20 possessions together this year, the defensive rating is 92. By contrast, lineups that have played fewer than 20 possessions together have a defensive rating of 105. Simply put, too much mixing and matching can cause the team to give up more points. Against Cornell and Columbia, James points out, Amaker used many lineup combinations that had very limited experience playing together.
To be clear, this experimentation is far from fatal. Amaker said last week that developing the team's depth "is always a process." Still, with just 10 games left in the regular season, the team would benefit from honing its depth and defensive chemistry simultaneously.
Back-To-Backs
Another question heading into this weekend was how the Crimson, particularly the freshmen, would adapt to the challenge of back-to-back conference games.
As former player Jonah Travis '15, a four-time Ivy League champion, explains, players can lose pounds of fluid in a single game. After Friday night's game at Cornell, the Crimson had a four-hour bus ride to New York City, and the players immediately started recovering and refueling. The training staff, Travis says, applies compression wraps to improve oxygen and blood flow and help reduce swelling. The players also eat and drink. (Lots of chocolate milk, says Travis.) Still, only so much is possible with fewer than 24 hours separating one concluding buzzer from the next opening tip, especially with an overnight bus ride in between.
The challenge is also mental. As senior point guard Matt Fraschilla '17 says, one cannot allow a bad game on Friday night to affect performance on Saturday, especially since Ivy opponents, who face each other twice each year, know what strategies and approaches to expect. And officiating is often spottier on Saturdays—there are many more games that day, and the best officials typically work the ones for more prominent athletic conferences like the Atlantic Coast Conference and Big East.
When the ball tipped at Columbia on Saturday, the Crimson seemed to have a hangover. Other than shooting guard Corey Johnson '19, who drained seven of 14 three-point attempts and led the team with 21 points, Harvard shot an abysmal 27 percent from the field and left many shots on the front of the rim—a sign the team was playing with tired legs. There were concentration lapses on defense, as well. Harvard repeatedly lost the Lions on backdoor cuts (in which a player takes a step to the perimeter before cutting hard to the basket), despite the coaches imploring players to defend against them.
A final issue might be called "freshman mistakes." Both Aiken and Seth Towns '20—who recorded his first career double-double with 12 points and 12 rebounds—had plays where they drove to the basket and failed to pass to a wide-open teammate or simply lost control and turned the ball over.
It is often said that the Ivy League is won on Saturday nights, and for much of the game at Columbia, the Crimson looked lost.
Still, it is worth keeping the setback in perspective. The introduction of the Ivy League Tournament means an early conference loss is less damaging than it once was, and the freshmen, despite making mistakes, have been integral to the team's success: Towns is the team's second-leading scorer, behind Aiken. The Cornell-Columbia road swing is also the longest trip and typically one of the hardest to sweep. Even though Harvard reached four consecutive NCAA tournaments between 2012 and 2015, Amaker's squad swept this trip only twice, and in both  those years (2012 and 2014), the games at Columbia went to one and two overtimes, respectively.
So one might call this weekend a satisfactory split. Now Harvard must clear the final hurdle in every back-to-back: preparing for the next one. The team hosts Penn and league-leading Princeton next weekend.
Harvard Women's Basketball Update
With a 62-59 win over Cornell and a 70-68 victory over Columbia, the Harvard women's basketball team (16-1, 4-0 Ivy) extended its winning streak to 16 games (tied for the longest in school history) and moved into sole possession of first place in the Ivy League. Sydney Skinner '19 led against the Big Red with a team-high 23 points. Against Columbia, guard Katie Benzan '20 and forward Jeannie Boehm '20 tallied 20 points each, while Madeline Raster '19 added 18 points, including the game-winning shot with 4.9 seconds remaining. Next weekend, the team travels to Penn (half a game behind the Crimson in the conference standings) and Princeton.