Sports
"Unconditionally Relentless"
1.24.17
Photograph courtesy of Harvard Athletic Communications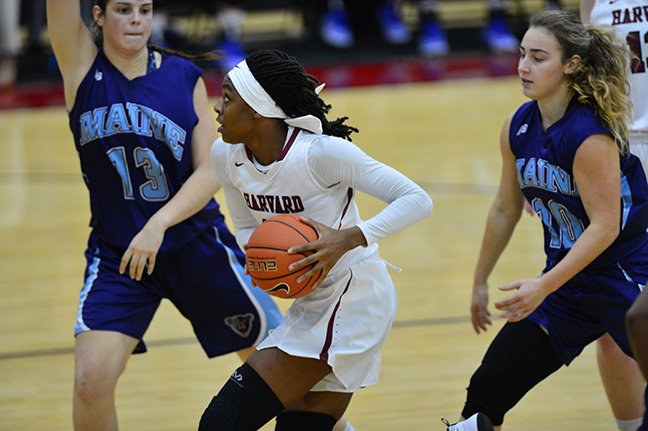 Photograph courtesy of Harvard Athletic Communications
Photograph courtesy of Harvard Athletic Communications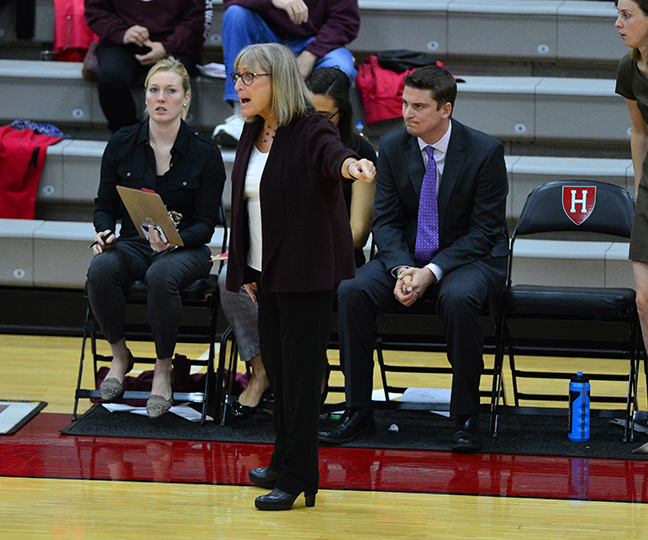 Photograph courtesy of Harvard Athletic Communications
Last fall, Harvard women's basketball head coach Kathy Delaney-Smith gave each of her players a bracelet. These were not merely mementos; the significance lay in the two-word inscription printed on each band: "Unconditionally Relentless." The coach was sending her players a message, and outfitting them with a constant reminder, about the mindset she expected from them.
In six of the last eight seasons, the Harvard women have received the Ivy League's automatic berth in the Women's National Invitational Tournament (WNIT)—second only to the NCAA tournament in prestige among women's post-season collegiate basketball competitions. For many programs, that would be cause for celebration, but for Delaney-Smith, the winningest head coach in Ivy league men's and women's basketball history, the bar is higher. Each year, she sets out to win an Ivy championship—but the last time the Crimson won a conference crown outright and went on to the NCAA tournament was 2007.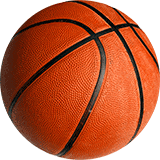 Harvard Hardwood
Sign up for Harvard Magazine's basketball e-mail and follow the Crimson all season long! David L. Tannenwald '08 will provide the latest news, game summaries, and insights as the Crimson chase another Ivy title and NCAA berth!
This year's team might do it. Buoyed by a transformational off-season, a star-studded freshman class, and a returning core of upperclassmen, Harvard is off to one of its best starts ever, with a 14-1 record halfway through the season (2-0 in Ivy competition). Now the heart of conference play begins.
Off-Season Metamorphosis
The game that ended last season, a 76-50 loss to Hofstra in the opening round of the WNIT, was disheartening, Delaney-Smith says. "The performance…felt to me like my team did not want to be there. That's failure on my part [and] on their part."
The team came back in the spring with high-intensity workouts, their coach was pleased to see the players arriving early and staying late. "There was a drive to become better," she says. Last summer, she assigned three books intended to help improve their outlook: Presence, by Harvard Business School social psychologist Amy Cuddy on confidence and "power posing"; Relentless, by Tim Grover, a trainer who has worked with NBA stars like Michael Jordan and Kobe Bryant; and Hard Hat, leadership consultant Jon Gordon's exploration of excelling as a teammate.
The readings made a particular impression on the incoming freshmen. Center Jeannie Boehm '20 says they helped her think about how to approach the often-overlooked mental shift needed to play college basketball. Adds point guard Katie Benzan '20, "It definitely showed what qualities Kathy was looking for, and what kind of teammate this team builds." 
Taking the Court
Fall practice began with an enormous influx of talent. Boehm, a six-foot-three post player from Illinois, is just the third McDonald's All-American in Ivy League basketball history. Benzan, the 2016 Massachusetts Gatorade Player of the Year, scored more than 2,000 points as a point guard at the Noble and Greenough School. Finally, Taylor Rooks '18, a transfer from Stanford, was the eighteenth-ranked high-school senior in the country in 2014.
But it's hard to predict how freshmen will adjust to college competition, and in the season opener, the Crimson lost 103-87 at Minnesota. It was encouraging to see the team tie a program record by draining 16 three-pointers against the Big Ten opponent, but the defense was porous, Benzan battled foul trouble, and the Golden Gophers grabbed 17 offensive rebounds. The team left Minnesota feeling that they had let an opportunity slip away, says senior co-captain Destiny Nunley: it was a game they could have won.
Instead, it proved their first and only loss so far. Since then the Crimson has rattled off 14 consecutive wins, showing offensive versatility and the intangible qualities that Delaney-Smith tried to instill in the off-season.
With strong post players like Boehm, Delaney-Smith uses an "inside-out" offense, which tries to get the ball into the paint at the start of each possession. That way, her post players can make a move to the basket or draw defenders and pass the ball out to an open teammate on the perimeter. With multiple players who shoot well and can also take the ball to the hoop, the Crimson can keep the ball, and opposing defenses, moving.
In early December, Harvard won 73-62 at home against Temple, part of the strong American Athletic Conference. Benzan recalls one possession in particular, in which every Harvard player touched the ball, forcing the defense to scurry back and forth until eventually a three-pointer opened up for shooting guard Madeline Raster '19. "It was just Harvard basketball," Benzan says, "and what Kathy has taught us."
The freshman lineup has required some selflessness from returning players, who have seen their on-court time shrink, forcing them to embrace reduced roles. Delaney-Smith praises several of them, including Sydney Skinner '19, who started last year but is now coming off the bench as the team's sixth player.
Those 14 wins have included a few come-from-behind games. In the non-conference finale, a 66-64 win at La Salle, the Crimson trailed by 10 points at halftime but mounted a comeback that culminated with a game-winning shot by Nunley with 1.9 seconds left. The team followed a similar script in its Ivy home opener against Dartmouth, trailing by nine points in the fourth quarter before coming back to defeat the Big Green 70-65.
That such a young team has been able to find a way to win even when it is having an off day suggests a fresh resilience. As Nunley said after the team's December win over Temple, "I think this is the first Harvard team that I've been on…where it's consistent, every day in practice, how hard we work and how much we want to win."
The Path Ahead
The Crimson now faces the heart of Ivy play, followed by the inaugural Ivy League basketball tournament. Former player Katherine Rollins '09 advises the team to keep the strong start to the season in perspective. "You prepare yourself in non-conference play," she says, "and you showcase that preparation in conference play." Rollins speaks from experience, having played on the 2007 team that reached the NCAA tournament; that squad finished non-conference play with a dismal 1-12 record before going 13-1 in the Ivy League.
Delaney-Smith is reluctant to look too far ahead. For now, she is trying to keep her players loose (laying on, for instance, an intra-squad karaoke competition in downtown Boston), emphasizing continued improvement (defensive rebounding is a priority), and working to maximize the team's performance one day at a time.
Still, this season's success to date is part of a cultural shift and recruiting effort that have been months and years in the making. That process continues this weekend when the Crimson hosts Cornell and Columbia.
Harvard Men's Basketball Update
The Harvard men's basketball team defeated Dartmouth on Saturday in an 82-68 home win that improved Harvard's record to 10-5 overall and 2-0 in the Ivy League. The Crimson—which played in front of a sellout crowd of 2,195 fans—was led by freshman Seth Towns, who scored 19 points, alongside Corey Johnson '19 and Zena Edosomwan '17, who added 15 points apiece.