Sports
Swept
3.6.17
Photograph courtesy of Harvard Athletic Communications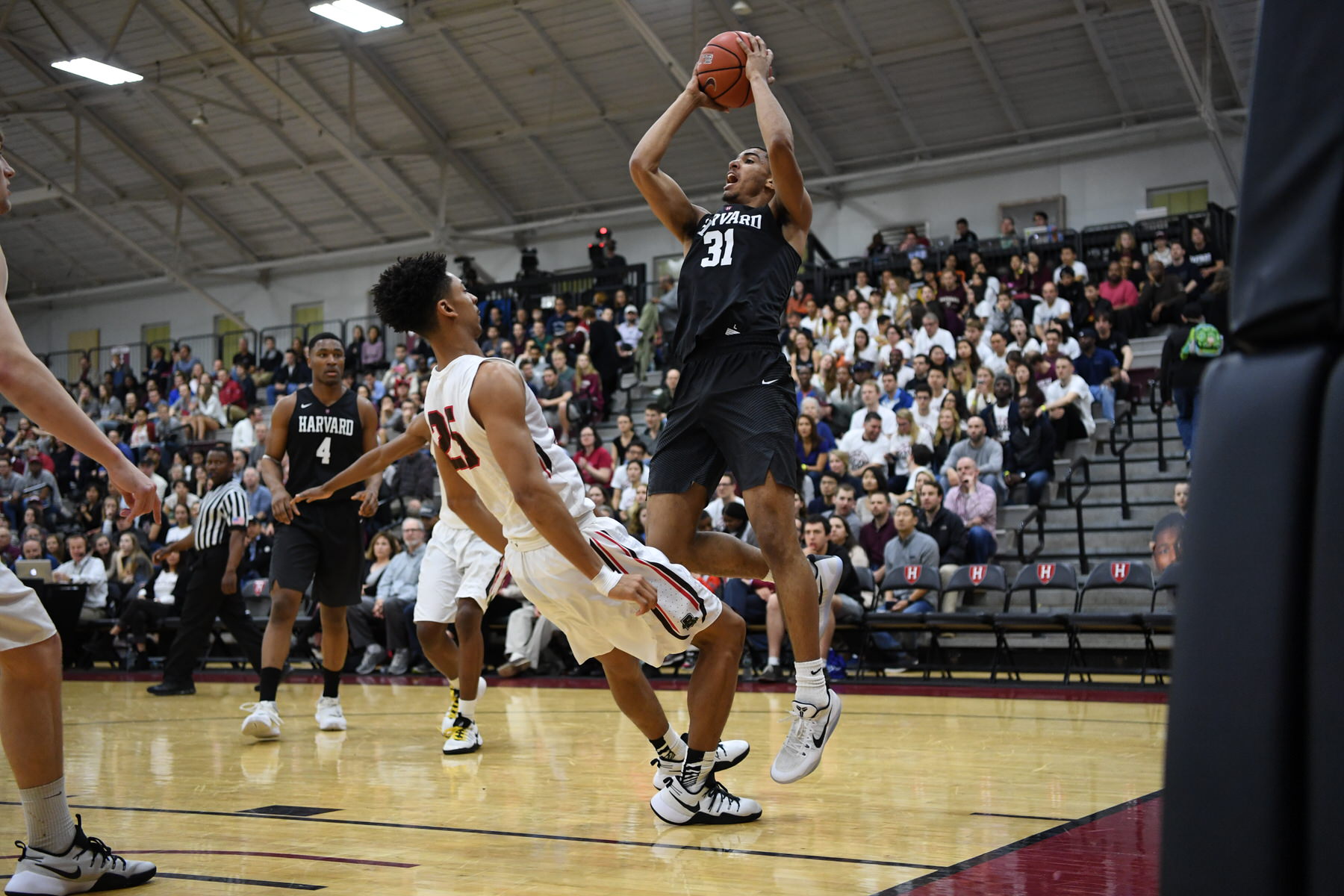 Photograph courtesy of Harvard Athletic Communications
On Wednesday afternoon, freshmen Seth Towns and Bryce Aiken sat on a leather coach in the Lavietes Pavilion lounge, awaiting questions from the press. The first inquiry came from an unlikely source: Stemberg coach Tommy Amaker. Amaker—who had just finished speaking to the media—had lingered to find out if Aiken was going to that evening's NBA game between the Boston Celtics and Cleveland Cavaliers. Aiken, who went to the same high school as the Cavaliers' star guard, Kyrie Irving, told his coach that he was planning to attend (and assured Amaker that he had completed his homework).
While the matchup served as light fodder for Amaker and his players, it also provided an interesting analog for the challenge that the Harvard men's and women's basketball teams faced in their own contests this weekend. The Celtics, in second place behind the Cavaliers in the Eastern Conference, had a chance to beat the defending NBA champions in a potential preview of the conference finals. The Harvard teams had a similar opportunity to upend the league leaders—the Princeton men and Penn women—and earn a psychological edge heading into the Ivy League tournament.
The Celtics defeated the Cavs 103-99, but the Harvard teams fell short. The men dropped a 73-69 contest at Princeton on Friday, and the women lost to Penn 64-46 at home on Saturday. Paired with the women's 64-60 loss against Princeton on Friday and the men's 75-72 setback at Penn on Saturday, for the first time this season, both teams were swept in the same weekend in conference play.
Both Harvard teams will have a chance to avenge those losses at this weekend's inaugural Ivy tournament at the University of Pennsylvania. What should the second-seeded men (18-9 overall, 10-4 Ivy) and third-seeded women (20-7 overall, 8-6 Ivy) take from this weekend's setbacks as they try to win the league tournament and return to the NCAAs?
Following Friday's loss, Amaker sounded hoarse as he dissected the Crimson's second close defeat by Princeton this year (Harvard lost 57-56 to the Tigers in Cambridge in February). "It's been a possession game, and it's been nail biting," he said adding, "Princeton's very good. They're undefeated in the league for a reason."
One reason is that, unlike the Crimson, Princeton took care of the ball. On Friday, the Tigers had just five turnovers, versus Harvard's 18, including a five-second call on Robert Baker '20 as he tried to inbound the ball with one second left. The Tigers are a veteran team (they start three seniors) and have experience in close games; this edition of the Crimson starts four freshmen. In addition, Amaker observed, Harvard started out playing "sped up," less because of the Tigers' defense than because, while trying to "play with great pace," they did not exhibit enough control. The coach must find a way to steady his young players before they enter a high-pressure post-season environment.
Should Harvard reach the tournament final (the Crimson face Yale in the semifinals) and have a rematch with Princeton (which faces Penn in the other semifinal), Amaker will also have to overcome the matchup problem that the Tigers present. Princeton has a number of post players who can shoot threes along with relatively tall guards, such as six-foot-four junior Amir Bell. As a result, Princeton coach Mitch Henderson will sometimes "invert" his offense, moving his post players to the perimeter and his guards inside. This challenges Harvard's defense because its best guards—Siyani Chambers '16 ('17) and Bryce Aiken '20—are relatively small. On Friday, Princeton senior Spencer Weisz (who is also six-foot-four) repeatedly posted up Aiken, resulting in a mismatch in Princeton's favor or forcing one of Harvard's post players to leave his man and double-team Weisz.
Princeton's size and versatility also mean, as Amaker said, that many of their defenders are "interchangeable." This allows the Tigers to switch on screens making it much harder for Aiken and Chambers to get in the lane off of pick-and-rolls and put pressure on the defense, as they have done for much of the year. Recognizing this, in the second half, Amaker started calling more plays to pass the ball inside to forwards Chris Lewis '20 and Zena Edosomwan '17. The Tigers responded by double-teaming the post. Sometimes, Lewis and Edosomwan successfully passed to an open man on the perimeter, helping the Crimson get an open three. But the Tigers were also anticipating the Crimson's passes, resulting in more Harvard turnovers—another example of Princeton imposing its will and style on the Crimson.
Thus, if Harvard is to bounce back next week, it will need to find a way to use its backcourt speed and offensive balance. The Crimson have managed to do so during portions of both games against Princeton—hitting three quick threes to erase a 41-32 halftime deficit this past Friday and overcoming a 13-point second-half deficit to take the lead against the Tigers in Cambridge. If Harvard faces the Tigers again, it will need to extend that kind of momentum and reduce turnovers. As talented and experienced as Princeton is, the Crimson have lost to them by only five total points—suggesting that the Tigers are not invincible.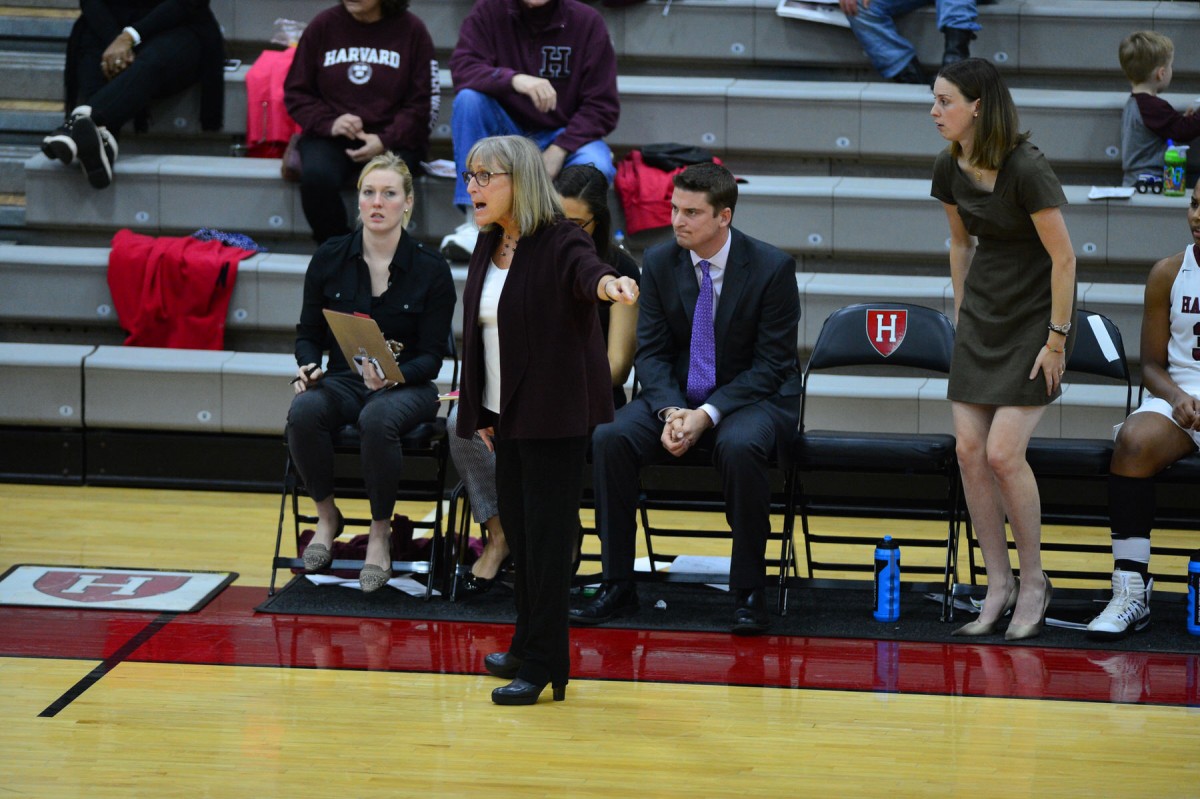 Photograph courtesy of Harvard Athletic Communications
While Amaker lauded his team for its effort on Friday, women's basketball head coach Kathy Delaney-Smith expressed frustration with her squad's inability to make open shots after the Quakers blew them out for the second time this season. "We gotta put the ball in the basket," she said. "We're young and we're inconsistent in our swagger and our ability to believe in our shot and believe in each other, and that's what has been waning on us unfortunately."
Delaney-Smith emphasized that she was especially disappointed with the offensive performance of her starting frontcourt, Destiny Nunley '17 and Jeannie Boehm '20. Although Nunley had a double-double (16 points and 10 rebounds), she missed several open layups, and Boehm made just one of her four field-goal attempts. To some extent, this reflects the challenge of playing against Penn's talented and tall frontcourt. The Quakers' starting center, senior Sydney Stipanovich, is six-foot-three and is the reigning Ivy League Player of the Year, and fellow starter, junior forward Michelle Nwokedi, is also six-foot-three and was a First-Team All-Ivy selection last year.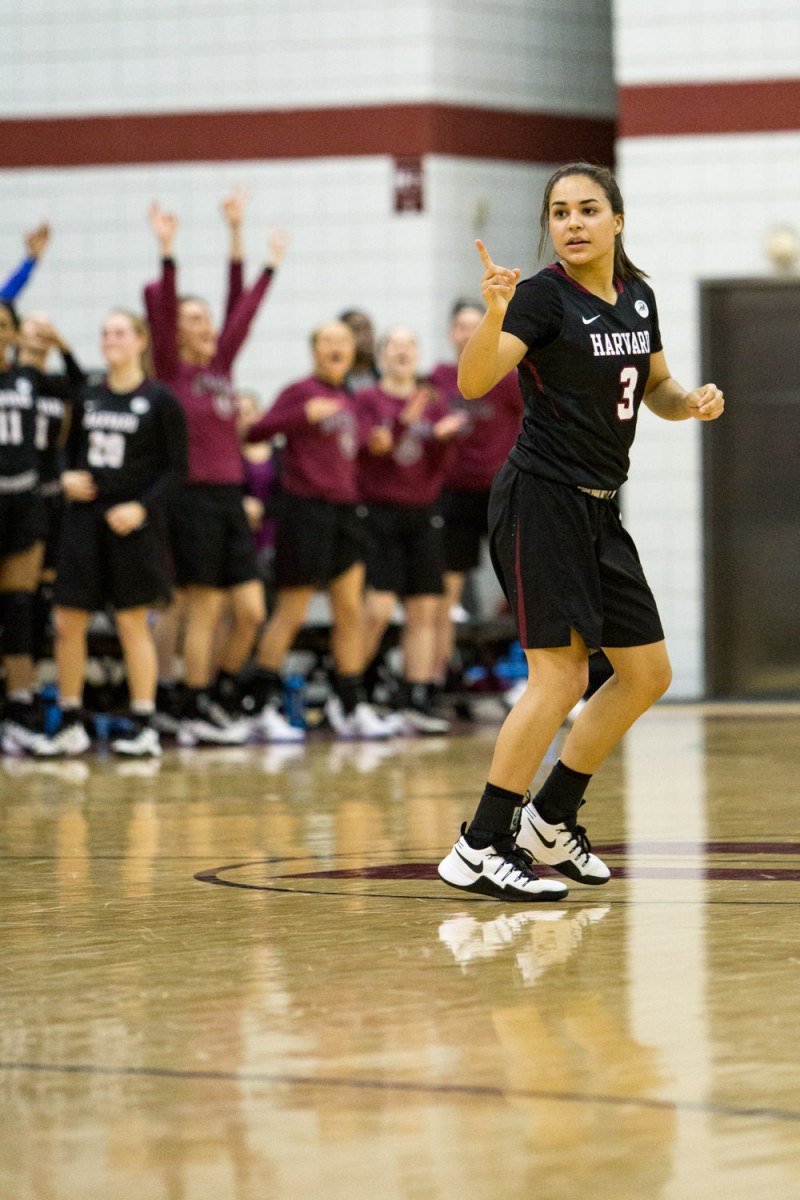 Still, as Delaney-Smith pointed out, Boehm could have been more aggressive, and Nunley missed shots that she normally makes—perhaps indicating the young Crimson squad's lack of confidence. When the Crimson started the year 16-1, one alumna speculated that Harvard might go undefeated in Ivy play. Harvard won six of its first eight Ivy games, but in the second half of the league's round robin format, dropped four of six. Opponents had scouted the Crimson's weaknesses, and the young team had lost some of its belief.
If it is to advance in the Ivy tournament, Harvard must rediscover the self-assurance that propelled it to such a strong start. In addition to taking a day off to recharge, the team plans to take extra shots, employ visualization techniques, and pick each other up. As Nunley said, one of the most important moments of Saturday's game came during a timeout after she had missed a shot and Madeline Raster '19 grabbed her jersey and told her, "Get over it." Finally, the team may benefit from embracing an underdog's mentality, freeing the players to shed the weight of expectations that may have caught up to Delaney-Smith's squad after winning 16 straight games.
Delaney-Smith and her team can draw on the knowledge that they have yet to play their best basketball against Princeton (their opponent in the Ivy League tournament semi-finals) and Penn, the top seed, which faces fourth-seeded Brown in the other semifinal. Delaney-Smith said on Saturday, "The one thing I take away from this weekend is that we can beat either of these teams." Point guard Katie Benzan '20, perhaps more bluntly, said the team also needs "to face that we might only have one game left. It's literally, 'Now, it's life or death.' And if we actually face that and come to terms with that, I'm afraid for Princeton."
Tournament Tidbits
The Ivy League tournament tips off Saturday at 11:00 a.m. when top-seeded Penn will face fourth-seeded Brown in the first semifinal in the women's bracket. At 1:30 p.m., Princeton and Penn will play the first semifinal in the men's bracket. The Harvard and Yale men follow at 4:00. Then, the Harvard and Princeton women will compete in the final game of the day at 6:00. On Sunday, the men's final will tip off at noon, and the women's championship will begin at 4:00.