News
Tomiko Brown-Nagin to Lead Radcliffe Institute
4.26.18
Photograph by Kris Snibbe/Harvard Public Affairs and Communications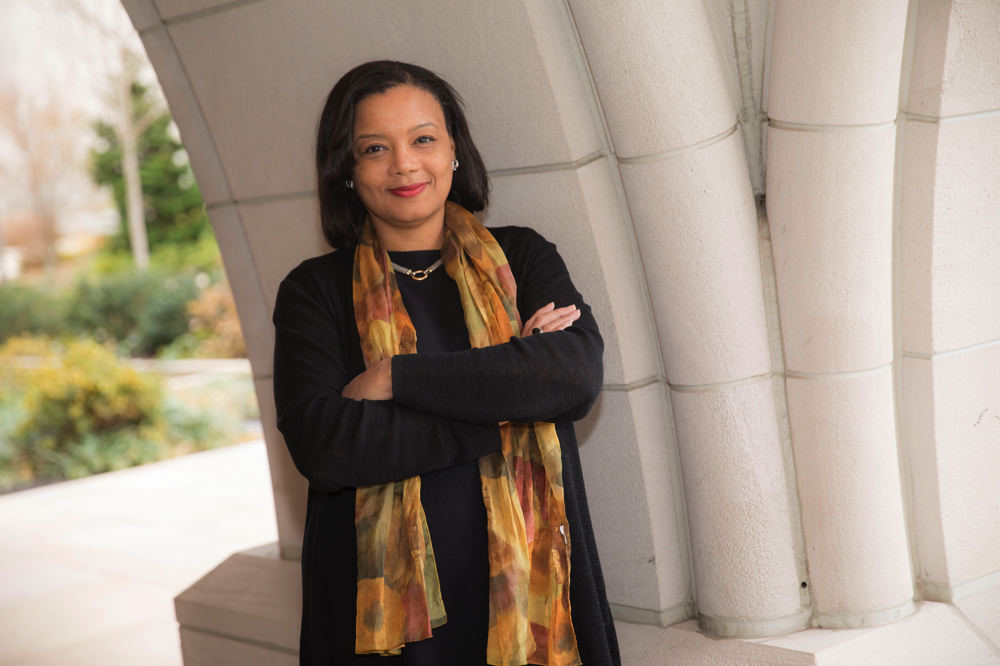 Photograph by Kris Snibbe/Harvard Public Affairs and Communications
Tomiko Brown-Nagin, Paul professor of constitutional law and professor of history, has been named dean of the Radcliffe Institute for Advanced Study. She will take up the office on July 1, succeeding Lizabeth Cohen, who has led the institute since 2011 and announced last October that she would step down.
Brown-Nagin, who holds a J.D. from Yale Law School and a Ph.D. in history from Duke, is best known for her contributions to the history of the civil-rights movement. Her 2011 book Courage to Dissent: Atlanta and the Long History of the Civil Rights Movement won the Bancroft Prize for U.S. history, and is widely regarded as a definitive text on the legal and social history of civil rights in the United States. Her current book project explores the life of Constance Baker Motley, an African-American lawyer, judge, and politician who was an attorney in Brown v. Board of Education.
Brown-Nagin's wide-ranging scholarship has also covered constitutional law, education policy, equal protection jurisprudence, and the Affordable Care Act. She joined Harvard Law School and the Faculty of Arts and Sciences in 2012, after teaching at the University of Virginia, and was a Radcliffe Fellow during the 2016-2017 academic year. 
Brown-Nagin is a sophisticated, nuanced thinker on the significance of diversity and representation in democratic institutions. In a recent Columbia Law Review article titled "Identity Matters: The Case of Judge Constance Baker Motley," she wrote:  
Motley did endorse greater representation of women and racial minorities in the judiciary. Her argument for diversity on the bench did not turn on the view that women and people of color have a different voice or would reach different or better decisions than white men. Motley advocated judicial diversity because, she believed, inclusion reinforced democracy. By affirming openness and fairness, the mere presence of women and racial-minority judges built confidence in government. Motley touted symbolism, not substance… This remarkable and trailblazing historic figure embodied change for and by African Americans and women. Yet her record of judicial decisionmaking confounds the expectation that diversity of opinion and background necessarily results in a substantive difference on the bench.
"I am honored and excited to have the opportunity to lead the Radcliffe Institute, whose mission to bring scholars together across disciplinary and professional boundaries I enthusiastically embrace," Brown-Nagin said in a statement. "Radcliffe plays a vital role at Harvard and in the world, and I look forward to working with the institute's excellent staff to promote its mission and support its endeavors."   
President Drew Faust said, "This is an important moment for Radcliffe as it matures into an established and renowned institute for advanced study, with its world-class library and archive on the history of women in America, as well as its expanding role, through the Academic Ventures program, in bringing together faculty and students from across and beyond Harvard in common pursuits…. Tomiko is exceptionally well equipped to advance and build upon this important work, and I know that she will count on the insight, partnership, and support of the entire Radcliffe community as she embraces those opportunities in the years ahead."
President-elect Lawrence Bacow described Brown-Nagin as "a scholar of remarkable depth and breadth" who "has already made significant contributions to Harvard through her leadership and service. I am fortunate that the timing of the search enabled me to meet with Tomiko along with the other finalists. Radcliffe and Harvard will both benefit tremendously from the relationships Tomiko has already established at the Institute and across the University. I am excited that I will have the opportunity to work with such a wonderful scholar and leader in the years ahead." 
Brown-Nagin is faculty director of HLS's Charles Hamilton Houston Institute for Race and Justice, which aims to bridge legal scholarship and practice, and a co-director of the HLS program in law and history. She served on the Isaac Royall Shield Committee at HLS, the committee that in 2016 recommended abandoning the law school's shield because of its ties to a slave-owning family. She also chaired the LGBTQ working group of the Task Force on the Prevention of Sexual Assault, the University-wide group that made recommendations on preventing sexual assault in March 2016.   
"I am absolutely delighted that Tomiko Brown-Nagin will lead Radcliffe into its next chapter," said Lizabeth Cohen. "She embodies the intellectual rigor, genuine curiosity, and collaborative spirit that are at the heart of Radcliffe's unique mission as Harvard's Institute for Advanced Study, and she combines this with the outstanding insight, judgment, and integrity of a distinguished leader."