News
Underground: The Story of Harvard's Class of 1968
6.7.18
"I didn't want to say no—I mean, who gets to have a movie made about their undergraduate senior thesis?"
Ariel Smolik-Valles '17 was standing in a short black dress just outside the Harvard Archives, waiting for filmmaker Peter Coonradt '68, who was setting up his camera, to call her over for a close-up of the flowery, '60s-throwback ankle boots she was wearing. Breezy notes from South African trumpeter Hugh Masekela's "Grazing in the Grass" wafted down from speakers overhead, part of the Pusey Library's "Harvard 1968" exhibit, which displays images and artifacts from a year of campus upheavals: protests against the Vietnam War, student demands for an African-American studies curriculum, and the Class Day speech by Coretta Scott King less than three months after her husband, Martin Luther King Jr.—originally selected as that year's speaker—had been killed. (The exhibit is on view through June 14.) 
"I've always been interested in history, and in the people who came before me at Harvard," said Smolik-Valles, now a teacher at a charter school in Mattapan. "And this was a time that was so out of the ordinary, that went against everything Harvard was supposed to be about. It was just wild."
Just then, Coonradt called out, "OK, Ariel, ready for you now."
Not quite two years ago, Smolik-Valles, while researching her senior thesis on the 1960s antiwar movement on campus, called Coonradt out of the blue to ask about his experiences in Harvard's countercultural movement. He didn't have much to give her in the interview—"I was in the movement, though I certainly wasn't a leader"—but their conversation, and later her finished thesis, sparked an idea for a film, he says. An independent filmmaker based in southern California, Coonradt has spent his career making movies and documentaries mostly on his own ("with a tripod on my shoulder and some microphones") about whatever has interested him: undocumented immigrants and activists living east of Los Angeles, the music of Belize, football at Middlebury College. "They're all labors of love," he says.
The current film, UNDERGROUND 68, has more moving parts than usual. Part documentary, part dreamlike narrative, it will star Smolik-Valles and loosely trace the course of her thesis research while also telling a broader story linking her present to his past.  "Basically, it's a journey of discovery," Coonradt says. According to the film prospectus, Smolik-Valles's thesis work leads her to a revelation about the "historic generational shift" of which Harvard's 1968 alumni were a part. She finds a "renaissance of music, art, experimental films, underground comix, psychedelic drugs, Eastern philosophy, and cosmic consciousness" that undergirded social movements like civil rights, environmentalism, and women's liberation.   
Amid this swirl (there's also a love interest for Smolik-Valles in the film), she "finds the distillation" for the themes of her thesis "in the songs of Bob Dylan," Coonradt says. And her interest in Dylan leads her to another Harvard scholar, Lane professor of the classics (and Dylan superfan) Richard Thomas, who last year published Why Bob Dylan Matters, a textual analysis of the great songwriter's lyrics and their literary ties to Virgil, Ovid, Catullus, and other poets from antiquity. Through Thomas's book, Smolik-Valles discovers the literature of ancient Greece and Rome and, says Coonradt, "the transcendent power of timeless art." On a recent trip to Italy, where he took in two Dylan concerts, Thomas, an UNDERGROUND 68 collaborator and co-writer—and actor, playing himself—grabbed some footage for Coonradt to incorporate into the film, of Roman ruins and sculptures and ancient roads, places that Dylan, too, visited once upon a time.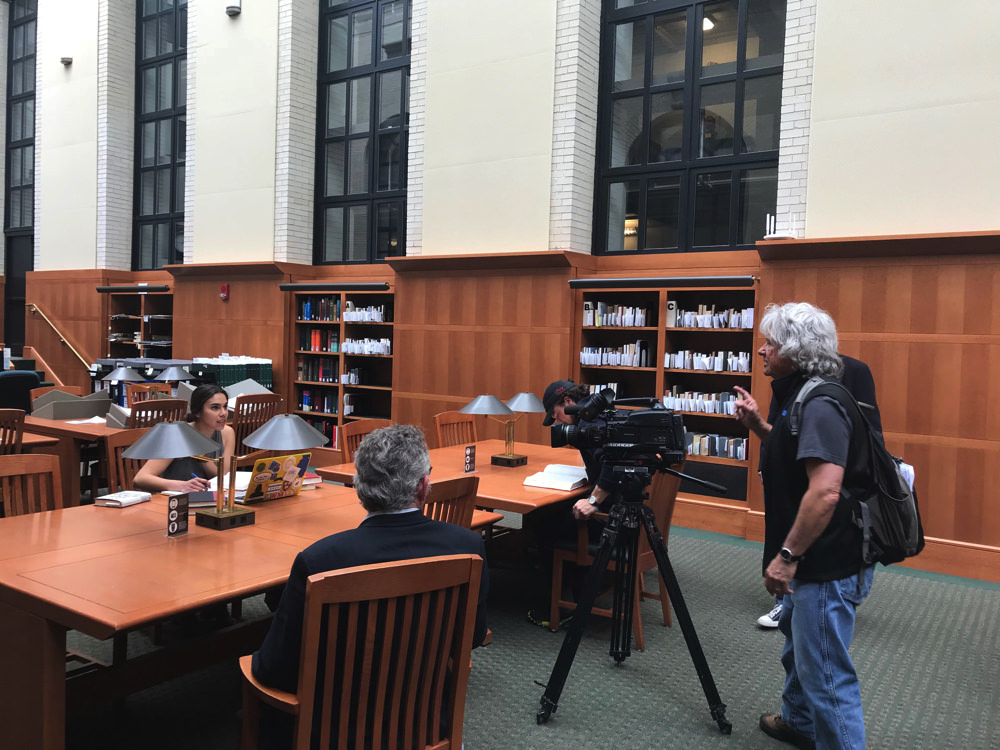 Photograph by Lydialyle Gibson/Harvard Magazine
But that morning, the Saturday before Commencement, was the official first day of shooting, and the whole crew was together on location at Harvard: Coonradt, Thomas, and Smolik-Valles, plus Coonradt's classmate Peter Johnson '68, playing an enigmatic character called "the man in the long black coat," and Dalton Follows '20, serving as both a cameraman and cast member.  The group spent much of the morning at Widener Library, with a detour to the Harvard Archives, where archivist Megan Sniffin-Marinoff had pulled a few of the materials Smolik-Valles had used during her thesis research, and the camera lingered on her leafing through posters advertising a gay-liberation dance, an antiwar protest, and the student strike that followed the occupation of University Hall in April 1969. 
"In the film, I'm not trying to recreate that time," says Coonradt, "but I'm trying to bring to life those ideas." Part of bringing them to life was this year's four-day fiftieth-reunion celebration for the class of 1968, which Coonradt helped organize. Headquartered at Leverett House, and also titled "UNDERGROUND 68," it included lectures and discussions—one by Thomas on Bob Dylan and the classics—plus a Bob Dylan tribute concert and a coffeehouse hangout recalling the '60s-era Club Passim (then called Club 47). Radcliffe alumnae took part in a communal mural painting directed by Christina Schlesinger '68.
Coonradt filmed everything. "It's really amazing being back," he said, as the reunion was kicking off. "I hadn't expected that." In the 50 years since his graduation, he had never been back to campus and had barely thought about it, he says. A filmmaker who describes himself as "independent in the extreme," he'd returned to his native California (though not Hollywood, he hastens to say) and started making films. 
Coonradt wrapped up shooting for UNDERGROUND 68 at the end of May. He expects the film to be released in early 2019, and he's excited about its possibilities, he said. "It's like, Ariel goes down the rabbit hole into this thing—it's not a dream, but it's where you go when you read a great book, or where your mind goes when you have a deep experience. That's what I'm trying to do with this movie."