News
Harvardians May Make Donald Trump's Supreme Court Shortlist
7.3.18
Clockwise from left: Photograph by Gary Blakeley/123RF Stock Images; courtesy of the Michigan Supreme Court, courtesy of the Iowa Supreme Court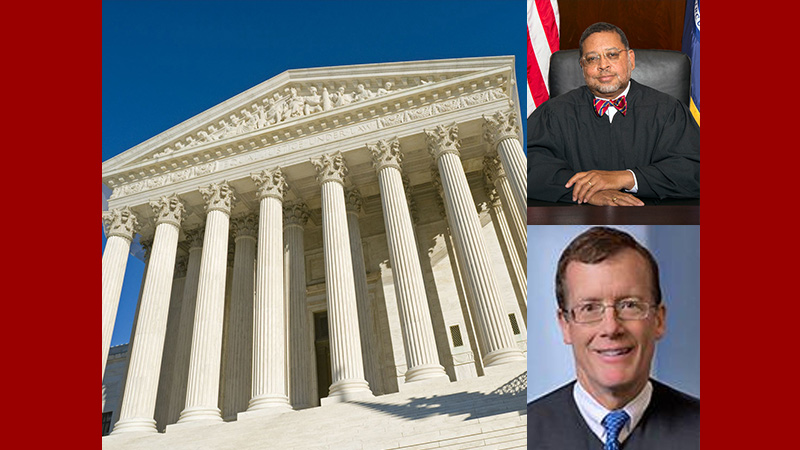 Clockwise from left: Photograph by Gary Blakeley/123RF Stock Images; courtesy of the Michigan Supreme Court, courtesy of the Iowa Supreme Court
All justices on the current Supreme Court have attended law school at either Harvard or Yale (though Ruth Bader Ginsburg transferred to Columbia midway through her studies). Now two Harvard College alumni, one a Law School alumnus as well, are among a list of 25 individuals President Donald Trump has said he will consider nominating to replace Supreme Court associate justice Anthony Kennedy, J.D. '61, who announced his retirement last week, as of July 31, after 30 years of service. They are:  
Robert P. Young Jr. '74, J.D. '77, a former Michigan Supreme Court justice who retired from his position in April 2017, and
Edward Mansfield '78, a justice of the Iowa Supreme Court. 
Kennedy's retirement promises to revise the ideological composition of the court and ignite a showdown between Senate Democrats and Republicans over whether to confirm a new justice before the 2018 midterm elections. Kennedy's opinions during his tenure ran the ideological gamut: he wrote the opinion for Citizens United v. Federal Elections Commission, which opened the door for organizations (corporations, unions, and others) to make unlimited political donations; and the opinion in Obergefell v. Hodges, which legalized same-sex marriage in the United States. In his final opinions on the court, Trump v. Hawaii on the federal ban on travel from several majority-Muslim countries, and Janus v. AFSCME, concerning labor unions' ability to collect fees from non-members, Kennedy provided the swing vote, siding with the court's conservative justices. His retirement gives the president an opening to solidify a conservative majority on the court. 
Trump has said he will put forth a nominee by July 9, drawing from a list of candidates he first circulated during the 2016 presidential campaign. At that time, he said he would pick a "pro-life" nominee who was "in the mold" of the late Justice Antonin Scalia, LL.B. '60. Though Young and Mansfield appeared on that list, neither has shown up on a series of speculative shortlists floated by news outlets like The New York Times and The Washington Post since Kennedy announced his retirement. 
A self-described "textualist" and "great fan" of Scalia, Young typically advocates for a plain-text reading of the Constitution that does not consider factors such as modern social policy or legislative history. He is the only black candidate—and one of just three minorities—on Trump's shortlist, but has said in the past that he doesn't believe his racial heritage should affect the way he interprets the law. Young wrote several landmark decisions during his tenure on the Michigan Supreme Court, one of which concerned whether election officials can require photo identification before voting. The court ruled that the requirement did not present a severe burden on voters and was a "reasonable, nondiscriminatory" requirement. 
Young recently accepted a position at Michigan State University (MSU), where he now serves as general counsel. He is representing the school as it faced lawsuits from more than 330 women and girls who alleged that Lawrence Nassar, a physician at MSU and doctor for USA Gymnastics, had sexually abused them. MSU settled with the plaintiffs in May for $500 million.   
At Harvard, Young concentrated in social studies and, after attending the Law School, briefly worked for what he described as an "active year" in the College admissions office in 1978. He returned to his hometown of Detroit to practice law at the firm Dickinson Wright, becoming a partner in 1982. He was elected to the Michigan Supreme Court after a three-year stint in the state's Court of Appeals, and in 2011 became its chief justice. He retired from that post in April 2017 to return to private practice, but briefly joined the race to challenge Michigan's Democratic U.S. senator, Debbie Stabenow, in June 2017. He withdrew in January for lack of campaign funding. During the campaign, he identified as a black, conservative Republican—words, he said, that are "almost never spoken in the English language"—and said his experience as a judge helped him "understand how to stop sanctuary cities and illegal immigration, and how to make our community safer and secure." 
Edward Mansfield, a government concentrator, attended Yale Law School and then clerked for Fifth Circuit Court of Appeals Judge Patrick Higginbotham. He has taught as an adjunct professor at Drake University since 1997.
Mansfield was named to the Iowa Court of Appeals in 2009 after some time in private practice and was appointed to the state's Supreme Court in 2011, where some considered him to be the "intellectual anchor"of the court's conservative justices. While on the bench, he wrote the court's majority opinion in a case involving a dentist who, at his wife's urging, fired a dental assistant to whom he was attracted. The court held that the firing did not constitute gender discrimination. In another case, Mansfield dissented from the court's opinion when it held in 2016 that Iowa's constitution prohibited sentencing juveniles who commit first-degree murder to life imprisonment without the possibility of parole. 
Mansfield also dissented in an Iowa Supreme Court decision last week which ruled that a state provision requiring women seeking abortions to undergo a 72-hour waiting period violated the "right to equal protection" under the state's constitution. Mansfield, in his dissenting opinion, wrote the ruling "lacked a sense of balance" and eschewed pure constitutional interpretation in favor of an "undertone of moral criticism toward abortion opponents." "From reading the majority opinion, one would barely know that abortion—with few exceptions—was continuously illegal in Iowa from the time our constitution was adopted until the United Supreme Court overrode our law by deciding Roe v. Wade," he added.