John Harvard's Journal
Women Leaders
Gina Raimondo and Hillary Rodham Clinton
Photographs by Jim Harrison and Stephanie Mitchell/Harvard Public Affairs and Communications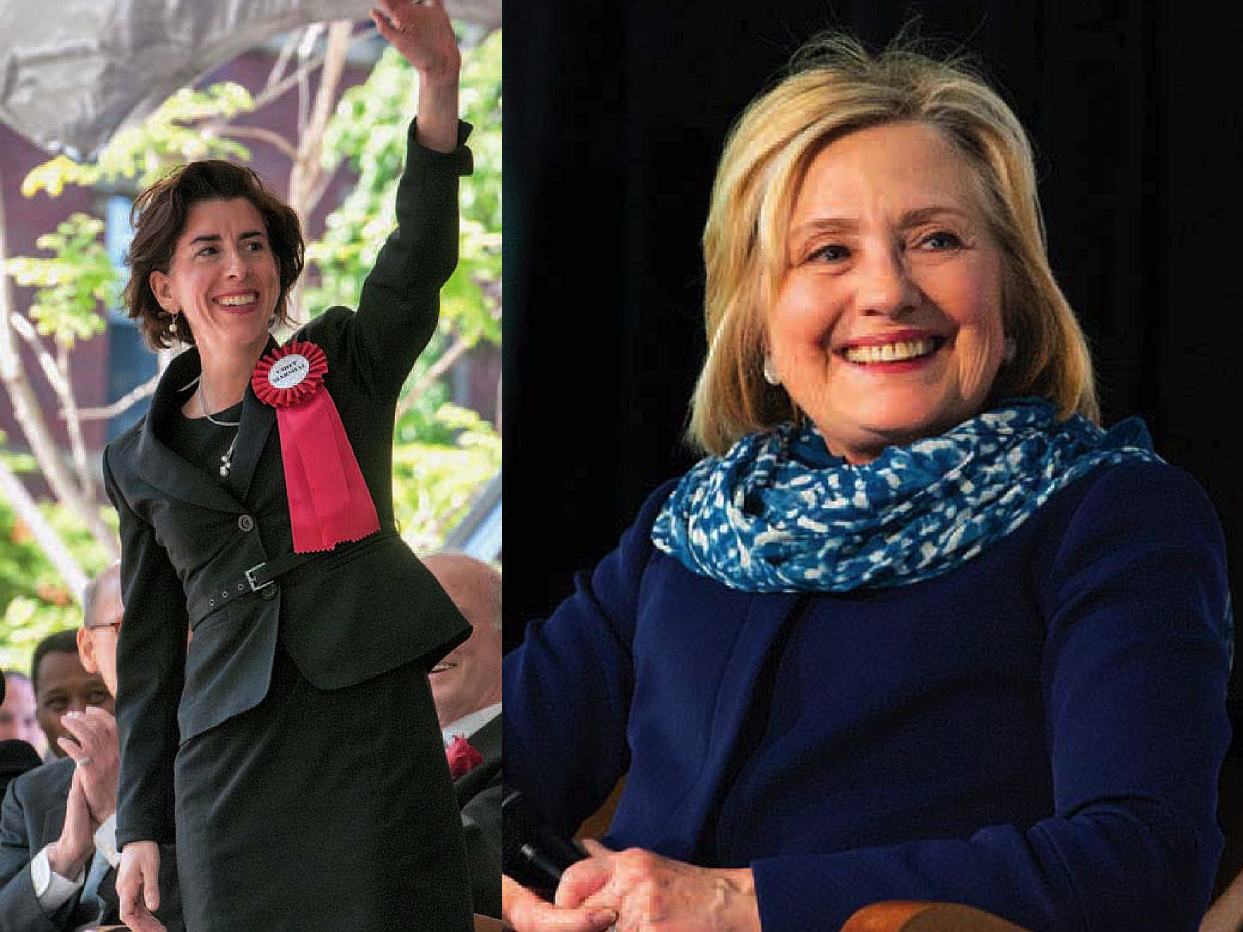 Gina Raimondo and Hillary Rodham Clinton
Photographs by Jim Harrison and Stephanie Mitchell/Harvard Public Affairs and Communications
As President Faust concludes her Harvard service, two other women leaders figured prominently in Commencement week. Governor Gina Raimondo '93 was chief marshal for the College twenty-fifth reunion class; the Rhode Island Rhodes Scholar spoke at the luncheon spread in Widener. Recalling the morning and her undergraduate experience, she said, "I was just filled with gratitude." She explained:
[I]t was a real sacrifice for my family to send me here. My dad…worked two jobs in order to be able to allow my sister, brother, and me to go to college. He worked all day in a manufacturing firm back in the day when we manufactured a lot of jewelry in Rhode Island, and he would come home, eat dinner, and go out at night, work another job. I remember…when I got into Harvard. My mom sat me down and said, "Gina, if you want to do this, we'll find a way."…And she said to me, "When you get there, there will be a lot of kids who have a lot more than you do.…There is going to be a lot of kids around you who have a lot more resources. They go on vacations and do things. And you're going to have to work…during term and summer." And she was right, there were a lot of kids here who had a lot more than me. But you know what? There was a place for me at Harvard.…And I found my way. And it was hard, and I did have to work. But I was supported, at every step of the way.
On Friday, Radcliffe's medalist was Hillary Rodham Clinton—former U.S. senator and secretary of state, and 2016 Democratic presidential candidate. Conveying a message to the students amid the anxieties of today, she described a visit to Cairo in 2011, after Hosni Mubarak was forced to step down:
I met with a large group of the students who had led the Tahrir Square demonstrations, and I asked them, "So, what is next for you?" And they looked at me like, "What a ridiculous question—we've done what we came to do. We got rid of Mubarak." And I said, "What do you think happens next?" And they said, "We're going to have a democracy. We're going to move quickly into a better future." I said, "Are any of you planning to run for office in this new democracy?" (No.) "Are any of you planning to start political parties to compete?" (No.) "So you've built up all this social capital driven by social media, but you're not ready to take the next step. There are only two organized groups other than the Mubarak regime: the Muslim Brotherhood and the army. So if you don't help to fill the void, it's going to be a contest between the Muslim Brotherhood and the army." And—indeed—that's what happened.