News
A Culinary Tour of the New Smith Campus Center
10.22.18
With the opening of the new Smith Campus Center this semester, the Harvard community gained space to study, socialize, and stage social and cultural events. Six new food vendors—all local to the Boston area, save for Swissbäkers, which originated in Canada—serve a variety of foods and fuels, from bagels to barbecued pork, and stay open as late as 10 p.m. Here's a quick look at some of the highlights from each.
Part running-late-for-class breakfast stop, part lunch option, part cocktail bar, the third location of James Beard Award-winning chef Jody Adams's Saloniki features an ambitious expanded menu. Breakfast sandwich pita pockets filled with Greek feta frittata, fries, and pork sausage make for a hearty start to the day, while generous orders of syrupy fried loukoumades (miniature fried Greek dough balls) are a treat suitable for sharing, especially when coated with add-on Nutella or baklava crumbles. Unsurprisingly, Saloniki is busiest around lunchtime (many patrons are taking advantage of the option to order in advance). The restaurant offers a number of different pita and bowl fillings, from braised pork shoulder to lemon-oregano chicken, but the magic here is really with the tzatziki (a traditional Greek condiment made of yogurt, lemon, garlic, and cucumbers) and the spicy whipped feta toppings. Saloniki is also the only campus-center vendor with a liquor license; it offers cocktails, beer, and Greek wine on tap—including the Santorini Spritz, a Greek-inspired twist on the summer favorite Aperol spritz, or the orange-heavy Ladadika. Among the zero-proof options, Jody's Lemonade is a refreshing, minty classic.
Bon Me's food truck at the Science Center Plaza typically has a long line starting around lunchtime and extending well into the early afternoon, and its Smith Center outpost is channeling similar popularity. Especially ideal for the budget-conscious, The Namesake sandwich is one of the few lunch options in the Square for just $7, and comes packed with barbecued pork, pickled carrots, daikon, a hefty layer of pork pâté, and mayonnaise. Although the crispy baguette is possibly the best part of any Bon Me order, those looking to avoid the extra carbs for health or allergy reasons can select a noodle bowl, salad, or rice bowl. Consistent with the featured Vietnamese cuisine, heavily seasoned pork and chicken are at the core of the Bon Me menu—but vegetarians can enjoy fiery chickpeas (they pack a punch!) and roasted paprika tofu.
Conveniently positioned in the Safra lobby, Pavement is the center's dedicated grab-and-run coffee spot. Those with a little extra time on their hands might indulge in a sesame or onion bagel with cream cheese––though it's important to bear in mind that this is not a bagel joint, so expectations should be adjusted accordingly. For an adventurous breakfast or mid-day snack, try a jalapeño bagel topped with spicy diablo tofu cream cheese––almost as much of a wake-up call as a cup of Pavement's Red Eye coffee.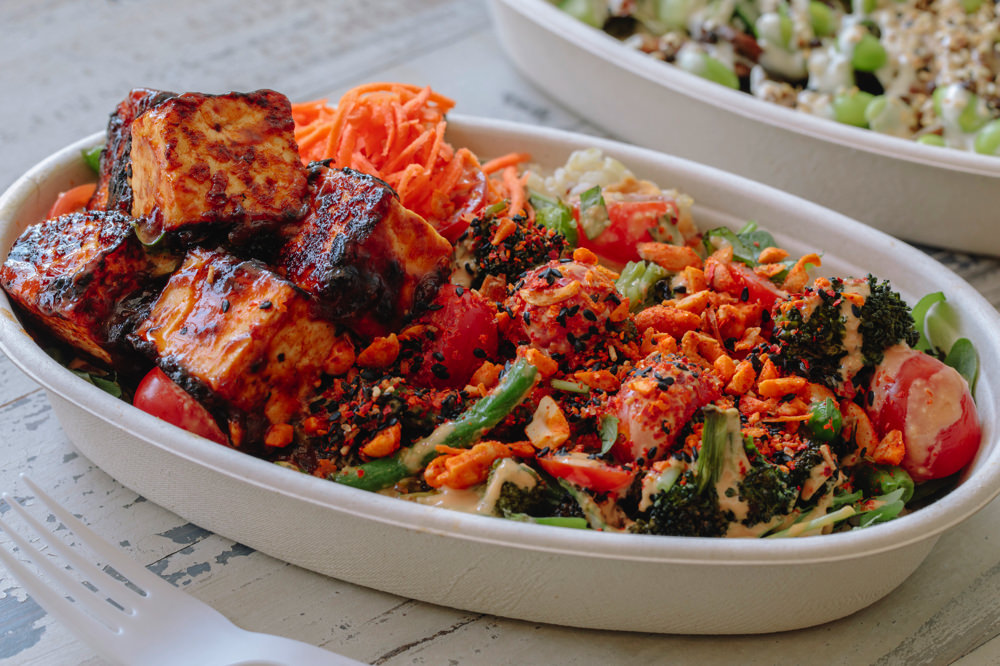 Photograph by Brian Samuels 
People who are finicky about eating vegetables should be forewarned: beets, kohlrabi, cauliflower, and kale are the true stars of the menu at Whole Heart Provisions. At their third location, founder Rebecca Arnold and her team work hard to make customers excited about greens and grains with appealing additions like house-made citrus-packed orange miso dressing or their classic creamy peanut sauce. Fermented Korean Gojuchang is another Whole Heart seasoning highlight, adding a smoky kick of spice that seems otherwise unexpected for a salad. Slather some on top of Korean black beans, which have just enough sweetness to balance the hot flavor. For proteins, guests can choose among BBQ tofu, avocado, and falafel. The latter comes in tightly packed golf-ball-sized portions with generous helpings of cumin and other spices that don't overshadow the veggies, but instead make a bowl feel filling enough to last from lunchtime to dinner.
Famous for its cake donuts (which run fluffier than average), Blackbird puts little twists on the classics by adding a hint of coffee to the chocolate version and using brioche for the Boston cream. It's impossible not to wonder about the Everything Bagel Doughnut, filled with whipped cream cheese and topped with toasted garlic, onion, sesame, and poppy seeds (the verdict: it leans far more savory than sweet, so this might be a good compromise for some).
Although most coffee shops today carry croissants and muffins, there's a certain charm that comes with picking up baked goods at a dedicated pastry shop like Swissbäkers. The ham and cheese croissant is perfect for a light lunch (and the lines at Swissbäkers are often shorter than those at surrounding lunch spots both in and outside of the Campus Center). Nor is there any shortage of sweets to choose from; the almond croissant essentially oozes with almond paste from the first bite, while the raspberry Berliner is packed full of so much jam, it's essentially more fruit than pastry. Cambridge may have been home to Harvard longer than Allston, but as Harvard Business School students and staff have known for several years, they got a Swissbäkers (on Western Avenue) first; now it's Harvard Square's sweet time.