News
Divest Harvard Makes Case for Dropping Fossil Fuels
4.23.19
A group of University community members—faculty, alumni, and the student group Divest Harvard—urged the University to divest its endowment from fossil fuels at a press conference in the Charles Hotel yesterday. The event marked the start of this year's "Heat Week"—a series of events intended to draw attention to climate change and intensify the public pressure for Harvard to divest (a cause for which students and alumni have been campaigning for several years, on this and other campuses). The week will end on Friday afternoon with a "Flood Harvard rally," which student leader Ilana Cohen '22 described as "our greatest call for divestment and climate justice yet." 
"I think it perfectly possible for any institution, including Harvard, to state that we do not direct our investments according to social criteria, and we only very rarely disinvest, but the future of the planet is such an immensely large and existentially critical issue that in this one case, we must disinvest," said Jane Mansbridge, Adams professor of political leadership and democratic values, one of the speakers.   
Investing in fossil fuels "puts us in the necessary position of hoping that our investment will make money," she continued. "The only way the fossil-fuel companies can make money is to take more fossil fuels out of the ground. Our bet puts us in the position of hoping those companies will find more places to drill, more fossil fuels to pump, and more areas in which to pump. Our investment makes us want them to drill. It puts us in the position of hoping they will drill more and more....We put ourselves in the position of hoping no government regulation or scientific intervention will prevent them from pursuing the continued extraction on which their stock prices depend....That bet is immoral." 
Cohen reminded attendees that "Since 2012, the students of Fossil Free/Divest Harvard have fought for fossil-fuel divestment because we believe it is morally unjustifiable to invest in the industry at the heart of the climate crisis. We fight because we reject the hypocrisy of a university that refuses to align its financial principles with its ethical ones." 
She was followed by Gina McCarthy, professor of the practice of public health and former administrator of the U.S. Environmental Protection Agency. "I disagree very strongly with the position of the Harvard Corporation to not eliminate investment of Harvard dollars in fossil fuels," she said. "It is time for Harvard and other Ivy League schools to divest. They know better. Get over it, move forward." She added, pointedly: "The science and scientists at the School of Public Health are under an attack fueled by money from fossil-fuel companies who have been doing their best to raise doubts about climate science." 
University president Larry Bacow, like his predecessor Drew Faust, maintains that Harvard should instead engage with fossil-fuel companies, and that the endowment should not be used as a tool for social activism. He also argues that Harvard's wide-ranging scholarship on climate change is a more effective means of combatting its effects.
"As President Larry Bacow has said, the University agrees with the urgent need to tackle climate change and has valued the opportunity to discuss the issues with members of the community," University spokesman Jonathan Swain said in a statement. "Harvard is committed to influencing public policy on climate change through scholarship and research. This includes through Harvard's Climate Change Solutions Fund, which earlier this month announced its fifth round of grants totaling $1 million to seven research projects in the sciences, social sciences and humanities."
Some 250 faculty members have signed a petition calling for fossil-fuel divestment, according to Divest Harvard's website. Also speaking yesterday were Caren Solomon, associate professor of medicine, and James Engell, Gurney professor of English and professor of comparative literature, who spoke as well on behalf of James Anderson, Weld professor of chemistry and earth and planetary sciences. They were joined by alumni Timothy Wirth '61, Ed.M. '65, a former Harvard Overseer and retired U.S. senator; his daughter, Kelsey Wirth '91, founder of Mothers Out Front, a coalition of mothers fighting climate change; and Craig Altemose, J.D.-M.P.P. '10, executive director of the Better Future Project.
Justin Rockefeller, a member of the investment committee of the Rockefeller Brothers Fund, also spoke about that foundation's experience of divesting from fossil fuels. "For decades, members of my family were activist shareholders, and tried to change the behavior of fossil-fuel companies…and it was largely to no avail," he reported. Finally, in 2014, the foundation began divesting instead. "This can be done," he said. "We're doing it. Harvard can do this, too."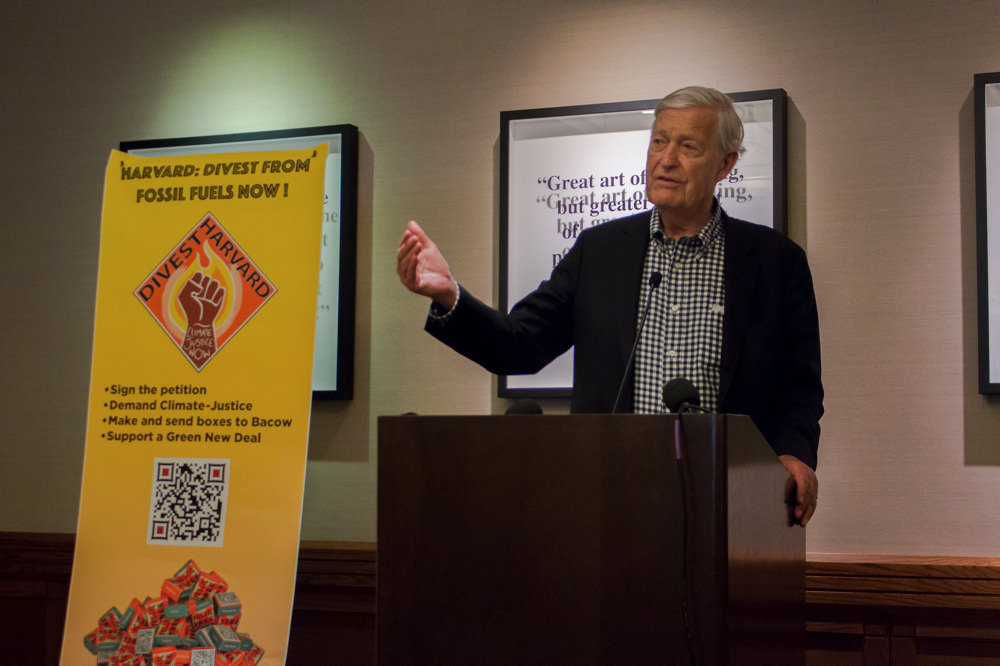 Photograph by Caleb Schwartz/Divest Harvard
Timothy Wirth said that, following a January meeting with President Bacow and William Lee, senior fellow of the Harvard Corporation, he realized that the University and Divest Harvard "fundamentally disagreed….We were not going to get there through rational conversation." Throughout Divest Harvard's interactions with the administration over the years, he added, "there seemed to be one major underlying theme of what Faust had said and now what Bacow was saying: that somehow there is a basic fear of alienating—or as President Bacow said to us, 'demonizing'—the fossil-fuel industry.
"This is an industry that got us where we are today," he continued, an industry that has launched a "devastatingly effective public campaign, disinformation, attacks on scientists....The insidious tentacles of the fossil-fuel industry are now reaching more broadly than they ever have before. Those have got to be exposed, and one way of doing that is to say that Harvard will have no more investment in further reserves of fossil fuels."
"When it comes to demonizing the fossil-fuel industry, I think it's OK," Kelsey Wirth added. "I think it's time to demonize the fossil-fuel industry given the evils they have perpetrated on our children and on our planet."
Cohen said that Divest Harvard is calling on Harvard to announce that it will divest by Earth Day 2020. The organizers compared their movement to Harvard's earlier divestment from apartheid South Africa and tobacco companies, and expressed confidence that their campaign will succeed. "Harvard is going to divest from fossil fuels," Altemose said. "It is a matter of when, not if."