News
Harvard Seeks Partner for Enterprise Research Campus
6.14.19
From the Harvard Enterprise Research Campus Framkework Plan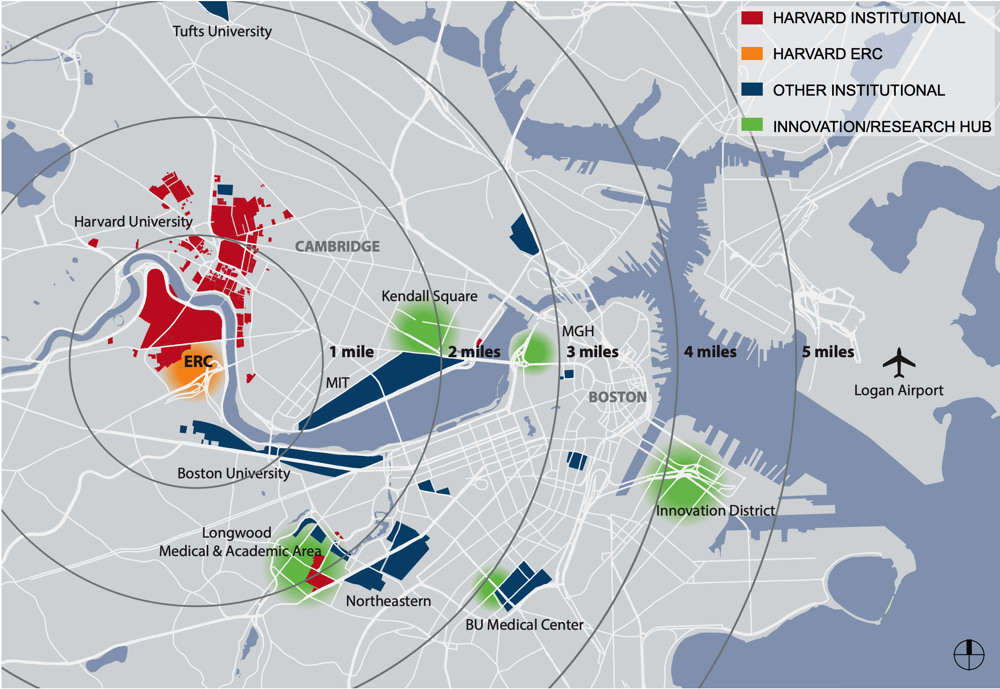 From the Harvard Enterprise Research Campus Framkework Plan
On Friday, The Harvard Allston Land Company (HALC), the entity responsible for developing the University's "Enterprise Research Campus" (ERC) commercial zone, plans to send a request for proposal (RFP) to developers nationwide. [Corrected June 14, 10:30 a.m.: formerly reported the RFP was being circulated to Boston-area developers.] Harvard is seeking a development partner to build on a 14.1-acre parcel that lies across Western Avenue from Harvard Business School. Uses planned for the area and approved by Boston's development authority include:
400,000 square feet of office/lab space;
250,000 square feet of hotel/conference center space; 
250,000 square feet of residential space; and 
a total of between 800 and 900 parking spaces in a combination of below-grade and surface spaces. 
News that an RFP would be forthcoming broke last week in The Boston Globe, which reported on a "brainstorming" session with an audience including prospective developers arranged by Harvard Business School (HBS) dean Nitin Norhia, who invited representatives from MIT, Cornell, and Columbia to the HBS campus on June 3 in order to hear from institutions  and experts that had completed similar projects. The first part of the day focused on campus development, while the second focused on commercial trends in hotels, micro-unit housing, and other relevant areas with input from developers. (Nohria is chair of HALC.)
In an interview, HALC CEO Thomas Glynn said that the RFP process will take place in two parts. In the first, developers will present their capabilities and relevant experience—have they, for example, built hotels and life-sciences labs, or worked previously in a similar urban setting and with an academic institution? In the second half of the selection process, likely beginning in late September, Harvard will ask to see details of financing, building proposals, and design. Glynn hopes to have a recommendation for the HALC's board by the end of the year.
A traditional permitting process will follow, allowing input from the community and regulatory authorities. If all goes according to plan, two years of construction would then follow, meaning the area—now a cleared expanse of former trucking yards—might be open for business in the mid 2020s.
Harvard is seeking a single developer, rather than several, at this crucial site, which will act as the gateway to a larger commercial zone beyond. (Development of the next, adjacent parcel, encompassing 22 acres, will take place in a second phase, the precise details and timing of which turn on the realignment of the nearby Massachusetts Turnpike and construction of a new mass transit station.) Hiring a single developer, who will bring his or her own team of architects, financiers, construction managers, engineers, government-relations personnel, and others, will help ensure that the resulting plan is coherent in all its elements. And because the profit margins for the life-sciences labs and offices are likely to be larger than those for the hotel and residential buildings, Glynn suggested, including all of them in one RFP will allow cross-subsidies that are likely to result in a better overall outcome. 
"What we care about," said Glynn, "is that it's a community, it's an urban neighborhood, it's a place people want to be, it's a destination. Within that framework, if they want to put a restaurant in the hotel or they want to put it in a residential or life-sciences building, those are the kinds of trade-offs where we rely on their expertise."
The RFP lays out all the project priorities, from transportation and parking needs, to the parameters governing streetscapes. While its contents are confidential, previously disclosed public planning documents show that, broadly speaking, Harvard is seeking development that represents active engagement with the Boston area's robust community of academic innovators—and in a mix designed to create a vibrant neighborhood, with activity throughout the day and extending into the evening. Within that general vision, there are specific requirements that must be met, from limits on building heights imposed by the Boston Planning and Development Agency (BPDA) to University-adopted sustainability goals. One of those planning documents envisioned an extra-wide sidewalk on the sunny (east) side of Cattle Drive, the main commercial street that will intersect with Western Avenue, with room for trees, public seating, kiosks, and art beside throughways for pedestrians and cyclists. In another, Harvard committed to "a standard of 20 percent of the total developable land area as publicly accessible open space in the fully built condition of the ERC," and encouraged development to capitalize on city and river views, and to create new ones.
"We try to make it easy" for the developers, Glynn explains, by pulling together information from numerous past meetings with the BPDA, covering topics ranging from architecture and transportation to infrastructure, each of which has been studied extensively. With respect to infrastructure, responsibility for paying for the remaining work (roads, utilities, and so on) will be part of the negotiations, but Glynn says that "Harvard has done a tremendous amount already" in part because of the infrastructure preparations undertaken for the Science and Engineering Complex, now under construction, that abuts the ERC.
The ERC has plenty of competition in the Greater Boston area, from Kendall Square, to the western suburbs, to the Seaport, but the fact that this project represents just the beginning of a larger, phased development, may prove an added incentive to potential development partners. Harvard's positive experience with developer Steve Samuels at the Continuum project (a residential and retail development at the corner of Western Avenue and North Harvard Street), for example, has put him high on the list for consideration in future partnerships.