Harvardiana
While You Were Away
1.2.20
This year's Campus Services holiday breakfast featured a "plant-forward" station. 
Photograph by Robert Fitta/Harvard Magazine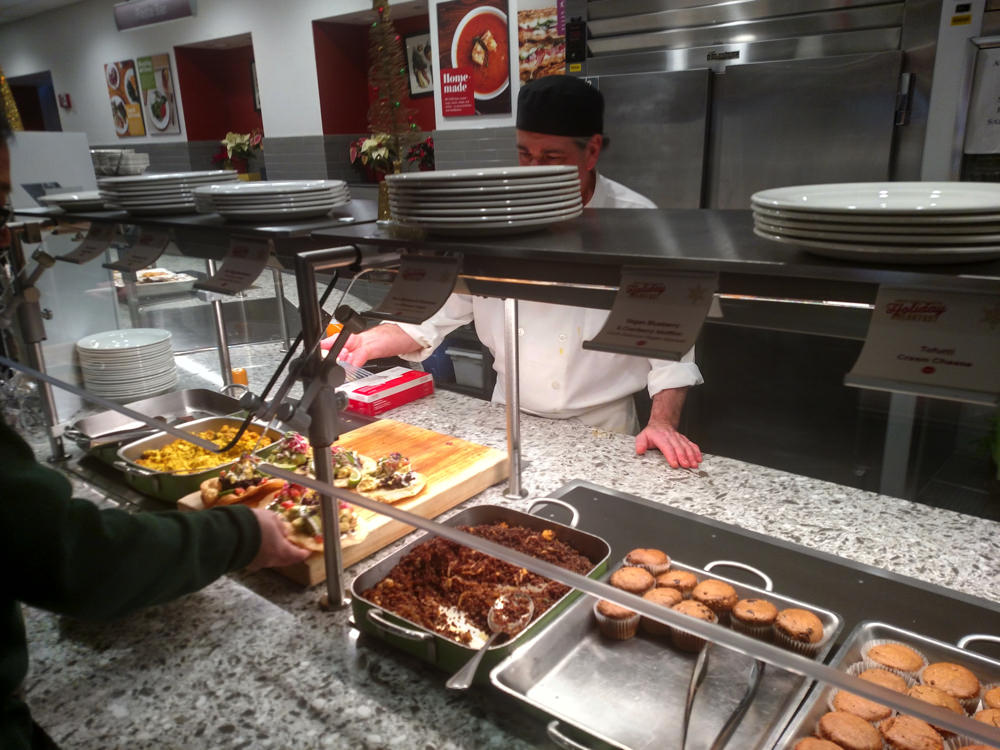 This year's Campus Services holiday breakfast featured a "plant-forward" station.
Photograph by Robert Fitta/Harvard Magazine
Ian Frazier '73, the journalist and humorist who has taken up the pen for The New Yorker's year-end "Greetings, Friends!" poetic tribute to annual high- and low-lights, worked in an especially topical couplet in that magazine's December 23 issue. Frazier (profiled here) niftily memorialized the unusual doings during at The Game this past November thus:
Just as at halftime, Harvard-Yale,
Climate alarm has ripped the veil. 

Read a news account of the divestment protest appears here.
Locally, the humorists at Satire V celebrated the end of the semester by melding the debut of the new Gen Ed. curriculum (and its marquee course, "Tech Ethics") with increasing concerns about the role of online behemoths—like Facebook, famously founded by Mark Zuckerberg '06, LL.D. '17—in subverting privacy, circulating false information, and lending themselves to heightened political polarization. "Facebook 'Primed and Ready' to Hire All Students that Fail GENED 1058: Tech Ethics" is a model satire, except, perhaps, for the "that" in the headline, where a "who" is preferred.
The Campus Services holiday breakfast—an annual fête in Annenberg Hall that brings together dining-hall workers, facilities and grounds staff, and many others (including staff members of this magazine) in a lovely, relaxed, social setting—upped its game this year. Alongside the traditional eggs, lox and bagels, and more, a "plant-forward station" offered quinoa "hash" and a plant-based "bacon." Another harbinger of things to come, consistent with emerging thinking about how to tame the climate-change impact of agriculture and food production, and dining services' earlier response to changing student requests.