Staff Pick
Greater Boston's Season of "Social Trust"
Getting away and outside safely this summer
In late May, Harvard T.H. Chan School of Public Health assistant professor Joseph Allen put it bluntly: "This is going to be a very different summer."
Even as many parks and preserves that closed in the early days of the COVID-19 pandemic began reopening this spring, visitor access came with strict protocols designed not only to prevent viral spreading, but also to protect natural areas from damage caused by overcrowding. Further reopenings throughout the summer depend on visitors' willingness to abide by the new rules. "Importantly, the burden is not just on parks and park rangers, but it's also on people. And to get through this, it's going to take a great deal of social trust," Allen repeatedly emphasized during a press briefing after the release of Massachusetts governor Charlie Baker's cautious, multi-phased reopening plan. "We should view going to parks and other activities that are starting to reopen as a privilege," Allen added, "which can quickly be revoked."
Like many conservation organizations, Mass Audubon kept its sites open early in the pandemic—until they became overrun. "We had a lot of visitors using sites as recreation areas," reports Gail Yeo, vice president for wildlife sanctuaries and programs. People brought dogs, even where they are prohibited. Parked cars spilled out of lots, illegally jamming public roads. Landscapes outside the designated trails were being trampled—or used as rest rooms. "People were just really exploring in a way that was kind of exciting," says Yeo, "but completely out of control."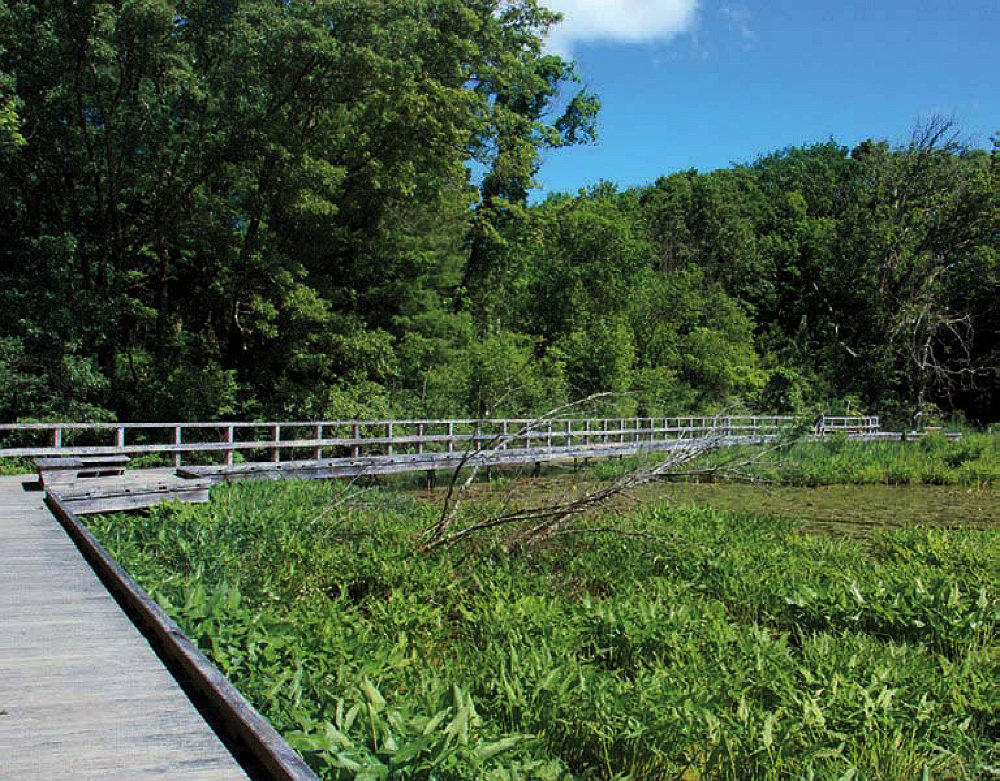 Photograph courtesy of Mass Audubon/Kristin Foresto
But she expected that most of the nonprofit's 57 public sanctuaries would be reopened by mid June, with some, like the more popular Broadmoor, in Natick, and Ipswich River, in Topsfield, requiring advance day-of-visit online reservations to control the influx of visitors. Other properties that have already reopened, and do not require reservations, provide easy day-outings from Boston. Explore natural habitats and six miles of trails at Flat Rock Wildlife Sanctuary, in Fitchburg, which abuts the separate Crocker Conservation Area, with winding walks around the Overlook Reservoir. In Princeton, Wachusett Meadow Wildlife Sanctuary offers hilly paths through woods and meadows, unusual rock formations, and notable old-growth tree specimens. Take connecting trails to Wachusett Mountain and the Midstate Trail systems for more extensive, rigorous outings. Yeo also hopes that some small-scale programming, like guided nature walks and other family activities, will be available this summer.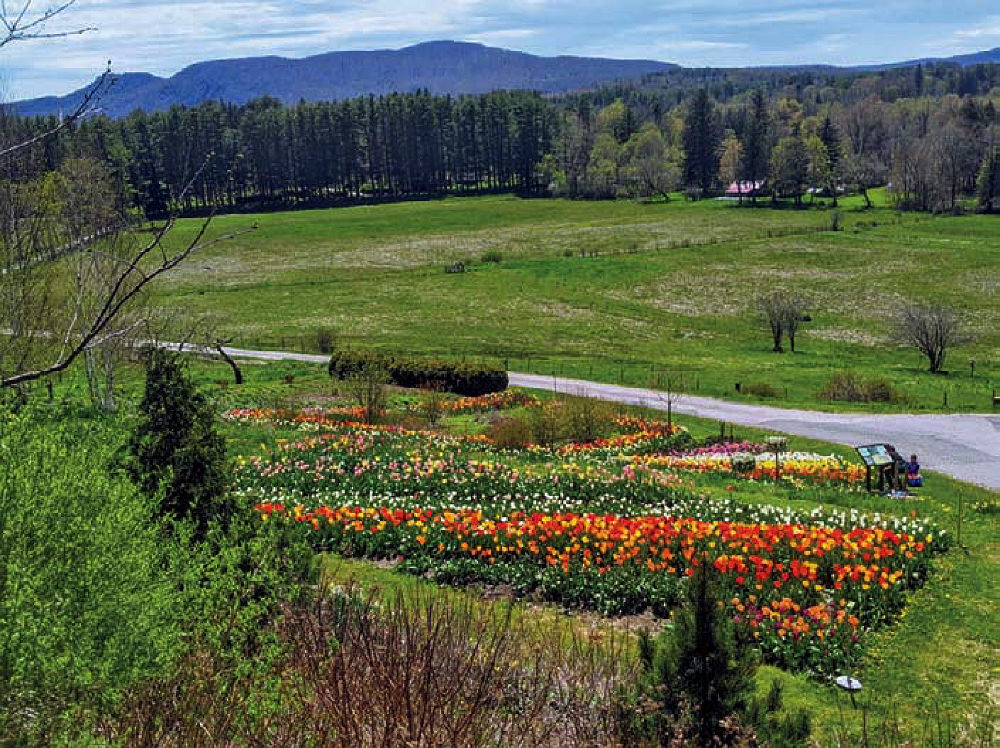 Photograph courtesy of The Trustees
The Trustees (formerly Trustees of Reservations,) a Massachusetts-based nonprofit conservation organization, had opened the grounds of 91 of its 118 outdoor sites at press time, although its house (and other) museums, buildings, and most bathrooms will remain closed for the foreseeable future, according to director of public relations Aaron Gouveia. Access to especially popular properties—deCordova Sculpture Park and Museum, Fruitlands Museum, Naumkeag, World's End, and the idyllic Crane Beach—is available only through advance online reservations. (That policy applies to Trustees members and non-members alike.)
Head to Fruitlands, in Harvard, for country walks, mountain views, and picnics. At deCordova, in Lincoln, stroll expansive lawns dotted with more than 50 works of art, including the delightful Conservatory for Confectionery Curiosities (2008), by Mark Dion and Dana Sherwood, installed this past winter. The octagonal glass structure holds tantalizing tiers of gelatinous "desserts" being enjoyed by faux insects. In Stockbridge, the Naumkeag estate, anchored by a restored Gilded Age mansion, offers gracious gardens, planted terraces, and meandering paths.
At Crane Beach, where crowds have long flocked to enjoy cool sea breezes and escape hot towns and cities, staff-monitored restrooms will be open—even if the concession stand, outdoor showers, and water fountains are currently not. Gouveia says 500 parking spots are now available, although that number could increase to 750 (half the usual capacity) in June, and walk- or bike-ins are capped at 100 people per day. "It's a very popular place, which means there is a lot of demand, and now half the supply," he emphasizes, adding that, per Governor Baker's orders, even while walking, tanning, and playing on the sand, people not already associated with each other must stay 12 feet apart and wear masks.
Getting out to paddle on Greater Boston's waterways is another great way to explore nature and get exercise while staying safely away from other people. Charles River Canoe & Kayak is slated to have opened all of its launch spots in Boston, Cambridge, Somerville, Newton, Medford, and Waltham by July 6. A new contact-free digital waiver and prepaid online system enables paddlers to rent boats, although renters are required to be able to get in and out of the boats without physical assistance from staff. Other public boat-access points around Boston are also open to those who bring their own boats, although at press time it was not clear whether the usual boat-rental outlets at parks operated by the State Department of Conservation and Recreation (DCR) would be open.
Throughout the pandemic, DCR's state parks and forests have remained open, but this summer, the agency requires continued social-distancing practices and asks that "the public refrain from visiting if crowds are forming at these locations, particularly during high visitation days/times, such as weekends," according to DCR press secretary Olivia Dorrance. (See the DCR website for details on other COVID-19 restrictions.) South of Boston is the sprawling Myles Standish State Forest, spanning the towns of Carver and Plymouth. Get (enjoyably) lost in secluded wildlife habitats, study birds, mammals, and plants, roam linked hiking trails, or pedal on more than 13 miles of paved paths. But note that the park's popular campgrounds were closed as of press time, as were all the DCR-managed campgrounds across the state. (Discussions were under way about whether and how to possibly open them safely later in the season.)
Closer to Boston, the Middlesex Fells Reservation offers wild woods, shady pine-treed routes along reservoirs, and plenty of less-trammeled corners throughout more than 100 miles of walking, biking, and hiking trails. Northwest of Boston, DCR's Boxford State Forest and Harold Parker State Forest offer endless exploration, and are adjacent to at least 10 other smaller protected landscapes and woodlands also worth visiting. Operated by the city of Lynn, the 2,200-acre Lynn Woods Reservation, founded in 1881, is the second-largest municipal park in the country. The natural haven offers a real retreat from urban life, but is relatively easy to reach by bike—via the seven-and-a-half-mile Bike to the Sea/Northern Strand Community Trail—or car. Not far away, both the Breakheart Reservation in Wakefield (get a workout running its hills, then take a dip in the lake, if it's open) and the Rumney Marsh Reservation (boating, walking, and fishing) are also quick escapes into nature. From the salt marshes, zip over to Revere Beach, or check out other local parks and semi-urban shorelines—in Nahant, Winthrop, Boston, and Quincy.
It's clear that the COVID-19 pandemic's "stay-at-home" or "shelter in place" guidance has motivated "folks looking for new ways to engage with their surroundings and with nature," Mass Audubon's Gail Yeo reports, "and nature isn't just out in the woods. It's all around us, right by our homes and apartments—and we really want to help people recognize that." Watching birds, insects, and squirrels, noticing their behaviors, playful interactions, and feeding habits—or measuring and monitoring the health of trees and plants—can easily be done in any local urban park.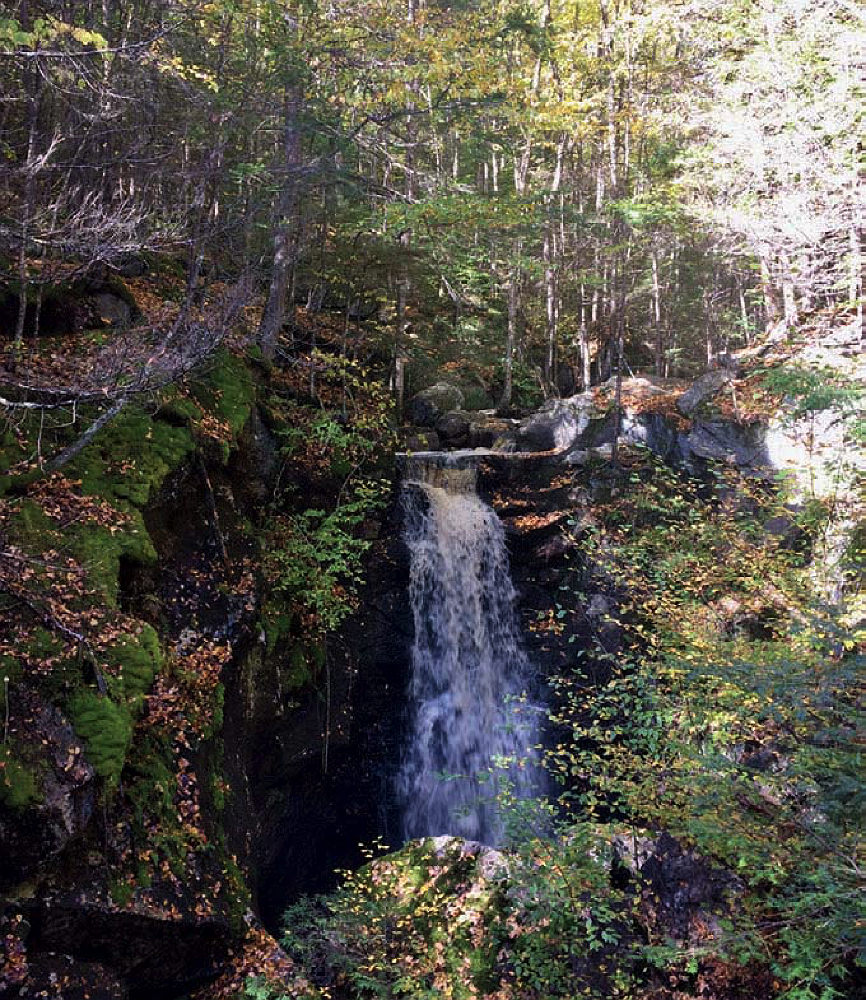 Photograph courtesy of The Appalachian Mountain Club
The Appalachian Mountain Club (AMC) has local chapters throughout New England, including an active Boston-based group, that offer close-to-home hikes, walks, bike trips, and paddling adventures. AMC president and CEO John Judge, M.P.A. '01, also recommends heading out to walk or bike on sections of the AMC-coordinated Bay Circuit Trail and Greenway, a system in progress that curves west of Boston, extending more than 230 dedicated miles from Newburyport and Plum Island to Kingston Bay, near Plymouth. (Find route details and maps for the greenway's current components, many accessible by public transportation, at baycircuit.org.) The New England National Scenic Trail covers 215 miles across Connecticut and Massachusetts. In central Massachusetts, less than two hours' drive from Boston, the 4.8-mile Erving Ledges-Hermit Mountain trail above Millers River offers panoramic views. (It also goes by various other similar names, like Hermit's Castle Trail.) The Royalston Falls is a relatively easy route for families.
Judge agrees with Yeo that "people are obviously chomping at the bit to get out." Even earlier this spring, he reported, large crowds were arriving at trailheads, including many newer hikers ill-prepared for weather and climbing conditions. For those novices, he recommends learning more about outdoor adventuring online through AMC. But he also emphasizes that too many trekkers may cause irreparable damage to trails and threaten wildlife habitats and other ecologically sensitive environments that AMC is charged with stewarding. "We want people to get outdoors and connect with nature, at this time more than ever, and we believe people need it—it's a shot in the arm spiritually, mentally, physically," he acknowledges. "That said," he adds, "we are working with the New England states, Maine and New Hampshire especially, to figure out how people can come up to Grafton Loop [38.6-mile backcountry hiking in the Mahoosuc Mountains] and Mount Lafayette and Franconia Ridge [Lincoln, New Hampshire] without the trails becoming like one of those clear days on Mount Everest where you've got people back-to-back waiting to summit."
In an initial response to COVID-19, AMC closed its alpine huts for the first time in 132 years and its 12 summer-camping and cabin properties. But in late May, it opened reservations for these lodging sites: Gorman Chairback and Medawisla (in Maine), and the Highland Center Lodge at Crawford Notch, Joe Dodge Lodge at Pinkham Notch, and Cardigan Lodge (in New Hampshire). All were slated to start housing hikers as of July 1—with varying controls over food service and restrooms, and guest rooms occupied at half capacity. Judge does expect packed parking lots and streams of day-hikers, and therefore advises planning non-weekend excursions—or, better yet, opting instead for outdoor locales much closer to home, where the rewards of nature are often just as beautiful and restorative. "You can see some of the world's most beautiful outdoors and wilderness," he says, "right here in New England."