Brevia
CDIO
SherRi Ann Charleston has been appointed Harvard's first chief diversity and inclusion officer, effective August 1. She had been assistant vice provost for diversity, equity, and inclusion at the University of Wisconsin-Madison, where she was also chief affirmative action officer. Charleston will report to President Lawrence S. Bacow, who in announcing the news on June 22 described her as "an administrative leader and interdisciplinary scholar whose work at the intersection of history and law informs her efforts to translate theory into practice that improves higher education." She earned her B.A. from Columbia in history and African American studies; her M.A. and Ph.D. in history from the University of Michigan; and a J.D. from the University of Wisconsin Law School.
Union Agreement
The Harvard Graduate Student Union-United Auto Workers and the University in June agreed to a one-year contract—their first such negotiated pact, following contentious bargaining that began in late 2018 and a strike last December. In the face of the pandemic, the temporary move to remote research, potentially protracted remote teaching, and possible National Labor Relations Board rulings that could threaten its status, the union accepted a short-term accord that provides for a 2 .8 percent pay increase for research assistants and teaching fellows, with an hourly minimum rate of $16 for nonsalaried students and $17 for instructional workers. It also establishes approximately $1 million in assistance for dependent medical insurance, childcare, and emergencies, but does not satisfy union demands for much wider coverage. There are provisions for discussing how harassment and discrimination claims will be handled, but the union's proposals for new adjudication processes independent of University control were not part of the initial agreement. The contract went into effect July 1.
University Professor
Legal historian Annette Gordon-Reed, Pulitzer Prize-winning author of The Hemingses of Monticello, has been named Loeb University Professor. She succeeds her own constitutional law professor, Laurence H. Tribe.
USGSO Rules Go
Citing the likelihood that legal challenges against the College rules on unregulated single-gender social organizations (USGSOs: final clubs, fraternities, and sororities) would prevail, the University announced on June 30 that it was rescinding the policy, proposed in May 2016 and adopted by the Corporation in late 2017 after a protracted, divisive debate within the Faculty of Arts and Sciences. The rules, meant to discourage membership in such groups by depriving students who join of the chance to hold leadership positions in recognized organizations (including as captains of sports teams), or to receive the required College endorsements for scholarships and fellowships, took effect with the class of 2021. Since it was adopted, most sororities have opened their membership, or ceased operation. Most of the male final clubs, which play a large role in undergraduate social life, remain in operation as single-gender organizations. For background on the USGSO policy and the reasons for ceasing to enforce it (even as the underlying issues remain unresolved), see harvardmag.com/usgso-rules-rescinded-20.
High Earners
The University's annual disclosure of highly compensated employees (in July this year, rather than May, as federal tax-filing deadlines were extended) reveals that former President Drew Gilpin Faust received $3,612,247 in 2018, including $1,000,000 as a long-term-service bonus, plus $1,200,000 of previously reported deferred compensation paid during the year. Provost Alan M. Garber earned $926,217 in total compensation. President Lawrence S. Bacow, who began his term on July 1, 2018, earned $570,072 during the half-year of service covered by this report. Harvard Management Company president and CEO N.P. Narvekar made $7,201,795 in total compensation. Five investment professionals, including members of the former real-estate team, earned from $4.6 million to $5.8 million. Complete details are available at harvardmag.com/top-earners-20.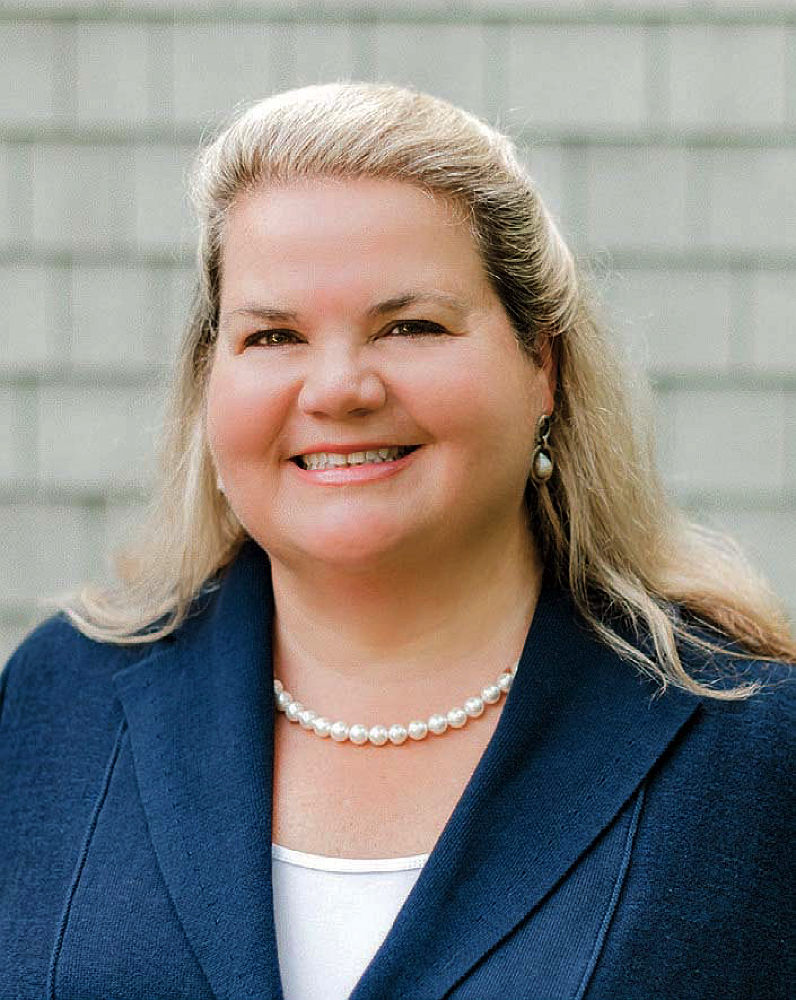 Photograph by Michelle Dunham
Extension Executive
Nancy Coleman has become dean of the Division of Continuing Education, the Faculty of Arts and Sciences' large extension school. Before assuming her new responsibilities on July 13, she was associate provost and director of strategic growth initiatives at Wellesley. She succeeds Huntington D. Lambert, who retired at the end of last year, following a period of protracted growth, particularly online. The division, which generates unrestricted cash in support of FAS's operations, is currently contending with constraints on its in-person classes. Read more about Coleman's distance-education experience at Boston University and elsewhere at harvardmag.com/coleman-extensiondean-20.
Princeton Changes Course
Reversing a decision it had reached four years ago, Princeton announced on June 27 that it is removing Woodrow Wilson's name from its public-policy school and one of its residential colleges. In the context of national protests against racism, President Christopher L. Eisgruber wrote to the community, the board of trustees accepted his recommendation, concluding that "Wilson's racist thinking and policies make him an inappropriate namesake for a school or college whose scholars, students, and alumni must stand firmly against racism in all its forms."
Juneteenth
In the wake of the killing of George Floyd and nationwide protests about police violence and other inequities directed at people of color, President Bacow made Juneteenth an official University holiday. The commemorative day, he said, "offers a moment to acknowledge and celebrate the promise of a new beginning." Learn more at harvardmag.com/juneteenth-20.
Police Review
In early June, amid those national protests about policing, including local objections to the deployment of Harvard University Police Department officers at a Boston protest, the University announced the retirement at year-end of chief Francis D. "Bud" Riley, concluding a quarter-century of service. Riley had been leading an internal review of the department's culture, following reports of sexist and racist behavior within its ranks. Shortly after the announcement, President Bacow wrote to the community, addressing the mutual-aid presence of the Harvard officers at the Boston protest, and commissioning an external review of the department's role, reporting to executive vice president Katie Lapp. For details, see harvardmag.com/hupd-review-20.
Nota Bene
Keeping campus clear. In June, faculty and staff members returning to laboratories and offices began lining up under the stands of Harvard Stadium for a mandatory coronavirus test to certify their current status. Their subsequent work-day "health attestations" are made using the "Crimson Clear" application.
Assessing athletics. The Faculty of Arts and Sciences-commissioned review of the department of athletics, released in early June, reported a "cultural and structural gap" between athletics and academics. The survey-based research revealed athletes' satisfaction with their experience—offset by the time and other demands that make it difficult for them to explore and take full advantage of what Harvard offers. The study reported that "student-athletes are struggling with…finding free time to relax, unwind, and take advantage of community experiences; getting the sleep they need to feel rested and the nutrition they need to maintain a healthy diet; and balancing their academic and athletic commitments." FAS dean Claudine Gay also noted structural sources of stress, such as the course schedule and dining hours, which serve as barriers to integrating athletics with other College experiences. For more information on the findings about athletic-academic integration, and about fitness and exercise for the student community at large, see harvardmagazine.com/athletics-study-20.
Sports cutbacks. In the meantime, facing financial pressure on budgets, and, in some cases, in an effort to make their programs more equitable, Brown, Dartmouth, and perennial athletics powerhouse Stanford have announced plans to reduce their varsity sports rosters dramatically. For more on the changing landscape, see harvardmag.com/ivysports-future-20.
Yeasty yield. The College announced that the yield for the class of 2024 (the percentage of admitted applicants who accepted Harvard's offer) decreased from 84 percent on May 1 (the highest since the early 1970s) to 81 percent by late June—still at the summit among institutions of higher education, and a sign of the Crimson's enduring appeal. Deferrals until the next year accounted for the drop. (Those data preceded the July 6 announcement that first-year students would be invited to campus for fall semester, but not upperclassmen and -women; see "The 40 Percent Solution," this issue, page 15). For details, see harvardmag.com/2024class-yield-20.
Mass. Pike pickle. The plan for repairing and straightening the Massachusetts Turnpike viaduct—alongside the Charles River and the Boston University campus—is apparently being rethought, again. The Boston Globe reported in June that in light of extensive community, cost, and environmental concerns, a proposed design that would bring the highway down to grade level but then elevate Storrow Drive over it is under review. The deliberations matter to Harvard because the turnpike reconfiguration and repair precede the reuse of the huge University-owned acreage beyond the initial Enterprise Research Campus along Western Avenue (see "Allston Options," page 5), and also affect the scope and timing of a proposed commuter rail station that would bring transit to the traffic-clogged area. For background on the continuing saga, consult harvardmag.com/masspike-19.
Anthropology allegations. On June 3, following reports in The Harvard Crimson, social-media posts, and internal reports to her office concerning allegations of sexual harassment by Gary Urton, Dumbarton Oaks professor of Pre-Columbian studies, Faculty of Arts and Sciences dean Claudine Gay notified the anthropology department that he had been placed on paid administrative leave, pending a full investigation. Urton subsequently advised colleagues of his intention to retire in August.
Miscellany. In light of the pandemic, the College has waived the requirement that applicants for admission to the class of 2025 submit standardized test scores. Although other schools, and the California public system, have dropped the SAT/ACT outright, the Harvard decision pertains only to the current admissions cycle.…Friedman University Professor Charles Lieber, then chair of the department of chemistry and chemical biology (now on administrative leave), who was arrested in January and charged with making misleading statements about financial support for research that he received from a Chinese-government-sponsored program (see harvardmag.com/lieber-20), was indicted in June on two counts of making false statements to federal authorities and in July on four counts of failing to file reports of foreign financial accounts and filing false income-tax returns.
You might also like
The Crimson springs a major upset.
Harvard officially installs Claudine Gay, its thirtieth leader.
A half-dozen symposiums feature Harvard research on AI, climate change, inequality, and more
Most popular
In Agyementi, Ghana, Sangu Delle '10 brings clean water to a village.
Portrait of a hockey-playing statistician—from Louisiana
Of philanthropy rewarded, broken glass, and pennies for Harvard
More to explore
A test can identify these productivity-boosting personnel.
Ancient history professor studies coins, ceramics, and Zelda.
Anwar Floyd-Pruitt's wildly profuse art