The Sports Critic
Louisa Thomas takes a different view.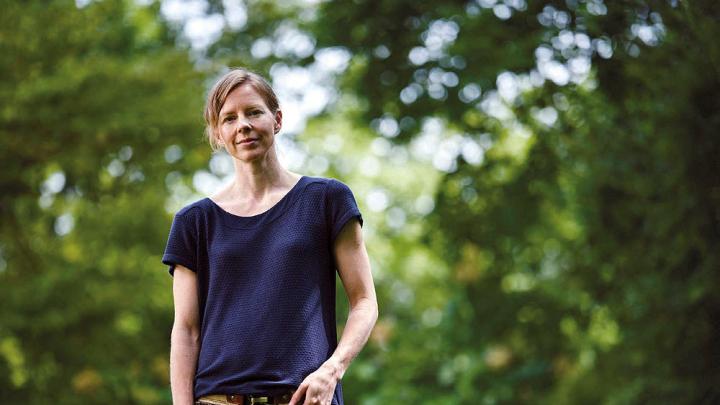 Louisa Thomas '04 is at her best in transit. Her finest work develops not when she sits down to write, but on her run directly before. That's when she plots a story in her head, teasing out disparate threads and weaving them into a cohesive narrative. "Sometimes it will seem a little bit insane," she admits. "Even if I have a tight turnaround deadline, I'll go run for 10 minutes or go for a walk—just to get going." When she sits down to write, it's pretty obvious to her whether she's hitting the vein or trying to force it. And now, working on an article about baseball's pandemic start under a pressing deadline, she's trying to force it.
A staff writer for The New Yorker who covers sports, Thomas had originally planned to write about the novel experience of watching baseball with no fans: the eerie cardboard-cutout filled stands, the synthetic noise emanating from its TV broadcasts. But as sportswriters during the pandemic have come to expect, the situation was precarious. As she thought about the piece, more than half the Miami Marlins roster tested positive for COVID-19, and the league began canceling games. Major League Baseball (MLB) commissioner Rob Manfred tried to calm fans, asserting the outbreak was not a "nightmare" scenario.
His statement landed within a fraught sports landscape, as plenty—including Thomas—wondered whether games should be played at all. She wanted to incorporate this unease into her text. "Normally, during the run, I would take the time and think, 'What is really motivating all these stories? What is the emotional train that I'm working through in this pandemic? What's the narrative overlay?'" she says. "I would sort of be able to thread that. And instead I'm literally trying to type words." She had told her editor she would complete the story within two hours (the narrow work window before needing to get her daughter down for a nap). "Who knows?" she says, when asked about the focus of her story during a brief phone interview. "Astros, Dodgers, Marlins, lightning, nightmares?"
The next day, her essay, "Baseball's Bumpy Return and the Gap Between Hope and Hubris," was published on the magazine's website. From Anthony Fauci's flimsy Opening Day pitch to the string of players' positive COVID tests, Thomas forged a path through some of baseball's all-time strangest weeks. Solving baseball's woes and national pandemic problems, she suggested, would come down to humility—accepting the unknown and remaining open to new solutions. "We are all to some extent," she concluded in the text, "living in hope."
Contemporary sportswriting is dominated by access and breaking news. In the basketball-media world, reporters Adrian Wojnarowski and Shams Charania wage a constant, public battle over who can be the first to announce any trade or change in personnel. When they tweet the same information seconds apart, fans flood social media with poorly photoshopped images of the loser getting dunked on by his rival. Sports "insiders" lead national coverage, obsessively networking and currying favor within an organization's inner rungs.
Louisa Thomas is not that kind of reporter. It is unlikely that she will ever dunk on Wojnarowski or Charania in a photoshopped image. She approaches sports more as a critic than a bearer of news. In a landscape where most writers occupy a narrow niche, Thomas keeps a discerning eye on the bigger picture.
In some cases, as with her MLB overview, Thomas finds connections among seemingly unrelated events. Other times, she takes on the most central themes of sports—winning, dominance, the pursuit of excellence—and makes readers consider how they shape our perspective on athletics. "Losses have texture; they complicate. Failure is a fact of life and it is often the greatest teacher we have, yet our most common reaction is to turn away," she writes in the introduction to Losers: Dispatches from the Other Side of the Scoreboard, a new collection of nonfiction stories by novelists and reporters (including herself) about sports defeat, which she co-edited with journalist Mary Pilon. Winning may be the goal of sports, but it's not always the story for Thomas. "She has her finger on the pulse of sports that isn't the one you'd find on the person's neck or on their wrist," said Sean Fennessey, her editor at the former ESPN publication Grantland. "It's the pulse on the thigh or on the ankle. It's just a slightly different approach to the sport."
Thomas most often covers tennis, a sport in which a few athletes—Roger Federer, Serena Williams, Rafael Nadal, and Novak Djokovic—receive a bulk of the coverage. She has written plenty about each, but some of her best work focuses instead on players struggling just below the sport's pinnacle. "That's definitely one of the reasons I'm drawn to tennis, for sure," she says. "There are so many losers."
Her favorites include Stan Wawrinka and Simona Halep, who occupy perpetual underdog roles. Wawrinka, a Swiss player with three Grand Slams, had the misfortune of being born in the same country and decade as Roger Federer, and often finds himself in Federer's shadow. Halep "makes the psychological complexity of sports visible as few athletes do," Thomas writes in "The Particular Drama of Simona Halep." When she nailed a shot perfectly down the line, "you could see the pleasure it gave her, as though she were a singer settling into a high note. Likewise, when she faltered, the air around her seemed to vibrate with despair."
They're both athletes who resist the tropes about success and winning that the media and fans expect, and that Thomas seeks to avoid. "Here's the incredible thing: He says winning wasn't his ambition," Thomas wrote after Wawrinka's first Grand Slam victory. She reports that when asked if his goal was to reach number one, he said, "No. Absolutely not." In an interview with Thomas, Simona Halep said her focus as a player wasn't on the result. "It's growing up as a person," she said. "A process. A big picture."
Thomas's ability to see this big picture stands out when covering athletes with established reputations. Australian tennis player Nick Kyrgios is often portrayed as exceptionally gifted but lacking the discipline and maturity to win on the sport's biggest stages. In profiling him, Thomas shifted the lens. "I was really interested in the way that people talked about him," she says. "Like, 'Oh, he'll figure it out,' and what they mean is, 'Oh, he'll figure out how to win.'" Athletes like Michael Jordan are lauded, worshipped for their emphatic desire not just to beat but to humiliate opponents. Through Kyrgios, she explores what responsibilities athletes have to balance winning, entertaining, and being good people. "The question in the tennis world tends to be whether Kyrgios will figure out how to win consistently," she writes. "But for Kyrgios, maybe there's a different project. 'I just want to be happy,' he said. 'That's a tough one for me.'"
The daughter of journalist and historical biographer Evan Thomas '73 and attorney Oscie Thomas and sibling of Mary Thomas '07, Louisa's early interests were hard to trace to either parent. "She was a giant sports fan," her father says. "I don't quite know what that came from." In elementary school, she became a big fan of the Baltimore Orioles. Evan, who did not follow the team closely, would take her to six or seven games a year. Thomas loved to watch them from above the bullpen in left-center field, where the entire game sprawled out in front of her. "I'm almost embarrassed when I talk about my love of sports, because I get a bit carried away," she says. "I really like the aesthetics of the game. I like the baseball diamond and the men arrayed on it, the disjunction of sound and sight": seeing a batter make contact and hearing the crack moments later.
Among sporting events, the Olympics drew Thomas's most fervent attention. She'd have her parents record entire days of coverage, which she would watch on her VCR, skipping through the commercials. Her father remembers the two of them clumsily dancing around the living room, imitating the 1988 and 1992 Russian figure-skating champions Ekaterina Gordeeva and Sergei Grinkov.
Thomas played for school and club teams herself, competing in softball, swimming, and tennis. She took tennis seriously, but not to the level of the top high-school players. "In my house, it was always more important to be a good loser than a winner," she says. "And it's kind of confusing if you're a competitive kid, because what is the value of winning if you can't really celebrate it? And what does it say about people who do?"
At Harvard, sports faded from her view. She got interested in modernism, Irish literature, poetry, and the history of science, and spent a lot of time reading and studying. She also observed in early-2000s Red Sox fans a level of sports fanaticism that she had never seen. "I guess I'm not a sports fan if this is what being a sports fan is," she remembers thinking.
Graduating summa cum laude with a concentration in English, Thomas didn't know where she would head after college but thought she might eventually end up at law school. She took an internship at Slate, moved to The New Yorker as a fact checker, and later became assistant to editor David Remnick, LL.D. '19. After a few years, she left to write a book, Conscience: Two Soldiers, Two Pacifists, One Family—A Test of Will and Faith in World War I, about four of her ancestors' experiences with that war, and took up tennis again to escape anxiety over the book's 2011 launch. Several times a week, she would have long, serve-less rallies with New Yorker staff writer Rachel Aviv in which the two smashed the ball back and forth, and no one won.
In 2010 an editor at The Paris Review who knew of Thomas's interest in tennis asked her to write a short essay about the U.S. Open. Thomas had never considered writing about sports before, but she loved describing the aesthetics of the game, the psychology of its players, the drama of a moment. "It just seemed to come from somewhere else," she says. "I didn't realize I didn't have a voice until I started using it to write about tennis."
In June 2011, she began covering tennis for the sports and pop-culture site Grantland, and soon became a regular contributor. She remembers an editor saying he wished she followed other sports so she could write more frequently. "Who says I don't follow sports?" responded Thomas, who didn't follow any other sports. "And then I was like, 'Oh crap, I have to start following other sports.' So I did!"
She studied for different sports as one might cram for a test, reading books, interviews, and recent coverage—all as she worked on her second book, Louisa: The Extraordinary Life of Mrs. Adams, a biography of Louisa Catherine Adams, the first foreign-born First Lady. She had never attended a professional basketball game before covering the a 2014 San Antonio Spurs playoff series, where she became fascinated with superstar forward Kawhi Leonard—who could "cut, feint, run, suddenly stop, pull up, and shoot"—before mainstream sports media had caught on. She had barely covered football before writing an essay on Richard Sherman, a boisterous cornerback on the Seattle Seahawks who drew widespread criticism after trash-talking a conference championship opponent. Thomas found nuance others missed: "Richard Sherman makes a lot of noise, and some of the noise is football noise," she wrote. "But he seems like the city that he plays for—contradictory, intelligent, interesting, arrogant, and loyal."
She gained more appreciation for the range of human psychology and experience when she was assigned in 2015 to write a profile of John Urschel—an NFL lineman and published mathematician—and later married him. (She didn't write the piece.) In him, she observed a level of competitiveness she'd never seen. "I'd begun from the premise that we're all fundamentally sort of the same," she says. "And then I met him, and I was like, oh, I actually have no idea." The realization comes across in the vision of sports that she conveys to readers—one that is rich, complex, and filled with ambiguities.
As a staff writer for The New Yorker, Thomas can't stick to one sport. Her job, essentially, is to cover the landscape as a whole. There is freedom in the role, but also pressure. She often thinks about legends like Roger Angell '42, who brought a certain style and grace to sports writing and to The New Yorker specifically—a "guiding spirit, some one to live up to," she says. She hopes to do right by that legacy, providing a view of sports that makes readers challenge what they've come to think of as defaults.
At the end of 2019, she spent weeks writing "The Seven Turning Points from the Year in Sports." Typically, in the world of sports reporting, these lists are predictable summaries of the year's winners. In Thomas's hands, the year-end list became something else, a sort of manifesto of sports. Kawhi Leonard, hitting a last-second buzzer beater against the Philadelphia 76ers to reach the Eastern Conference Finals, was not a vindication of basketball executive Masai Ujiri's team-building prowess or a coronation of Leonard as the league's best player. It was on the list because the entire narrative of the season shifted as the ball bounced on the rim once, and then again and again. In the end, the shot went in. But what if it hadn't?
We use narratives to straighten out those swerves into uncertainty, to make sense of them, or at least to hazard a few guesses. Sports are built on the idea that victories mean something—that they are determined by some combination of will and fate….We rebuild events out of the materials of their context; we screw in the turning points.
Thomas is always trying to get better at her job. There is plenty more to learn about each sport, and new stories to delve into and explore. She tries to be thoughtful and topical with each sport without losing sight of the big picture. But she knows, fundamentally, what she wants to do. "I'm trying to bring a feeling, and a way of seeing, a certain kind of awareness," she says, pausing. "And a way of thinking through something….Maybe if I can help people see something a little bit differently, then that's my job."
You might also like
Harvard Chabad, IDF, and Bill Ackman screen October 7 Hamas footage
Toward another apartment complex on Harvard-owned land
Stepping down after 30 years of University service
Most popular
After a multiyear renovation, Harvard Art Museums make ready for a November reopening.
Fall travel to New England's seacoast offers art, history, biking, and great restaurants
Harvard's Art Museums reopen, poised to fulfill their pedagogical purpose.
More to explore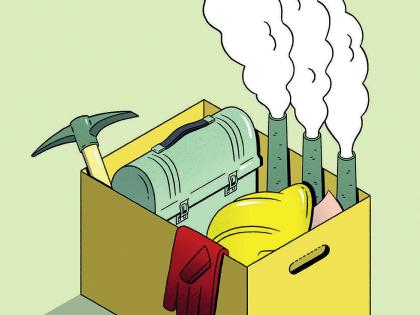 Expect massive job losses in industries associated with fossil fuels. The time to get ready is now.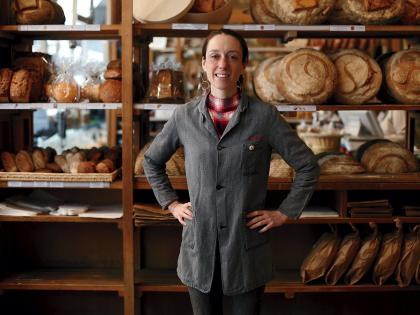 A third-generation French baker on legacy loaves and the "magic" of baking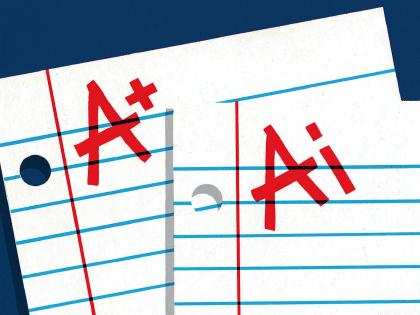 Generative AI can enhance teaching and learning but augurs a shift to oral forms of student assessment.