Harvard Squared | Explorations
Defying the Doldrums
Enjoying winter on and around an "indy mountain" resort in the Berkshires
Jon Schaefer grew up in Charlemont, a community of nearly 1,300 that lies between Williamstown and Interstate 91. His family owns the local Berkshire East Mountain Resort, where he and his siblings, and most everyone in the hill-towns region, learned to ski. Some Schaefer family members became racers, traveling to compete on some of the world's most daunting and magnificent alpine heights. "When you're in a little town in New Zealand and it's in the middle of nowhere in the South Pacific, but it's full of fun outdoor activities and fun people in a community," Schaefer says, "in a lot of ways it's like what we grew up with in Western Massachusetts."
As a second-generation owner of the resort, he's spent the last seven years developing it as a year-round epicenter for outdoor adventures, while maintaining the smaller-scale, homey feel, and affordability of a family-run independent ski mountain. By installing a 900-kilowatt wind turbine and a 500-kilowatt system of 90 solar trackers and 1,800 panels (set in a 10-acre field out of skiers' view), he says he has also created the world's first, and only, ski area completely powered by on-site renewable energy. The surplus electricity is sold back to the grid, although Schaefer is working on new ways to funnel or store it. "We solved the long-term problem of our energy needs and price increases by fixing our rate for the next 30 years," he says. "We've increased our snow-making capacity and figured out how to pay for that through summertime income and adventure sport."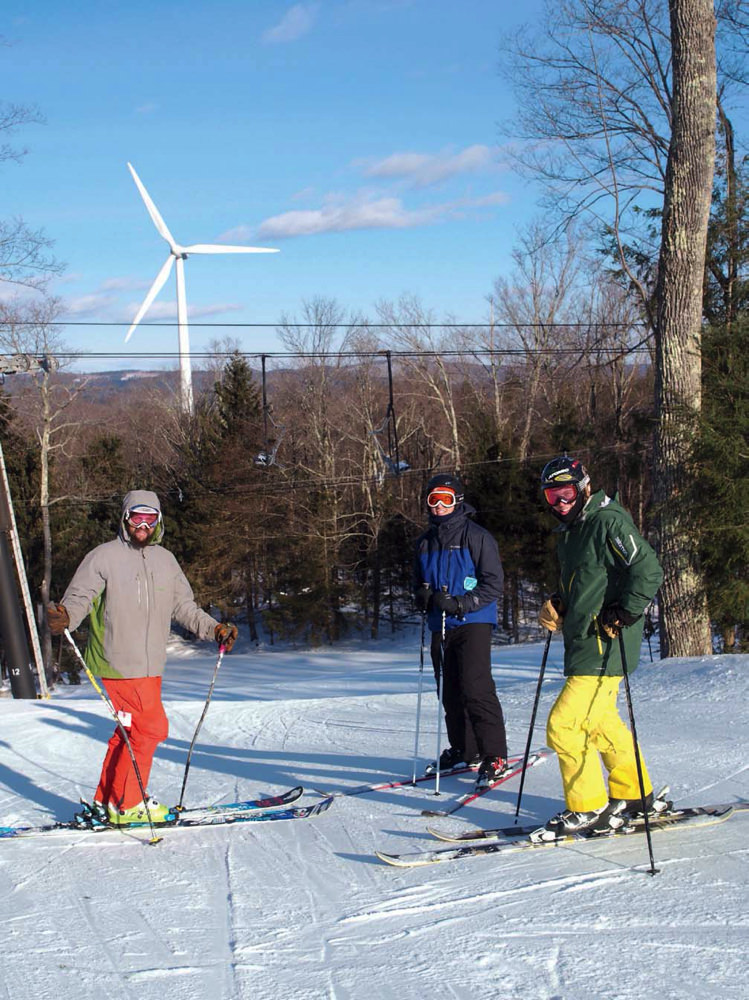 Photograph courtesy of Berkshire East and Tino Specht
Within the last five years, Berkshire East has also become a top mountain-biking destination, known for its challenging routes and jumps. "We already have a lot of world-class athletes on our trails here, and we're trying to make every experience here more broadly available to more people," Schaefer notes. "COVID-19 has gotten people out more, so that's great!"
For Berkshire East marketing director Tino Specht, a Charlemont native and multi-sport athlete who's traveled, adventured, and worked on every continent save Antarctica, his rural hometown is "an unknown jewel of Massachusetts." Any road into Charlemont requires upward elevations of 1,000 feet before descending into the Deerfield River Valley: "It feels far away from anything," he says, "but beautiful, and it's got world-class mountain biking, epic white-water rafting, alpine skiing, cross-country skiing, snow-tubing, and zip-lining. It's an outdoor sports mecca that nobody really knows about."
This winter is the time to learn more: Berkshire East is fully open, with COVID provisions in place. The resort offers ski lessons for every ability level, as well as a multi-tiered racing program. A "magic carpet" conveys novices to the beginners' hill, Specht says, and the long, winding, green trails all end at the base lodge. Four chairlifts lead to 45 groomed trails, from green to black diamond, down the nearly 1,200-foot mountain. The lifts' relatively slow-paced ascent allows time to rest and appreciate inspiring views of the valley, while outlying treks offer unspoiled winter terrain. A combination of powder and machine-made snow means reliable skiing conditions, and lights can extend outings after dark. For a 500-foot adrenaline rush, kids and adults can coast down three groomed snow-tubing lanes.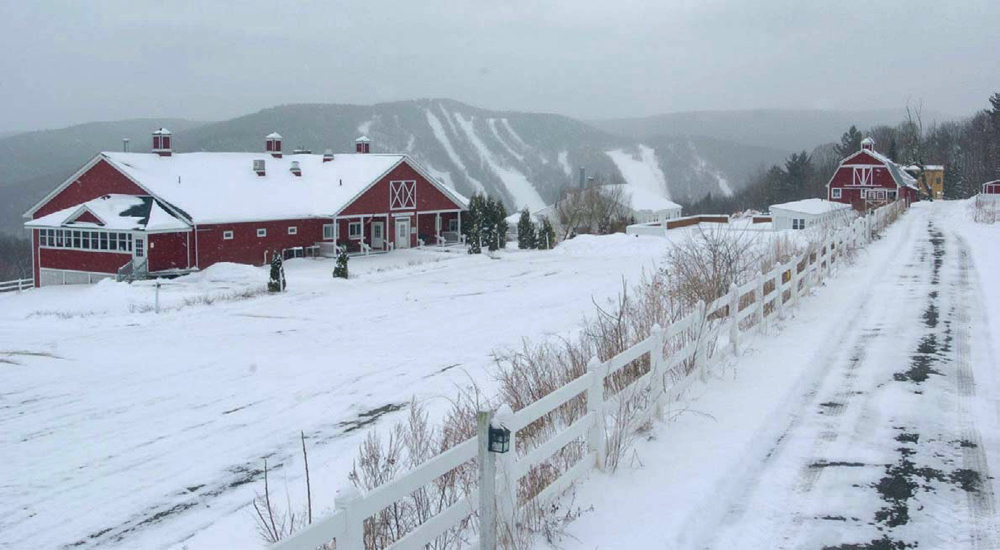 Photograph courtesy of Berkshire East and Tino Specht
In 2015, the Schaefer family bought the nearby Warfield House Inn, an historic property with sweeping mountain views. It makes a perfect winter retreat for anyone bent on enjoying nature—even for those who don't downhill ski. Not far away are numerous cross-country trails , along with winter hiking and snow-shoeing routes; try the Trustees' Notchview preserve, Hawley State Forest, and Stump Sprouts Ski Touring Center.
From Charlemont, a 90-minute drive southeast leads to Catamount Mountain Resort, in the Taconic Range on the Massachusetts-New York border. In 2018 the Schaefers bought that mid-sized ski center, which features a 1,000-foot mountain with 36 trails, and the steepest vertical drop in the Berkshire region. This season, following renovations, Jon Schaefer says: "We're ready to rock-'n'-roll!" Last year, he also purchased the Charlemont-based Zoar Outdoor, which runs warmer-weather whitewater rafting and kayaking on the Deerfield River, along with zip-line adventures. "Getting people outside, exercising year-round," he says, "benefits everyone."
Skiing has been a part of the Charlemont-area mountain culture since the 1930s, when the Chickley Alps and the Mohawk Skiers Project resorts, founded by racers, were built, according to a local history Schaefer has compiled. In addition, a "large Adirondack-style gentleman's farm and retreat owned by the Boston and Maine Railroad" was connected to some 1,000 acres for "hunting, golfing, farming, and general carousing that we suspect played a connection between Charlemont ski areas and the snow trains, which kept these mountains busy with guests from New York City and Boston." Other resorts followed, including Thunder Mountain, the precursor to Berkshire East. But by the 1960s, many had closed or gone bankrupt. Roy Schaefer, a veteran ski-area manager in Michigan (and Jon's father), stepped in to operate Berkshire East, and soon bought it with partners. In 2007, he and his sons took sole ownership, and began planning for future improvements and expansion. Such independent mountain resorts across the country (known as "indy mountains") pride themselves on their smaller-scale operations, community connections, and idiosyncratic characteristics.
In New England, the Indy Mountain Pass includes Berkshire East, Magic Mountain and Bolton Valley Resort (in Vermont), Pat's Peak and Black Mountain Ski Area (in New Hampshire), and Mohawk Mountain (in Connecticut), among others. Often dubbed "family friendly," these centers are not necessarily geared for novices—check out the trail maps—but many do offer extensive ski classes and race training. And these local ski resorts mean less time and expense spent traveling—which translates into a lighter carbon footprint.
"We're not for people who want to go to the bigger conglomerate-owned mountain, where the experience is more of a huge volume, high prices, crowded lines," Schaefer says. "We're more of the 'family-oriented,' smaller-based ski experience, where you don't have to wade through a huge parking lot to get to the mountain. What we tap into is more of a throw-back experience. It's simpler and easier. We don't have the fastest lifts, but we do have good, modern equipment and we have a lot of pride in what we do, in the people who work hard here, and you can see it in the place."
Specht attests to that. He grew up knowing and working for the Schaefer family, as did a lot of kids in the area. He left to travel the world, and ended up primarily a paragliding athlete who led his own media company in Chile. "Then I was sort of searching for a new paradise to live in," he says, "and when I came back here, where my parents live on a farm, I was like, 'This might be the place, actually.'"
Berkshire East, he adds, continues to be a catalyst for so much more than skiing. "They have built a community around outdoor life. Around here you have people who really care about that, who want to get outside and be active and in nature, which makes a difference. It's a very special place."