John Harvard's Journal
Brevia
Datar for Dean
Srikant M. Datar, Dickinson professor of business administration, has been named dean of Harvard Business School, effective January 1, succeeding Nitin Nohria, who had led the school since 2010. Since joining the faculty in 1996, Datar has held senior associate deanships for everything from faculty recruiting to University affairs. In his October 9 announcement, President Lawrence S. Bacow cited that experience, augmented by Datar's recent role in HBS's adaptations to the pandemic—including classroom modifications and a fall semester commitment to hybrid teaching. In an afternoon Zoom welcome to the community, Datar outlined some major priorities: effecting the recommendations of HBS's anti-racism task force (see page 27); using technology to build on online learning and pedagogical changes; preparing students for a world of ever more intensive machine learning, artificial intelligence, and other technologies; and exploring new fields (such as inequality, sustainability, and broadened goals for corporate governance) for faculty research and course development. Read more at harvardmag.com/hbsdean-datar-20.
Alumni Nobel Honorands
Jennifer A. Doudna, Ph.D. '89, of the University of California, Berkeley, shared the Nobel Prize in chemistry for development of CRISPR, the genome-editing technique used widely in life-sciences research. Read more at harvardmag.com/nobel-doudna-20. And Robert B. Wilson '59, M.B.A. '61, D.B.A. '63, now emeritus at Stanford, shared the 2020 Sveriges Riksbank Prize in Economic Sciences in Memory of Alfred Nobel "for improvements to auction theory and inventions of new auction formats," covered further at harvardmag.com/nobel-wilson-20.
Retirement Roster
To pare costs in the wake of the pandemic, Harvard offered a retirement incentive to senior staff members throughout the University—and nearly 700 accepted (see "The Financial Fallout…So Far," page 16). Among those making known their plans to depart are Marilyn Hausammann, vice president for human resources, and Anne Margulies, vice president and chief information officer. Leaders concluding their Faculty of Arts and Sciences careers include Leslie A. Kirwan, dean of administration and finance, who helped FAS respond to the financial crises caused by the Great Recession and now the pandemic; Marlyn E. McGrath, the College's director of admissions, concluding 42 years of service; and Robin Mount, director of the office of career, research, and international opportunities.
Litigating Admissions
Even as the First Circuit Court of Appeals upheld Harvard's trial victory in the lawsuit brought by Students for Fair Admissions (SFFA) alleging that the College discriminates against Asian-American applicants for admissions (see harvardmag.com/appealscourt-vs-sffa-20), further legal action is under way. SFFA is suing the University of North Carolina, alleging that it considers race impermissibly, and so discriminates against Asian-American and white applicants. Arguments were heard in Winston-Salem on November 9. SFFA has also asked to be joined to the Department of Justice's complaint against Yale—a move that would keep the litigation alive should the Biden administration drop the case. The lawsuits may ultimately involve the Supreme Court in reviewing affirmative action anew. By targeting both UNC and Harvard, a public institution and a private one, SFFA creates opportunities for the Court to reconsider the issue on constitutional grounds and in light of civil-rights law, respectively.
Fossil Fuels
Yale has announced an advisory committee to guide an evaluation of its investment policies concerning fossil-fuel producers. President Peter Salovey charged the group with recommending principles to inform the university's Corporation Committee on Investor Responsibility as Yale applies its ethical-investment policy to such enterprises. Salovey said Yale has "a responsibility to examine whether our investment policies are appropriate or need to be modified with respect to" the "existential threat" of climate change. Like Harvard, Yale has an active divestment movement, and Yale Forward says it has qualified a petition candidate for election to the Yale Corporation (which has several elected members, unlike the Harvard Corporation) during next April's balloting; her platform includes divestment.…Harvard Forward, pursuing a platform including divestment, announced its second annual slate of petition candidates who will seek election to the Board of Overseers (see harvardmag.com/harvforward-2021slate-20).…Across the Atlantic, Cambridge University has announced plans to divest its fossil-fuel investments by 2030, invest in renewables, and eliminate its greenhouse-gas emissions by 2038.
Spacing Out
As the semester proceeded, Harvard College extended controlled access, by advance reservation and under strict coronavirus protocols, to students studying in residence, so they could work outside their dorm rooms. Study spaces in Smith Campus Center opened October 5, followed by Cabot Library (October 8) and music practice rooms in Memorial Hall (October 14). House- and Yard-based small study spaces and music rooms became available for reservation, on a pilot basis, November 12 (just 10 days before students were required to leave campus for Thanksgiving break, with the semester to be completed remotely). For the latter, 48-hour-advance booking was required, with limited hours and time between reservations to allow for cleaning. In music rooms, masking was required, and singing and wind instruments were prohibited.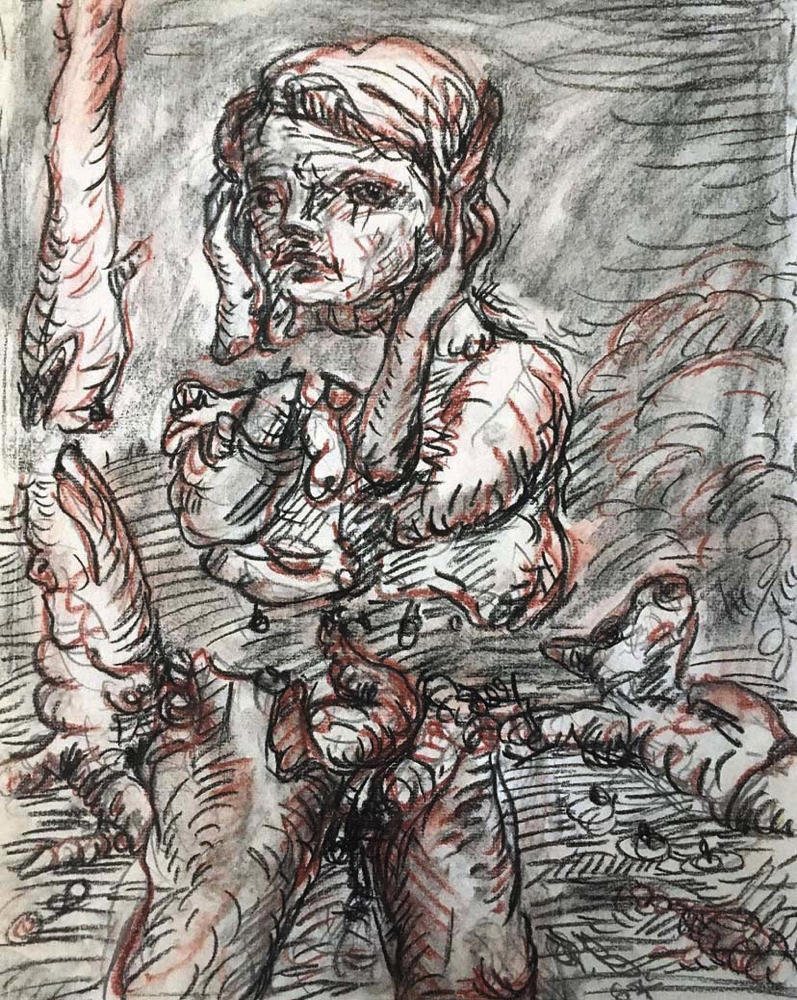 Photograph by Lynette Roth/Harvard Art Museums/© President and Fellows of Harvard College
German-art Gift
The Busch-Reisinger Museum (one of the Harvard Art Museums, it focuses on German-speaking countries) has received a gift of nearly 50 drawings and prints by postwar German artists, including Georg Baselitz, Joseph Beuys, A.R. Penck, and Dieter Roth, collected by Dorette Hildebrand-Staab, a member of the German Friends of the Busch-Reisinger. Many come from early in the artists' careers—a time when the society was beginning to come to terms with its fascist past—and resort to provocative, perverse, or humorous imagery, as required, to deal with the suppressed horrors of Nazism. Shown is Georg Baselitz, Untitled, 1967.
Galvanizing Gifts
Harvard Business School and the department of stem cell and regenerative biology (SCRB) have received a $25-million gift from Chris Shumway, M.B.A. '93, and his wife, Carrie Shumway, to support the M.S./M.B.A. Biotechnology: Life Sciences program. The two-year joint-degree initiative, conferring business and master's-level life-sciences training (based on instruction in the Faculty of Arts and Sciences and Medical School, coordinated through SCRB), prepares entrepreneurs to work in human-health enterprises. The gift will underwrite financial aid, research, and curriculum development.…Separately, David professor of business administration emeritus Joseph L. Bower made a gift to HBS to support case-writing. The initial focus will be cases focused on advancing racial equity and the unique challenges facing black managers (see page 27 for more on HBS and racial equity).
On Other Campuses
Princeton, in the quiet phase of a capital campaign, announced that the family foundation of its alumna Mellody Hobson '91, co-CEO of Ariel Investments, and her husband, George Lucas, the filmmaker, have made the naming gift (size undisclosed) for a new residential college—the first to be named for a black woman—to be built on the site of the former Wilson College, which is being replaced. (The university decided in 2020 to remove Woodrow Wilson's name from the college and its public-policy school, given his racist policies.) The new facility is to begin construction in 2023.…Separately, Princeton received a $20-million gift from Kwanza Jones '93 and José E. Feliciano '94—at that time, the largest gift by black and Latino alumni in its history. It will support construction of new dormitories in new residential colleges being built to accommodate a 10 percent expansion of the undergraduate student body.
Restricting International Scholars
President Lawrence S. Bacow sharply criticized a pre-election Department of Homeland Security proposal to restrict international students' and scholars' authorized period of U.S. residence to two or four years (rather than admitting students for the length of their course of study). The proposed rule, he wrote, "would create negative and cascading consequences for U.S. research, scholarship, and training; weaken our national recovery and future competitiveness; and undermine our national response to global challenges in science, security, and public health." For an interview with the president on the fall semester, see harvardmag.com/bacow-upside-20.
Nota Bene
Alpert honorand. The Warren Alpert Foundation Prize was conferred this year on three scientists for pioneering work on metabolism, with therapeutic applications to Type 2 diabetes, obesity, and other challenges. Among the honorands, who shared a $500,000 honorarium, is professor of medicine Joel Habener, director of the Laboratory of Molecular Endocrinology at Massachusetts General Hospital.
Rx and dentistry, RIP. Harvard University Health Services is closing its dental service and its pharmacy, effective December 31. HUHS cited declining reimbursement rates, increasing costs, and competition—all predating COVID-19. The pandemic subsequently eliminated most in-person dental services during the spring, heightening the challenges, and HUHS proceeded toward closing both. [Update: In December, the School of Dental Medicine said it would assume operation of the dental clinic, maintaining it in operation at its present site, with expanded services.]
Miscellany. Steven R. Levitsky, professor of government and Rockefeller professor of Latin American studies, coauthor of How Democracies Die, became faculty director of the David Rockefeller Center for Latin American Studies on September 1, succeeding biologist Brian D. Farrell, Lehner professor for the study of Latin America.…Folger Fund professor of history Andrew Gordon has been awarded the 2020 International Prize in Japanese Studies, conferred by the National Institutes for the Humanities of Japan. It recognized his work on modern Japanese history, including the history of labor, and for his commitment to "bridging society and academia."…Susan Dynarski '86, M.P.P. '95, will join the Graduate School of Education as professor of education on July 1. She has been professor of public policy, education, and economics at the University of Michigan since 2008, and is widely known for her research on inequality and accessibility in higher education, which she shares in a New York Times column.…Peter Brand, dismissed as fencing coach in mid 2019 following reports of conflicts of interest involving admission of undergraduates ("A Coach Cashiered," September-October 2019, page 33), has now been indicted, along with the father of the two young fencers, on bribery charges.