John Harvard's Journal | Sports
The Bottomless Sport
Andrew Rueb's experience on the professional tennis circuit informs his coaching.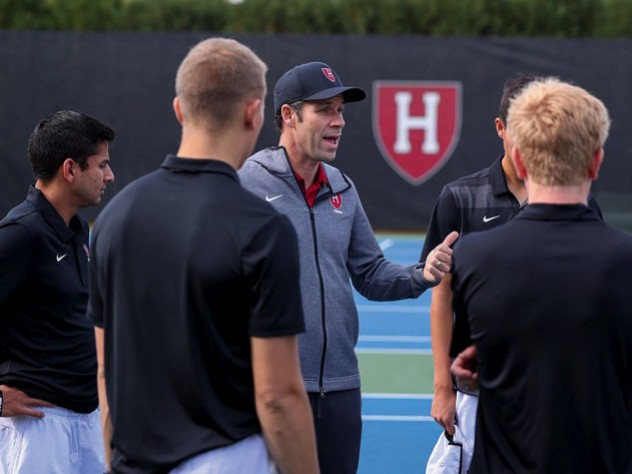 Photograph courtesy of Harvard Athletic Communications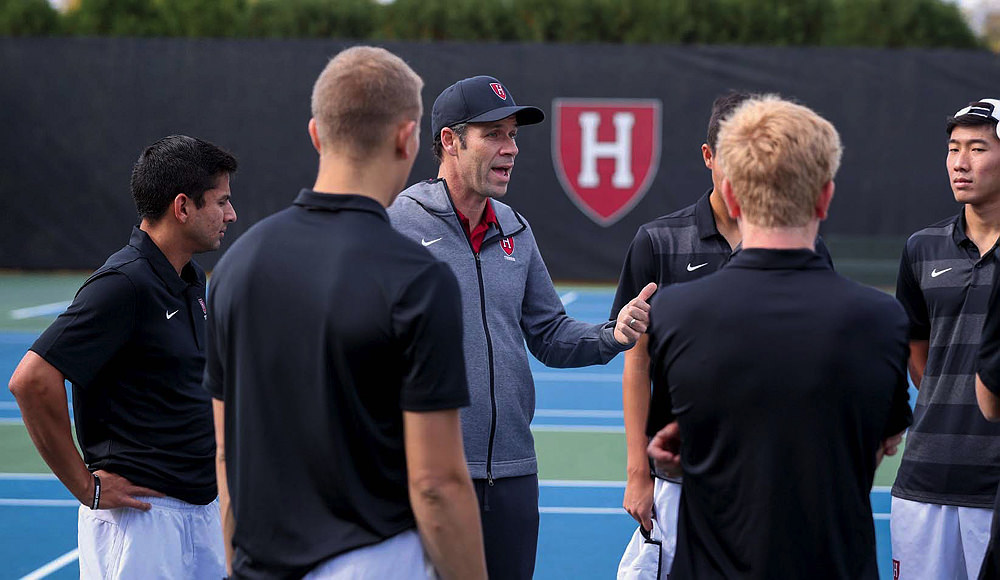 Photograph courtesy of Harvard Athletic Communications
The immaculate courts of Wimbledon are sown from perennial ryegrass and cut to a precise eight millimeters. Soil is kept firm and dry, with wear, surface hardness, and ball rebound measured daily.
At a tournament in Zambia, Andrew Rueb '95, M.Div. '04, played on a surface of cow dung and molasses. "Actually, the courts played fine," he explains. The problem was that the backstops, usually wire or mesh, were made of straw. "And so serves would just poke bullet holes through it." Kids raced to grab stray balls before the goats did. When it rained, the surface washed away.
The Mead head coach of Harvard men's tennis experienced varied conditions like this frequently as a tennis pro in the sport's equivalent of baseball's minor leagues. The world's 378th best individual at his peak, he played more in places like Elkin, North Carolina—population 4,097—than in London, Paris, or New York City. Pete Sampras and Boris Becker were escorted from luxurious hotels to pristine stadiums for matches broadcast to the whole world. At a tournament in Mexico, Rueb slept on the court, using his racket bag as a pillow.
He was born in Washington, D.C., but identifies more with Ohio, where his family moved when he was 11. He was introduced to tennis when he was a toddler by his father, a recreational player from Oklahoma. "I think when he had kids," Rueb jokes, "he was secretly hoping for some hitting partners." He was too young to hold a real racket at the age of two, so his dad took a wooden one and sawed the handle in half.
Through high school, Rueb rose steadily from sectional to regional and then to national competitions, pushed by different coaches as his skills improved. He developed an aggressive serve-and-volley style, sprinting to the net as he followed through on his serve, hoping to exploit weak returns with sharp volleys. By his senior year, he was one of the nation's top recruits and entertained offers from UCLA, Northwestern, and Notre Dame before deciding on Harvard.
With coach Dave Fish '72 as a mentor, Rueb excelled, becoming Ivy League player of the year twice and serving as captain. As good as he got, he found the sport to be bottomless. "There's so many parts of yourself that tennis requires," he explains. "You've got the technical development, you have your mental game, you've got your physical development." When his Harvard career ended, he jumped to the professional level. "I wanted that experience, I wanted that challenge," he recalls. "Flitting along the surface is one thing, but when you really get into something and get into its depths and grab a hold of it, I love that."
As a pro, he showed up to work with just a racket bag, jug, and towel. "That's a pretty good living," he says. "As a livelihood it's not a living [his lifetime Tour winnings totaled less than $30,000], but in terms of quality of life and engagement and experience, it was great." Rueb was best when at the net, taking risks and escalating tension, intuitively gauging the trajectory of an incoming passing shot as he approached the opponent's forehand. "All your attention is focused in that moment," he says. "That's one of the things I certainly miss about playing."
On the professional circuit, he experienced frequent power blackouts and hot-water rationing in India, got food poisoning in Turkey, and took 13-hour car trips with four other pros between obscure European tournaments. He also rose steadily in the rankings, working on all aspects of his game: speed, mobility, strength, stamina, attention, focus, problem-solving. He even got a few glimpses into the sport's big leagues, including a 1997 appearance in Wimbledon's doubles bracket.
As Rueb worked on his game, he was awed by the transcendent talent around him. "There's a Tracy Kidder book, Mountains Beyond Mountains," he says. "You realize that however high you climb, to get to the level where Nadal and Federer and Djokovic are, there are so many levels to go." Though proud of his steady improvement, he understood that he played a serve-and-volley style with neither a good enough serve nor the elite athleticism needed to reach the sport's top tier. A friend, Michael Joyce, once said he'd have ranked higher in the wooden-racket era. Rueb agrees, but looks back at his four-year tour period fondly as both a literal journey and an intellectual one. "I consider it my next degree," he says.
After ending his pro career in 1999, Rueb got another official degree—a master's in religion and literature from the Divinity School—and was completing a Ph.D. at Boston University in 2007 when his former coach asked if he wanted to become the Crimson's assistant coach. Though he loved literature—he had dug deeply into the optional reading list of Robert M. Coles's "Literature of Social Reflection," his favorite undergraduate course, while competing professionally—he recognized that he preferred teaching and mentorship to publishing academic work. He decided to take the job. When Fish retired in 2018 after 42 years on the staff, Rueb was named head coach.
Jack Barnaby, who coached Harvard tennis for more than four decades, said the challenge of college coaching "is putting old heads on young shoulders." Rueb agrees it's the hardest and most rewarding part of his job. He tries to help his student athletes "thin-slice" their mental and physical performance, helping them identify and address weaknesses. "As a younger player, you come off the court thinking, 'I played well, I played badly, my forehand stinks,'" Rueb explains, "and then you listen to pros or masters talk about their craft, and you see the level of specificity." He recently directed his team to a video of Ian McKellen close-reading a Macbeth soliloquy and explained that the focus the actor brings to each line translates to tennis, too.
And for Rueb, it's not as simple as raising his team's peak performance. It's raising their floor. At the top level, he says, players may lose their edge for a point or two, but they have a way of recapturing it. For collegiate athletes, a downward slide can sink an entire match. Before competitions, Rueb leads his team through a "screenplay": thinking through the specifics of a match and planning responses ahead of time. A broken string or poor line call shouldn't disturb his athletes because they've worked through the scenarios already. "You can make a team a lot better without changing their upside," he says, "if you just take their floor and move it up."
But what Rueb enjoys most is seeing his student-athletes take ownership of their own learning. In an interview, he never mentions team rankings or on-court metrics—but describes in great detail a former captain's undergraduate research on a Mongolian copper mine. "There's an example of somebody who took ownership of their education, found something they like, and really dug into it," he says. Every member of his team reads Joshua Waitzkin's The Art of Learning, about how the former chess prodigy conquered martial arts. Rueb loves how it breaks down the learning process, how the lessons from one activity apply directly to the mastery of another.
"If I thought that this was just about hitting tennis balls, I think the job would be less appealing," he says. "If you recognize that this journey is part of your growth and development, you're tapping into a more powerful energy source for your motivation."