Harvard Square, Redux
What's new—and unchanged—in the historic heart of Cambridge
During the worst early days of the pandemic in Massachusetts, the Harvard Square Business Association sent drones overhead to capture the ghost-town feel of the streets. The result was a haunting video of shuttered stores and cleared roads, devoid of human presence. "It was heartbreaking to see the empty, empty streets," says association executive director Denise Jillson. "I am so glad we took the time to mark that moment because people who were not here to see it could not have imagined what this place looked like."
Fast-forward to 2021, on a sunny summer day, and the Square was once again filled with visitors and tourists. One heard the chatter of regional and international accents, watched some families snapping photos on the steps of Widener Library, and saw others happily bringing a new shine to John Harvard's refurbished boot (see page 20). As for the restaurants, many had expanded their outdoor seating, and diners amiably ate on patios and street-side tables under umbrellas. The spaces at Grafton Group's Russell House Tavern and The Hourly Oyster House were particularly packed. "Certainly, COVID has caused a great many challenges," says Grafton Group co-owner Patrick Lee. "But I think the whole hospitality industry is excited about re-opening, especially in the fall with everyone coming back to campus and enjoying themselves. There's a special feel and smell to Harvard Square that if you've spent a lot of time there, you know. And we've had a bird's-eye view on the Square coming alive again, seeing more and more chess players come out in front of the student center. It's really been an awakening."
Nevertheless, students, faculty, and staff returning to the Square this fall will see some changes. Gone are: Parsnip, Staples, Legal Sea Foods, Ann Taylor, Café Pamplona, Dickson Bros., Border Café, B. Good, and Benedetto, among others. And other favorites—like clothing boutiques Mint Julep and Tess—have moved. "We've been in the Square over 15 years," says Mint Julep owner Brooke Garber. "Obviously, it was a very slow time in Harvard Square without students, tourists, or anyone who normally works here, but we pushed through and got creative and launched an online store." Mint Julep and Tess are now Brattle Street neighbors, and adjacent to an expected new Allbirds shoe outlet.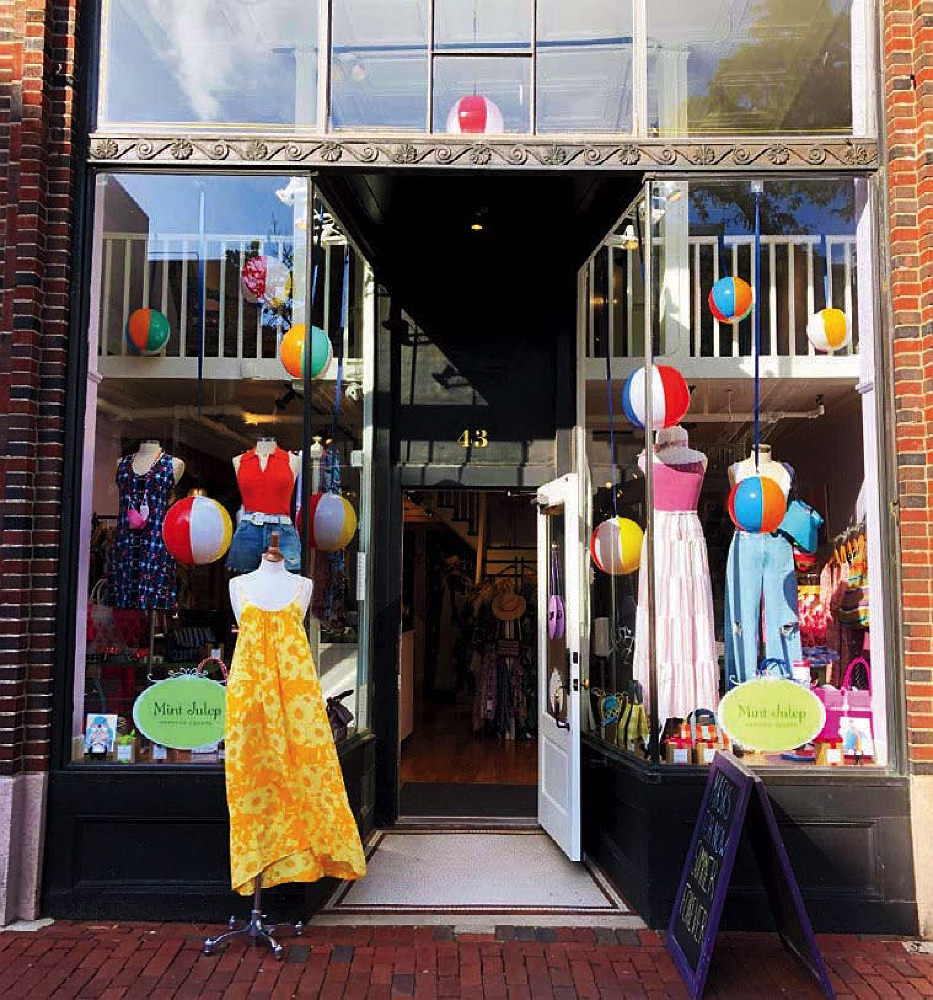 Photograph courtesy of Mint Julep
Other businesses have re-opened, like Club Passim and The Sinclair, both of which have robust live-concerts calendars this fall. Various restaurants, including Orinoco and Toscano, are also serving diners again, with Grafton Street Tavern and PARK (Lee says) expected to do the same this fall. Some places managed to stay open throughout. "I never closed even for an hour; the entire Harvard Square El Jefe was open from 8 a.m. to 4 a.m., every single day," says owner John Schall—even as business dropped 75 percent during that first shutdown week, March 13-20. "In some ways we took a huge hit, but we were able to do takeout and deliver when a lot of sit-down restaurants were not." He lost his usual clientele—students and Square workers—but picked up new customers: residents from all over Cambridge and Boston "who discovered us because we were open and other places were not."
Even in the darkest days of the pandemic restrictions, someone hungry for normalcy, and a hot Sicilian slice, could find the oven on at Pinnochio's Pizza & Subs. It's been serving Square denizens from its cramped kitchen since 1966. "Basically, fortunately, we never had to completely close," says co-owner Adam DiCenso. "We're pretty much keeping it all the same. We kind of feel like if it's not broken, don't fix it, because we don't want to mess it up."
Returnees to the Square will likely be surprised by the number of new businesses to arrive during the pandemic. "If we've lost a business, there's something that's replaced it, or something in the pipeline that will," according to Jillson. Smoke House BBQ moved onto Holyoke Street. Source, a Church Street farm-to-table pizza restaurant that began serving customers in December 2020, has survived; its outdoor dining room was buzzing this summer, with a stream of customers ducking into its neighbors, too: Raven Used Books and Lizzy's Ice Cream. Next door, Yamba Boutique, a cannabis dispensary, is moving in (offering an alternative to the Cookies pot store taking the place of the closed Staples on JFK Street). Across the way from Yamba, is the new, artfully decked-out Bonde Fine Wine Shop. Owner Bertil Jean-Chronberg sells artisanal wines and accessories, and hosts tastings, podcasts, and small-group food and wine events.
Elsewhere, Bar Enza, an Italian-style brasserie serving pastas and steaks, will take the place of Benedetto at the Charles Hotel. Incoming owner and chef Mark Ladner, a Belmont native and well-known New York City restaurateur, has publicly promised that his "100-layer" lasagna (from the closed Del Posto), will be on the menu. Nearby, where Les Sablons briefly reigned, Wusong Road will open this fall, offering modern Chinese food in an elaborate interior, with a tiki bar. Other new Square dining establishments include Spyce, DIG, Playa Bowls, and Stoked Pizza Company.
Many businesses have survived, Jillson says, because of lease discounts and payment forgiveness, but also because they are independently and locally owned. "They were here, on the street, and could act quickly, be nimble and flexible, and do what they needed to do to stay afloat," she adds. "It's been interesting to watch and admire the perseverance of so many of our businesses. A real show of strength."
Grafton Group's Patrick Lee echoes that point and notes the rise of extensive outdoor seating, which has been hugely popular (even after pandemic restrictions were lifted), along with the integration of takeout meals and cocktails-to-go. "One of the positives of the pandemic is that we have seen things that have been resisted in the past were actually very successful," Lee says, "and I think people really want those things to stay."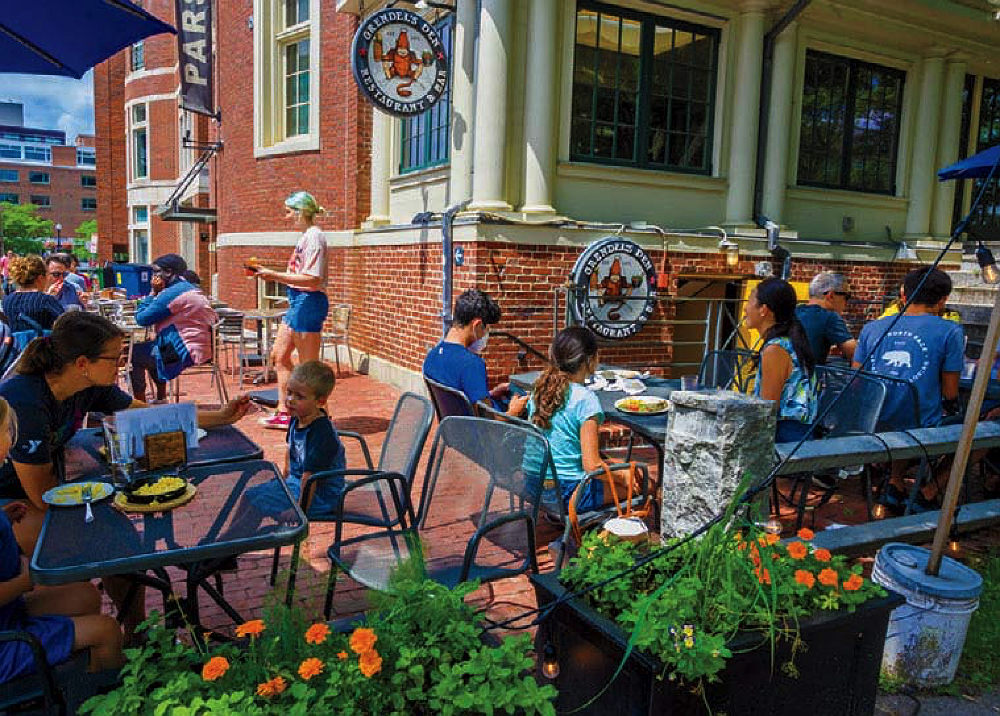 Photograph by Jim Harrsion
For Kari Kuelzer, owner of the perennial favorite Grendel's Den, 2021 has not only meant scrambling to respond creatively to COVID-19, but also celebrating the restaurant's fiftieth anniversary. "Our menu did a lot of gymnastics over the course of 2020, but now we're pretty much back to normal," she says, even though the pandemic's impact on supply chains, like food sources, is a continuing problem. "We're really proud to be here—and when you get to this age, every day is your birthday." Through October, Grendel's Den and Otter Creek Brewing Company host free Friday night live concerts with local bands in Winthrop Park, and a big party is planned to release a podcast on the history of food and drink in the Square.
Other Harvard Square events this fall include: Hoedown on Holyoke (September 19), a country western party with Smoke Shop BBQ; José Mateo Ballet Theatre's Dance for World Community Festival (September 25), free performances, classes, and exhibits celebrating the power of dance and movement; Harvard Square Oktoberfest (October 10, rain date October 17), featuring live music, beer gardens, and international food vendors.
As she witnesses the return of commerce and human vitality, Jillson thinks back to the video's startling drone images. "It's a lovely historic place, with beautiful buildings," she says, "but it's the people—who live here, work here, and visit—who make it special."  
You might also like
The context for Harvard Management Company's 2023 results
The Crimson outlasts the Bears in an Ivy nighttime shootout.
The first in a series of public conversations about Harvard and the legacy of slavery
Most popular
First-years Ngozi Musa and Gabby Thomas help set the pace for track and field.
A negative investment return and annual spending reduce the endowment's value 5.1 percent.
The director of Head Over Heels and The Star, on animation's different dimensions
More to explore
A test can identify these productivity-boosting personnel.
Ancient history professor studies coins, ceramics, and Zelda.
Anwar Floyd-Pruitt's wildly profuse art