Treasure
How Harvard Profited On Keeping Time
Harvard clocks linked the world—and made money.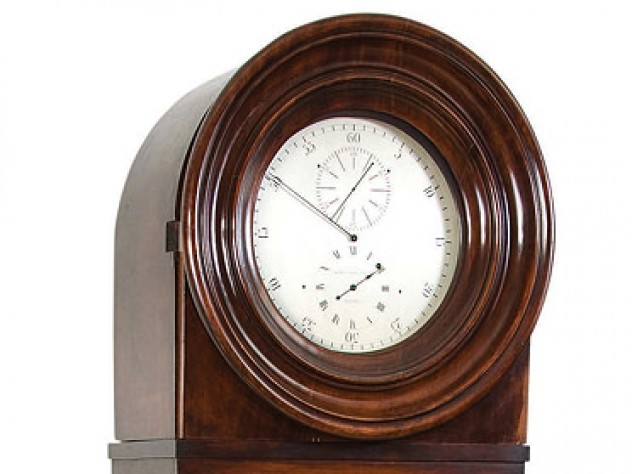 Click on clock to see full image

Image courtesy of the Harvard Collection of Historical Scientific Instruments

Click on clock to see full image
Image courtesy of the Harvard Collection of Historical Scientific Instruments
Today, most people don't think much about the accuracy of clocks. A functioning cell phone displays the correct time right away, no effort needed. But in the eighteenth and nineteenth centuries, coordinating clocks across the world was complicated and important work. "Making such measurements was crucial because you're building roads and partitioning land, and in the nineteenth century, designing railroads," says Pellegrino University Professor Peter Galison, who directs the Collection of Historical Scientific Instruments. "And, you know, the British Empire was fighting wars all over the place." 
It was easy to determine latitude based on the angle between the horizon and Polaris, but figuring out longitude—the basis for time—required tougher calculations. One needed to know the position of the stars overhead and those same stars as viewed from Greenwich, England, along the prime meridian. "You might say, 'Okay, that's easy: we'll just take a clock with us from Greenwich time, compare it to the local time set by the rising sun…and make this calculation,'" says Galison. But clocks didn't travel well. Temperature variation, storage angle, and other factors threw them off. A dozen clocks taken on ships across the Atlantic could arrive in North America with a dozen times.
Transatlantic telegraph cables improved timekeeping in the nineteenth century, but the United States did not yet have standardized time zones. Keeping the time straight in a single city was hard enough, and different cities kept different times. Discrepancies could be deadly. In August 1853, a conductor's faulty watch resulted in a head-on train collision along the Providence and Worcester Railroad that killed 14 people. Such accidents were common. 
How to straighten out clocks and avoid accidents? Get the correct time from Harvard. In 1839, President Josiah Quincy invited astronomer and clockmaker William Cranch Bond (Vita, September-October 2015, page 46) to live in Dana House (where Lamont Library now stands), which became the University's de facto observatory. As train accidents became common, railroads and businesses began asking Bond to supply them with the correct time for free, sent via telegraph from a University clock.
From 1872 to 1892, Harvard made a profit selling its exact time across the region. Some bought for practical reasons and others "as a matter of pride," Galison says. In the Boston Harbor, a massive time-ball, synced to Harvard's time, dropped at noon every day so boats could sync their chronometers. While Harvard lost relevance in time standardization by the end of the century, it took decades for the United States to enact the 1918 Standard Time Act, which established Daylight Saving Time and official time zones across the country. 
The astronomical regulator pictured was made in 1832 by Simon Willard Jr., another prominent clockmaker. Though they look rather ordinary, two screw mounts on its side (not visible) once had cables attached that relayed the clock's time from the Harvard College Observatory to downtown Boston, and then to train stations across the country through 1857. "These were linked objects," Galison says. "They were setting time for an expanding social domain."