Sports
Football 2021: Harvard 23, Penn 7
11.14.21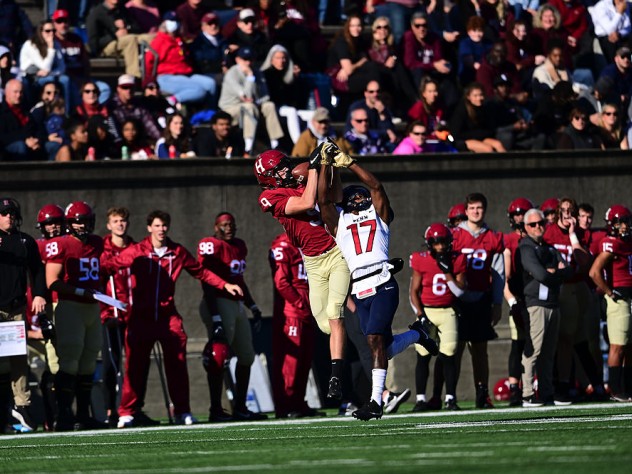 Photograph by David Dermer/courtesy of Harvard Athletic Communications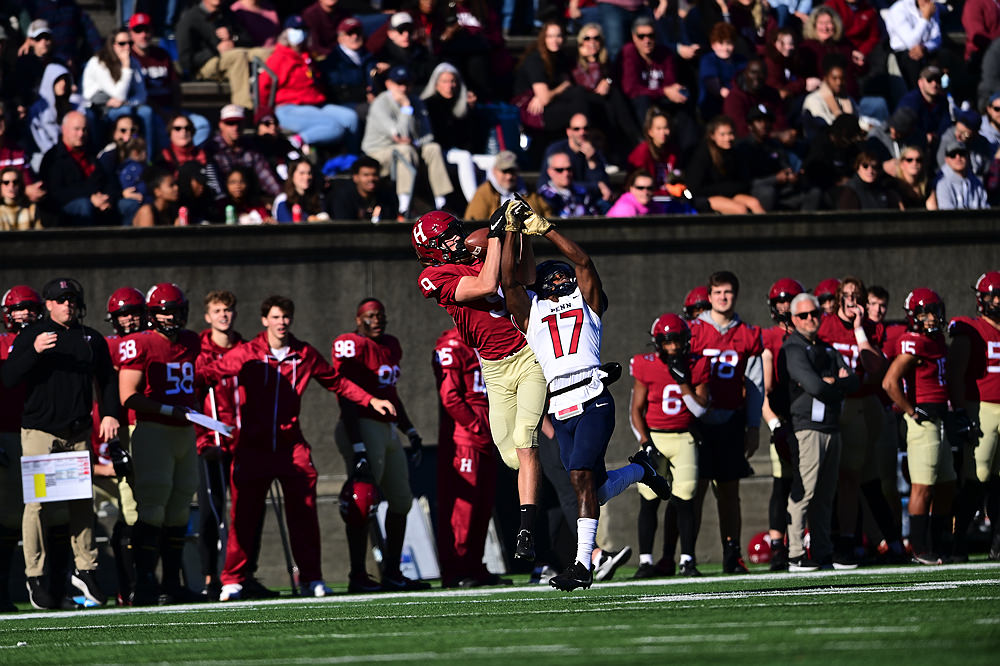 Photograph by David Dermer/courtesy of Harvard Athletic Communications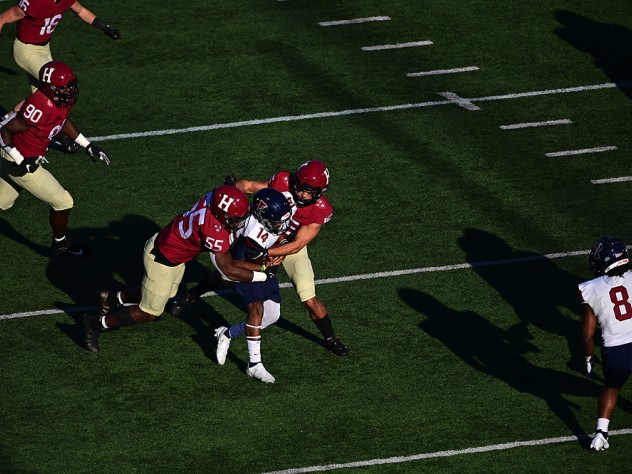 Quaking Quaker: Harvard's Jordan Hill (55) and Victor Tademy surround Penn's Maurcus McDaniel. In his last game at Harvard Stadium, captain Hill had a game-high-tying nine tackles.

Photograph by David Dermer/courtesy of Harvard Athletic Communications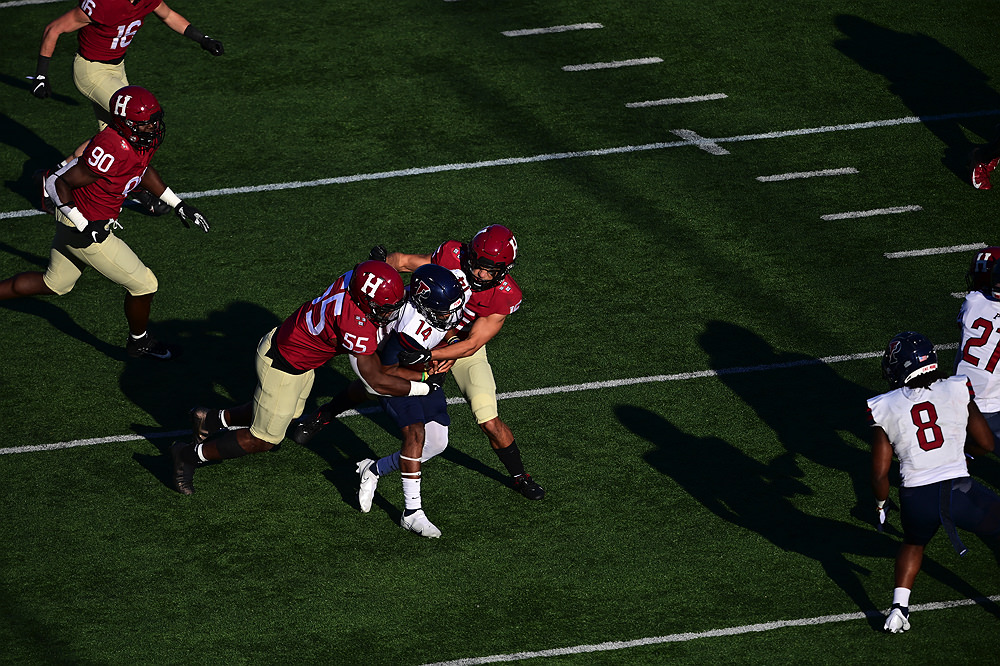 Quaking Quaker: Harvard's Jordan Hill (55) and Victor Tademy surround Penn's Maurcus McDaniel. In his last game at Harvard Stadium, captain Hill had a game-high-tying nine tackles.
Photograph by David Dermer/courtesy of Harvard Athletic Communications
In its final home game of 2021, the Harvard football team employed the formula that has served it well all season, riding a rock-ribbed rush defense, the rampaging running of back Aaron Shampklin, and the leg of placekicker Jonah Lipel to a workmanlike 23-7 win over Penn. The victory moved the Crimson to 7-2 overall and 4-2 in Ivy League play; the Quakers fell to 3-6, 1-5. The triumph also kept alive Harvard's faint hopes for a share of the Ivy title. (More about that later.)
"As we say so often, our program starts with defense," said Thomas Stephenson Family Head Coach for Harvard Football Tim Murphy. "This is one of the better defenses we've had in a long time. Some of the guys we've had in the trenches, guys like Chris Smith and Jacob Sykes, those guys did a tremendous job. Our defensive staff, week in and week out, does a tremendous job. It all starts with coach [Scott] Larkee. He puts our players in the best position to win games." Larkee, A.B. '99, is a onetime Crimson linebacker; today he is assistant head coach, defensive coordinator, and linebacker coach.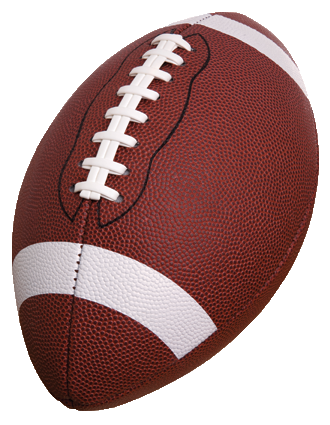 Harvard Football
Sign up for Harvard Magazine's football e-mail and follow the Crimson all season long! Dick Friedman will provide the latest news, game summaries, and insights.
"The other part is Aaron Shampklin," continued Murphy. "Nothing came easy today. The way he finished the game, to ice it, was just tremendous. He's very talented, he's very gifted, he's got great speed, but his character and toughness are off the charts."
This was Senior Day, on which 32 Crimson players (some still with eligibility remaining) and their families were honored. Shampklin, Smith, and Sykes were among those playing their final game in Harvard Stadium. Shampklin entered with the class of 2021; Smith and Sykes are '22. Shampklin first suited up in 2017, was All-Ivy in 2018, then sat out 2019. (The 2020 season, of course, was wiped out by the pandemic.) "Time really flies," he said. "For this to be my last game at Harvard Stadium was kind of bittersweet. But it was really a blessing for me to play here. I just wanted to take it all in, and I feel like I did that."
The Crimson entered the game ranked first in the Football Championship Series in rushing defense, permitting 55.5 yards per game and 1.75 yards per carry. On Saturday Penn netted 47 yards and 1.8 yards per carry. The Quakers did complete 20 passes on 38 attempts for 207 yards, but Harvard intercepted three Penn tosses, with junior defensive back James Herring plucking two. On the other side of the ball Shampklin parlayed a couple of big runs into 116 net yards and two touchdowns. As Murphy noted, with Penn keying on him, Shampklin often struggled and several times was thrown for losses. But he could not be held down all the time.
Case in point: Late in the first period, with the game scoreless, Harvard faced a third and 14 from its 28. In a seemingly strange call given the long yardage left to gain for a first down, junior quarterback Luke Emge handed to Shampklin. Quickly that odd call turned to…genius, I tell you, genius! Shampklin busted through a big hole in the middle, then just kept running, accelerating all the way to the end zone. The 72-yard jaunt plus Lipel's point after made it Harvard 7, Penn 0.
Early in the second period Emge engineered a 55-yard drive that took the Crimson to the Penn seven. The key plays were a 41-yard hookup from Emge to freshman wideout Ledger Hatch (Hatch's first career reception) and a pass interference call that Hatch drew on Penn's Jason McCleod Jr. But the drive stalled there, so Lipel plunked through a 26-yard field goal. Harvard 10, Penn 0.
Within two minutes the Quakers were on the board. Using a run-first quarterback, Maurcus McDaniel, in place of pass-first Aidan Sayin, Penn employed a wildcat formation to fashion a drive from its 25 to the Crimson 20. There, 5'5" running back Isaiah Malcolme slipped out to the right and ran all the way to the end zone. Daniel Karrash kicked the point. Harvard 10, Penn 7.
On its final possession of the half, the Crimson took advantage of a 22-yard Penn punt to start at the Quaker 37. On third and nine from the Penn 21, a pass from Emge to junior wideout Kym Wimberly came up just short of a first down. Lipel then kicked a 30-yard field goal. Harvard 13, Penn 7. The Quakers had played a good first half, leading in first downs 12 to nine and decisively in time of possession, 16:24 to 13:36. The Crimson was fortunate to be ahead.
Harvard got the first break of the second half. Senior linebacker Andrew Irwin forced Sayin to fumble and junior lineman Truman Jones recovered at the Penn 20. But the Quakers threw Shampklin for a four-yard loss and Emge tossed two incompletions. So Lipel booted a 41-yard field goal. Harvard 16, Penn 7.
From here on in, both defenses played staunchly. (Or both offenses sputtered—take your pick.) Harvard junior linebacker Daniel Abraham made an outstanding interception, reaching over the Penn receiver to snatch the pass.
Finally, in the middle of the fourth quarter, the Crimson took over at its 16 with 8:57 remaining. Harvard got out of the hole courtesy of a 33-yard pass-and-run from Emge to senior wideout B.J. Watson. From midfield and with Penn frantically calling timeout to preserve the clock, Shampklin gained nine yards, then 16, then five, then four. The ball was now at the Penn 16. Why fight it? On the next play, Shampklin slid off a hole on the right side and powered into the end zone. It was his 11th touchdown of the season, and if this was Shampklin's last at Harvard Stadium, he went out in style. Lipel booted the PAT. Harvard 23, Penn 7.
The Crimson did what it had to do to keep pace in the Ivy race. Dartmouth and Princeton both stand at 5-1; Harvard and Yale are 4-2. Whichever wins next week needs huge upsets elsewhere—from Penn against Princeton, and from Brown against Dartmouth. To be honest, hopes are faint. As for The Game itself, you have the classic clash of styles: the Elis, the more spectacular offensively, versus the Crimson, with its mighty defensive front seven.
At this point we will not invoke the fact that Harvard should be 5-1 and Princeton 4-2. Because if the Crimson loses to the Elis the case for a "true champion" weakens. But if Harvard wins, we will unload. We may unload anyway.
We will leave with the words of coach Murphy, who was referring not only to the defeat at Princeton but also the loss to Dartmouth (which went down to the final play) as well as his team's gallant response since. "You can make a valid case that we're one play away from being 9-0," he said. "I'm incredibly proud of our kids. This is a really enjoyable team to coach."
TIDBITS This was Harvard's first victory over Penn at the Stadium since 2013, when the Crimson triumphed 38-30. The Quakers won in '15, '17 and '19….Aaron Shampklin's second touchdown against Penn was his 11th of the season, making Shampklin the first Harvard rusher to achieve that number since Paul Stanton Jr. '16 scored 11 on the ground in 2014.
Weekly Roundup
Princeton 35, Yale 20
Dartmouth 41, Cornell 7
Columbia 23, Brown 17
Coming up: You had to ask? The 137th playing of The Game! On Saturday Harvard travels to New Haven to take on archrival Yale. Kickoff: Noon. The contest will be telecast on ESPNU and broadcast on WRCA 1330 AM, 106.1 FM, 92.9 FM-HD2, and WHRB 95.3 FM. The Elis are 5-4 overall and 4-2 in Ivy play, tied with the Crimson for third place. In a series that began in 1875, Yale leads 68-60-8 and has won three of the last four, including the most recent game, 50-43 (2OT) in 2019 at New Haven. With no Game in 2020 because of the pandemic, the schools chose to adhere to the long-predetermined home-field rotation rather than move the contest to Harvard Stadium.
| | | | | | | | | |
| --- | --- | --- | --- | --- | --- | --- | --- | --- |
| Penn | 0 | 7 | 0 | 0 |   | — |   | 7 |
| Harvard | 7 | 6 | 3 | 7 |   | — |   | 23 |
 Attendance: 8,094
THE SEASON SO FAR: follow Dick Friedman's dispatches.
Week one: Harvard 44, Georgetown 9
Week two: Harvard 49, Brown 17
Week three: Harvard 38, Holy Cross 13
Week four: Harvard 24, Cornell 10
Week five: Harvard 30, Lafayette 3
Week six: Princeton 18 Harvard, 16
Week seven: Dartmouth 20, Harvard 17
Week eight: Harvard 49, Columbia 21