Harvard Squared
A Verdant Cultural Retreat
Boston's Forest Hills Cemetery is a welcome respite from the world.
Before stepping through the Gothic Revival gates of Forest Hills Cemetery, tour guide Dee Morris tells visitors, "Take your troubles, anything that's bothering you, and leave them out here." The 275 acres of towering trees, winding paths, sculptures, and scenic overlooks are meant to be a source of contemplation, tranquility, and even joy. "It's an uplifting place," she adds. "I start breathing better as soon as I come in, looking around, getting a fresh view on life. No matter how bad things are out there, I am serene in here—and boy, does that help."
That's just the outcome envisioned by founder Henry A.S. Dearborn. In 1848 the botanist, mayor of Roxbury (then a separate city from Boston), and first president of the Massachusetts Horticultural Society, designated the hilly farmlands as a rural garden burial ground akin to Mount Auburn Cemetery, which he'd helped develop in Cambridge (see "Land of the Living," May-June 2017). He outlined Forest Hills' "winding avenues and shaded paths, observing how each should reveal some beauty while making available the gentle slopes or rugged steeps as resting places for the dead," reads an 1885 cemetery pamphlet, stamping "his own idea upon the cemetery in all the varied forms with which art has developed and increased the beauties of nature."
The American move toward picturesque cemeteries was born of practical public-health concerns, as Boston's population boom led to a dearth of space in church graveyards. But attitudes toward death were also shifting. Prior to the Victorian era, prosaic churchyards held headstones with admonishing epitaphs: "'Beware, you will be like me someday,' 'Repent,' or 'Snatched Before Her Time,'" says Morris. "These were not places you lingered. They served a purpose, yes, but it wasn't a happy one." As more romantic notions steeped in neo-classical philosophies and art began to supplant these puritanical beliefs, burials moved out from under the auspices of the church and into landscapes modeled after English country estates.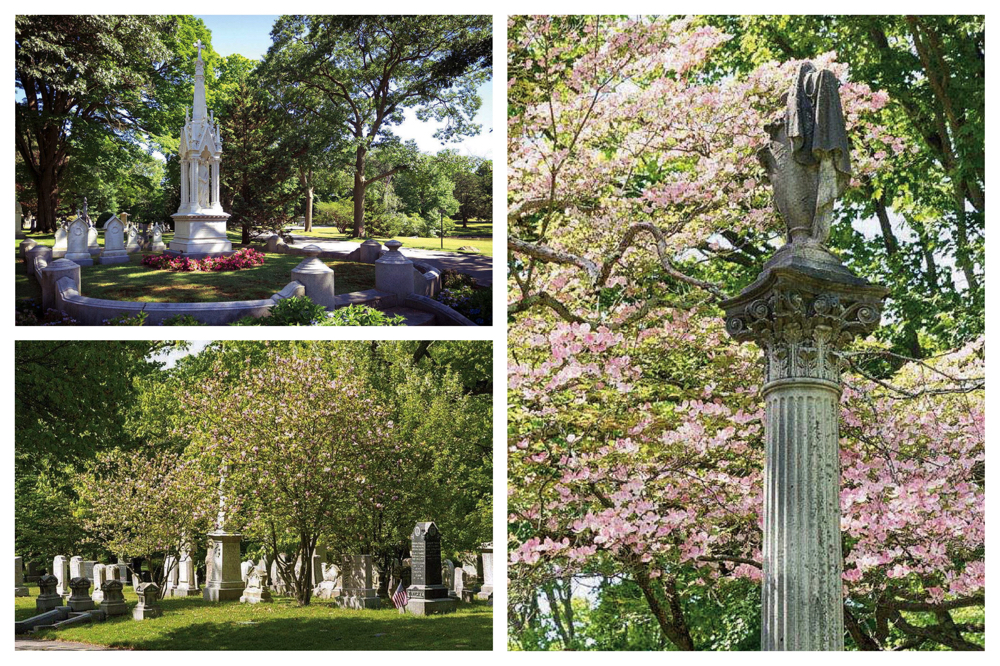 Photograph at bottom left courtesy of Forest Hills Cemetery, all other images by M.A. Kleen
In these expansive new spaces, nature reigned as a unifying force signifying beauty and spiritual renewal. And conceptions of death evolved from a frightening reprisal into the more soothing "eternal rest," as is implicit in the word cemetery itself, which derives from the Greek koimeterion, meaning "bedroom, or sleeping place." "But you were not just going into eternity as something dull, just snoozing," Morris says, "you are also going to be fulfilled and meet others in the afterlife, and cemeteries were where people living now could go, and know they will eventually be joining you again."
Both larger and less manicured than Mount Auburn, the rocky landscape of Forest Hills still features grand old trees—among them weeping hemlocks, mature oaks, and Japanese umbrella pines—and other domestic and exotic plants. Dearborn and cemetery superintendent Daniel Brims collaborated to install thousands of these specimens, many from Dearborn's own estate, and carved terraces into the rocky land to transform the farmland into a sacred space—and public park.
Lacking other Boston greenways (the rural garden cemetery later helped inspire Frederick Law Olmsted's Emerald Necklace), people flocked to Forest Hills. They strolled the paths with botanical names and picnicked on the banks of lovely Lake Hibiscus. They climbed knolls, enjoyed rockeries and flower beds, and communed with buried loved ones. Some 174 years later, visitors still rely on the landscape as a verdant retreat, but also a cultural resource. Historic walking tours, lectures, and other events highlight the diversity of funerary art and sculptures, plant specimens, wildlife, and stories of human history reflected there.
"It's not just an arboretum cemetery," says Greater Boston historian, tour guide, and author Anthony M. Sammarco, "but a place that I think connects people of all walks of life." Moreover, although Forest Hills initially did attract mostly upper- and middle-class people, "by the late nineteenth, and then into the twentieth century, the non-sectarian cemetery had people of radical religious beliefs and ethnic diversity not always seen in these rural arboretum cemeteries," he observes. "It still has an enormous burial area and has been able to attract many African Americans and Asian Americans. In many ways, it reflects the demographics of the metropolitan Boston area."
Sammarco's 2009 Forest Hills Cemetery covers the development of the land, as well as the stories of some of its 111,000 permanent residents. Grave markers, from the ostentatious to the understated, offer intriguing epitaphs, he notes, and "fascinating glimpses into the lives of the people." These largely forgotten biographies offer a rich resource for almost any facet of Greater Boston's history. Revolutionary War figures Major General Joseph Warren, a 1759 Harvard graduate, slain during the Battle of Bunker Hill, and the man he sent to warn patriot leaders of attack, William Dawes Jr., the less-heralded Midnight Rider of 1775, were reinterred at Forest Hills. "Paul Revere took all the glory, what can you say?" Morris says.
The cemetery's highest drumlin, Milton Hill, was developed in the 1910s and favored by what Sammarco calls "Boston's nouveau riche." A tour reveals business leaders, like Eben Jordan, co-founder of Jordan, Marsh & Co. department stores, and the pioneering financial journalist and investigator Clarence W. Barron (who helped bring down Charles Ponzi, inventor of the "Ponzi Scheme"), and early twentieth-century owner of Dow Jones & Company, which controlled the Wall Street Journal.
Writers like Anne Sexton, BF '62, e.e. cummings, A.B. 1915, and Eugene O'Neill also apparently chose the idyllic grounds, as did sculptors Pietro Caproni and Kahlil Gibran. More recent additions are Joseph "Wally" Walcott, owner of Boston's legendary Wally's Jazz Café, and Boston Celtics captain Reggie Lewis, who are among many African American activists, artists, and entrepreneurs buried at Forest Hills because it was one of the first cemeteries to allow blacks and whites to be buried alongside one another.
In 2009, retired Harvard librarian Sylvia McDowell began the "Finding Voices in the Silence" project, researching African Americans buried there, and created a database of more than 200 names. Among these are Harriet C. Hall, cofounder, in 1920, of the interracial Women's Republican Club, on Beacon Hill, and a 1944 alternate state delegate to the Republican National Convention, and David S. Nelson, the first black federal judge in Massachusetts. Others have since stepped up to continue adding to the database (for more information about the project visit the website of the nonprofit Forest Hills Educational Trust).
Morris and Sammarco incorporate some of this history, highlighting a diverse range of cemetery denizens, along with funerary art and architecture, during their thematic walking tours. This fall Morris delves into one of her favorite subjects: "Reaching into the Beyond: Forest Hills' Spiritualists" (September 25). Boston was a hub for the Victorian-era movement, according to Morris, and more than a dozen believers, including 1830 Harvard Divinity School graduate and author of spiritualist texts Allen Putnam, and popular medium Fanny Conant, are buried in Forest Hills. Many lived in the nearby South End, but also chose the cemetery because its leaders were "much more open to this philosophy than [those at] Mount Auburn." Conant even shared her plot with others—like protégée Minnie Tappan, and Luther Colby, editor of The Banner of Light, through which Conant held public seances—and her faithful earthly canine companion, Carlo.
For "those who believe that spirits can communicate with living men and women, death is but a door to another life," Morris notes. "We are able to reach out to those who have 'passed away' and often may seek their advice." But that wider concept of moving on to another place—bypassing the threat of purgatory—where the spirit regenerates, was another cultural aspect of the rural cemeteries' appeal.
Visitors today also share forms of kinship with and devotion to those who have died. They often leave token objects on plots of prominent people and inspiring artists, like Sexton and cummings (whose stone, interestingly, spells out his entire name, Edward Estlin Cummings, with proper capital letters). And toys and flowers are sometimes found on graves marked by particularly poignant statuary. Two of the most beloved marble figures at Forest Hills, Girl in the Glass and Boy in the Boat, commemorate children. Grace Sherwood Allen, 4, died of whooping cough in 1880, and is depicted in a buttoned dress and boots holding a wilting bouquet, whereas Louis Mieusset is shown with one leg dangling out of a rowboat. That is the moment in 1886, frozen in time, just before the little boy fell into the pond while reaching for his pet rabbit running along the shore, and drowned. Why his mother, heartbroken and ultimately penniless, chose to immortalize this last moment of her son's life, Morris wonders, is unclear. "But he's stepping out of the boat as if he was walking on water, so maybe that is what she had in mind."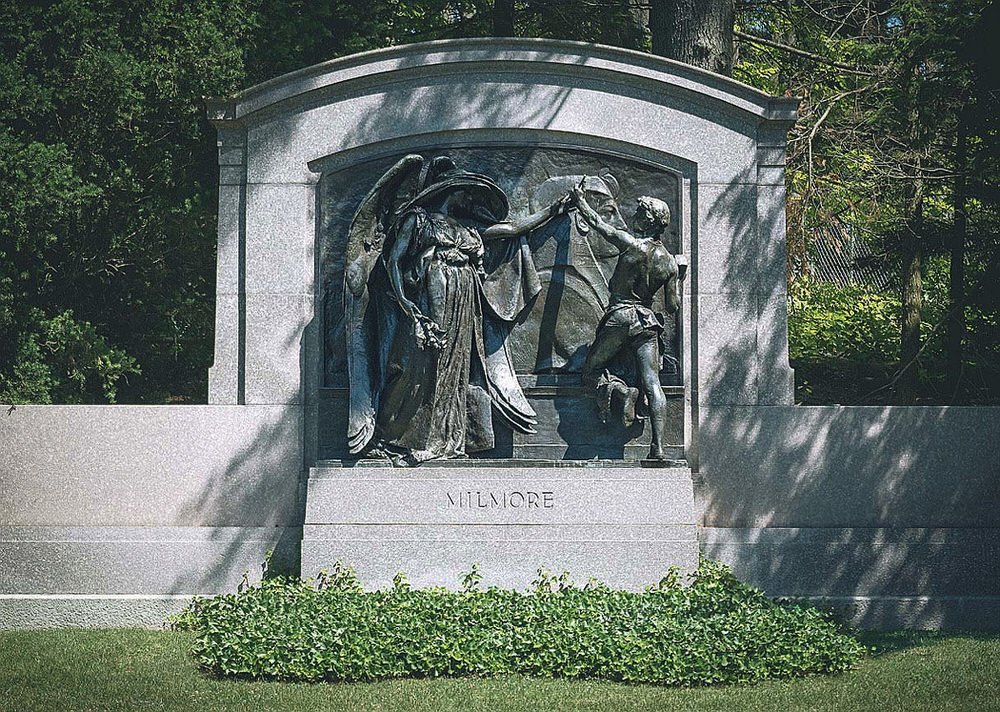 Photograph courtesy of M.A. Kleen
Self-guided tours of the cemetery are available daily, year-round. "The Contemporary Sculpture Path" covers more than 35 works erected in both the newer and older sections. The Sentinel (2003) honors artist Fern Cunningham's own family and African ancestors, while Resting Benches (2001), by Danielle Krcmar and Lisa Osborn, in the shape of neatly made twin beds, reflects the central role of beds throughout life. Neighbors (2006), by Christopher Frost, features ingenious cast-cement miniature replicas of the homes of some of the cemetery's permanent residents, like John A. Fox, builder of Provincetown's Town Hall, and the progenitor of Stick Style American architecture.
Of the most masterful art works, visitors cannot miss the stirring Death Stays the Hand of the Sculptor, by Daniel Chester French. French, best known for Washington, D.C.'s Lincoln Memorial (and on campus, of course, for his rendering of John Harvard), completed the sculpture in 1892 to memorialize his friends, the Irish immigrant sculptors and brothers Martin and Joseph Milmore, who both died young. Martin Milmore primarily created Civil War monuments, like the massive granite American Sphinx (1872) that proudly looms in Mount Auburn Cemetery, and the 70-foot-high Soldiers' and Sailors' Monument (1877), on Boston Common.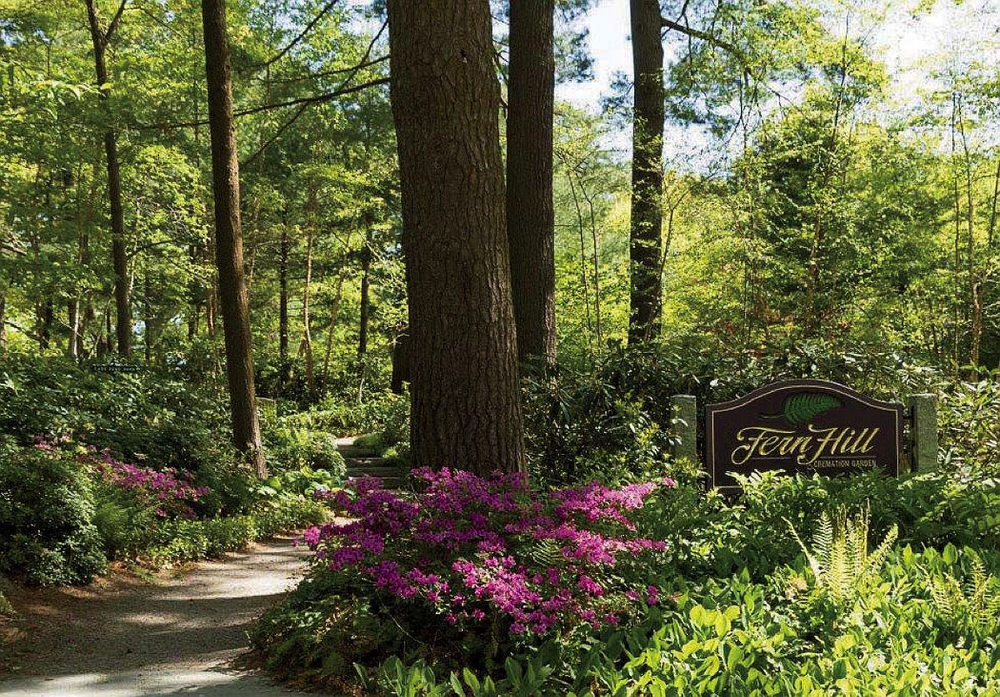 Photograph courtesy of Forest Hills Cemetery
In his Forest Hills homage, French portrays a sculptor in muscled, heroic classical form, working on the sphinx. A graceful angel of death, dressed in a flowing sleeveless gown, is extending her arm toward the artist, his chisel in hand, while holding a bouquet of poppies by her side. Tenderly, her hand reaches his, and their eyes are locked in this last moment. Part of the angel's message inscribed on a plaque reads: "Those who are sleeping have not really died/So do not fear/This gentle touch. I hold dark poppies here/Whose languid leaves of lethargy will bring/Deep sleep to you, and an incredible spring."
Though Martin Milmore died in 1883, at age 39, from cirrhosis of the liver, the statue memorializing him is not the grim reaper yanking this vigorous artist in his prime. Instead, the sculpture celebrates his lasting artistry—the carvings in stone he made while alive—as if the acts of creation and death are parallel forms of renewal. "From the Victorian view, cemeteries should soothe rather than frighten. You get a sense of people passing, yes, but that their spirits stay alive," Morris says, "and it makes you feel that you are not alone."
To learn more about this fascinating place, register in advance for walking tours with Morris or Sammarco. The spring and fall line-up includes:
"Notable Women," May 8: Impressionist painter Ellen Day Hale, temperance movement leader Mary Hunt, and author Susanna Rowson (who wrote the 1791 tale of seduction Charlotte Temple), among others.
"The Rural Cemetery Movement," May 22: American landscapes inspired by Pére Lachaise, in Paris.
"Little Known Personages," June 5: Controversial Boston Red Sox president John I. Taylor, sculptor Amelia Peabody, and Prussian immigrant Jacob Wirth, founder of Boston's landmark eponymous beerhall in 1868. (His large monument features the bronzed figure of Fame resting pensively beside a relief portrait of Wirth.)
"Answering the Call: A Variety of Forest Hills' Patriots," June 26: Warren and Dawes, The Civil War Soldiers' Lot, and abolitionists like author/historian William Cooper Nell, who fought for integration and was the first African American to serve as a federal civil servant (whose grave was unmarked until 1989) and William Lloyd Garrison, editor of The Liberator.