Honoris Causa
Four women and three men received honorary degrees during the graduation program on May 26 (including one in absentia, because he is engaged in humanitarian relief efforts in Ukraine). Provost Alan M. Garber introduced the honorands in the following order, and President Lawrence S. Bacow read the citations. Read more about each at harvardmag.com/honorands-22.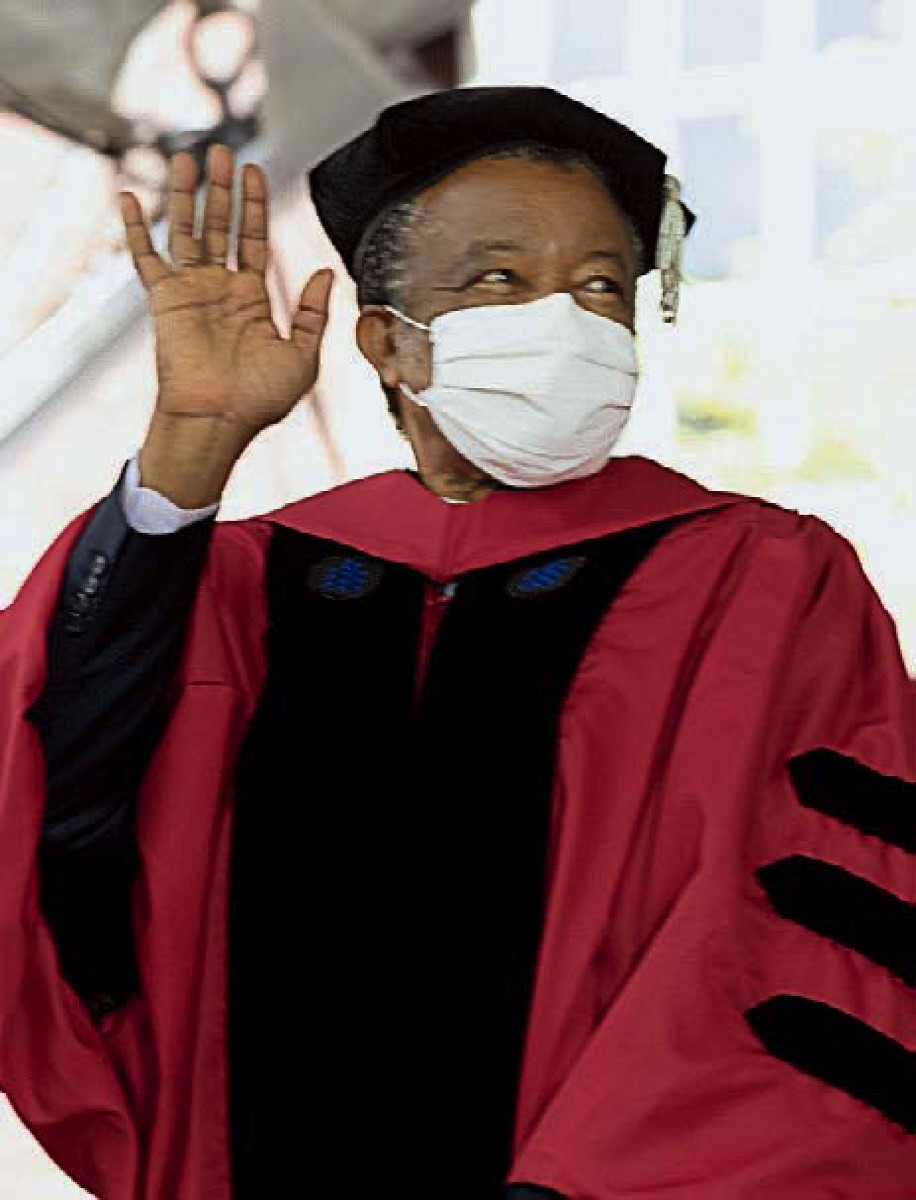 Jean-Jacques Muyembe-Tamfum, microbiologist, general director of the Democratic Republic of the Congo's Institut National pour la Recherche Biomédicale and president of the Congolese Academy of Science, a discoverer of the Ebola virus. Doctor of Science. Formidable in fighting a fearsome virus, resolute in pursuit of treatments and cures; from rainforests to research labs, in clinics and councils, his mind, heart, and voice have saved precious lives.
Vicki L. Ruiz, Distinguished Professor emerita of history and Chicano/Latino studies at the University of California, Irvine, the preeminent historian of Latina Americans. Doctor of Laws. Fabled founding mother of Latina studies, weaving spirit threads of memory into tapestries of tenacity; she draws stories of food workers, field hands, and flappers from out of the shadows and into the light.
Martha C. Nussbaum, JF '74, Ph.D. '75, RI '81, a polymathic philosopher and widely known public intellectual, the University of Chicago's Ernst Freund Distinguished Service Professor of law and ethics. Doctor of Laws. Ethicist, classicist, humanist, prolific, polymathic, profound; a worldly-wise scholar of capacious capabilities who illuminates our thinking on how one should live.
William Julius Wilson, Geyser University Professor emeritus, a sociologist who has explored the intersection of race and poverty, transforming public policy. Doctor of Laws. Casting light on the plight of the truly disadvantaged, discerning what happens when work disappears, a deep and dauntless scholar whose ideas enlighten policy, envisaging a bridge over the racial divide.
Gloria Steinem, feminist writer and political activist, cofounder of Ms. magazine, and of the National Women's Political Caucus, the Women's Action Alliance, Take Our Daughters to Work Day, the Women's Media Center, and Voters for Choice. Doctor of Humane Letters. Iconic champion of women's rights, serial entrepreneur of social change, whose ardent organizing and potent prose have engendered historic strides toward equality for all.
José Andrés, chef, restaurateur, food entrepreneur, and founder of World Central Kitchen, which provides humanitarian relief during natural and manmade disasters, including the current invasion of Ukraine. Doctor of Humane Letters. A Michelin man who never tires; a Picasso of paella whose tapas are tops; with plates of hope for people in need he taps food's power to serve the world.
The Right Honourable Jacinda Ardern, prime minister of New Zealand and the guest speaker. Doctor of Laws. Her leadership style sends a powerful message: it's key we be both strong and kind; inclusive and empathic, hopeful and pragmatic, she guides a proud nation with new zeal and vision.
You might also like
Viet Thanh Nguyen urges moving beyond the "sob story."
The context for Harvard Management Company's 2023 results
The Crimson outlasts the Bears in an Ivy nighttime shootout.
Most popular
The Faculty of Arts and Sciences announces disciplinary actions.
The Undergraduate learns about making knowledge mutual.
Boston's Piattini Wine Café 
More to explore
A test can identify these productivity-boosting personnel.
Ancient history professor studies coins, ceramics, and Zelda.
Anwar Floyd-Pruitt's wildly profuse art