The Long Game
A standout golfer's patient approach
Brian Ma '23 ['24], who this year recorded the lowest scoring average of any Ivy League golfer—and the best in Harvard's history—is quick to emphasize that he was never a prodigy. Unlike Tiger Woods, who was coached extensively by his father from the age of two, Ma's parents were not fans of the game. When his mother signed him up for a casual golf camp when he was four, it wasn't out of a vision of greatness but because golf was a non-contact sport. "She didn't want me getting hurt," Ma says, smiling. "I'm an only child, so she's very protective."
Ma—now an economics concentrator in Leverett House—liked it. For the next five years, he spent two hours every Saturday at the nearby San Jose Municipal Golf Course, whacking balls, eating pizza, and getting pointers from local instructors. (One of those coaches, Berne Finch, works with him to this day.) When his peers started playing tournaments a few years later, Ma did too. "Everything was spontaneous and not very deliberate," he says. "It was just all, 'Go with the flow.'"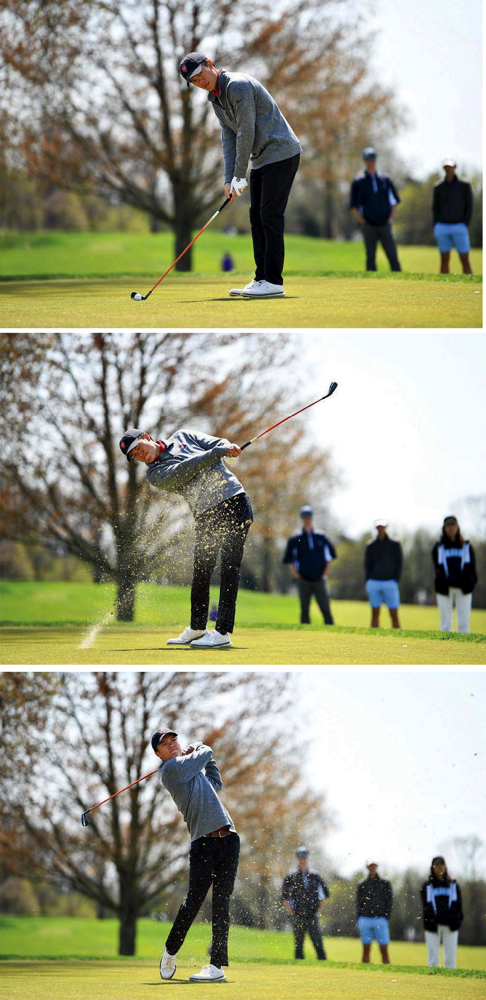 Photographs courtesy of Harvard Athletic Communications
At his first competition, age nine, his father served as his caddie. Ma's hands were not yet steady enough to hold the rangefinder device that measures distance to the hole, so his dad informed him of the yardage and handed him a golf club. "And I wouldn't even question it," Ma says, "I would just step up and hit it." He finished nine holes in 48 strokes—good enough for seventh out of nine participants. When he requested to play more frequent tournaments two years later, his parents said that he'd have to try a little harder so the cost would be worth it. "And I said, 'Okay, I'll do that,'" Ma recalls.
He embraced his perfectionist side in training. At the driving range, he would aim for a target—maybe a metal sign in the distance—and try to nail it. He spent little effort going for power; if he bought 100 golf balls, at least 80 would be lofted at that one spot with a pitching wedge. Supreme accuracy earned him a satisfying clank. "And that pleased me," he says. "I found that a lot more fun than trying to hit my driver as far as possible."
Accuracy became Ma's defining trait. He rarely missed fairways on drives and hit green after green on approach shots. But the precision came at a cost. "Because I was hitting it short, I also wasn't making a lot of birdies," he says. Birdie attempts were often chip shots instead of putts. "So it was just par, par, par, par, par, par, par, bogey." To start winning, he'd need strength, too.
Ma worked with his coach on trying to distance himself from his perfectionist tendencies. The progress was slow—to this day, getting "stronger, bigger, and faster" while maintaining his accuracy is a top priority—but Ma enjoyed the gradual evolution. "Golf is a very slow game," he explains. "Because of its nature, you're going to see slower progress." Throughout high school, he played in tournaments year-round, once every two or three weeks, and practiced on his own or with a coach nearly every other day. He doesn't think his approach is special, only his consistency. "A lot of golfers want to see progress quickly," he explains. "But if you stick to your practice routine, over X amount of time, you will start to see a little bit of improvement. I think that's what happened for me."
The frequent competitions also helped him improve his mental game. Through trial and error, he found that getting mad and hurling a few golf balls usually didn't result in improved play. He worked with his coach to understand when a bad shot was his fault and when it was out of his control—like if a gust of wind blew a well-struck ball back into the water. "You have good breaks and you have bad breaks," Ma explains. "Eventually, everything will average out." In 2017, he had one of his good breaks, when at 16 he became the third-youngest golfer ever to win the San Francisco Championship—his biggest tournament win to date. Success came more slowly in American Junior Golf Association tournaments. Upon high school graduation, Ma had a few top-five finishes but no wins. Entering his second-to-last junior tournament having already committed to Harvard, the stakes were low. Feeling little pressure and reaping the rewards of a long, consistent training regimen, he won the penultimate tournament of his junior career, and the next week, he won his final one, too.
After a strong, albeit COVID-interrupted, first year on the Crimson golf team, Ma took a leave during his sophomore year and honed his play. Though the world was hectic, his golf game stayed steady. Throughout 2021, his swing didn't need any adjustments. Right before getting back on campus to begin his sophomore year, he placed second in the stroke-play portion of the United States Amateur Championship, the most prestigious amateur tournament in the country, before getting knocked out in the first round of match play.
But the game of golf rarely flows so easily. A small hitch in the mental game can disrupt a swing. A one-degree disruption in launch angle can be the difference between a hole-in-one and a water hazard. The situation can spiral from there. "It's always important to stay humble," Ma says, "especially when you've had a year and a half without having any struggles in your golf game." Lots of people can play a hot round or two. The best golfers are the ones willing to adjust when something is off—no matter how well it had worked in the past.
When Ma returned for his sophomore year in 2021, he continued his hot streak, placing in the top three in all four events and earning his first collegiate win in the Lehigh Invitational. And while he began the spring with two below-expectations tournaments—43rd and 54th in back-to-back showings—Jones head coach Kevin Rhoads expressed little worry that the rough patch would continue. He pointed out that some players can execute, but don't know what to do when things go wrong. "And I would say Brian understands more of the 'whys,'" he said. "He tends to work on the right stuff, and he loves it."
During April, Ma was making one of countless adjustments throughout his career: trying to stand taller and move his center of gravity over his toes while he swung. And, as usual, he was trying to counteract a core tendency. In the moments before striking the ball, he was gripping the club too tightly, trying to guide the club face at just the right angle to hit a pristine shot. The solution was to relax and let physics do the work. The accuracy would come if he just trusted the club's momentum. "I might want to go back to my old habits…but in the long run, they won't be good for me," Ma says. "The results won't be good for now, but if I keep sticking to this change, eventually, it'll be what I want." 
You might also like
Viet Thanh Nguyen urges moving beyond the "sob story."
The context for Harvard Management Company's 2023 results
The Crimson outlasts the Bears in an Ivy nighttime shootout.
Most popular
The Faculty of Arts and Sciences announces disciplinary actions.
The Undergraduate learns about making knowledge mutual.
Boston's Piattini Wine Café 
More to explore
A test can identify these productivity-boosting personnel.
Ancient history professor studies coins, ceramics, and Zelda.
Anwar Floyd-Pruitt's wildly profuse art