COVID-19
Tracking Omicron on Campuses
6.9.22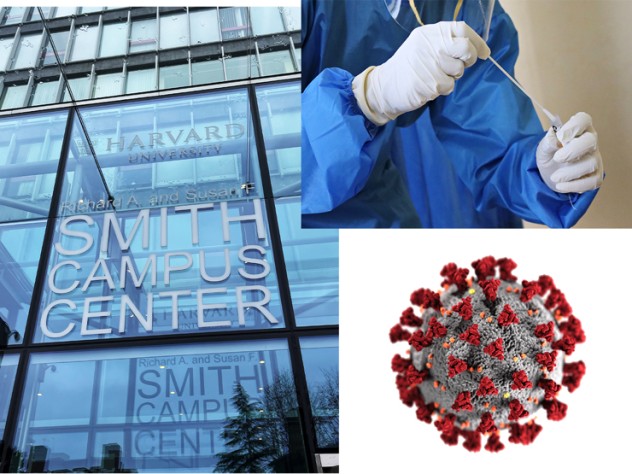 Montage, photograph of Smith Campus Center by Niko Yaitanes/Harvard Magazine; all other images by Unsplash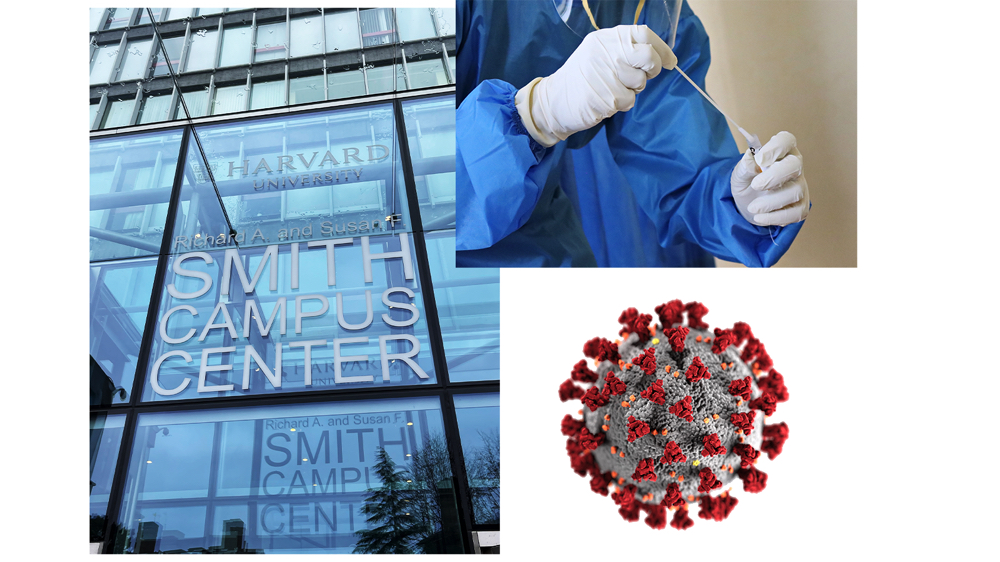 Montage, photograph of Smith Campus Center by Niko Yaitanes/Harvard Magazine; all other images by Unsplash
For many members of the Harvard University community during the pandemic, dropping off a COVID-19 test a few times a week was just an item on their to-do list. If a testing date was missed, a test-tracking app would even send an alert directly to an undergraduate's phone. But what Harvard affiliates may not have known was that their nasal swab results were used to provide critical public health information pertaining to the spread of the Omicron variant.
A team of researchers at Harvard Medical School (HMS) set out to determine when, and how exactly the Omicron variant became so widespread. By analyzing area university screening samples of SARS-CoV-2, they were able to understand how quickly Omicron surpassed Delta, and the mechanisms of transmission. They were then able to provide this information to local hospitals and public health departments a week or two before the new variant spread elsewhere in the state, helping officials prepare for the next surge in COVID-19 cases.
Omicron's rapid spread did present some difficulties. After the severe uptick of cases in mid-December 2021, researchers scrambled to determine which variant was responsible. The standard procedure for identifying a variant involves sequencing the entire viral genome in a sample, a process that takes seven to 10 days to complete. Many samples languished in backlogged genetic sequencing labs, weeks behind the timeline necessary to understand the prevalence of Omicron.
Nicole Welch, a Ph.D. candidate at HMS and the Broad Institute at MIT and Harvard, developed a sort of sequencing shortcut. Instead of sequencing the whole genome, the technology hones in on the specific genetic mutations that differentiate Delta from Omicron. Using this method, researchers found they could distinguish one variant from the other in a few hours.
Their study, published May 25, 2022 in Clinical Infectious Diseases, revealed that Omicron spread fast—it accounted for 90 percent of positive cases just nine days after it arrived in a university community, becoming prevalent on campuses almost one to two weeks before it became dominant at the state level. The study also revealed that patients carrying Omicron had a lower viral load than those with Delta, indicating Omicron's rapid transmission rate was driven by characteristics of the virus itself, rather than the amount of virus in a patient. 
Hospitals accessing this shared data were able to pause elective surgeries to better prepare for the surge in COVID-19 cases.
Two authors of the study, Michael Springer, associate professor of systems biology in the Blavatnik Institute at HMS, and Brittany Petros, an M.D.-Ph.D. candidate at HMS and the Broad Institute, note that universities are optimal settings to profile Omicron. Asymptomatic testing is key, because the data come from the whole community, not just patients who sought clinical care. Universities employ many local workers, too, which can help reveal how the virus is affecting the surrounding area.
Springer's lab is working on developing large-scale diagnostic panels that will make it cheaper and easier to analyze SARS-CoV-2 and other pathogens. Petros, meanwhile, is exploring whether it is possible to sequence SARS-CoV-2 samples taken with at-home rapid antigen tests, which will become more important as testing sites shut down.
Both Springer and Petros emphasize the importance of collaboration between research institutions and universities in the surveillance of emerging outbreaks and viruses. Without the data collected from Harvard and neighboring universities, they say, detecting and responding to Omicron's rapid spread would not have been possible.