Public Health Messaging in a Pandemic
How much intervention is too much, or not enough, when addressing a politically and socially diverse population?
On June 21 via Zoom, a panel of five medical and public health experts discussed the last two years of the pandemic—the successes and the failures—from academic, scientific, public health and policy perspectives. These researchers and clinicians, along with moderator Bruce Walker, director of the Ragon Institute of MGH, MIT and Harvard, are all members or co-leaders of the Massachusetts Consortium on Pathogen Readiness (MCPR), an effort led by Harvard Medical School to integrate the pandemic into current and future understandings of public health. 
Each panelist shared their perspective on topics ranging from clinical trials and therapeutics to improving pandemic and crisis management. But the area that most engaged the experts and their guests (journalists representing national and local media) did not pertain directly to the science. Instead, after the brief formal presentations, the conversation turned to vaccine messaging.
"Scientists are not very good at PR," said associate professor of epidemiology William "Bill" Hanage, co-director of the Center for Communicable Disease Dynamics at the Harvard T.H. Chan School of Public Health. "We do science. They're quite non-overlapping skill sets."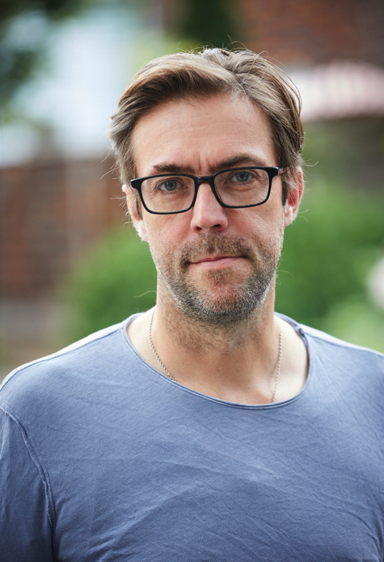 Photograph courtesy of Harvard T.H. Chan School of Public Health
The disconnect between the science and public messaging—between what is happening, and what is thought to be happening—is significant, he continued. One way in which misinformation has fueled mistrust is via the public perception of how many lives have been lost versus how many have been saved. "It can feel as if everything is hopeless, that people stayed home and people got all these shots, and still, over a million Americans died," said Hanage. "Let me be blunt: it could easily be far, far more."
The barrage of media headlines over the last two years highlighting "death tolls" created a spectacle of climbing numbers. These may have fueled the notion that public health measures weren't effective, when they most certainly were.
Still, he acknowledged, some things could have been done much better. "We saw a severe respiratory disease outbreak overseas, which should have led us to take action several months before we actually did," he said. "Banning large gatherings, recommending mask use. But the problem is, nobody wants to be wrong" about such restrictive measures.
"We have to just activate these measures and not worry too much about whether we're going to be wrong," echoed Jeremy Luban, professor of molecular medicine, biochemistry and molecular pharmacology at UMass Chan Medical School and co-lead of MCPR's viral variants program.
But because taking preventive steps at an early stage requires the cooperation of the public, deciding what to do and when is not always straightforward. Citizens must trust scientists and government public health officials when they are told to mask, practice social distancing, or get vaccinated.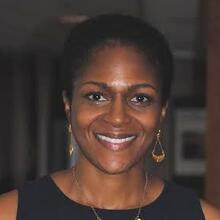 Photograph courtesy of Harvard University Center for AIDS Research
But invariably, these messages are received by certain populations differently than others. "My feelings are conflicted here," said associate professor of medicine and of global health and social medicine Bisola Ojikutu, executive director of the Boston Public Health Commission. "Clear and transparent messages tended not to reach, and still tend not to reach, some of our most vulnerable populations."
"You're right," Hanage agreed. "Thing is, we need to bear in mind the asymmetry of potential consequences" for the different groups who will be affected. "And, you know, a pandemic is a pretty big asymmetry."
Ojikutu encouraged the panelists to consider what it would mean to take more preemptive action ahead of the next pandemic, and the challenges that would present. For example, as of April 2022, black Americans have the lowest vaccination rate (57 percent have received at least one dose of vaccine), according data from the Kaiser Family Foundation. By comparison, 63 percent of white individuals have received at least one dose—while 85 percent of Asians have done so. These numbers point to a rather obvious but important caveat in this discussion: vaccine hesitancy and mistrust is highly complex. "Vulnerable" populations are any individuals facing an economic or social disadvantage in society, or those whose vaccination status is related to personal politics or external factors such as unemployment or poor access to education. All contribute to mistrust.
"People are calling for this shift away from talking about race and ethnicity, but really talking about anti-racism, and thinking about structural inequity," Ojikutu continued. "We need to be looking at housing and education and residential segregation and the criminal justice system. These other pieces have led to health disparities and mistrust in this country."
In a society that systematically neglects and undervalues the lives of black, indigenous, and Latinx individuals, how can scientists, whose goal is to keep people from dying, play a positive role in what is essentially a non-existent public health system? That question is especially pertinent when government officials are responsible for conveying such information to a highly diverse population.
"Oftentimes, we're talking to ourselves," Ojikutu pointed out. "These decisions [about the timing and scope of public health interventions] aren't made by academics, they are [made] at the state level. We have to keep this in mind."
The discussion located the main conundrum for academic researchers and government officials going forward: how to weigh the lethal consequences of not intervening soon enough against growing public skepticism in the wake of restrictive measures. Complicating this picture is the fact that measures can seem overdone in retrospect because they have been effective. Finding the balancing point, the panelists agreed, will always be difficult.
You might also like
Harvard officially installs Claudine Gay, its thirtieth leader.
A half-dozen symposiums feature Harvard research on AI, climate change, inequality, and more
A musical and poetic "prelude" to Claudine Gay's installation festivities
Most popular
President Bacow on humility, Prime Minister Jacinda Ardern on democracy and social media, and Attorney General Merrick Garland on civic engagement and threats to U.S. democracy
The new police chief introduces a new policing culture.
Recent books with Harvard connections
More to explore
A test can identify these productivity-boosting personnel.
Ancient history professor studies coins, ceramics, and Zelda.
Anwar Floyd-Pruitt's wildly profuse art