John Harvard's Journal
Commencement Confetti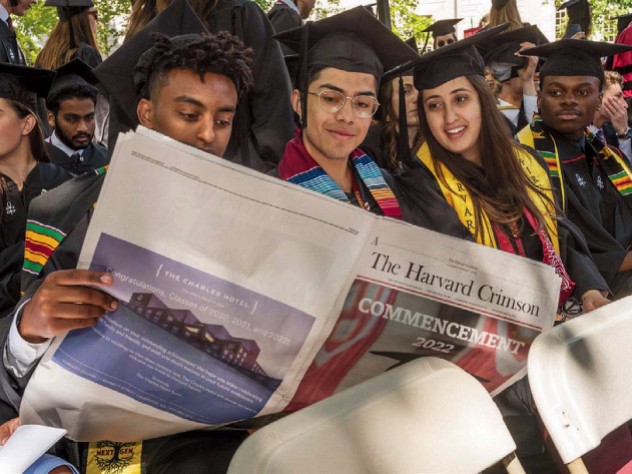 Absent a printed Harvard Gazette, the Commencement crowd devoured The Crimson.
Photograph by Jim Harrison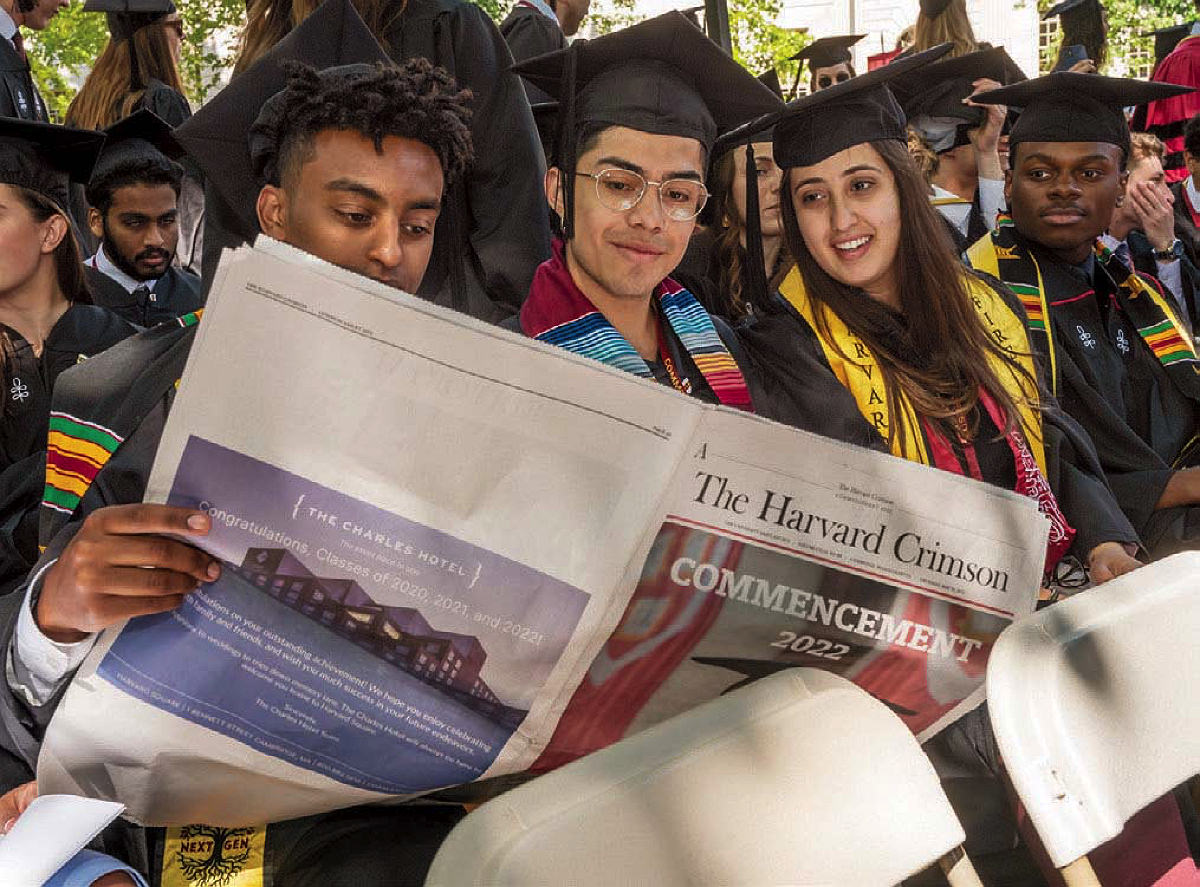 Absent a printed Harvard Gazette, the Commencement crowd devoured The Crimson.
Photograph by Jim Harrison
Crimson 1–News Office 0
The Harvard Gazette went online long ago, but Harvard Public Affairs & Communications has continued publishing a souvenir edition to distribute each Commencement morning: a record of the year, and something for parents and guests to do while queueing and awaiting the exercises. No more: print is finis. Of course that means ceding the field to the enterprising Crimson, which hands out a gargantuan issue (two broadsheet and three tabloid sections this year), full of congratulatory advertising—and of the students' take on the University's year that was. Harvard thus ceded the propaganda grounds to the student journalists. Sample contents: "graduate students say power-based abuse by faculty pervades advising relations." Note to the message-minders: don't say you weren't warned.
Style statements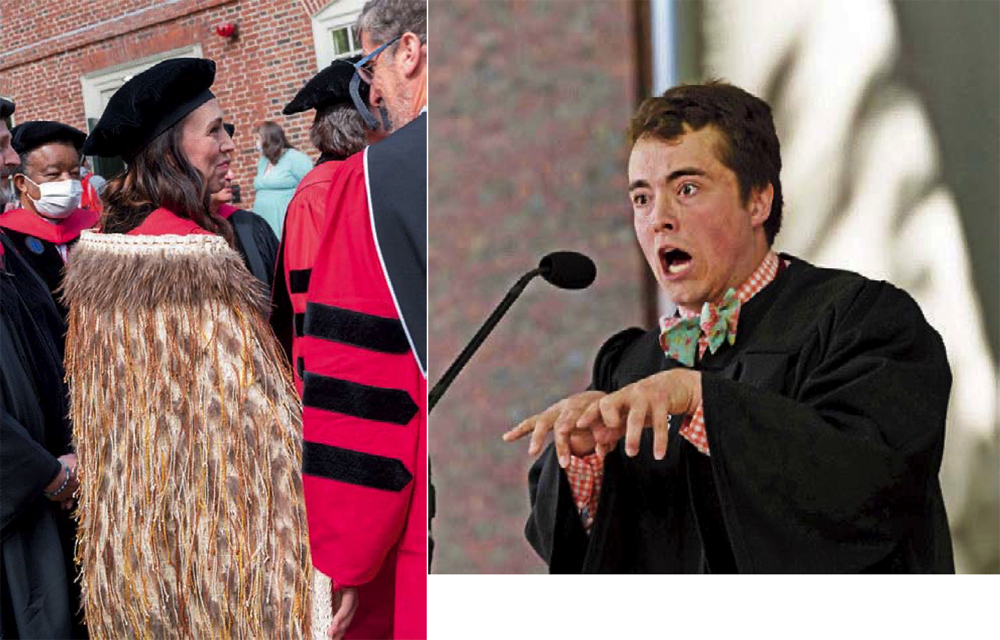 Photographs by Jim Harrison
Only a confident head of state like New Zealand's prime minister Jacinda Ardern can carry off the look: a kakahu—a Māori cloak woven from muka, the fiber extracted from harakeke (flax), with dyes from tree bark and kiwi feathers, gifted to her from 250-plus women in 2019—wrapped around her honorand's doctoral gown. But in an otherwise sartorially subdued year, Benjamin Porteous '22—maybe the most animated, expressive Latin Salutatorian since the Roman Forum—showed his way with the threads, too, in a red-and-white gingham shirt and florid green bowtie. He'll stand out at future East Asian studies conferences, his chosen field.
Keepsake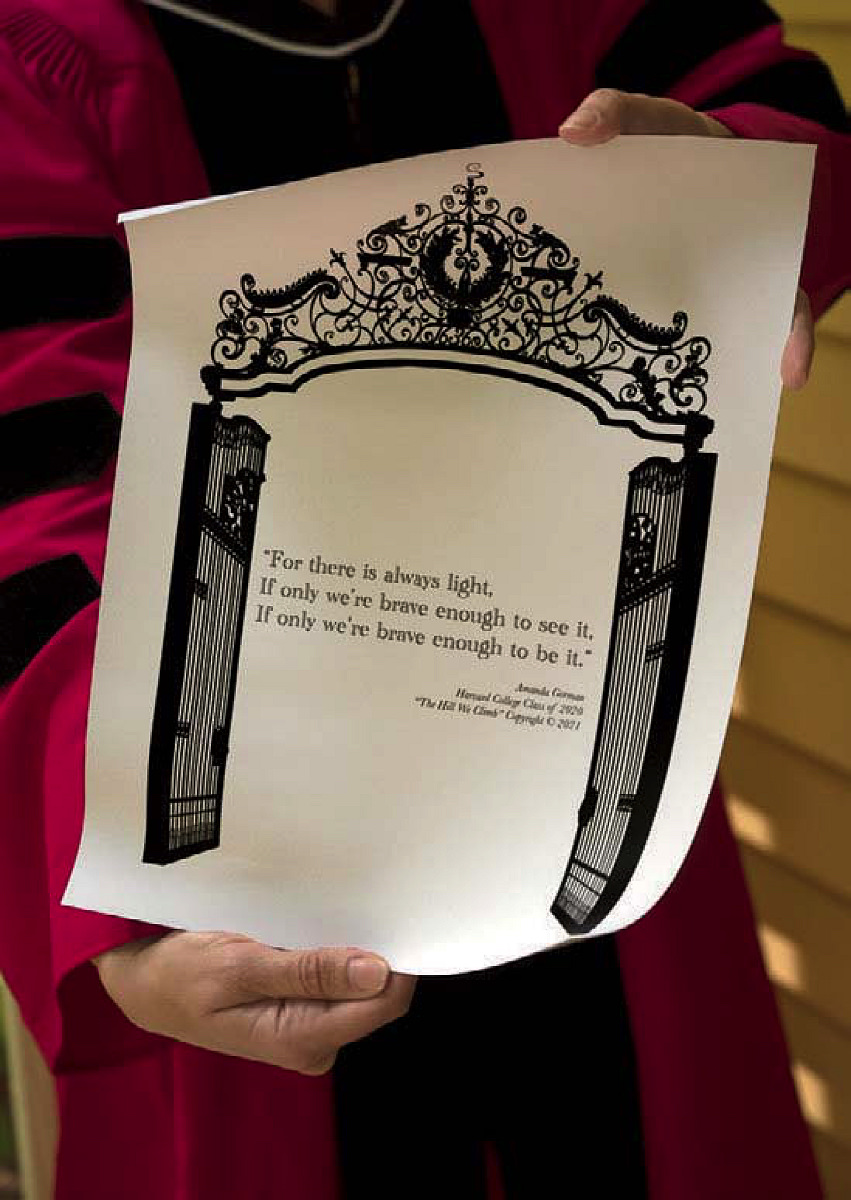 Photograph by Jim Harrison
What to give youngish alumni returning to campus to have their degrees confirmed on May 29, who already received their diplomas by mail? At Sunday afternoon House ceremonies, the College conferred on members of the classes of 2020 and 2021 a ribbon-tied scroll with an image of Johnston Gate framing the closing lines from "The Hill We Climb," the poem Amanda Gorman '20 wrote for and delivered at President Joe Biden's inauguration.
Year of women: the men
In a Commencement season that showcased women—professors Theda Skocpol and Danielle S. Allen and Boston mayor Michelle Wu at Phi Beta Kappa and the Graduate School of Design and College Class Days, respectively; perhaps for the first time, two women government leaders as headliners (Prime Minister Jacinda Ardern, and Moldova's president, Maia Sandu, at the Kennedy School); former U.S. Attorney General Loretta Lynch at the Law School; honorand Gloria Steinem; and others—the Radcliffe Institute's Fay Prize for the most outstanding undergraduate theses went to three men: Zelin Liu (classics and history); Ethan Seder (engineering and applied sciences, who invented a bicyclist's airbag); and Benjamin P. Wenzelberg (English, for an operatic "reimagining" of James Joyce's Ulysses).
In bloom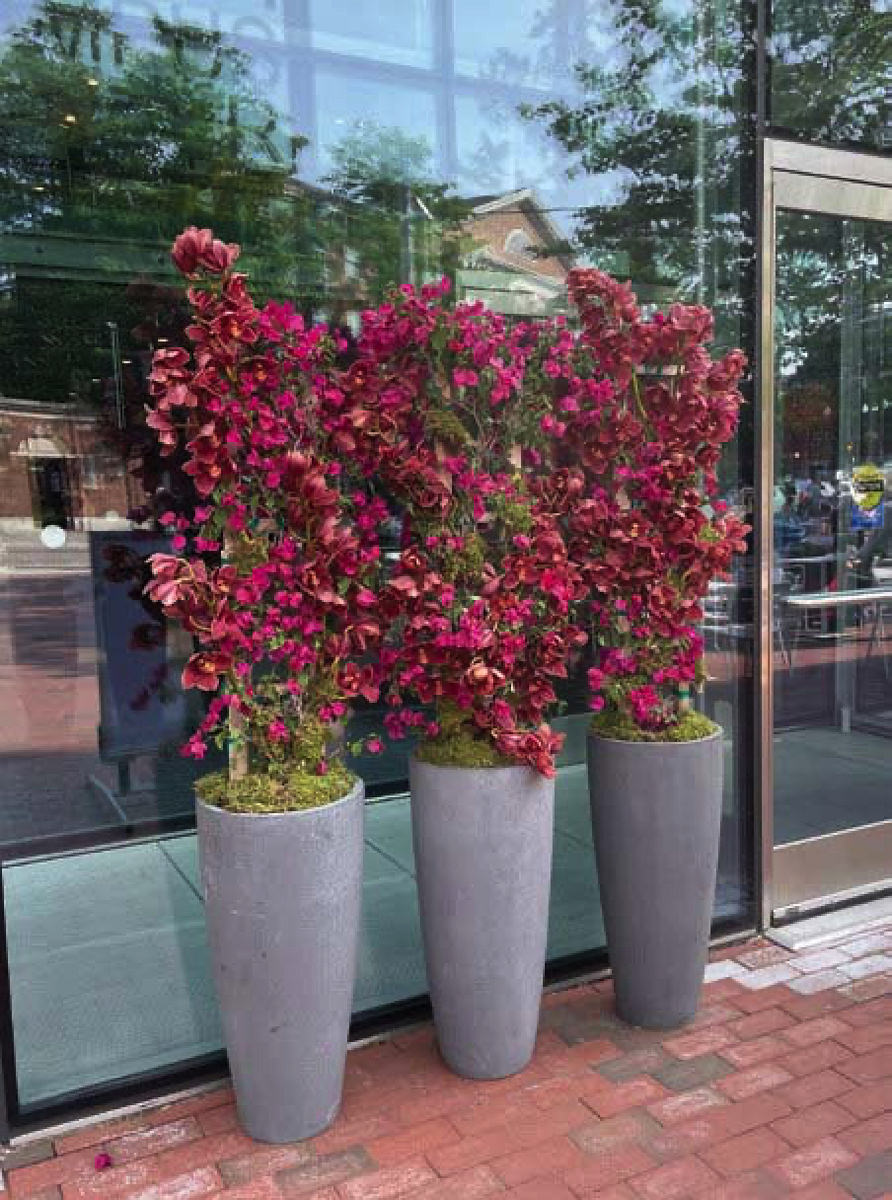 Photograph by Jennifer Carling/
Harvard Magazine
The remade Smith Campus Center, né Holyoke, presents a glassy, boxy mien toward Massachusetts Avenue. But someone in authority splashed out for some spectacular orchids, in an appropriate hue, during Commencement. Some more of that, in planters, to go with the swaths of paving and the canopy of thinnish plane trees overhead would be a nice touch, year-round.
By the numbers
Harvard bestowed 8,870 degrees on May 26: 1,505 in the College (1,458 A.B., 47 B.S.); 1,332 in the Graduate School of Arts and Sciences (721 Ph.D.'s, and the rest master's of arts, science, and engineering); 1,479 in the burgeoning Extension school (192 at the bachelor's level and 1,287 master's of liberal arts in extension studies); 960 M.E.s plus 29 educational doctorates; 845 M.B.A.s; 611 J.D.s plus 222 master's and doctoral degrees in law; and so on. With the pandemic persisting, it is good to know that the University produced 311 more master's of public health graduates. As of May 18, some 9,123 members of the classes of 2020 and 2021 had registered for their May 29 celebration.
Seniors, surveyed
This year's Crimson senior survey (answered by just 493 respondents, 31 percent of the class) showed a strong resemblance to prior editions occupationally: despite the disruptions of the pandemic, lots of Harvard graduates are marching off to jobs in consulting (nearly 23 percent of respondents), finance (18 percent), and tech (17 percent), followed by the academy and research (9 percent). Nor are they spreading their wings that far: 27 percent are bound for New York, 21 percent Massachusetts, and 12 percent California. Those heading outside the United States numbered about 13 percent of respondents.
Baby brigades

Photograph by Susan Bennett
With all the understandable focus on the undergraduates on the cusp of entering "the fellowship of educated individuals," Harvard has a lot more graduate and professional students. Many of them, already launched on their careers, are also more advanced in family matters— and never more so than this May, when the classes of 2020 and 2021 have added another annual ring or two. So, numerous immediate family members are involved in Commencement, including wee ones. The event planners having thought of everything, this was the scene at John F. Kennedy Park as the crowds arrived Sunday for the Harvard Kennedy School celebration.
That was then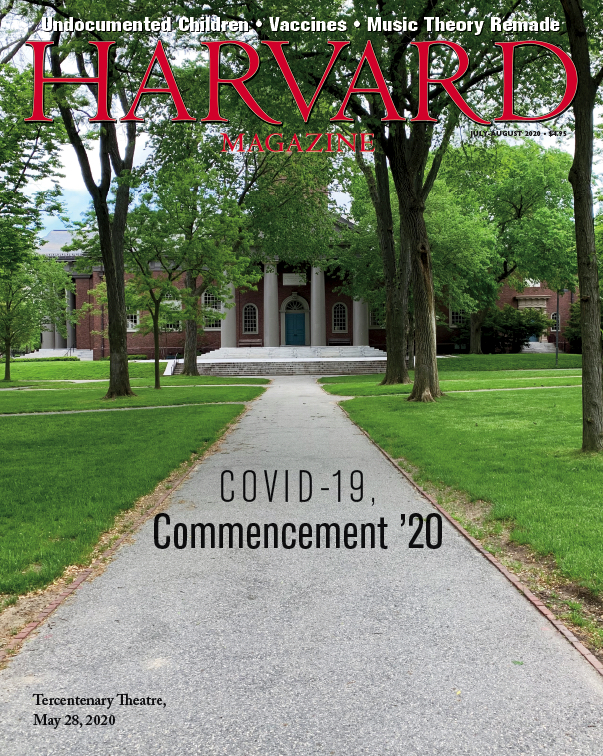 May 28, 2020, on that year's July-August cover; compare to this issue's cover, on May 26, 2022.