Montage
Beasts of the Big Screen
Jurassic World Dominion screenwriter Emily Carmichael on scripting Hollywood sci-fi epics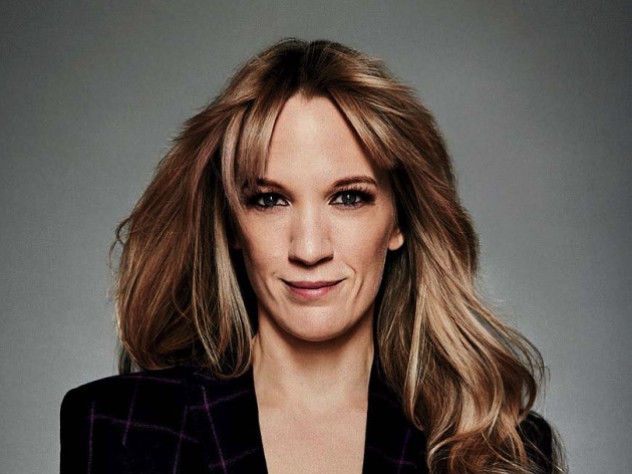 Photograph by Art Streiber for Universal Pictures and Amblin Entertainment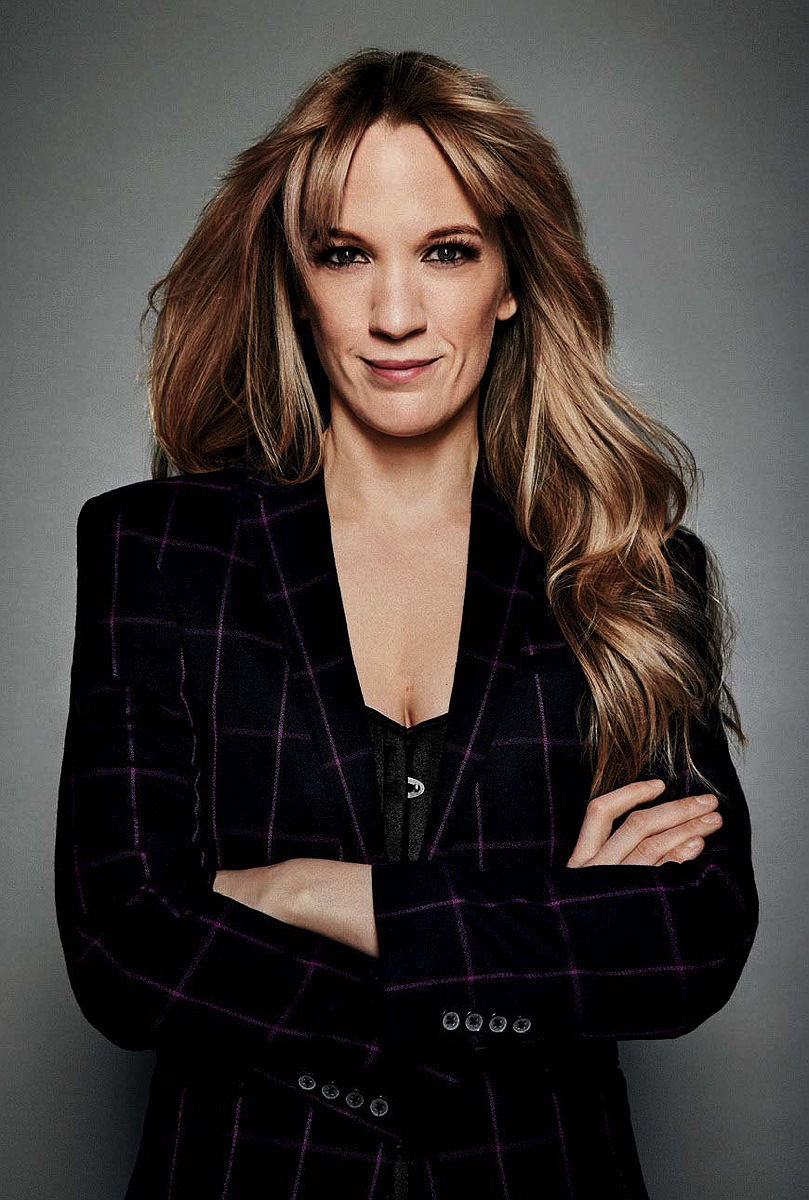 Photograph by Art Streiber for Universal Pictures and Amblin Entertainment
"We wanted to see dinosaurs in places we've never seen them before." It's not the sort of mission statement you hear every day, especially since the creatures in question have been extinct for millions of years. But Emily Carmichael '04 is talking about Jurassic World Dominion, one of the summer's most anticipated movies, which she co-wrote with its director, Colin Trevorrow. Carmichael recounts her ambitions for the story with an imaginative abandon: "We wanted to see them in snow and ice. We obviously wanted to see them in cities." It's hard not to recall Orson Welles's famous quote: making movies is "the best electric train set" anybody could wish for.
The dinosaurs that thunder through frozen forests or dive-bomb flying planes in Jurassic World Dominion are the products of hundreds of people working at all levels of the studio production. But first a screenwriter has to imagine what will happen when a dinosaur gallops after a motorcyclist through the streets of Valletta, Malta. Carmichael's chosen canvas is the action-adventure film. During the past several years, she's written screenplays for or contributed writing to Pacific Rim: Uprising (the second film of a science-fiction franchise involving sea monsters and giant robots), Black Hole (a remake of the late-1970s space saga), the ninja epic Naruto, and this latest Jurassic entry.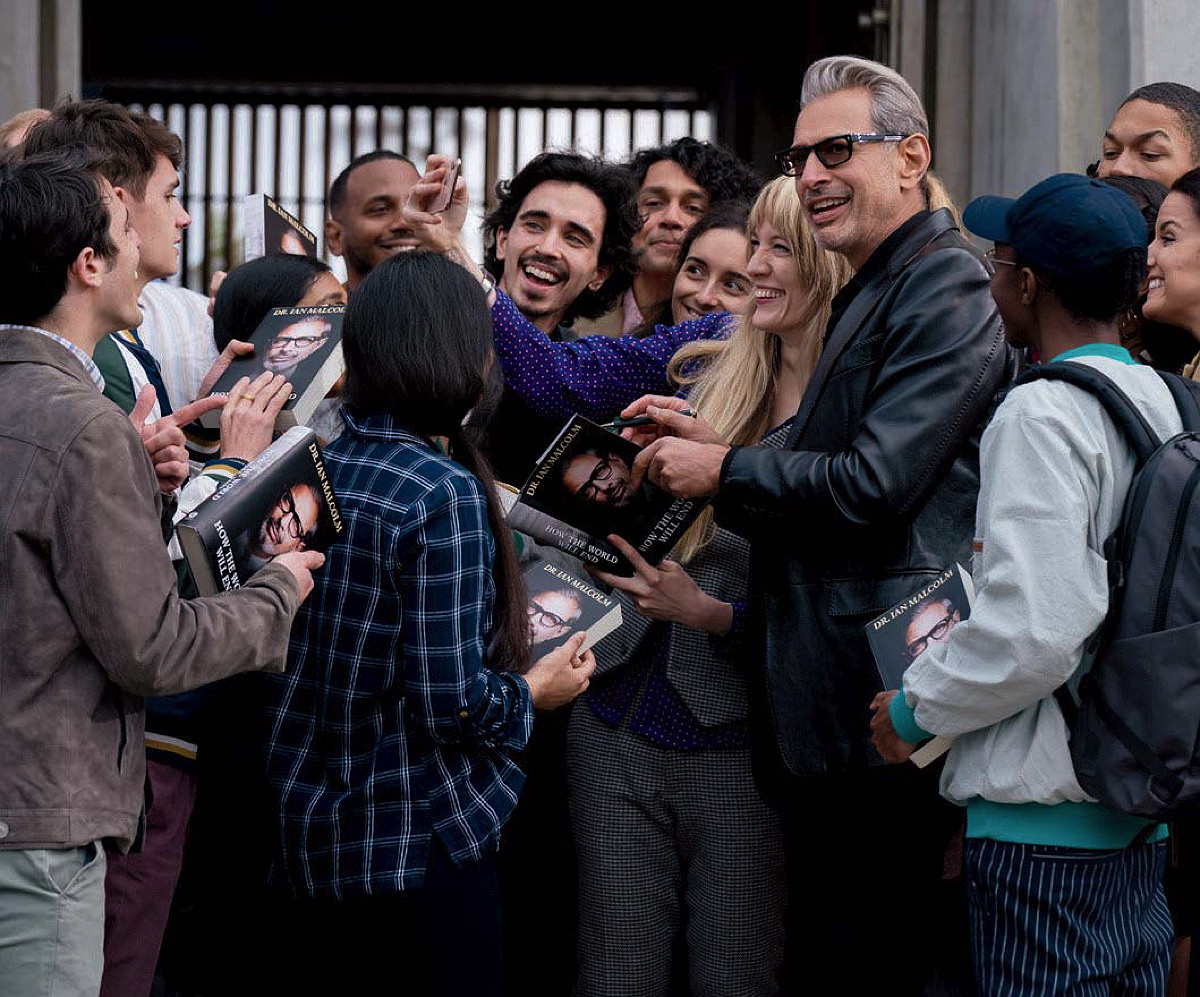 Jurassic World Dominion.
Photograph by John Wilson/Universal Pictures and Amblin Entertainment
In such a competitive industry, Carmichael's break came through a fortunate turn of events. A film graduate of New York University's Tisch School of the Arts, she had assembled an extensive portfolio in independent filmmaking, including live-action and an animated short series—The Adventures of Ledo and Ix—done in the 8-bit visual style of retro video games like The Legend of Zelda. A friend introduced her to Trevorrow, who had made a splash by getting hired to direct Jurassic World (2015) after making his indie feature Safety Not Guaranteed. "I had a script that I was working on at the time called Eon"—about a thief-for-hire who discovers that his next target is a supernatural girl— "and Colin said, 'Can you send me Eon? I'm going to send it to a friend,'" Carmichael recalled. "And the friend was Steven Spielberg. Steven read it overnight." That's a golden ticket in terms of Hollywood introductions, and the gesture lit the way for new writing opportunities (including Jurassic World Dominion, for which Spielberg was an executive producer, and another film still in development, Powerhouse).
A visual and environmental studies concentrator at Harvard, Carmichael always loved writing, drawing, painting, and sculpture, but drama introduced a new world. "I was in Jamaica Kincaid's writing class, and it was kicking my ass. One day, she said, 'Instead of writing fiction, I think you would be better at playwriting.' Which did not feel like a compliment at the time," she jokes. She wrote a play called The Impossibles, about teachers deciding the futures of two holy-terror third-graders, and was captivated by directing actors. And then there was puppet Shakespeare: Carmichael and Moss Bittner '03 (now a viticulturalist in Oregon) directed a version of the Scottish play with handmade puppets for the Adams House Drama Society. "Macbeth the Puppet Shakespeare turned out to be one of the most meaningful and interesting things that I did. It was so fun."
The beasts of Jurassic World Dominion are another scale entirely. But the movie started out with the nitty-gritty of a screenwriting collaboration: Carmichael and Trevorrow plotting out a forty-odd point outline. "We are really animated and we do a lot of hand gestures. There's a lot of... 'And then he's like, and then she's like, and it goes like.'" Carmichael then did the first pass on writing every part of the movie "except for one or two action sequences." (Trevorrow called dibs on a climactic giganotosaurus attack.) It's an orchestration, on paper, of the explosion of events viewers will see onscreen. "As the screenwriter of an action-adventure movie, you are spending a lot of your time dealing with the equipment, the vehicles, the personnel, and the action incidents that are comprising the set pieces," she says. Thanks to the use of animatronics, Carmichael could count on seeing some of her action concepts unfold in the flesh, so to speak, when she visited the set.
On some films, Carmichael might make a drawing to specify something. "I drew some robots for Pacific Rim. I drew the spaceship for Black Hole. The plot kind of turned on it, because the shape of the ship turned out to be determinative of what happened in the ending." There's also research involved in gleefully extrapolating plots from science—learning about genetic technology and "hyper-inheritance," or listening to Trevorrow quiz a paleontologist about the right dino species to cast ("We need something big and slow but really strong—what have you got?").
All of which must fit into the bigger picture of studio filmmaking. Big Hollywood films can go through multiple phases of writing and writers. For Pacific Rim Uprising, Carmichael wrote her screenplay when the actor Charlie Hunnam was part of the project, before John Boyega came on. She points to one idea of hers that made it into the film: "I told Steven [Deknight, the director], I think what this needs is a scene where these characters talk to each other after hours and out of uniform. And that became the scene where John Boyega is, in the most over-the-top way possible, making an ice cream sundae."
By the time film is being shot, the screenwriter's work is really done, Carmichael says. Seeing a feature made at this level is a doubly rare accomplishment, in light of the gender imbalances that persist in the industry, an issue on which Carmichael has been an eloquent voice. She cites a number of inspiring past female filmmakers: the Wachowski Sisters (The Matrix), Kathryn Bigelow ("Point Break is such dynamite!"), Chloe Zhao (The Eternals), and Greta Gerwig (who's directing the upcoming Barbie).
Carmichael's next goal is to direct her own action-adventure feature—and beyond. "Everything that I do is an attempt to make my own franchise," she said. Already at work on a new sci-fi script, she'll be writing another one with her friend, playwright Abbie Rosebrock. In the meantime, the dinosaurs of Jurassic World Dominion are being unleashed onto the multiplexes, conjured from her words, to the big screen.